Bathroom Vanities: Top Trends For 2023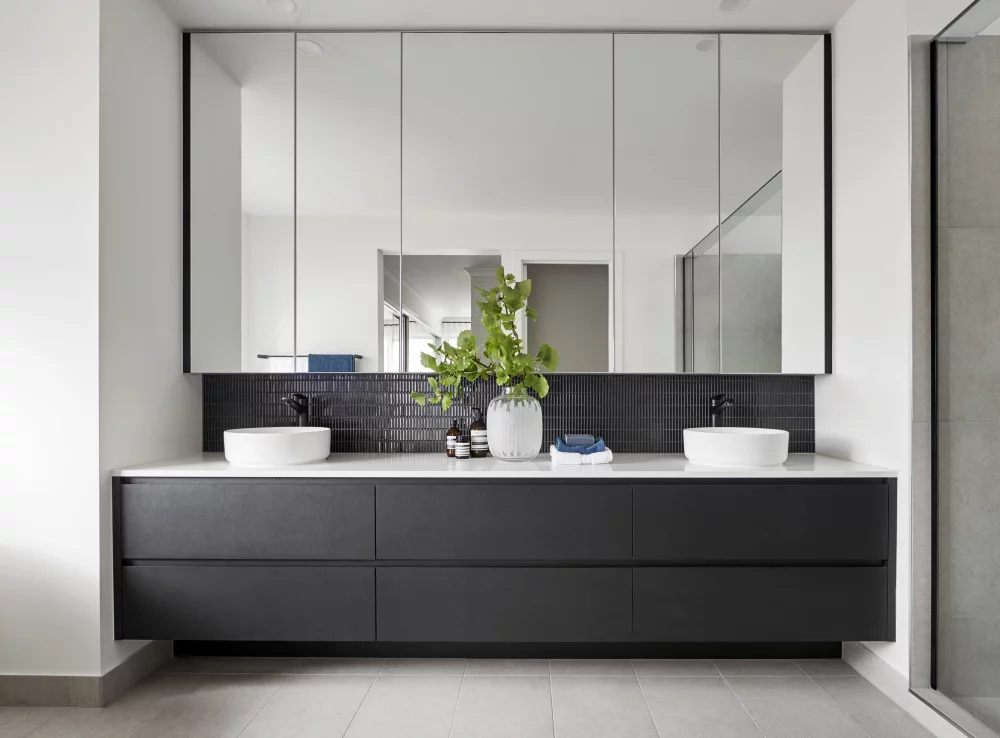 Bathroom vanities are often one of the overlooked parts of bathroom interior design, with elements like the tiling, tub, and color scheme taking center stage. However, making this functional sink-storage combo space gorgeous by creating a balance between trend, style, and practicality can definitely uplift your bathroom and strike a stunning focal point.
So in this article, we've rounded up all the smart tips and tricks that will help you design a vanity that fulfills the practical needs of helping you get ready every day without the hassle of constantly losing items, along with serving as an aesthetic statement that falls in line with the latest bathroom vanity trends of 2023.
Black Bathroom Vanities
There's something charmingly unique and distinct about black vanities that manages to keep them in style for yet another year. Depending on how you style it, the sophisticated and sleek aura created by these black pieces can both act as a pop of color or take a backseat to allow the brighter, bold hues to make a hit.
Below are a few interesting and trendy ideas as to how you can use a black bathroom vanity to transform your bathroom.
Utilize earthy tones like hearty greys, taupe, creams, and browns through the countertops, flooring, and walls for a warm touch. Pro Tip: Don't forget to incorporate robust colors through artwork and towels to avoid a flat look.
Bring in drama by pairing a black vanity with a bold-colored accent wall, such as a vibrant yellow, vivid lime green, or a deep red wall. Combine this with patterned flooring to create a unique bathroom.
Create a modern bathroom by installing a black vanity with white flooring, light walls, and a monochromatic color palette for soft finishes.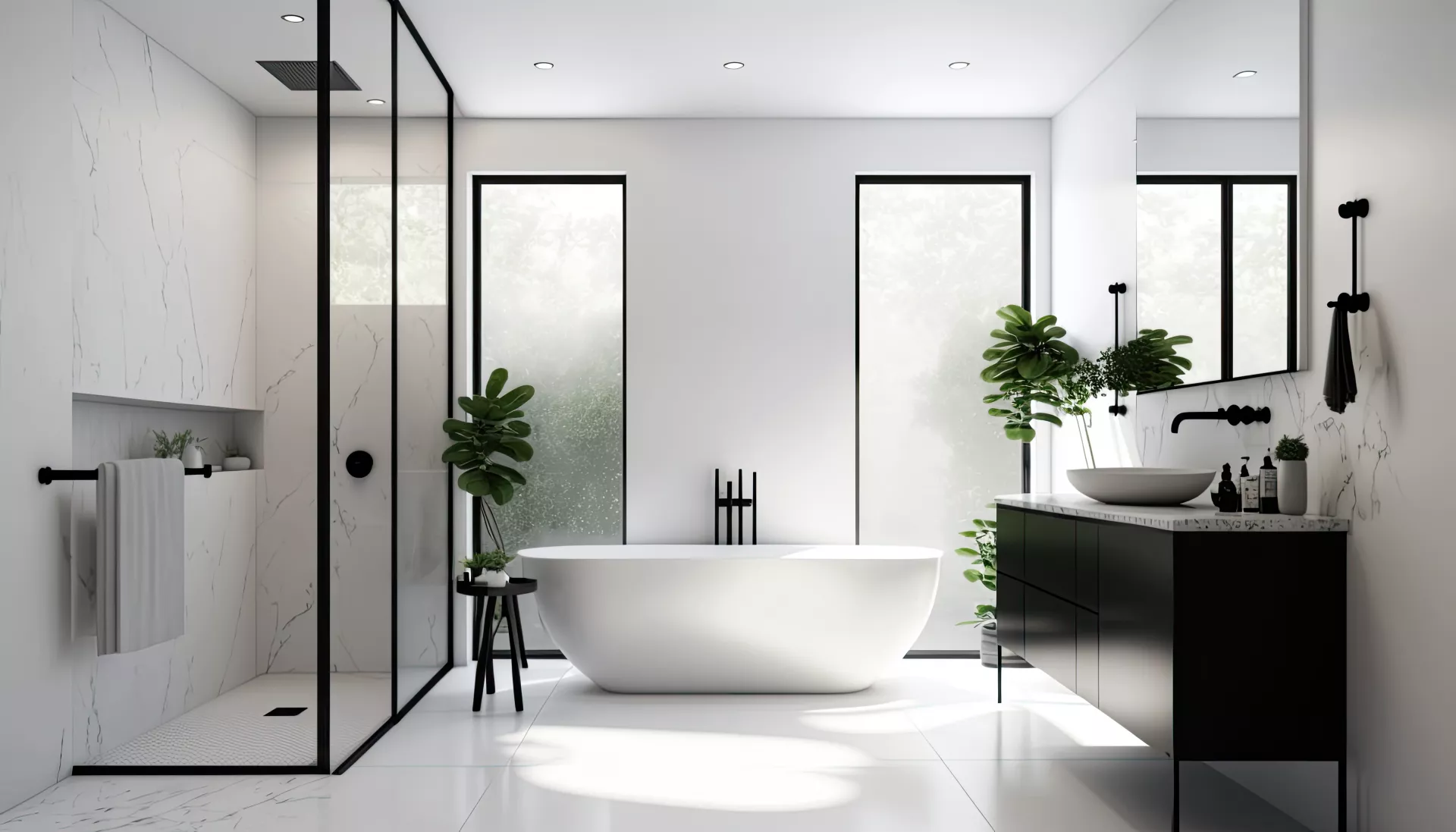 Floating Vanities

Being a practical solution for smaller bathrooms and an aesthetic pick for contemporary bathrooms, floating basins are ready to make a hit in 2023. Not only do they create the illusion of extra space, but they also expose the area underneath to emphasize the footprint and flaunt your elegant flooring even more.
To design a practical bathroom with a floating basin without subtracting anything from its trendiness, consider gathering inspiration from some of the following ideas.
Double up the storage by installing an extra floating shelf beneath the floating vanity and adorn it with lovely rattan baskets for storing essentials like extra towels and toiletries. Alternatively, you can simply install a rail beneath the vanity to present your towels (and keep them within arm's reach!).
Mix the surfaces by, for example, blending a marble vanity with a mosaic wall for a pixellated effect.
Keep it compact by opting for a square-shaped floating vanity. Pro Tip: You can make it stand out by choosing a dark-toned rattan article and repeating it in other places of the bathroom, like a similar rattan-framed mirror or a floor-standing caddy.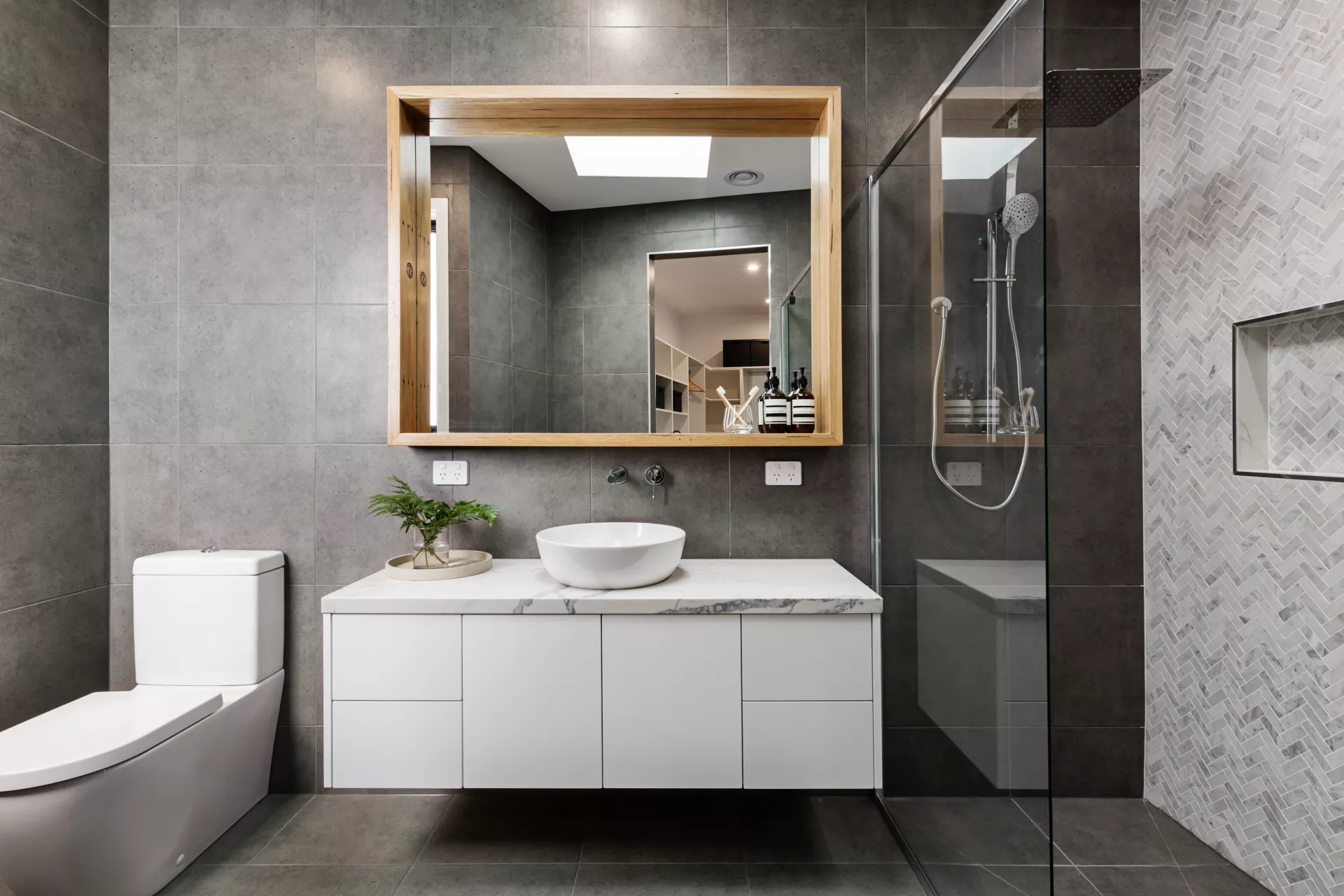 Dresser Inspired Vanities
"An amazing way to refresh a tired bathroom is to go for a vanity that looks like furniture, such as a dresser-inspired vanity," says Kristina Phillips. What's even more exciting is that dresser-inspired vanities are set to become a popular part of the 2023 bathroom vanity trends.
There are plenty of ideas for inspiration. You can create a cohesive look by pairing the vanity hardware with a similar-toned mirror frame hanging above. Alternatively, satiate your love for an eclectic look with a bold-colored vanity, and adorn it with attractive soft accents like a flower vase or a fancy tray filled with scented candles.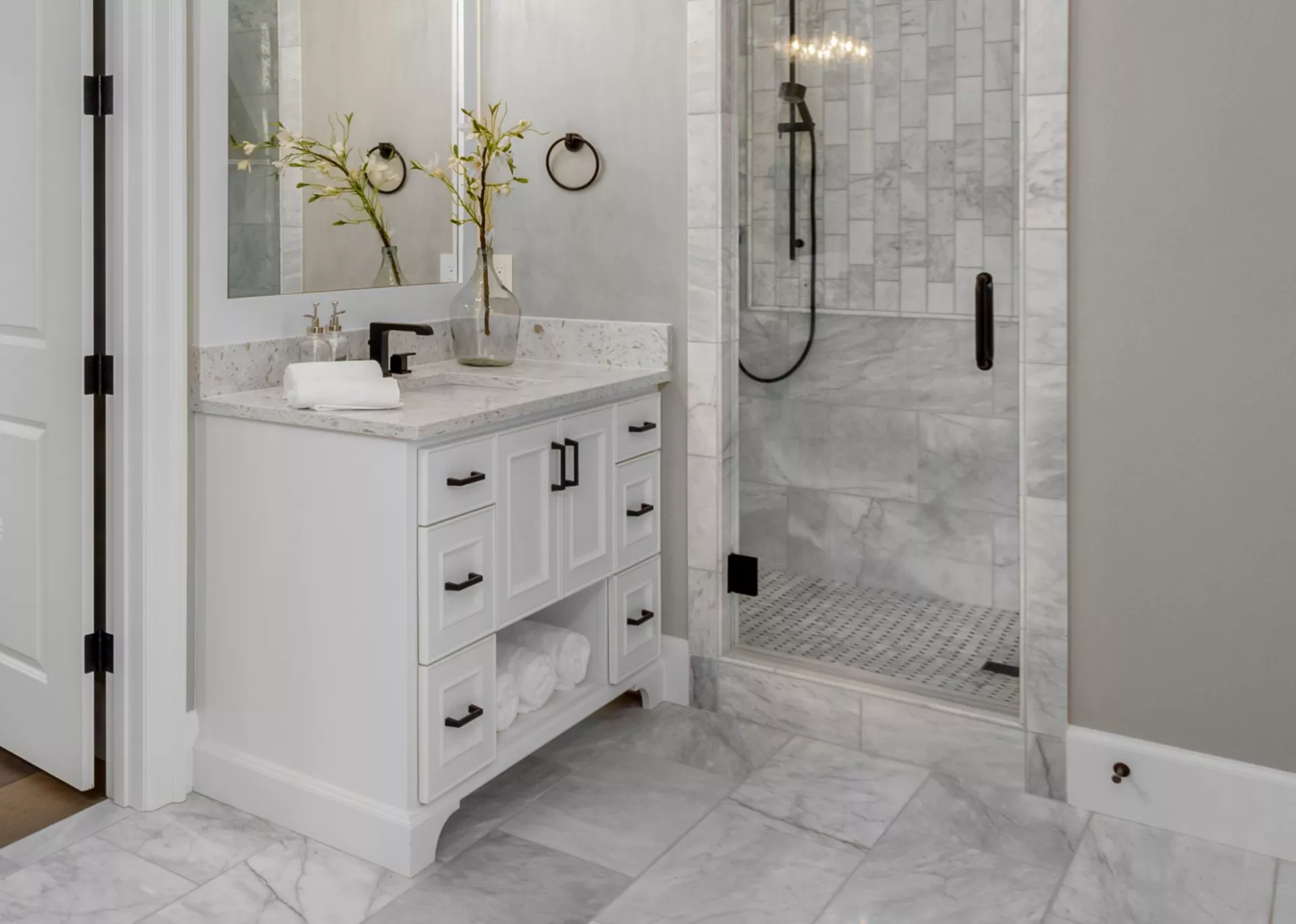 Curved Vanities
While rectangular vanities are still in the game, curved vanities have been predicted to rise and shine in 2023. "Curves project a harmless nature and often promote moods of relaxation and calm. This works well in the bathroom as more people aim to achieve a more spa-like feel," explains the CEO of JTP, Jeevan Seth.
In case you want to create a statement with your vanity, think of looking for an article with gold hardware or a bold color. Such a choice will stand out even amidst a merlot lacquered door or a busy wallpaper!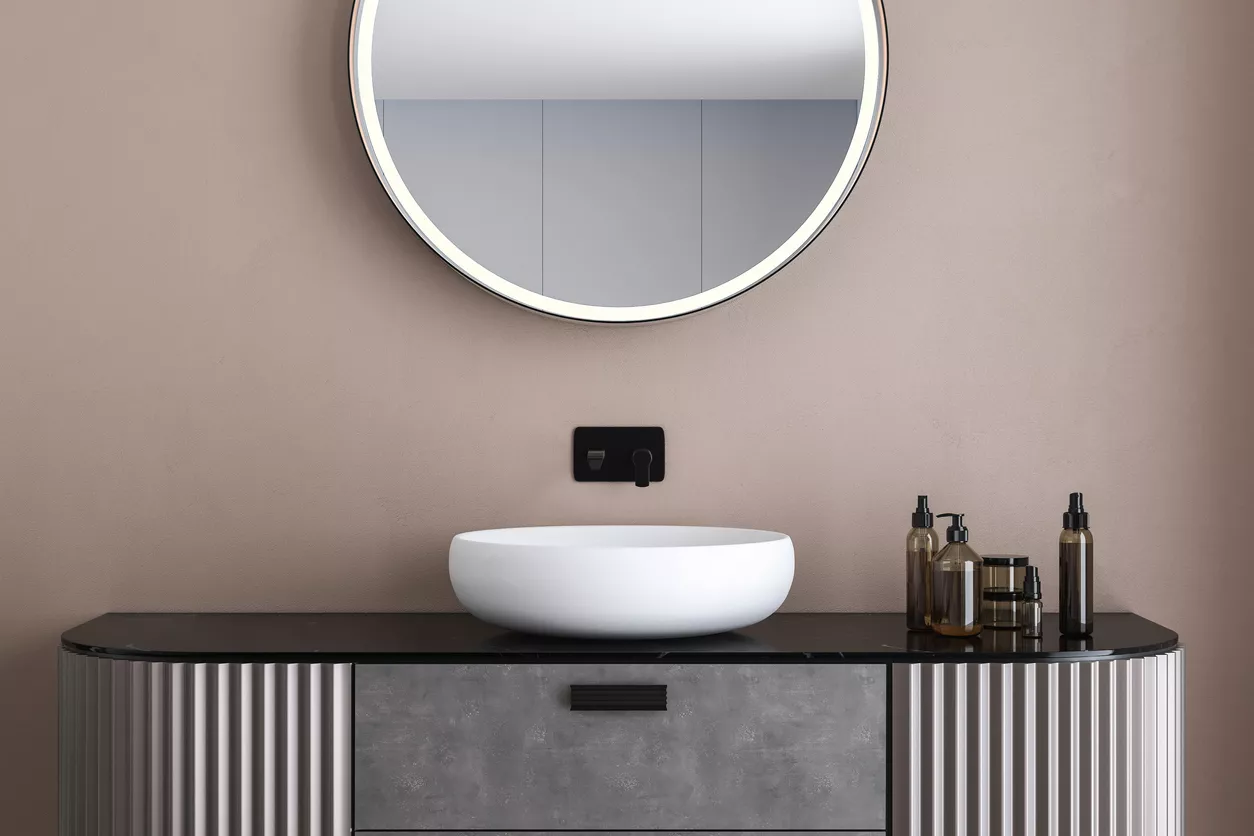 Dual Vanities

Separate vanities in a single bathroom have the power of feeling high-end even on a lower budget. In fact, they're flexible enough to fit any interior design style, be it modern or traditional, which explains why dual vanities are an important part of the latest bathroom vanity trends!
Below are a few tips to perfectly pull off a cohesive and well-thought look with dual vanities.
Keep it natural with vanities made of materials like dark stain, marble, or wood.
Illuminate the vanities adequately with separate wall sconces directly above each vanity mirror, hanging pendants, or a single sconce between both.
Tie the look together with a rug. Opt for a runner if the vanities are side by side and a small area rug if the vanities are across from each other.
Depending on your bathroom theme, you can always add or subtract from the ideas we've mentioned and adapt the look of each vanity as per the user's style and preference!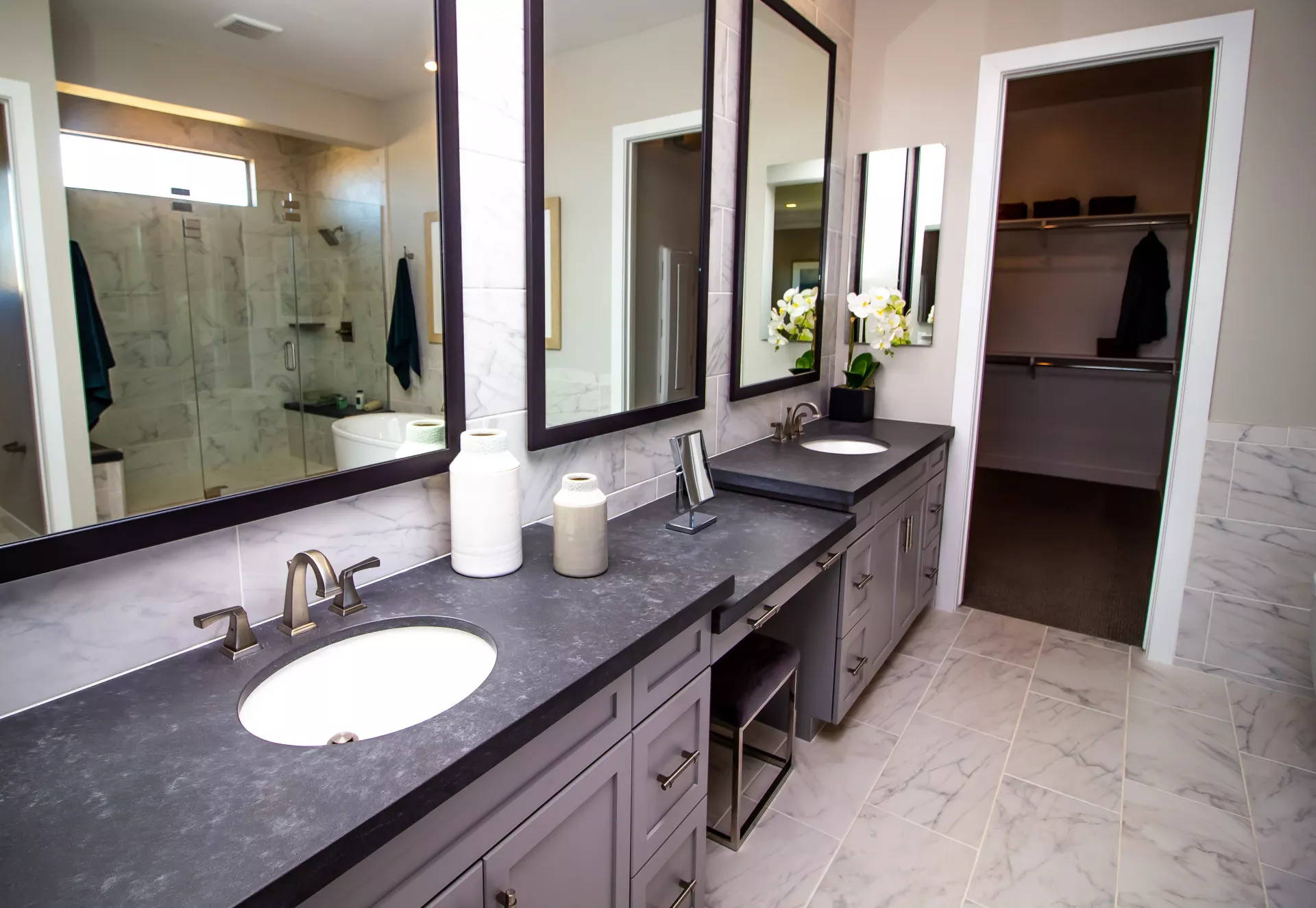 Double-Sink Vanities
Instead of installing two separate vanities, you can go for a double-sink vanity to enjoy a balanced combo of a luxurious feel, practical solution, and smart return on investment — all in one! This trend isn't new to the market, but the fact that it has remained timeless over the years makes it a worthwhile addition to your bathroom interior design.
Though creating a cohesive look with a double-sink bathroom vanity may be challenging, the exciting ideas we've compiled below will surely spark some inspiration.
Consider the entire space by looking for opportunities to create cohesion. For example, if your bathroom is lined with black tiles, try bringing a similar touch to your vanity either through the countertop or hardware.
Hang statement-making mirrors with bold pieces that blend form and function.
Make the most out of your space by installing a wall-mounted sprawling sink with two faucets to act as a double-sink vanity in a small bathroom.
Opt for a hovering vanity to create the illusion of extra space and provide room for storage baskets beneath the vanity drawers.
Install a bold sink, such as a vessel sink, to create a statement even if the rest of the decor is toned down.
Don't forget to add thoughtful finishing touches, like pretty plants and plush towels, to complete the space and make it feel homey.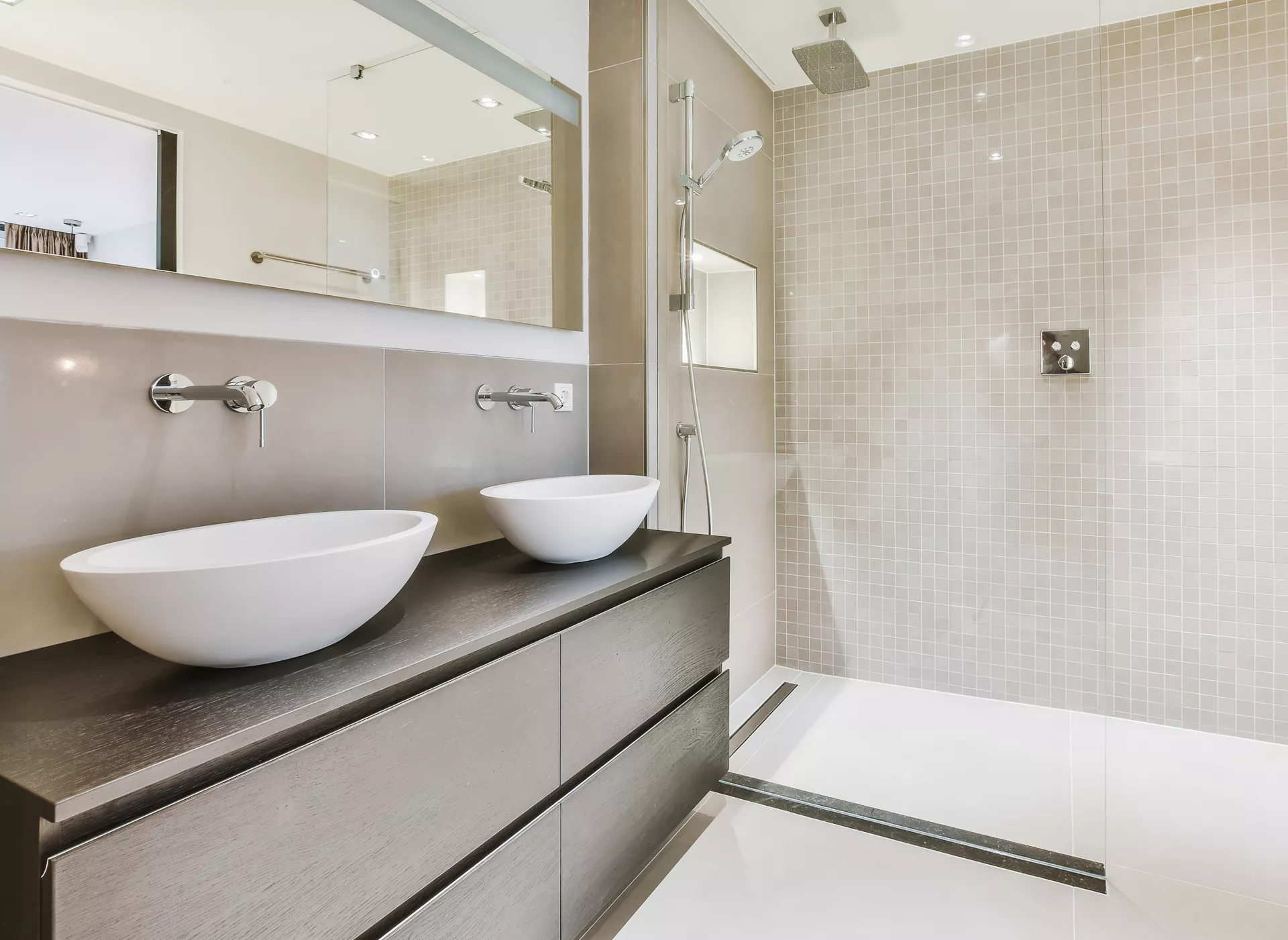 Conclusion
Bathrooms are one of the most trafficked rooms of a home, and this explains why each element — including the vanity — deserves all the extra attention when it comes to interior design. To make the best choice, remember to consider the pros and cons of each option, the theme of your bathroom, and the latest bathroom vanity trends making a hit. After all, a bathroom that is trendy today will serve you for years (just with a few touch-ups every so now).
So, what are you waiting for? Pick your favorite idea from the aforementioned list, follow the popular bathroom vanity color trends, and start decorating a lovely sanctuary now!
Find more information about Bathroom Remodeling in our BLOG.