Choosing Linoleum Flooring: Expert Advice And Recommendations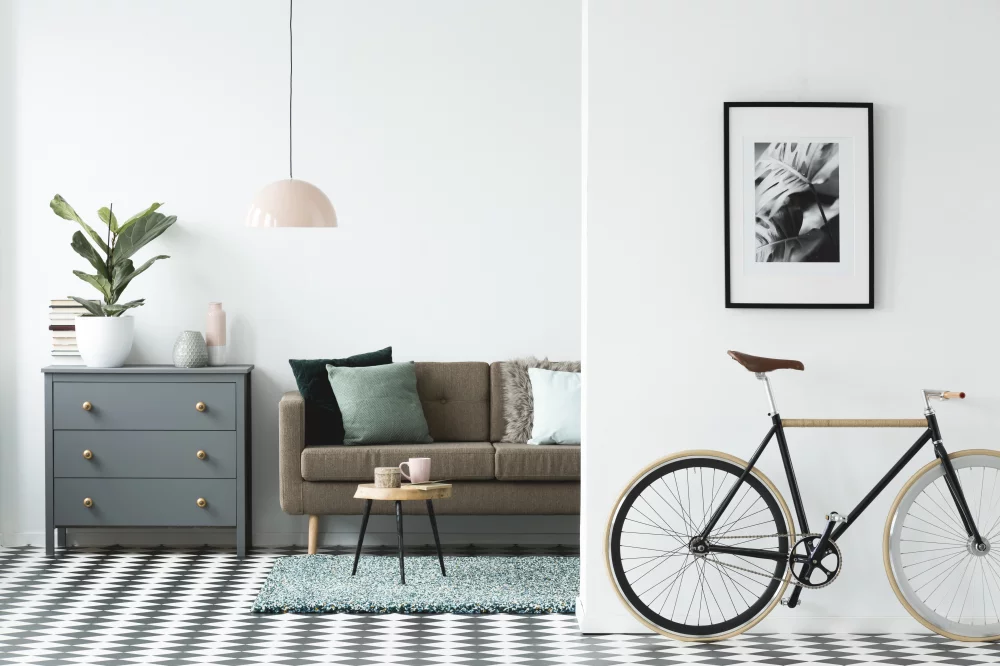 When thinking of linoleum flooring, the visuals of places like a hospital, the kitchen of your grandparent's house, or the cafeteria of your elementary school might pop up in your mind. That's because linoleum has been a favorite flooring option for decades, primarily because of its high durability, sustainability, and attractive appearance — not because it's outdated!

In this article, we've rounded up everything you need to know about linoleum flooring, from its pros and cons to its history, installation methods, and so much more.
History of Linoleum
Invented by Frederick Walton in 1860, linoleum flooring (originally called Kampticon) has been widely used in residential and commercial places up until the 1960s. With the recent increase in environmental consciousness and sustainable decor ideas, there has been a renewed interest in linoleum all across the U.S.
What Is Linoleum Made Of?
Linoleum flooring is typically made of a mix of renewable natural materials. Its main ingredient, linseed oil, is combined with other sustainable ingredients like wood flour, cork dust, pine resin, ground limestone, and pigments. It is then spread out and cured. A jute backing and protective surface treatment are given, after which it is cut out to create the final product, which comes in two different types; linoleum sheet flooring and linoleum tiles.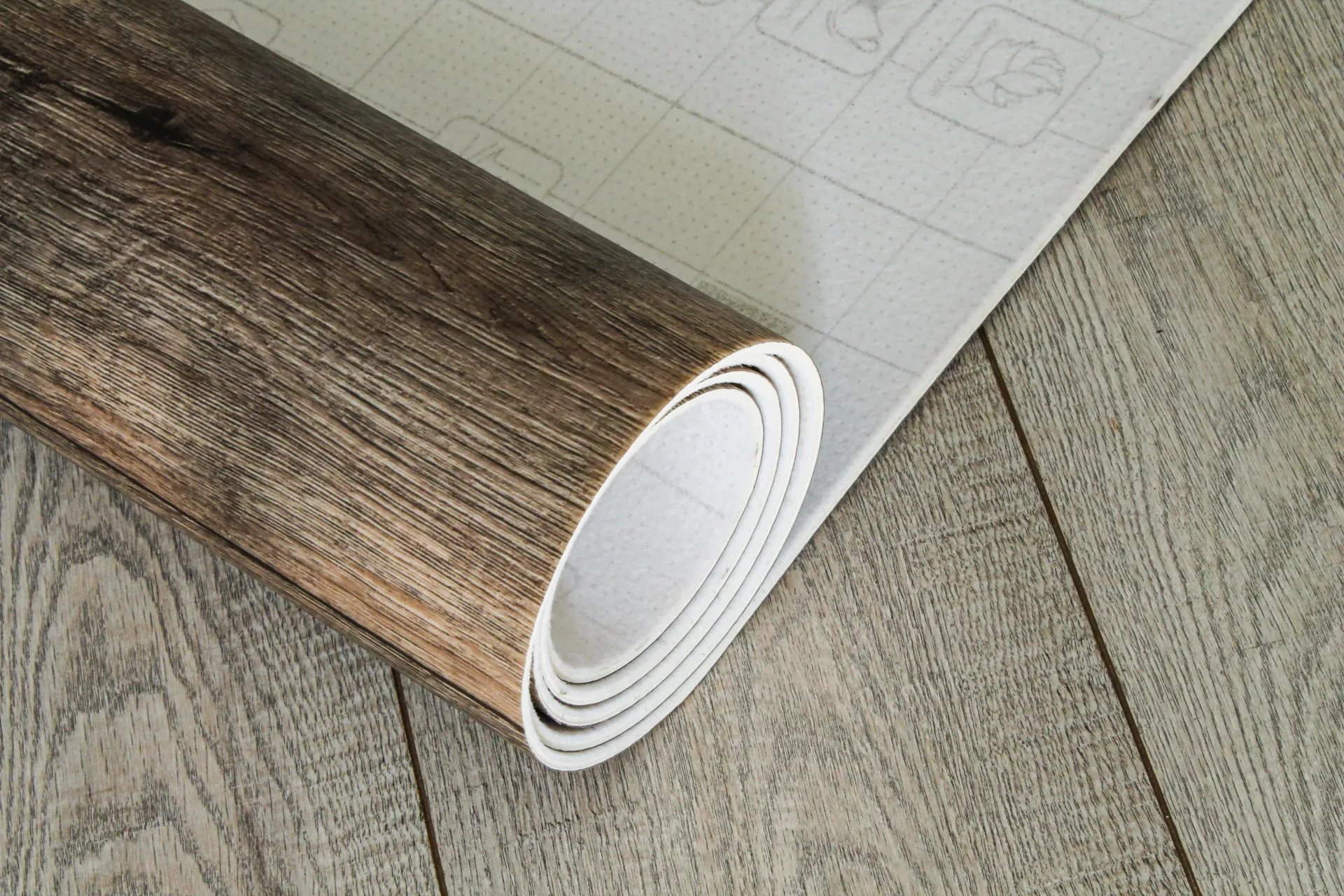 The Pros & Cons of Linoleum Flooring
To decide which flooring to go with, it is important to know the merits of your options, including their pros and cons, so you can make an informed and effective choice that suits your needs.
Pros of Linoleum floor
Linoleum is extremely durable and can last up to 40 years if taken care of and properly maintained.
The cost-effective initial investment and installation make linoleum flooring an affordable option.
Since the dye is infused through the structure of outer layer of material, linoleum holds and maintains its pattern and color exceptionally well, unlike laminate and vinyl flooring.
Having renewable contents, such as linseed and cork, linoleum is an environmentally-friendly and biodegradable choice.
It is made of a soft material, so it is comfortable to stand on for extended periods.
Being available in multiple colors, styles, and patterns, linoleum is sure to fit a variety of designs and themes.
Linoleum is a safe option, as it does not emit volatile organic compounds (VOCs).
It is low-maintenance as it only requires regular sweeping and mopping.
It is water-resistant, anti-microbial, and anti-static, which makes it suitable for bathrooms and kitchens.
Cons of Linoleum floor
Since linoleum is made of soft material, it is easily scratched and torn by dragging furniture.
The emission of linseed fumes following the first week or two of installation may be annoying for some people.
The installation requires help from linoleum professionals.
Linoleum casts an "amber" effect when exposed to light, so it is important to test a small sample beforehand to decide whether or not you're okay with the look.
Freshly waxed linoleum may pose risks like slipping and falling.
If not maintained properly, the flooring will start showing signs of yellowing and darkening.
Unsealed linoleum requires frequent buffing and polishing.
Types of Linoleum Flooring
Linoleum can be classified into 3 distinctive types including:
Sheet Linoleum Flooring: Linoleum sheet is made on order by cutting out 6 feet to 12 feet wide widths (depending on your needs) from bulk rolls of material. When installing, the sheets are given a further detailed cut to fit the size of your room. Once attached with an adhesive, it is then rolled with a heavy roller tool for a neater and more seamless look.
Tile Linoleum Flooring: Linoleum tiles come in 12x12-inch pieces that are a bit thicker than sheet linoleum. They are installed on the subfloor by adhering them, one by one, with an adhesive.
Plank Linoleum Flooring: Linoleum planks are long, slender pieces measuring up to 60 inches long and are significantly thicker than the former two types. Instead of using an adhesive, they are installed and locked as a floating floor over an underlayment material.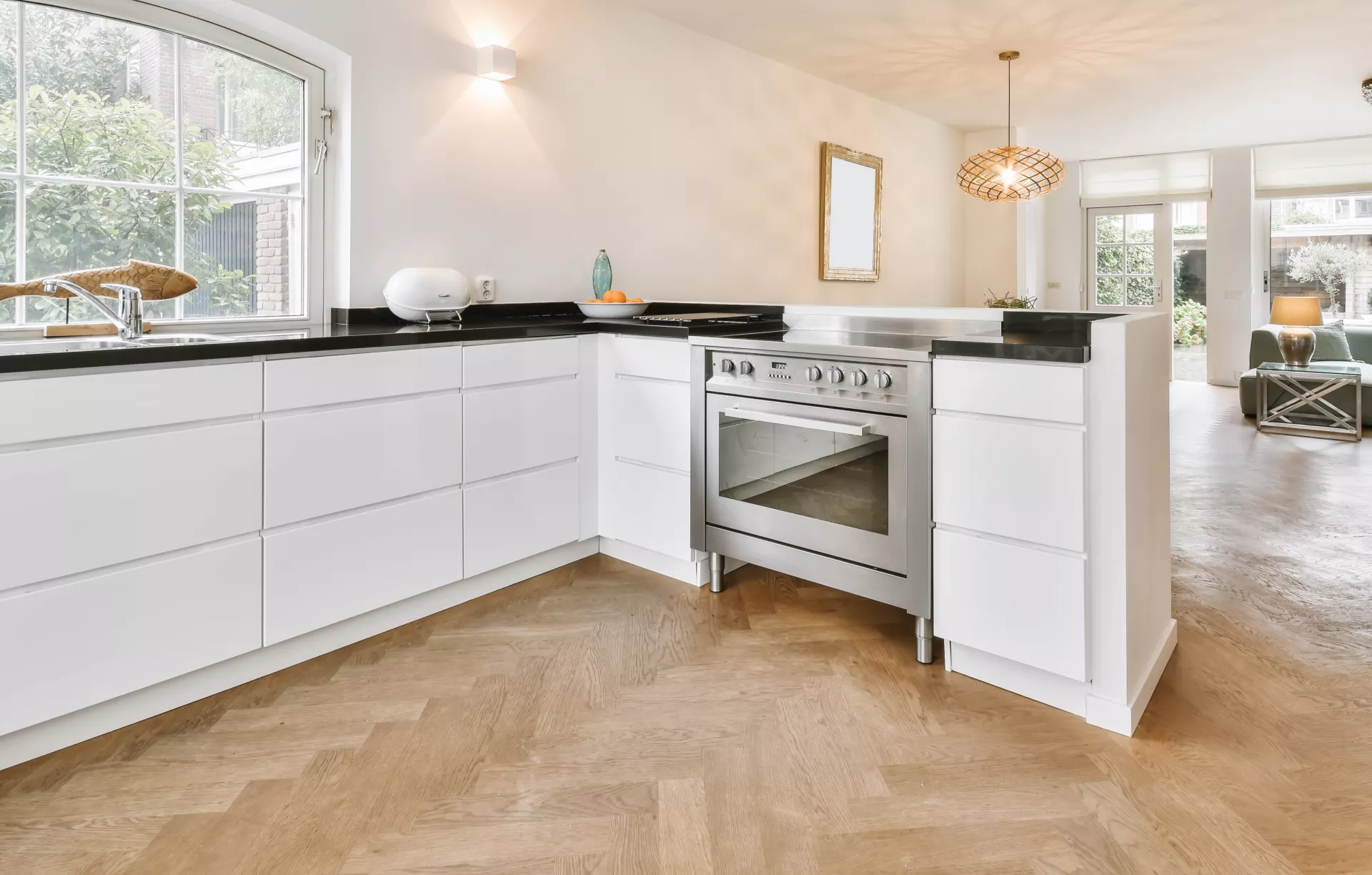 How To Choose The Right Linoleum Type?
Linoleum is an exceptional flooring choice, and if you're okay with a bit of maintenance and upkeep every so often, then the only decision left is to decide which type you want to go with.
As such, we've compiled a list of factors to keep in mind when picking the best option for your home.
For sheet material installation, you will definitely need professional help. So if you want to DIY the project, consider opting for linoleum planks or tiles.
If the area is subject to high-traffic, go for the thickest option: linoleum planks.
Remember, linoleum tiles and planks have prominent seams. For a flawless look, sheet linoleum will be the right choice.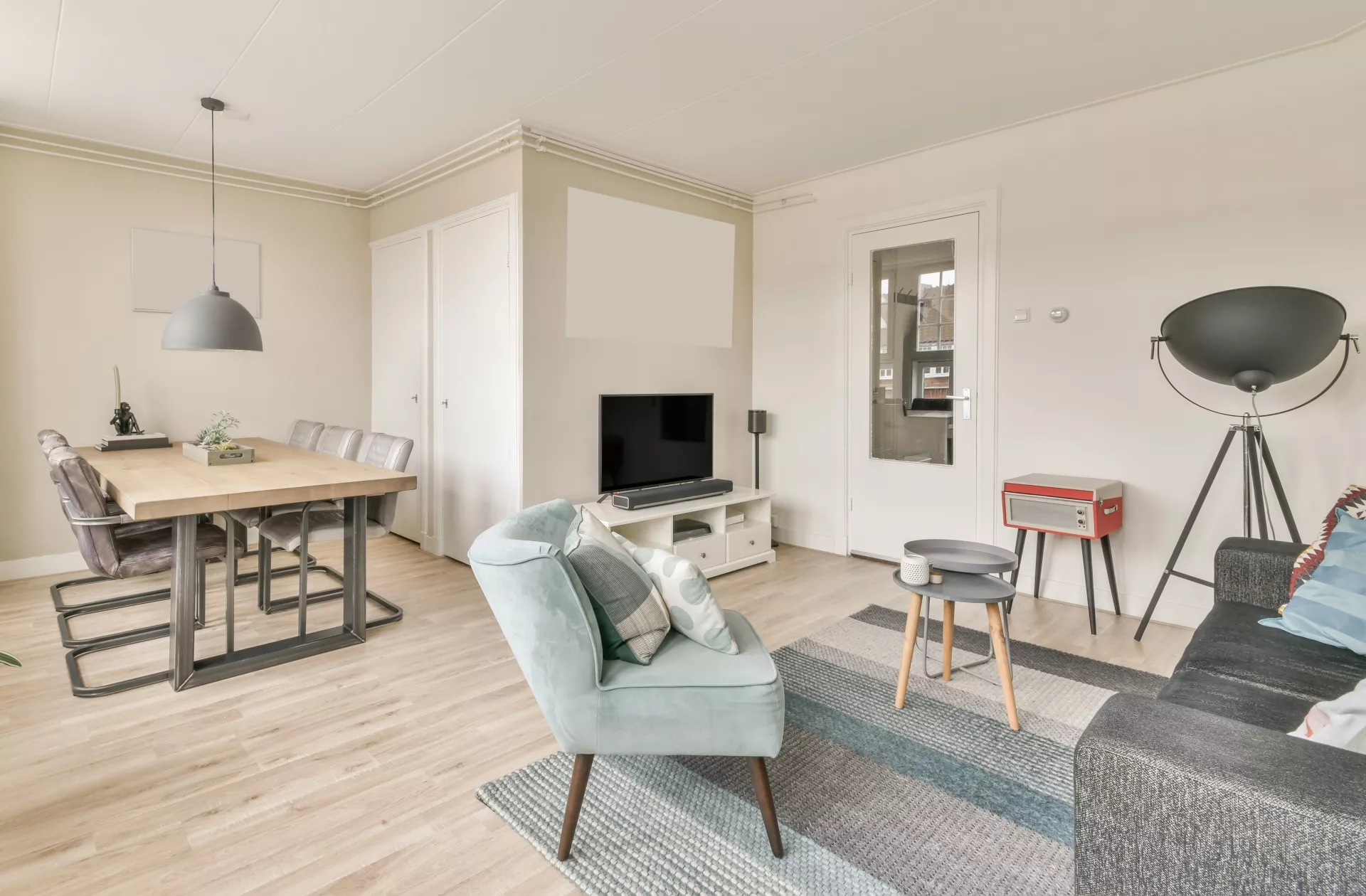 How To Install Linoleum?
Linoleum can be installed in tiles or sheets. Linoleum sheet flooring (available in rolls that can be extended out to adhere to the floor) is a more popular option as compared to the more expensive counterpart, tiles.
Its installation involves the following steps:
Step 1 - Prepare The Room: Although you can leave the windows closed and work without a mask when dealing with linoleum floors, it is important to prepare the room by moving out all the furniture in a different room and getting your subfloor ready.
Step 2 - Accilmate Floor: Acclimating refers to the adjustment of the temperature and humidity levels of the floor to make sure the adhesives stick properly and the floor doesn't warp. The appropriate temperature is between 60 and 80 degrees Fahrenheit, while the humidity should be around 35 to 75%. You can use a barometer for a more accurate process.
Step 3 - Find The Center: This step is required only if you're using linoleum tiles. Start by measuring the room's height and width. Mark the center on each side. Extend the points, and the juncture where they coincide will be the center of the room.
Step 4 - Dry-fit the Flooring: Dry-fitting linoleum (whether tiles or sheets) helps make the cutting easier and more effective, allowing you to control how the pattern will be laid out.
Step 5 - Install Underlayment: Although underlayment isn't necessary with linoleum, it is a good decision as it helps soundproof the room. So, you can either opt for the standard vinyl underlayment or special linoleum underlayment.
Step 6 - Apply Adhesive & Cure: Apply the adhesive, let it cure, and place the tiles. You can also simply opt for the "peel and stick" tiles, which do not require a separate adhesive.
Step 7 - Lay Out The Flooring: For sheets, you can directly start rolling out the flooring once the adhesive has been applied to half the room. For tiles, it'd be better to move forward gradually and apply the adhesive only on the spots you're currently dealing with.
Step 8 - Roll Out & Re-Install Trim: Once you've laid the flooring, roll it out (with a special roller adapted to this purpose) to secure the adhesive and keep the linoleum in place. Finally, re-install any trim you removed.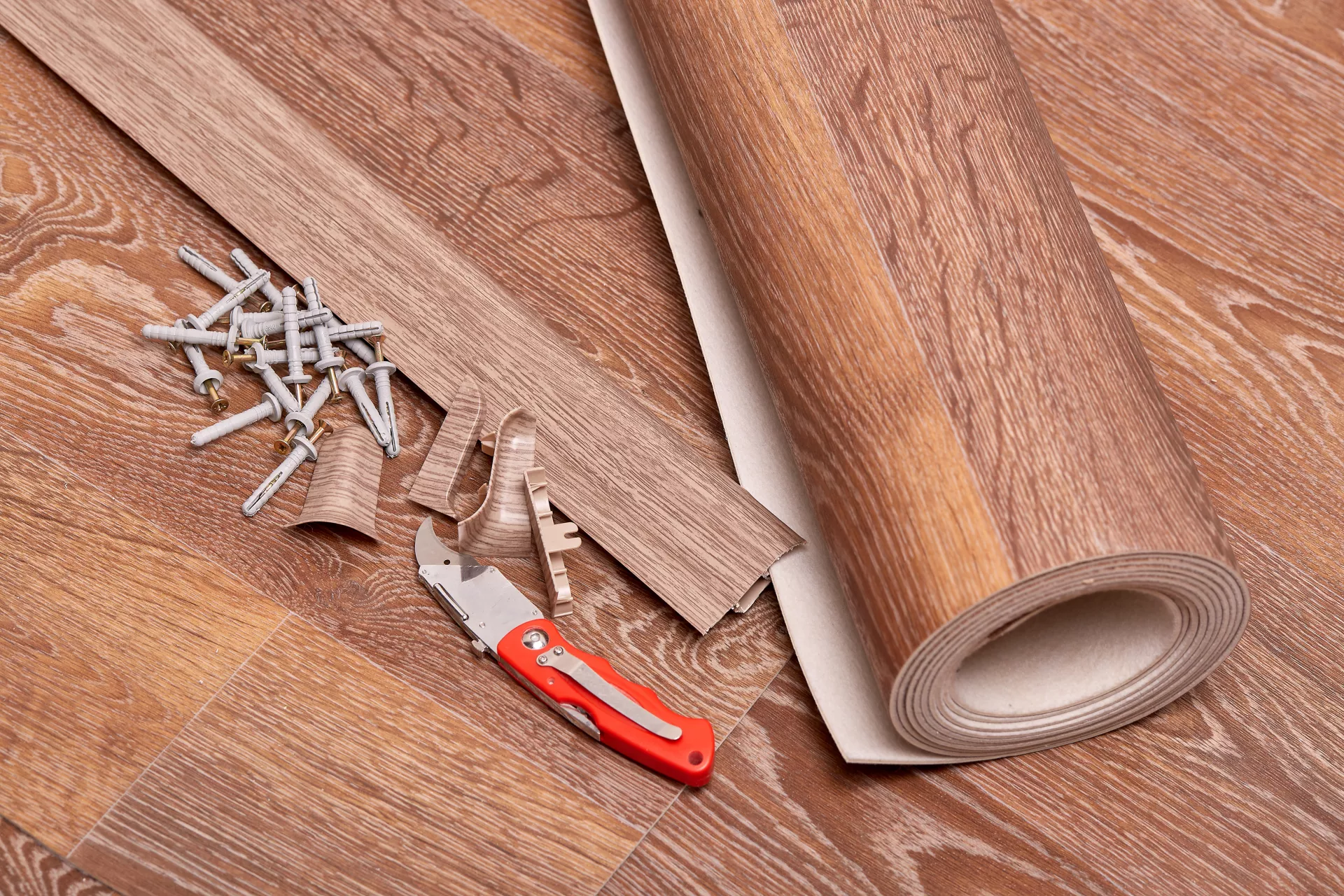 Finding A Professional For Linoleum Installation
The installation of linoleum flooring can become too challenging to be DIY-ed. Therefore, it is best to look for a professional who can help you make the most of the linoleum price you've invested.
While you might already have a local flooring contractor, you can always find an expert linoleum installer at KBF Market. All you have to do is fill in your location details, and we'll present a plethora of suggestions, ensuring you land a company that fits your budgets and requirements!
Conclusion
Linoleum is a long-term investment that will last you for multiple years without losing its essence. And since flooring is a major part of any interior, it deserves all the extra attention, investment, and planning to give your home a unique presence and lovely appeal.
So, what are you waiting for? Study the pros and cons, review the installment methods, and start revamping your home now!
Read out article "Flooring Material Selection Guide" to learn about other types of flooring.