Choosing The Best Laminate Underlayment For Your Home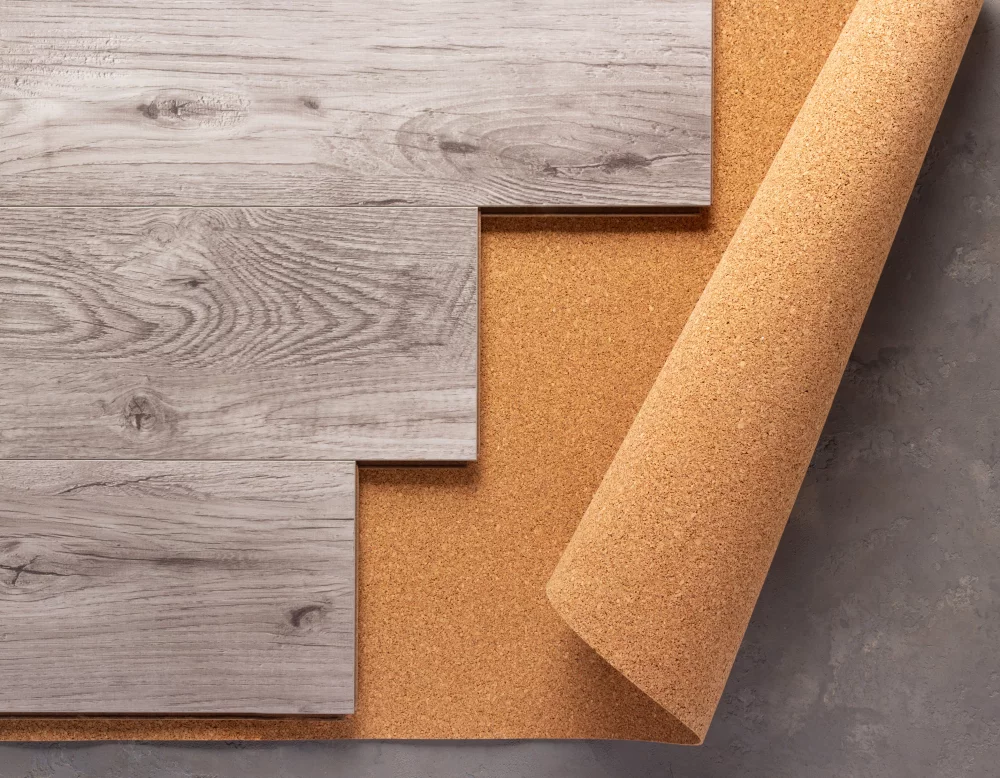 The high durability, good affordability, versatility in colors and finishes, and ease of installation have made laminate flooring a favorite for homeowners all across the globe. But with these incredible benefits comes the responsibility of choosing the best underlayment for the flooring to ensure better comfort, efficient insulation, and a longer floor lifespan.
This article will unfold the top 5 laminate underlayment types (with the pros and cons of each) to aid you in making the best choice according to your floor type, environmental conditions, and personal needs. So scroll on to learn more!
What Is Laminate Underlayment?
Laminate underlayment is a thin and flexible sheet made of resilient material. It is installed over a subfloor to offer a sturdy base to the laminate tiles or planks you're installing. The subfloor provides foundational support in the room. Simultaneously, the underlayment deserves credit for providing strong support to the flooring itself. What's more, it cushions the laminate tiles, evens out the flooring, absorbs sound, and enhances the floor's R-value (resistance to heat transmittal).
Type #01 - Foam Underlayment
Foam underlayment is a thin layer of foam. Serving as a cushion between the laminate flooring and subfloor, this underlay type is the most popular amongst homeowners, especially when installing laminate over plywood or OSB subfloors.
Price: $0.22 to $0.30 per square foot for standard foam underlayment. $0.30 to $0.45 per square foot for upgraded foam underlayment.
Before making a decision, make sure to view the pros and cons of foam underlayment discussed below.
Pros
· Good sound barrier
· Cost-effective
· Easy to install (it is simply rolled out on the floor)
· Equalizes floor imperfections
Cons
· Does not provide vapor barrier characteristics
· Any absorbed moisture can result in the growth of mold and mildew
· Not as durable as cork
· Poses various health concerns, including irritation to skin, eyes, and lungs due to the presence of isocyanates.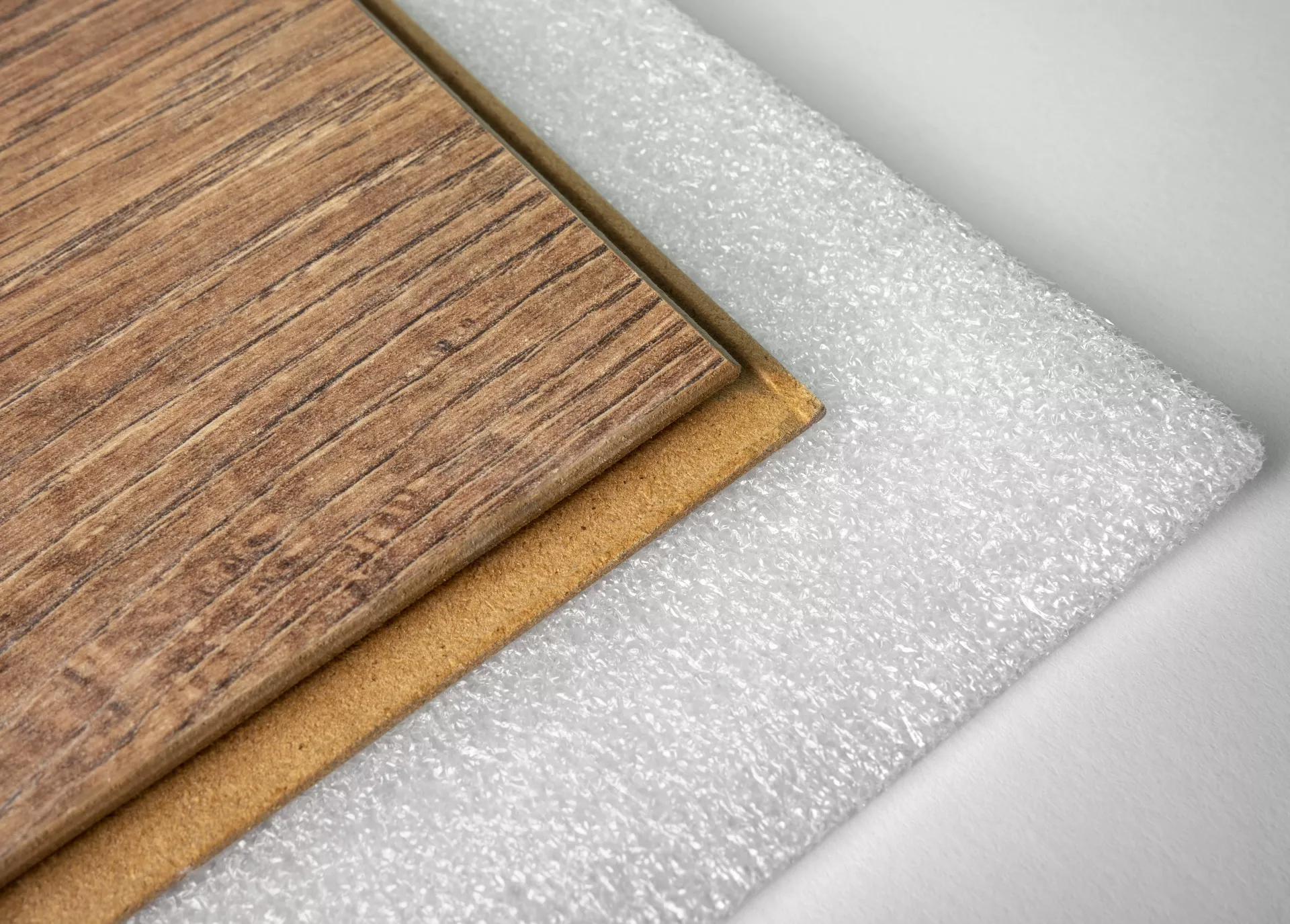 Type #02 - Cork Underlayment
Cork underlayment is made of soft padding that can be used in place of "foam" products. It is either glued in place or loose-laid. Some subtypes also accept wood underlay adhesive or water-based construction. However, remember not to staple, screw, or nail this type of underlayment.
Price: $0.50 to $0.75 per square foot for standard cork underlayment. $1.15 to $1.50 per square foot for hybrid cork (a premium product).
Let's now view the pros and cons of cork underlayment, so you can determine whether or not it fits your needs.
Pros
· Offers increased temperature control.
· Provides a "floor-lift" when looking for a height match.
· Carries anti-microbial properties.
· Absorbs sound well
· Acts as a good insulator
Cons
· Expensive (adds up to 50% to the cost of laminate floor installation)
· Does not provide extra comfort or cushioning
· Lacks moisture-proof properties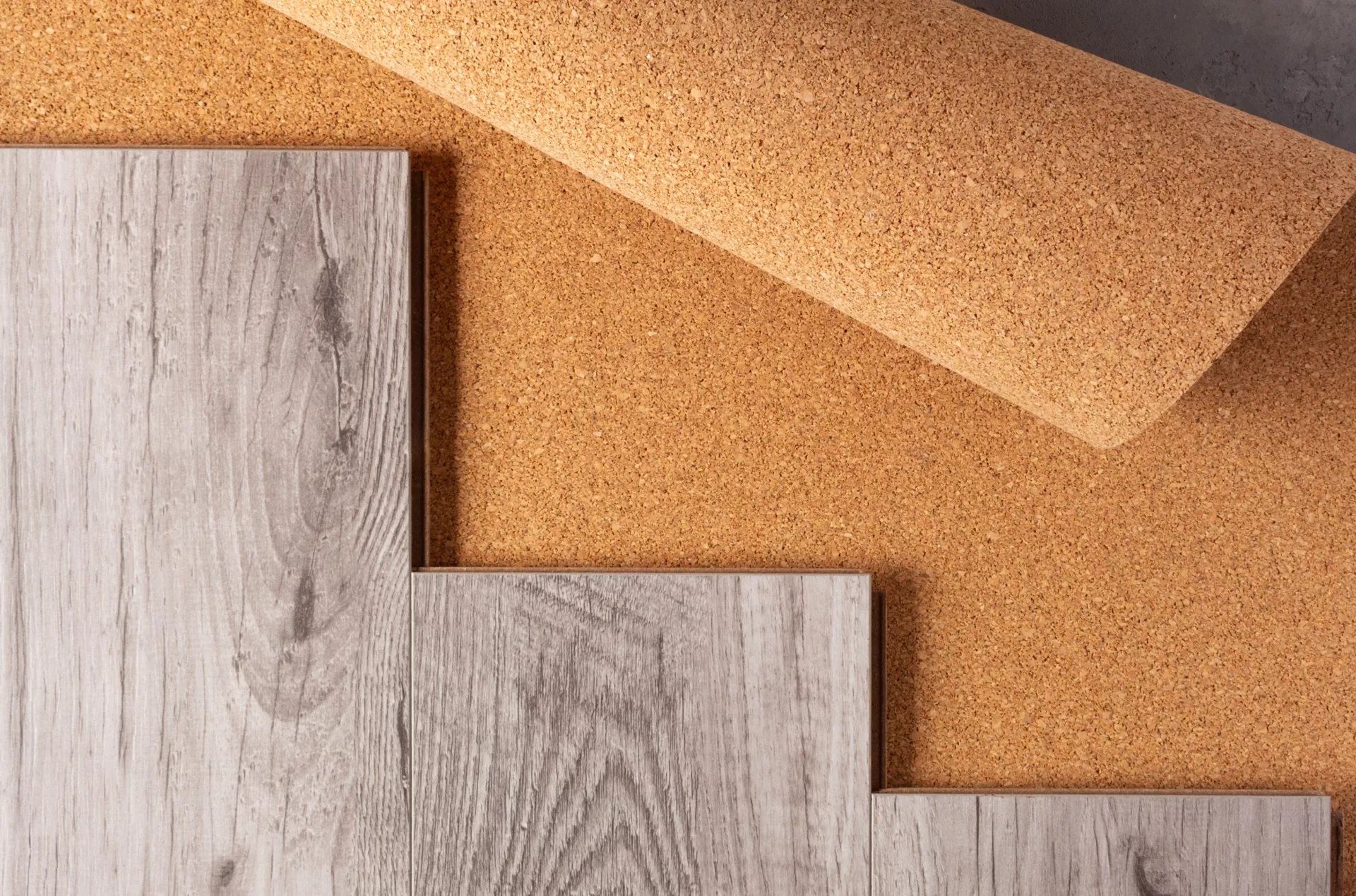 Type #03 - Rubber Underlayment
Rubber underlay outperforms other underlayment types, including cork. It comes in both rolls and sheets, so you can pick an option you're more adept at working with.
Price: $1.10 to $1.50 per square foot.
Below are the pros and cons of rubber underlayment to ease the decision-making process.
Pros
· Provides extra absorption capacity and durability to floors.
· Resistant to mold and mildew.
· Waterproof
· Insulates and softens the floor.
Cons
· Heavy
· Difficult to install
· Easily flammable (the adhesives used during installation are susceptible to catching fire)
· Distinct odor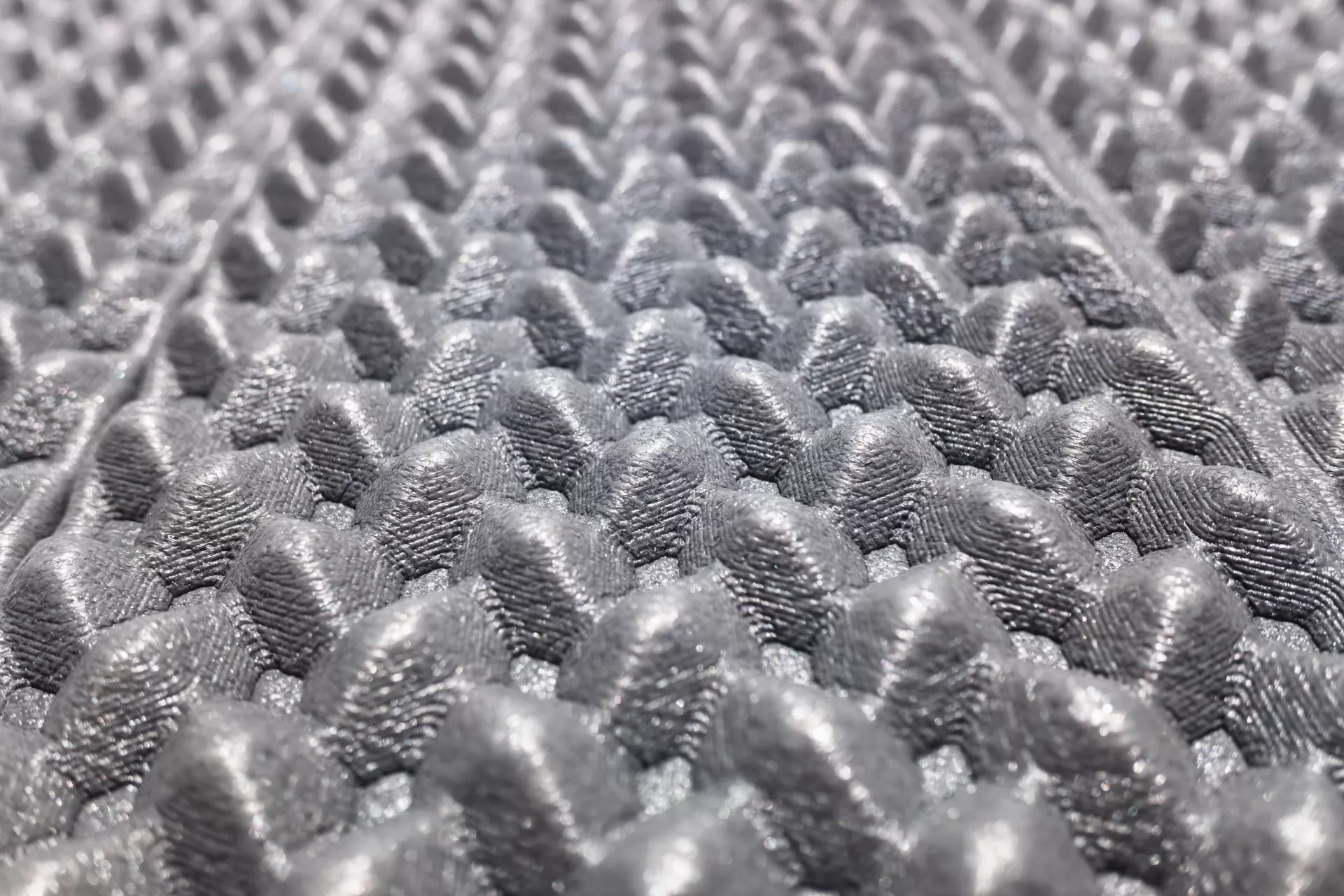 Type #04 - Felt Underlayment
Felt underlayment is made of recycled fibers that protect laminate flooring from moisture seeping through the subfloor. The strips, commonly 35 to 45 inches wide, are attached and installed side-to-side with adhesive strips.
Price: $0.80 to $1.25 per square foot, depending on the thickness and density.
While it does prove to be a great option for many, viewing the pros and cons of felt underlayment beforehand is a good idea.
Pros
· Great insulator
· Cushions the floor
· Offers good noise reduction due to its high density
· Environment-friendly
Cons
· Expensive compared to rubber and foam.
· Prone to tearing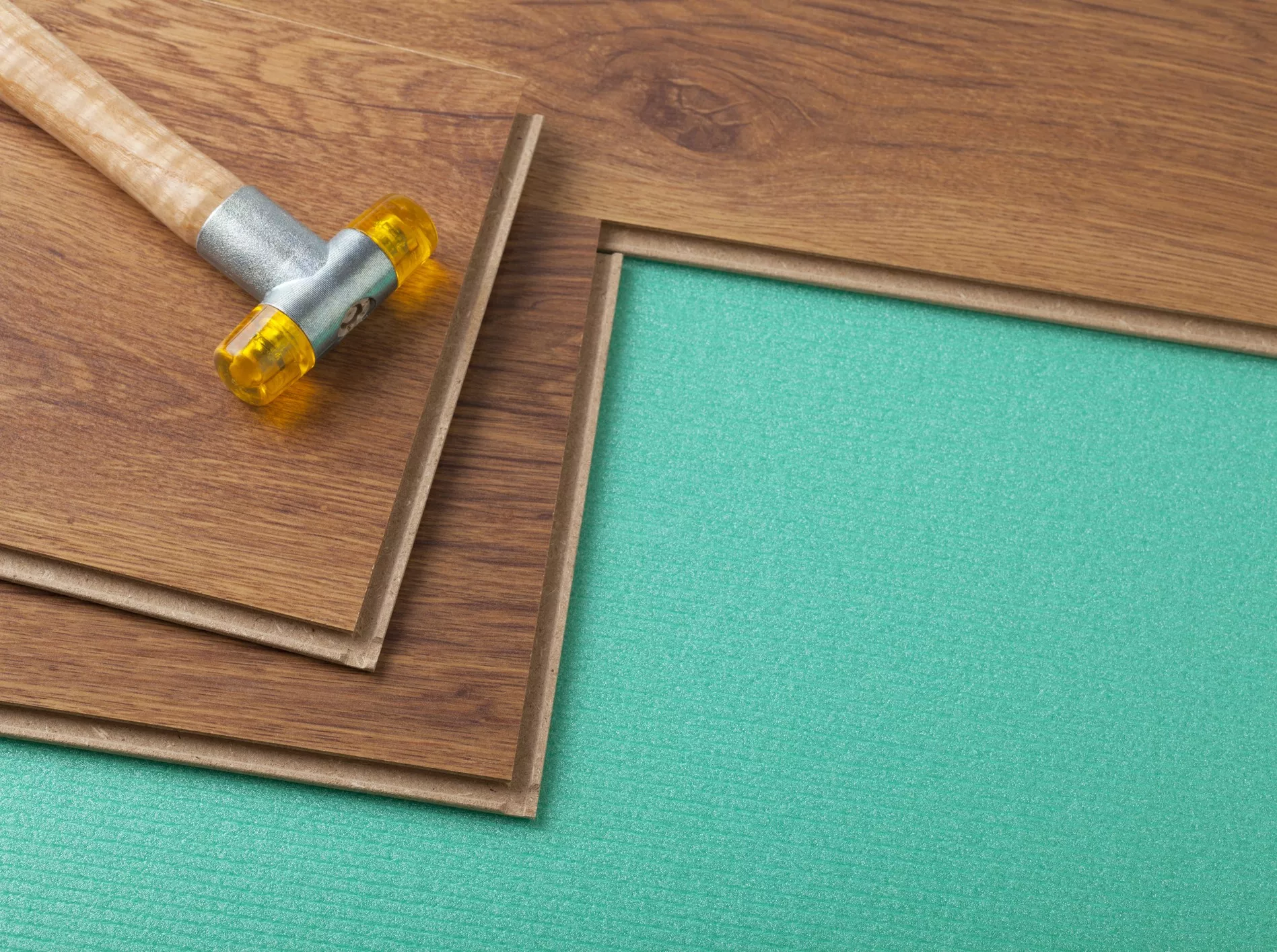 Type #05 - Combination Underlayment
Combination underlayment is almost the same as foam underlayment except that it pairs the standard foam with a vapor barrier layer to protect the laminate from being exposed to moisture. This type works best in high-moisture areas like bathrooms, kitchens, or basements.
Price: Starts at $0.50 per square foot.
Pros
· Offers moisture-absorbing properties
· Affordable
· Increases sound absorption
· Adds a bit of extra cushioning underfoot, making the laminate flooring more comfortable to walk on.

· Available in various roll sizes
Cons
· Overkill: If you're installing laminate flooring in an area where moisture isn't a concern (such as over a wood subfloor in a dry, upper-level room), the built-in moisture barrier might be unnecessary.
· Extra padding may jeopardize the locking system
· Tend to be more expensive than basic foam underlayment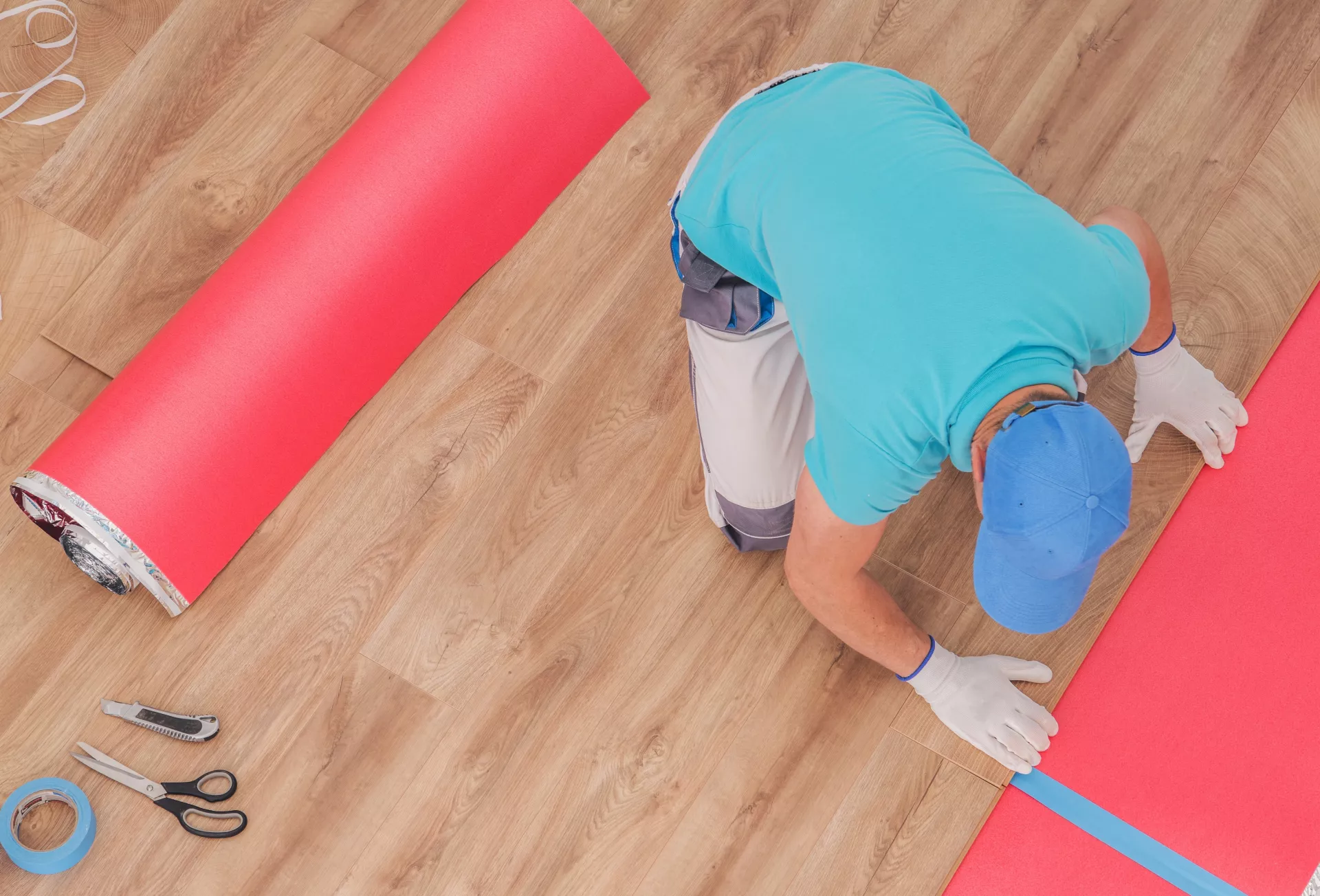 How To Choose The Right Underlayment
Choosing the right laminate underlayment for your interior is a decision that will considerably influence the overall comfort and practicality of your home — and this is why it should be planned and picked carefully.
Below are a few essential considerations you should keep in mind to guide your choices into a perfect decision.
Consider The Subfloor
Wood Subfloor - For a wooden subfloor, you won't need any special underlayment as long as the flooring is sturdy. The standard foam underlayment will do good. However, if the flooring is creaky or even, opting for a cork or felt underlayment will be your best bet.
Concrete Subfloor - Look for a vapor underlayment when installing laminate flooring over a concrete subfloor. This is because a vapor underlayment will protect the flooring against any moisture seeping from the cement. A vapor 3-in-1 underlayment, combination underlayment, and cork underlayment are all appropriate options. They will also work for situations where the homeowner goes for a below-ground-level installation.
Quick Tip: A concrete subfloor will require a vapor barrier (without extra cushioning), even if it comes with pre-attached underlayment.
Check For Exceptions
When dealing with wood, separate underlayment is not required if the laminate flooring comes with a pre-attached underlay. The attached layer does the same job as the standard underlayment in allowing the floor to float and offering a comfortable walking space.
A concrete subfloor, on the other hand, will require a vapor barrier, even if it comes with pre-attached underlayment. Make sure the barrier does not have extra cushioning to avoid disrupting the locking system.
View The Costs
Adding laminate underlayment — especially premium underlays designed to absorb sound — can be expensive, representing a considerable portion of your flooring bill. So if you're installing laminate flooring in a room that receives little attention (like a laundry room or mudroom), consider opting for the cheapest option, such as combination underlayment.
Quick Tip: Foam underlayment is an affordable option, but since it doesn't do well in high-moisture areas, laying it out in such rooms can lead to mold problems.
Consider The Thermal Ratings
Each underlayment is assigned a specific R-value (a digit responsible for measuring the insulation ability). A high R-value indicates better insulation, while a lower R-value represents decreased insulation. If your climatic area requires an efficient floor heating system, an underlayment with a high R-value will be suitable. Underlayment with a good R-value will also keep the hot air out during summer.
Determine The Level of Sound Absorption Required
In case you're living in a condo or apartment, laying out underlayment with effective sound mitigation is a great idea to reduce disturbance and prevent conflicts. The two common sound absorption ratings include:
1. Impact Insulation Class to measure how effectively the material will block noises like footsteps, drops, or furniture being moved around.
2. Sound Transmission Class to measure how well the material blocks airborne noises.
Both IIC and STC are rated between 15 to 80. For best sound mitigation, look for a material with ratings above 60.
| | | |
| --- | --- | --- |
| Underlayment Material | IIC Rating | STC Rating |
| Foam | 50 to 70. | 50 to 60 |
| Cork | 60 to 75. | 50 to 70. |
| Rubber | 60 to 80 | 55 to 75 |
| Felt | 50 to 70 | 50 to 65 |
| 3-in-1 vapor | 60 to 80 | 55 to 75 |
Conclusion
Flooring is an essential interior design element that impacts the overall feel, ambiance, and comfort in every home. While laminate flooring is an amazing option, installing it without an underlayment will result in a lower lifespan, reduced practicality, and uneven surfaces. Therefore, depending on your budget and requirements, it is vital to pick an appropriate underlay to allow the laminate flooring to live up to your expectations.
So hop on to the nearest flooring direct in your local area and purchase yours now!
Find information about flooring remodeling in Flooring section of our home remodeling BLOG.