MARBLE countertops PROS and CONS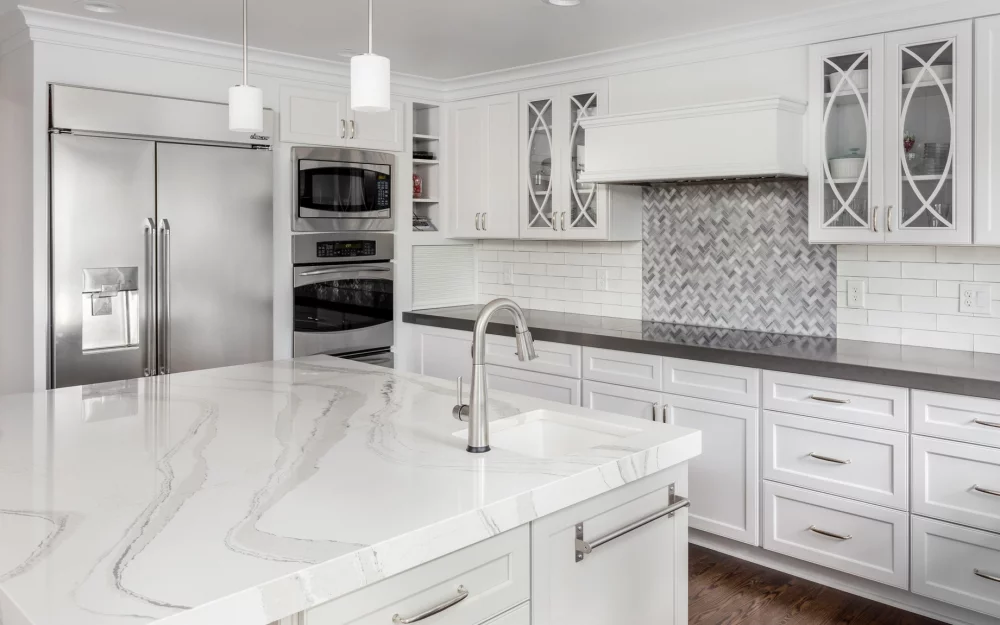 General information
From ancient history, marble has been known as a high-end construction material for sculpturing and structures that should carry a symbol of luxury and splendor and withstand the test of time.
As extraction methods modernized, marble is no longer limited to the wealthy and has become one of the most demanded materials for housing projects.
Among the best qualities of marble are, undoubtedly, its elegant, noble appearance. Various colors and unique veining ornaments of marble turn each slab, countertop, or surface into an exclusive piece of art. As with any other material, marble surface has pros and cons, and the application area may affect its longevity.
Pros of Marble countertops
Look and exclusivity:

Gorgeous material that manifests luxury and quality. A diverse selection of colors and vein patterns will complement traditional and contemporary designs equally well. No two marble slabs are identical, meaning each surface of the countertop is one of a kind.

Heat resistance:

Marble is naturally a heat-resistant material; the placement of hot objects will not be a problem; however, placing hot cookware, like a red-heated pan, directly on the surface may cause a change of color in the place of contact.
Cons of Marble countertops
Durability:

Marble is regarded by professionals as more of an artistic medium rather than just a building material. Due to its porous nature, marble is considered a "soft" stone. Unlike Quartz or Granite, which are nearly indestructible, marble can be relatively easily scratched or chipped if used intensively. However, if handled with care, marble can stand the test of time and go through decades of service with proper maintenance.

Maintenance:

Marble is an exceedingly porous material that quickly absorbs liquids. Simple beet or tomato juice dribble, drop of mustard, and red wine spill, can soon turn into a hideous stain. As a preventive measure, regular resealing is highly recommended.

Installation:

Marble surfaces are not recommended for do-it-yourself installation. Special tools and skills might be required for professional installation due to the high weight and "softness" of the material.
Price:

The cost of marble will vary depending on the source and type of marble, but it is considered one of the most costly materials in the surfacing industry.
Conclusion
Marble is a beautiful material that can upgrade any interior and, at the same time, last for a long time if used correctly and maintained well. Professionals with vast experience suggest that marble is a good surface material for locations with less usage as bathrooms, fireplace surrounds, and walls, and is less recommended for kitchen countertops.