PORCELAIN countertops PROS and CONS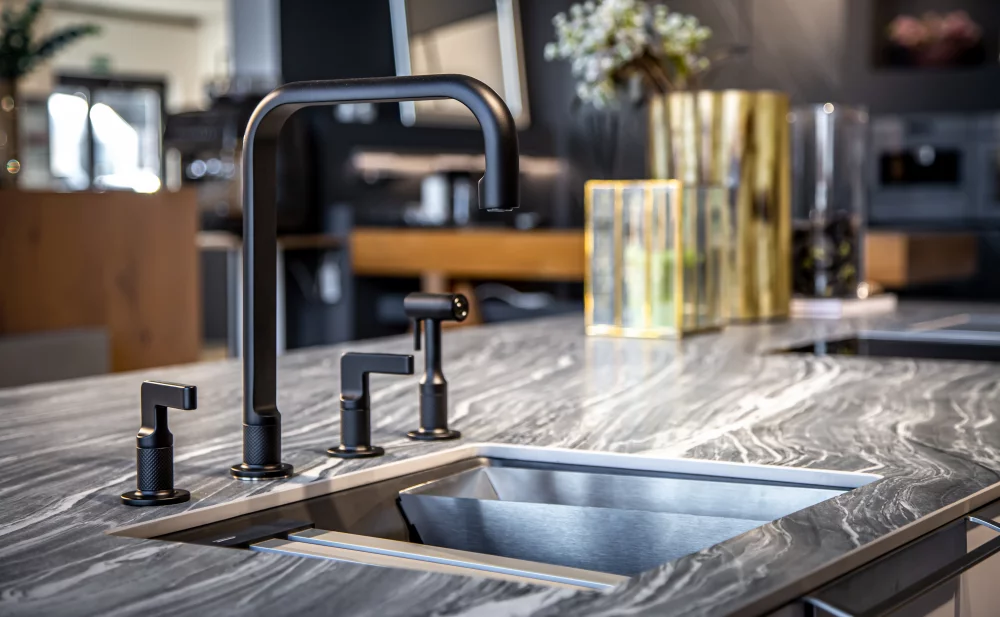 General information
Despite being a popular countertop surface in Europe for a relatively long time, Porcelain is just being discovered as an option in the United States. Porcelain is a type of ceramic that is created by heating a mixture of materials, typically including kaolinite (also known as China clay), at high temperatures ranging from 1,200 to 1,400 °C (2,200 to 2,600 °F) in a kiln. The pattern we see in the final product is printed above the porcelain slab during the glazing process. The result is a highly durable, impermeable surface that accurately mimics any natural material like stone, marble, wood, or concrete. Another variation is unglazed porcelain, where the color permeates throughout the entire thickness. However, this material is less frequently used for countertops due to its relatively porous nature and will be out of the scope of this article.
As with other materials, there are cons and pros, and longevity may depend on the application area.
Pros of Porcelain countertops
Durability:

The durability of porcelain countertops can be compared to the durability of porcelain floor tiles, which are known to endure decades of intensive usage, including shoe heels, furniture placement, various types of spills, water, and chemicals. Still, chips and cracks are possible if heavy objects are dropped. Ceramic knives can also leave cuts, therefore it is not recommended to use the countertop as a cutting board.

Heat resistance:

Exposed to tremendous heat during the manufacturing process, porcelain can easily withstand heat coming from hot pots and heated pans. Still, we recommend consulting with the supplier of your porcelain countertops before placing the hot pottery directly on the surface.

Look:

One of the miraculous features of porcelain is its accuracy in replicating natural materials. Modern printing technologies make the surface almost indistinguishable from natural marble, granite, wood grain, rusted metal, or polished concrete. With its vast selection of colors and decors, there is an option to fit any kitchen with any style and design.

Maintenance:

Glazed porcelain is a non-porous material. It is not susceptible to stains, is easy to clean, and can handle any liquids and cleaning chemicals.
Cons of Porcelain countertops
Price:

Porcelain countertops are priced below granite and similar or slightly below quartz. Depending on the source, thickness, and finish, the final cost, including installation, might be on the same level as natural stone.

Installation:

When installed, porcelain is tough and durable. However, large and relatively thin slabs before installation are fragile and should be moved and handled with care. DIY installation is not recommended; the product should be installed by well-trained specialists.

Limited Supply & Availability:

As Porcelain countertops are just gaining popularity, there is still a limited number of companies that keep them in stock and know well how to work with porcelain surfaces.

Porcelain countertop edges:

As mentioned above, the patterns and colors of porcelain are printed over the surface's top. Therefore, rounded edges are not possible. Keeping a simple square edge of the same design and color is expected. Various types of metal moldings can also be used.
Conclusion
Porcelain is a surprisingly worthy competitor to natural stone, quartz, or solid surface. It is stylish, strong, durable, easy to clean, and easy to maintain. With only a few imperfections to consider, it deserves its place on the list of your options.