QUARTZ countertops PROS and CONS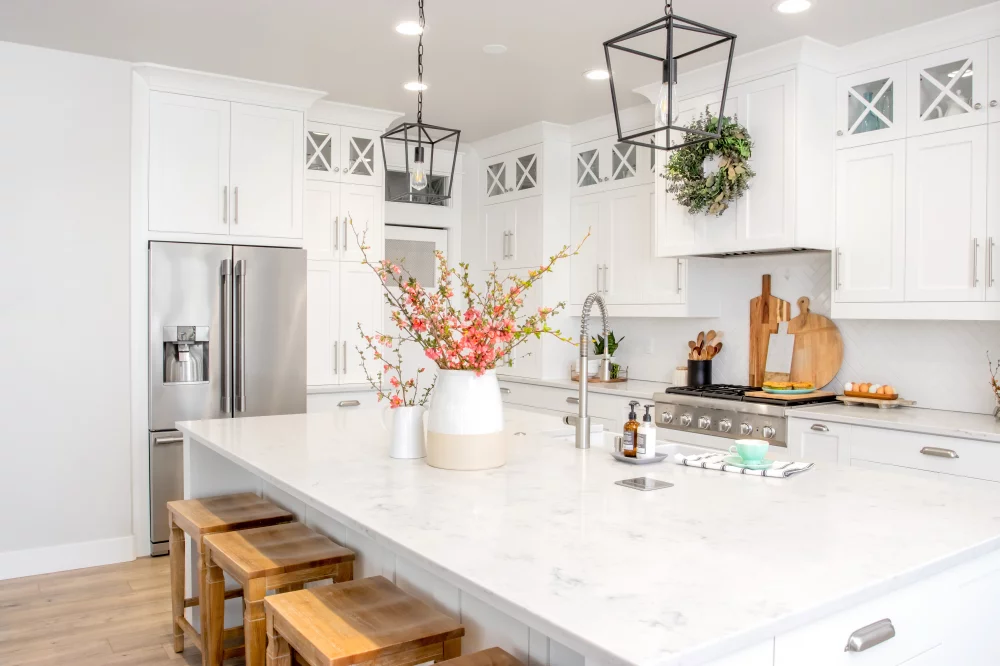 General information
Quartz is one of the most popular contemporary luxury countertop materials available on the market today. Also known as engineered stone, quartz is manufactured by mixing 90% ground mineral quartz with 10% polymer resin and pigments under heat and high pressure.
As manufacturers regulate the process, a variety of colors, designs, and creative options have no limits. Some designs are undistinguishable from high-quality granite, marble, and other natural stone; others include recycled glass, metallic flakes, and bids for a contemporary and even futuristic look.
As with any other material, Quartz countertops have pros and cons, which should be considered.
Pros of Quartz countertops
Durability:

Due to their highly durable nature, Quartz surfaces can last for many decades with minimal scratching or chipping.
Diversity and versatility:

Quartz comes in many colors, designs, and styles, making it easy to apply to the most sophisticated design ideas. It can be used not only as kitchen countertops but also in the bathroom, dining table surfaces, or fireplace surrounds.
Maintenance:

The quartz material is non-porous, which makes it highly resistant to liquids and stains and is easy to maintain. On the contrary, the stain problem is common in granite or marble because they are both natural and porous materials; spilled liquids can penetrate the pores and may not be easy to clean.
Cons of Quartz countertops
Installation Difficulty:

Quartz surfaces are not recommended for do-it-yourself installation. Special tools and skills might be required for professional installation due to the high weight of the material.
Direct heat vulnerability:

Quartz is a heat-resistant material; however, placing hot cookware directly on the quartz countertop may result in resin that holds quartz particles together to melt, causing a change of coloration in the place of contact.
Indoor use only:

When Quartz is exposed to direct sunlight, the UV rays may affect the color; therefore, it is strongly advised to use this material only for indoor projects.
Price:

Quartz material's advantages, such as durability, stain resistance, and design diversity, come with a cost. Quartz ranks among the most expensive surface materials in the industry.
Conclusion
Quartz is a robust, durable material that will last a lifetime and, at the same time, will not require much maintenance, qualities that large families will appreciate. The project's high price, divided by many years of easy maintenance-free usage, initially makes it a great deal. At the same time, it can be considered an investment that will permanently increase the house's value.