SOLID SURFACE countertops PROS and CONS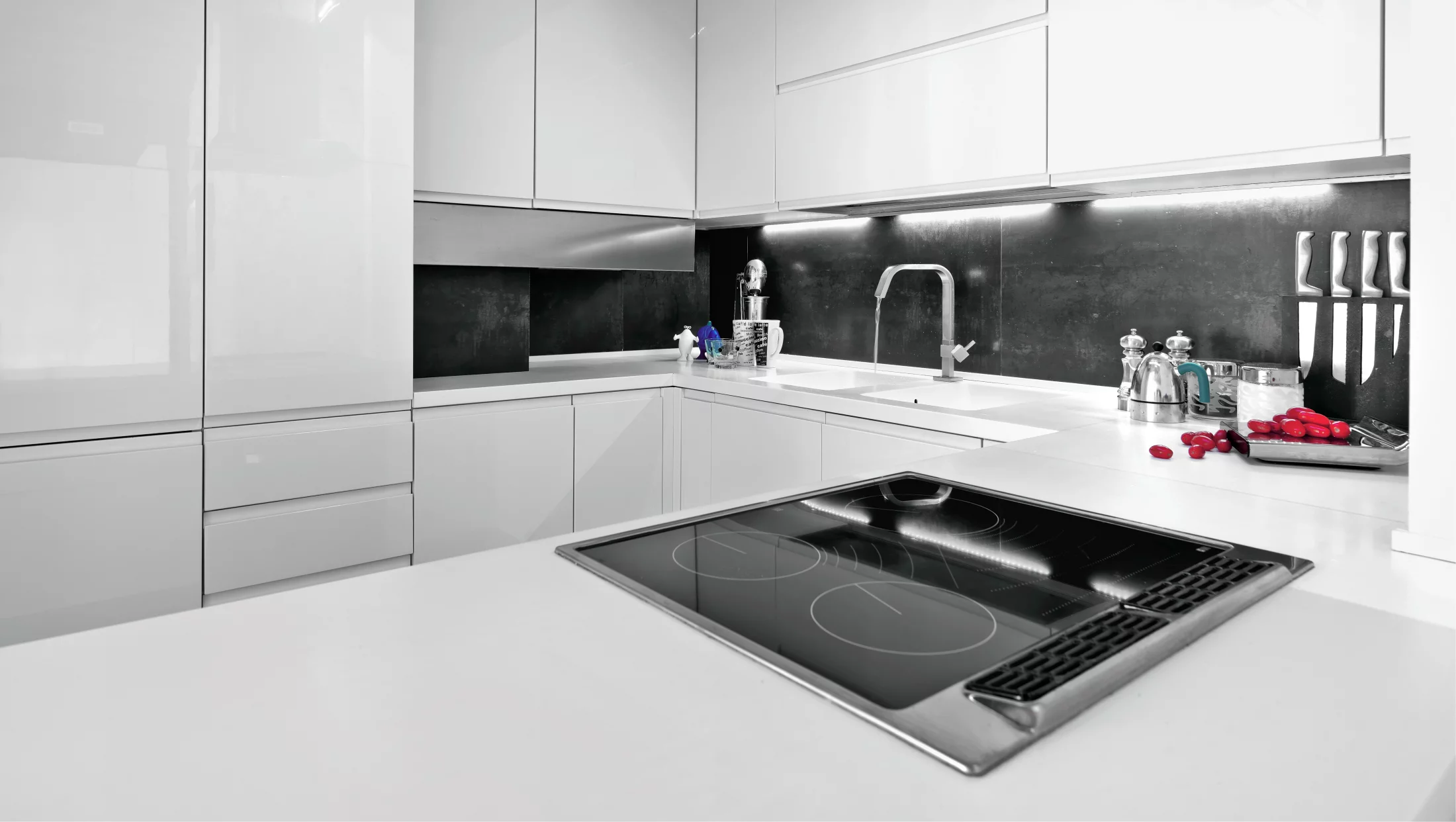 General information
A solid surface is a man-made material that is created by combining acrylic, epoxide, or polyester resin with pigments and powdered bauxite filler. The solid surface material has been on the market for over 50 years, first introduced in 1967 by Du Pont and sold since 1971.
The idea behind solid surfaces was to replicate the appearance of marble, granite, natural stone, and other naturally occurring materials without disadvantages like high price and porous nature. Since the initial patent expired in 2003, and other manufacturers entered the competition, the Solid surface has taken the market by storm. With its alluring appearance, and durable construction, available in hundreds of unique patterns and colors, the solid surface is commonly used for seamless kitchen countertops. However, countertops are just one of many applications; Solid surface is widely used in commercial facilities like restaurants, cafes, airports, and many public buildings worldwide.
As with any other material, the Solid Surface has pros and cons, and its longevity may depend on maintenance frequency and area of application.
Pros of Solid surface countertops
Seamless Look:

A seamless look is one of the key features of a Solid surface. The seams are nearly invisible when professionally installed. It also provides an aesthetic of fully integrated sinks that gives an appearance of being seamless, and it is impermeable in nature, avoiding the accumulation of liquids that may cause mold.

Price:

Solid surface countertops can give an appearance similar to stone but at a much lower cost. Priced above laminate and wood but below Quartz, Granite, and Marble. This a good solution for those looking for the high-end appearance of natural stone countertops but not ready to spend large budgets

Maintenance:

Solid surface is a non-porous material, which makes it highly resistant to liquids and stains and is easy to maintain, clean, and tidy.

Look and diversity:

Solid surface materials come in hundreds of colors, shades, and textures, from solid colors to accurate imitations of various types of natural stone.
Cons of Solid surface countertops
Durability:

Despite its name, the Solid Surface is a relatively soft material. One of the essential drawbacks is that they are susceptible to mechanical damage by knives and other sharp objects. At the same time, damaged areas can be relatively quickly resurfaced.

Heat Resistance:

Solid surfaces don't handle heat as well as any natural stone does. Even though they are designed to hold 212 degrees Fahrenheit (the temperature of boiling water), placement of a hot pot or heated pan directly on the surface can cause discoloration and scorches.

Installation:

Solid surfaces are not recommended for do-it-yourself installation. Special tools and skills might be required for professional installation.
Conclusion
Solid surface is precisely what it was intended to be: an easy-to-maintain, potentially seamless, and more affordable alternative to natural stone and quartz.