The Ultimate Bathroom Lighting Guide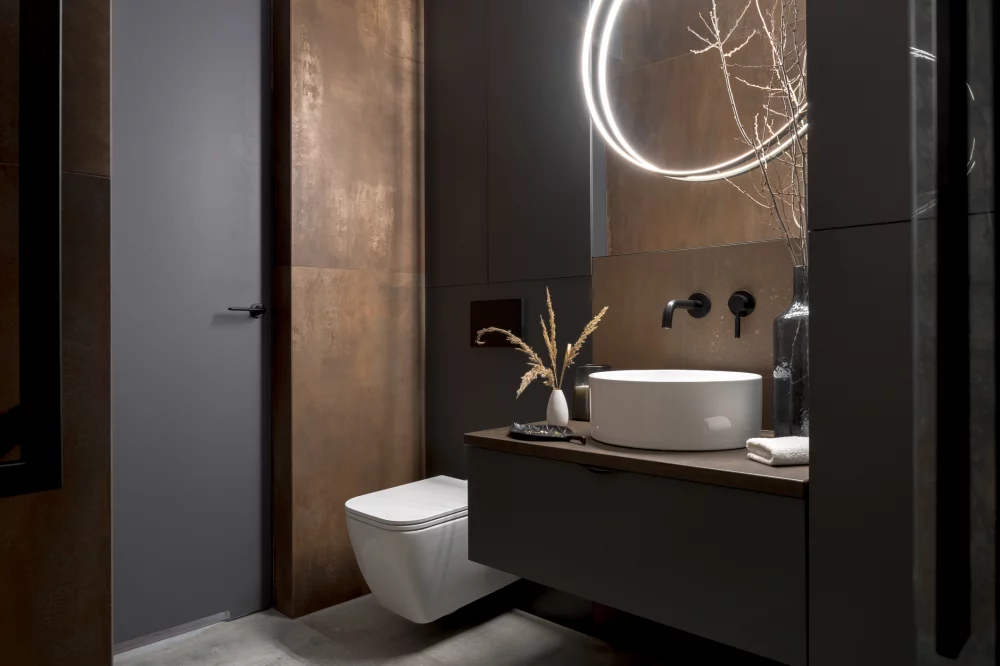 Regardless of being an important room where we start and end our days, bathrooms are still an overlooked area when it comes to lighting design. However, it is essential to remember that bathroom lighting and illumination play an integral role in our everyday routine. Whether it's relying on bright lighting to perfect your makeup and feel refreshed in the morning or something dim and soft to unwind and relax in the evening, a well-lit bathroom makes a huge difference.
So without further ado, let's go on to discover how you can ace the lighting layout of your bathroom!
Types of Bathroom Lighting
Bathroom lighting needs to be both functional and aesthetic — and an effective way to do so is to incorporate all three types of lighting.
Bathroom Ambient Lighting
Ambient lighting (also called general lighting) offers a uniform level of illumination throughout the room to provide enough visibility to move around safely. The typical source includes a main overhead fixture or a central flush light, such as pendant lamps or chandeliers. Options like sconces and other wall-mounted fixtures (like multiple downlights on the ceiling) can also be used.
Quick Tip: To decide on the right ambient lighting, consider using an online calculator to figure out the number of lumens you will need according to the bathroom's square footage.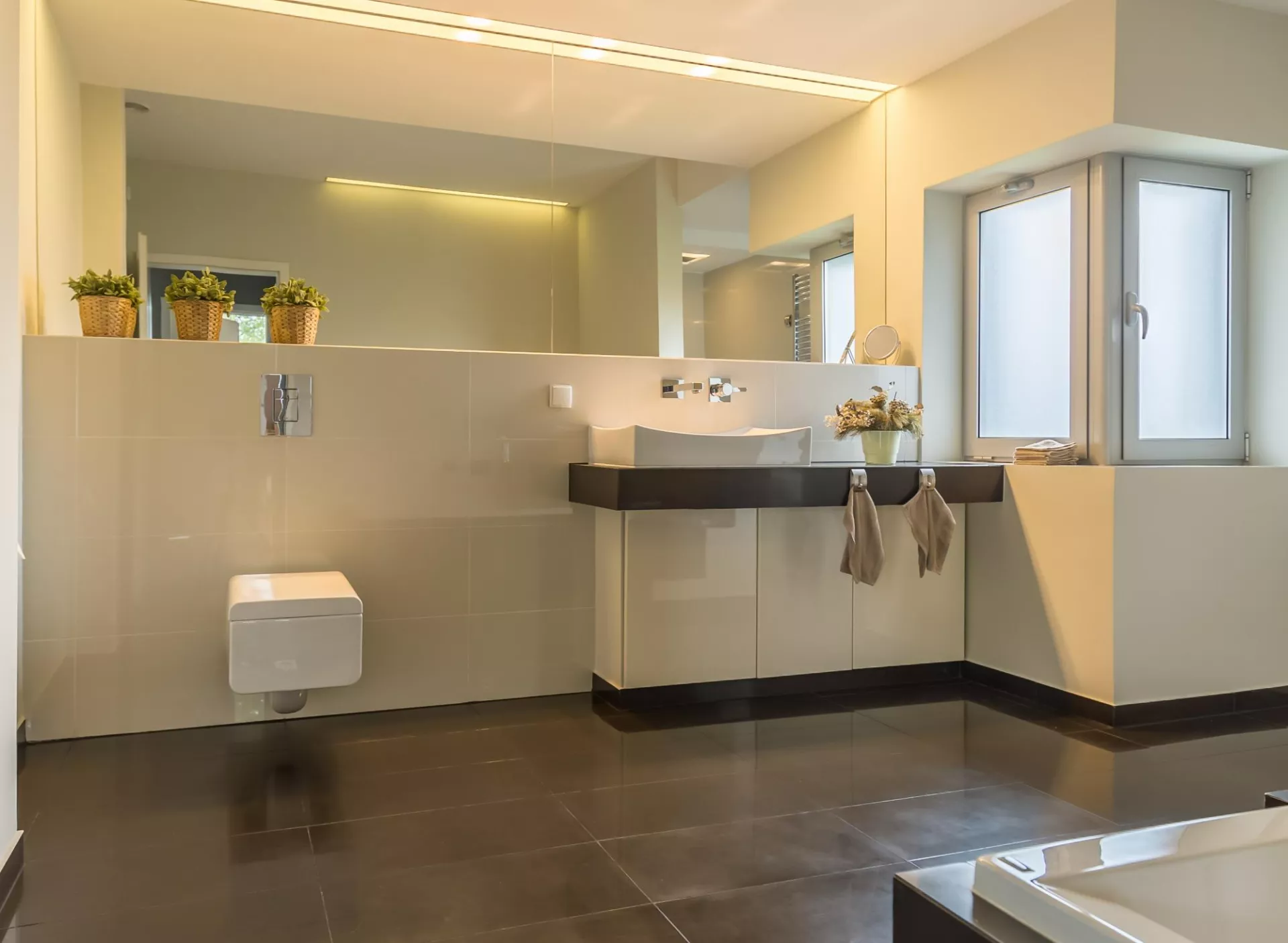 Bathroom Task Lighting
Task lighting is ideal for situations where extra focused, targeted, and directional illumination is required, for example, while applying makeup, shaving, dental care, or other daily rituals. Clearly, one of the most suitable places for task lighting would be near the vanity. Here, it can take the form of wall sconces, LED mirror lighting, or vanity bulbs. For concentrated illumination in the shower, go for a damp-rated fixture.
Quick Tip: Install wall sconces on each side of the mirror to avoid unflattering shadows. Look for fixtures with opaque covers if you're installing them right above the mirror.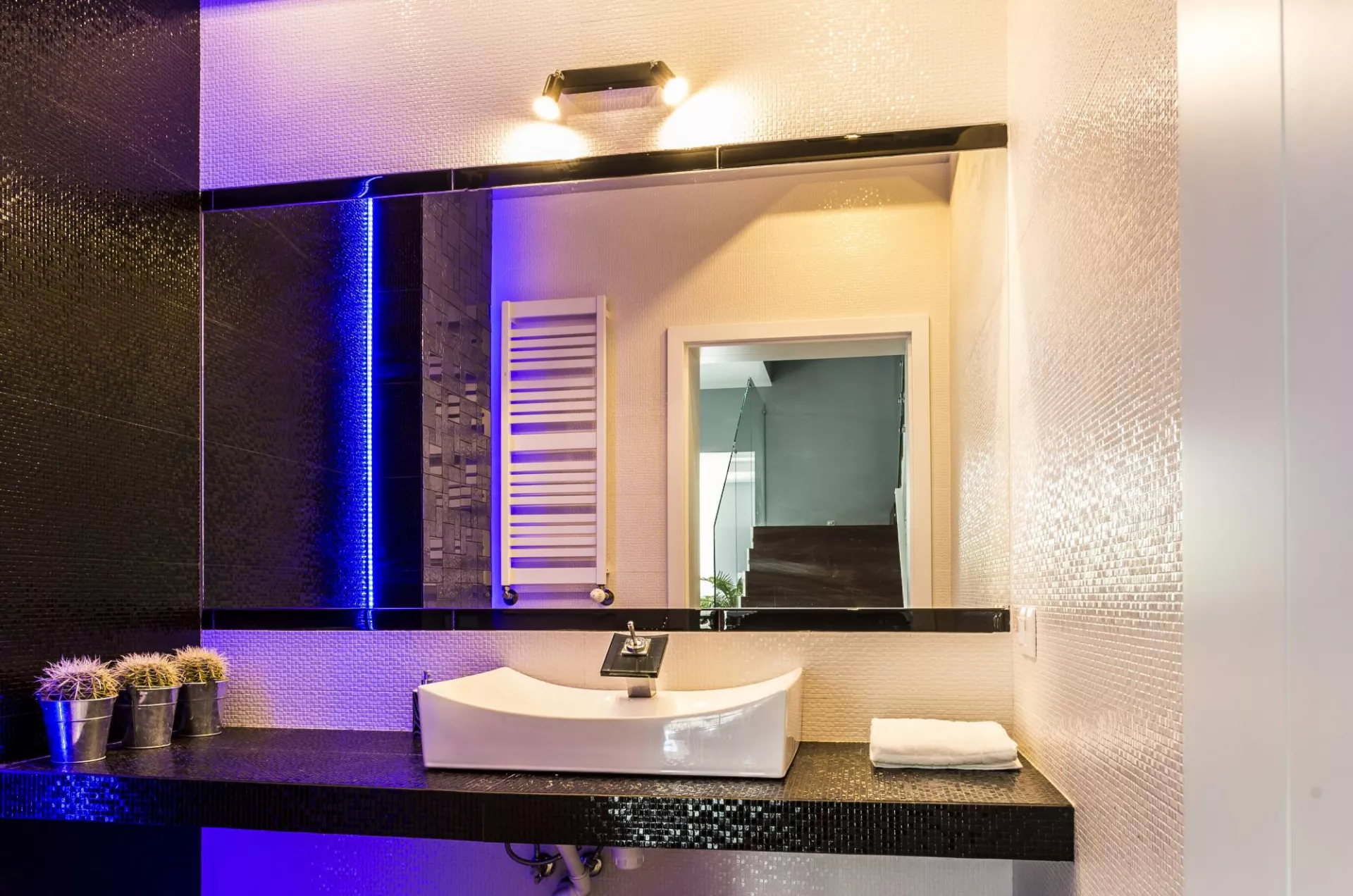 Bathroom Accent Lighting
Accent lighting is an opportunity to introduce dimension and visual interest to your bathroom while highlighting the stunning features and emphasizing the aesthetics of the space — all without costing you a fortune!
Wall fixtures, track lighting, and directional recessed lamps do great in serving the purpose of accent lights. Angle each light at a particular angle to illuminate your favorite features, including artwork, indoor plants, decorative shelving, tile, or anything you love in your bathroom!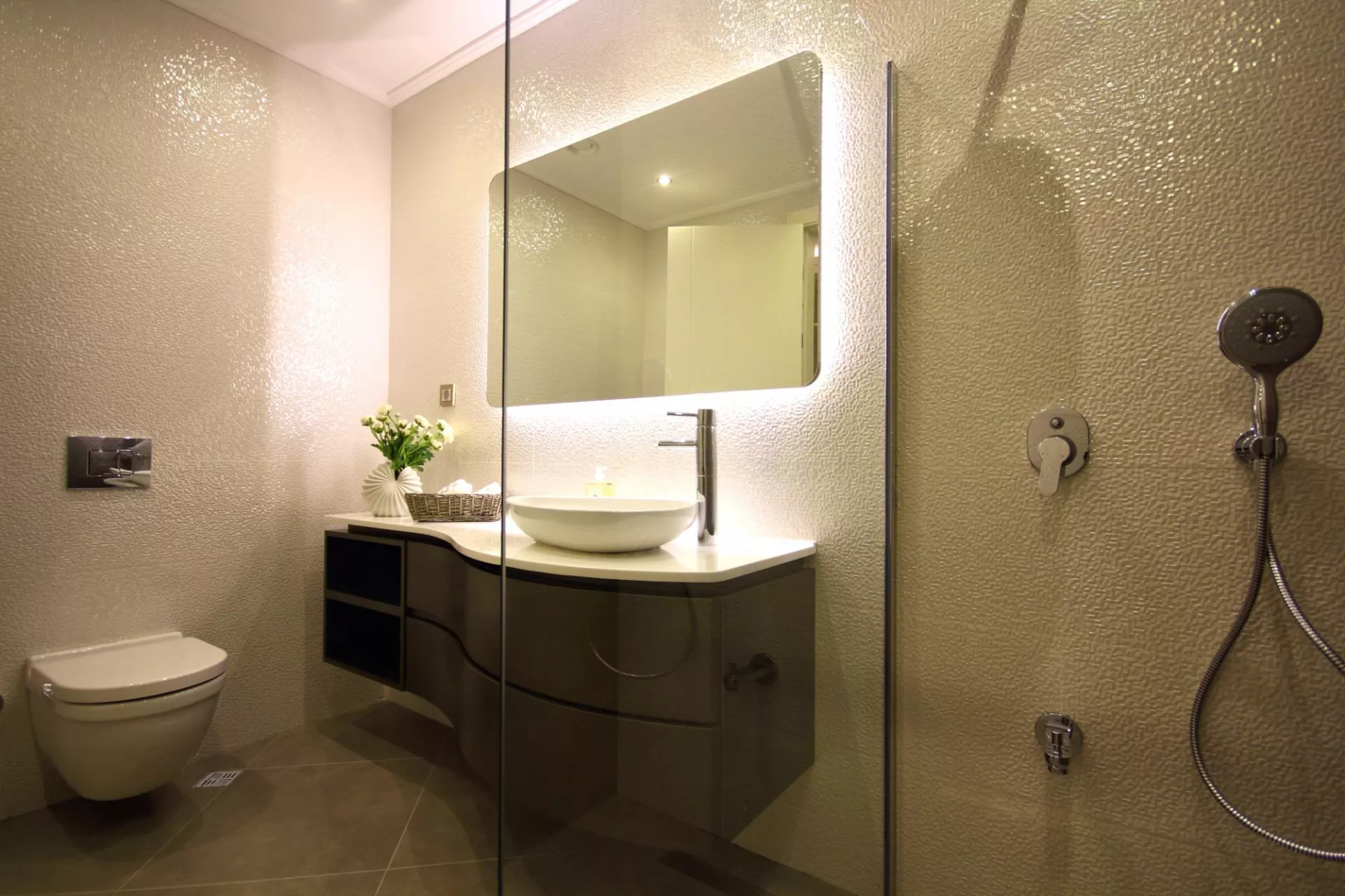 Picking Lighting For Your Bathroom: Factors To Remember
Effective bathroom lighting isn't just about aesthetics. Below, we will list the details to consider and implement into the layout for sure-fire results.
Bathroom Size & Layout
Bathrooms come in multiple sizes and layouts, including three-quarter, half, jack-and-jill, master bathrooms, etc. To illuminate a small bathroom, downlights and sleek wall sconces can create the illusion of a higher ceiling. Placing a lamp strategically with a mirror to allow maximum reflection will also work.
For a larger bathroom, recessed ceiling lights can help avoid any dark shadows and brighten up the space evenly. Pro Tip: Divide the ceiling height by two to decide what the distance between each fixture should be.
Lifestyle & Usage Patterns
While bathrooms are fully equipped to be used as utility rooms, going the extra mile to add additional features to create a calming and soothing ambiance where you can simply kick back and recharge at the end of a tiring day is an elite luxury not enjoyed by many.
Whether installing dimmers to vary the brightness or adding mood lighting in different colors (like yellow to wake you up, purple to excite you, or green to create a sense of harmony), the right lighting can make your daily routine much more enjoyable.
Personal Style & Design Preferences
To create a space that fully reflects your personal taste and style, varying the lighting fixtures to complement the overall design can definitely help. Natural fixtures made of rattan or wicker, for example, will go well in a Boho bathroom; wrought-iron fixtures suit a traditional bathroom; vibrant fixtures look good in an eclectic bathroom, and so on.
Quick Tip: To create a cohesive look, try pulling in themes from your shower tile or vanity when purchasing light fixtures. Sticking to similar finishes, for instance, is a good idea. You can also try different finishes but a similar color palette for the same coherent effect.
IP Ratings
For areas where the light fixtures come in contact with water, you will need to consider the IP ratings. IP ratings indicate the moisture levels a fixture can be exposed to safely.
| | | |
| --- | --- | --- |
| Zone | Areas Included | Minimum IP Rating |
| 0 | Bathtub or shower | IP67 |
| 1 | 2.25m area above the shower floor or tub | IP44 |
| 2 | Zone 1 + 0.6m area outside the shower or bath | IP44 |
*The IP rating's first digit depicts the safety against solid things, while the second digit represents the resistance provided against water.


Selecting Optimal Bulbs For Your Bathroom
Opt for warm lighting over harsh or clinical illumination. While searching, the common options you will find include LED (cost-effective and long-lasting), halogen (more affordable and warm than LED), and Edison (casts low lumens and offers a visible filament for extra interest).
Whichever you pick, make sure the bulbs have a color rendering index of 90 (or beyond) and a color temperature of 2700K. Such choices guarantee a flattering glow without rough shadows.
Frequently Asked Questions
What is the safest lighting option for bathrooms?
Bathroom lights should be water-resistant. To be more specific, IP65 (for ceilings over a shower) and IP44 (for ceilings over a bath) are high-protection lights you can look for.
How should I decide the number of lights required for my bathroom?
While the final decision varies with your personal needs and preferences, sorting out the lighting scheme for the following areas can give you a rough estimate of the number and types of fixtures required.
Cordless battery-powered mirror lights, LED light kits, vanity strips, or sconces for the mirror.
LED strip lights or rope lights under bathroom cabinets and counters.
Fixtures with the right IP ratings for the tub or shower.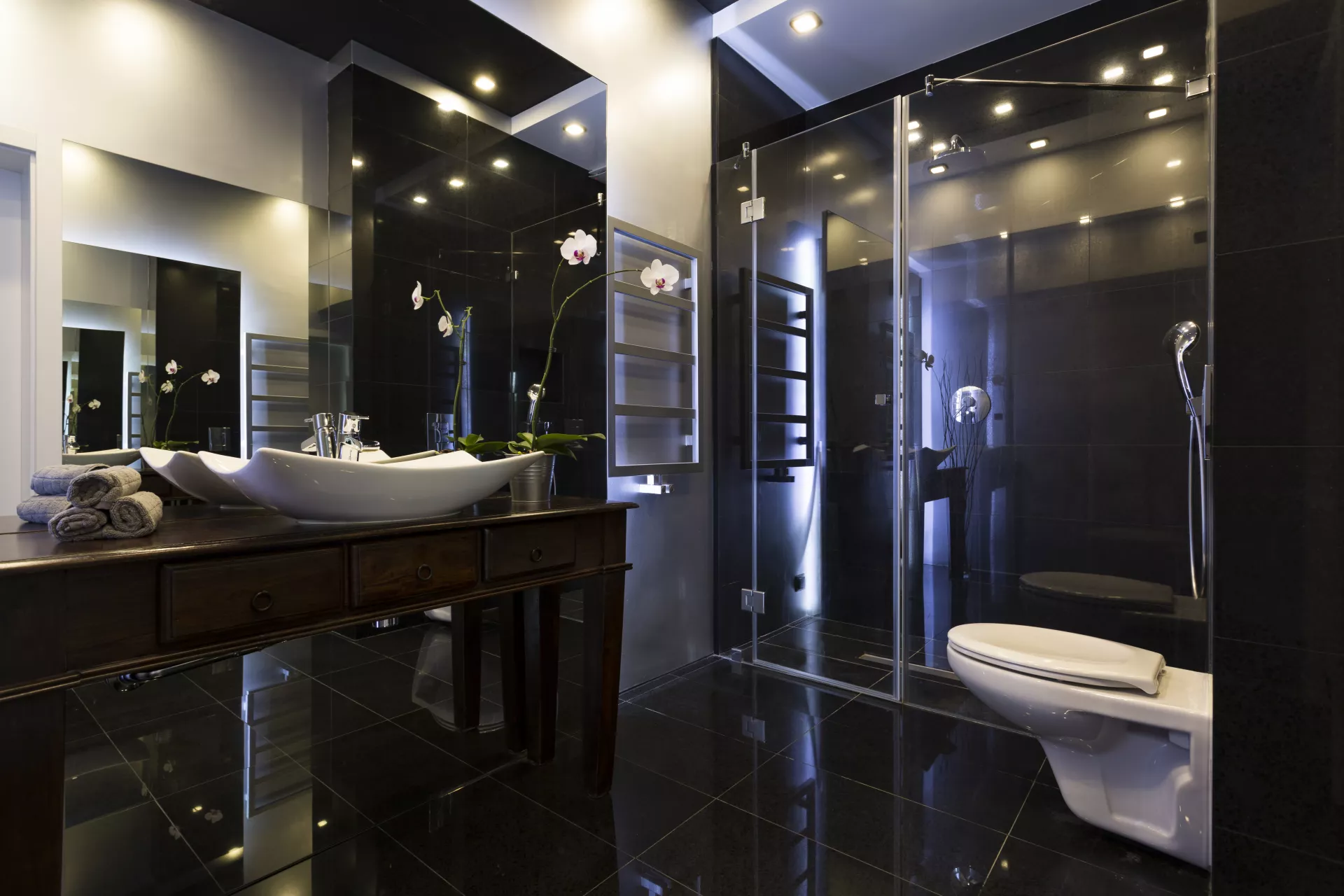 Conclusion
Paying attention to elements like sanitary equipment (such as bathrooms, tubs, and sinks), the color palette, tiling, etc., are indispensable parts of bathroom interior design. But remember not to let the lighting scheme of your bathroom take a backseat. Being a vital element, bathroom lighting can make or break the room in no time, so be sure to devote extra money and time to create an effectively-illuminated bathroom!
Find more information about Bathroom Remodeling in the Bathroom section of our BLOG.