Kitchen Cabinet Trends, Styles, & Ideas For 2023
Cabinet design is one of the most vital decisions when planning a kitchen. It not only impacts the functionality of your space but also influences the overall aesthetic and visual appeal of a kitchen — and, of course, a space where you will spend a major chunk of your day needs to be inviting enough to keep you going without getting migraines from unorganized countertops and drawers.

Whether you're planning a full-fledged kitchen renovation or want to make a few subtle touches here and there, we've got you covered. This article will provide you with the latest cabinet trends that extend far beyond old boring cupboards and give your kitchen an instant facelift — scroll on to learn more!
Stained-Glass Panels
Stained-glass panels were a popular choice but fell out of trend in recent years. However, with homeowners looking to add a touch of elegance to their interior, this cabinet style is set to make a comeback in 2023.
The best part? Stained-glass panels match any design style you've chosen. A Frank Lloyd Wright stained glass pattern, for example, will work well for a mid-century modern kitchen; clear beveled glass with a pop of color goes well in a traditional kitchen; something more earthy or natural with vines and leaves can add a contemporary touch to a vintage kitchen, and so on.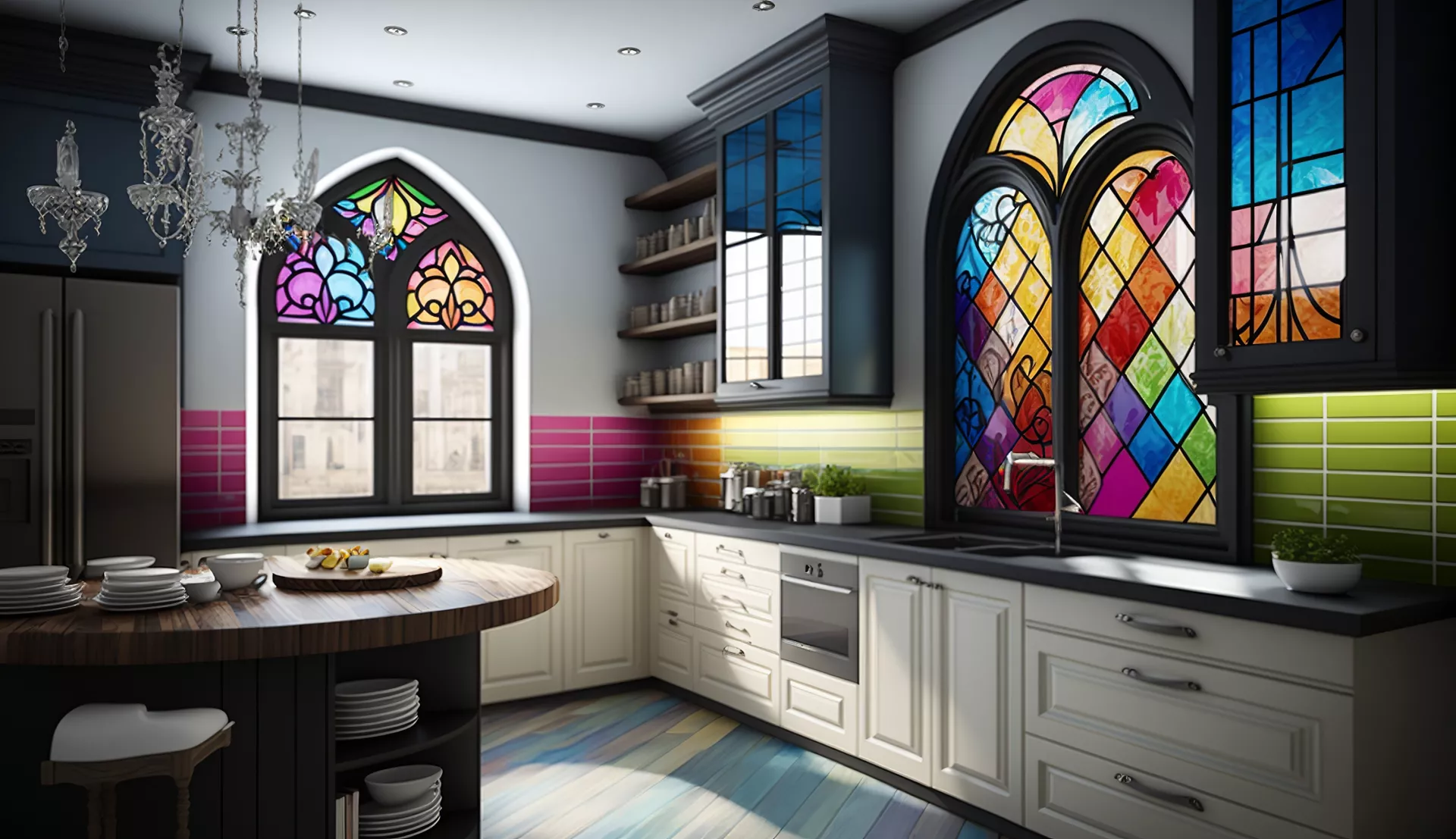 Dark Stained Wood
Opposed to all the saturated kitchen cabinet colors gaining popularity, dark-stained wood cabinets give off a "been here forever vibe," which aligns with our yearnings for the cozy atmosphere of our grandparent's home.
To fully embrace the beauty of the trendy dark-stained cabinetry, we've put together some smart tips you can implement in your kitchen.
Use light accents to prevent the dark cabinetry from feeling too heavy and overwhelming. For example, a simple backsplash paired with light quartz counters, light wooden flooring, and neutral-colored appliances and hardware can lift up the look without making the space appear top moody.
Bring in organic textures for a modern look. From rattan furniture to potted plants and stone tabletops (or island stools), there are multiple options you can pick from.
Opt for two-toned cabinetry by installing either a clean white finish for the upper cabinetry or simply going for open shelving.
Remember, the trick is to keep the look modern and fresh by blending the dark cabinetry with other organic textures and lighter tones for a balanced design.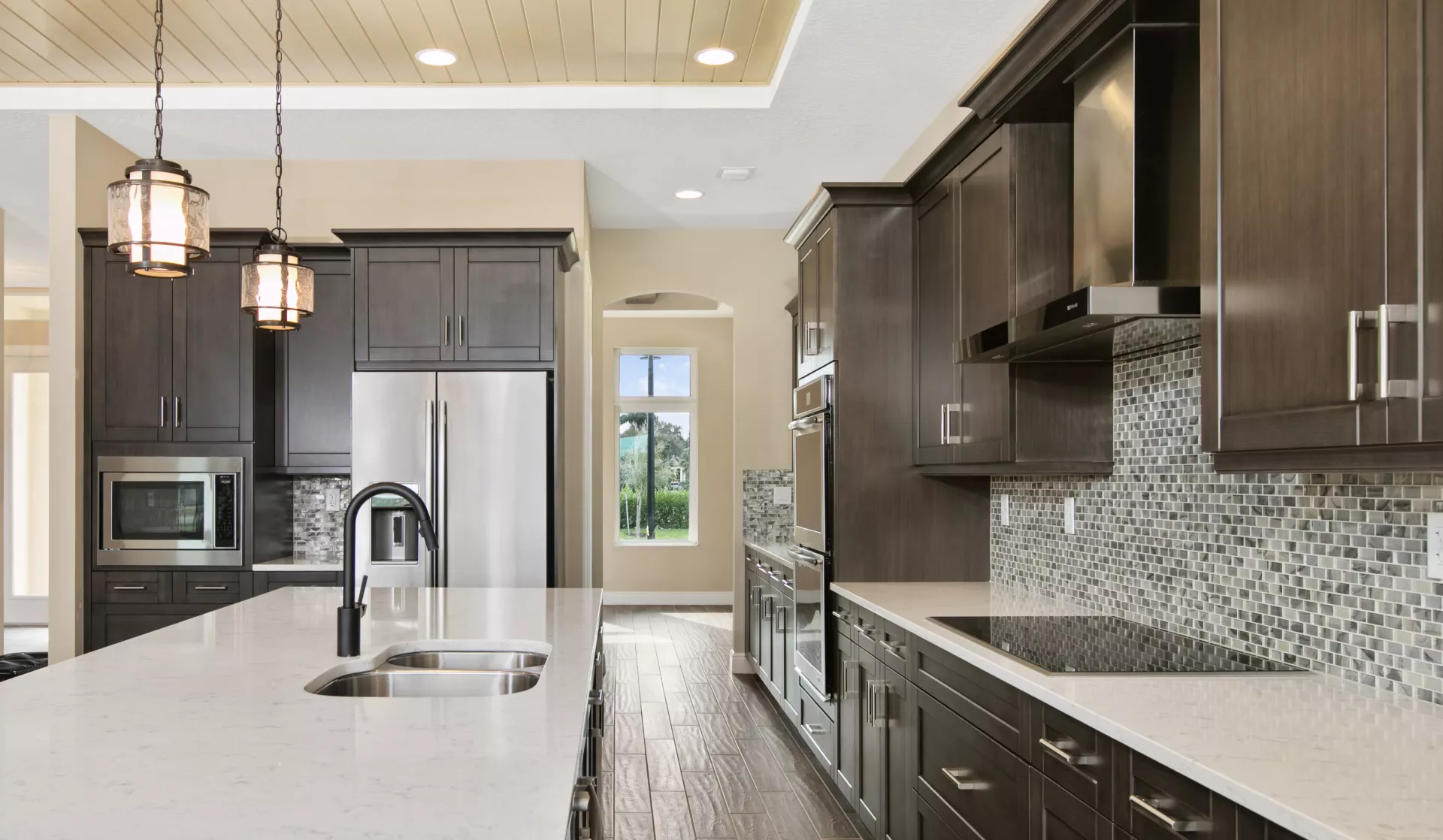 Skirted Cabinetry
The trend of swapping lower cabinet doors with fabric curtains is back and better than ever. After all, skirting instead of doors is an incredible way to get rid of unsightly cabinet fronts while also refreshing the space — all without splurging on new hardware or paint.
Below is a list of ideas to help you incorporate this old-style trend in a modern way in your kitchen.
Add a pop of color to a monochromatic kitchen with a vibrant curtain fabric. This can even help set the mood by, for example, hanging yellow skirting for summer and light blue for winter.
Accentuate your interior design style. For instance, if you have a farmhouse-style kitchen, a light-hued no-fuss skirting linen can perfect the look.
Break up a dark kitchen with light-hued, pleated skirting on the lower cabinets.
Create cohesiveness by matching the curtain rod with the sink faucet and the curtain fabric with other appliances from your culinary space.
Sleek Handless Designs
The latest modern kitchen cabinet trends are about a free-flowing, multi-tasking design with a pared-back look. From textured woods to hi-gloss white and ceramics, this kitchen style works for both period and contemporary properties.
Depending on your preference, you can opt for push-open and close doors or recessed handles. If you go for the latter, try lining the handles with bright colors to add interest. Balance the look by using the same hue as an accent shade in other parts of the kitchen (like the window treatments, backsplash, or kitchen island chairs), and design the rest of the kitchen with a light color palette and clean lines to maintain a modern vibe.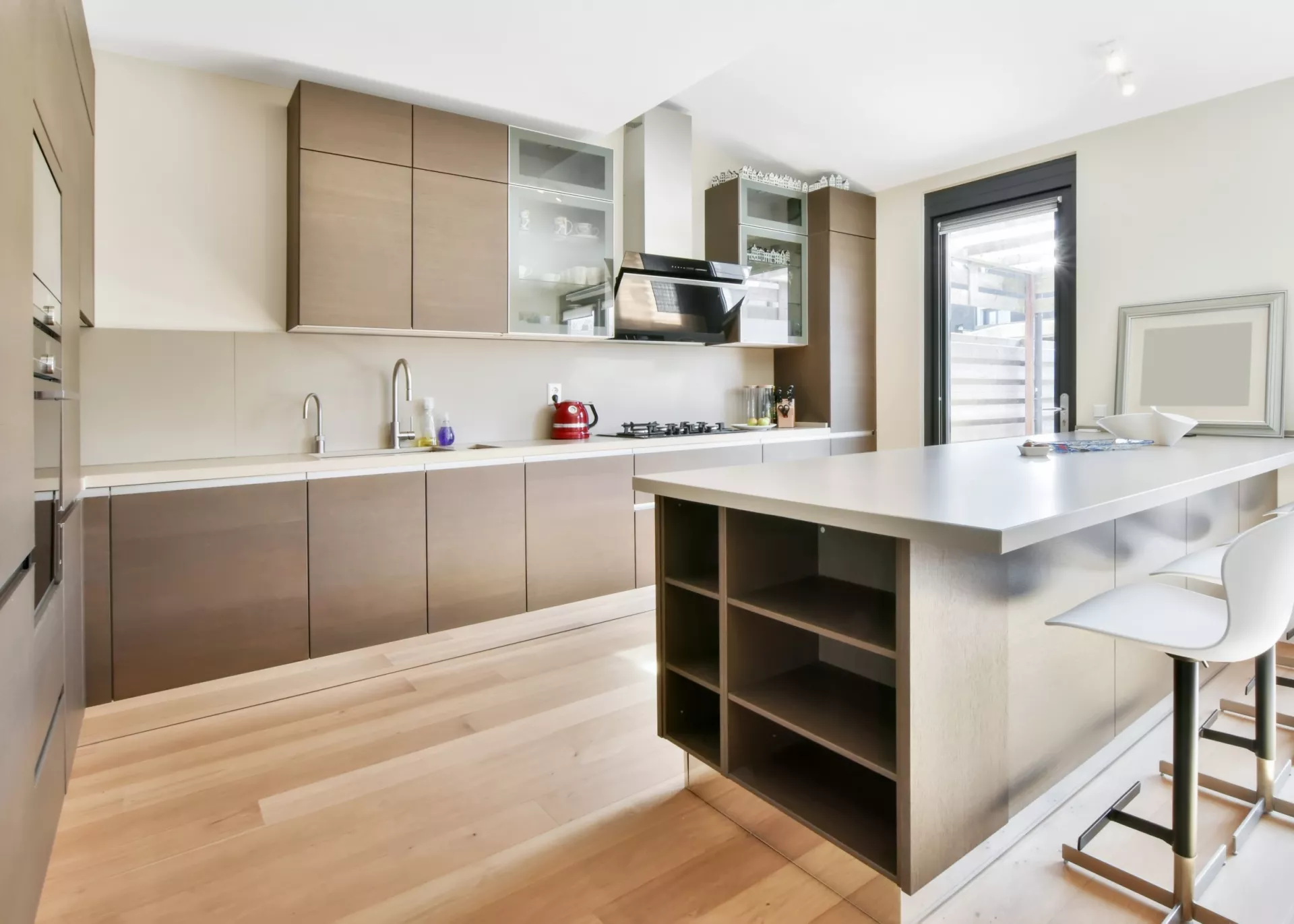 Curved Cabinets
2023 has given curvaceous cabinetry the center stage. "While linear kitchens still carry a strong appeal, there is a definite trend towards a new approach in the styling of kitchens, with curves being easier on the eye and more comfortable to live with," states Graeme Smith, conceptual designer, Metris.
So just like kitchens are not only for cooking, kitchen cabinets do not only have to be composed of straight lines. Gently rounded (or even full-on voluptuous) cabinets lift the layout, soften the overall look, and even add a statement design to your kitchen. Pro Tip: To create a more dramatic look, consider adding cabinet fluting to the curved surfaces.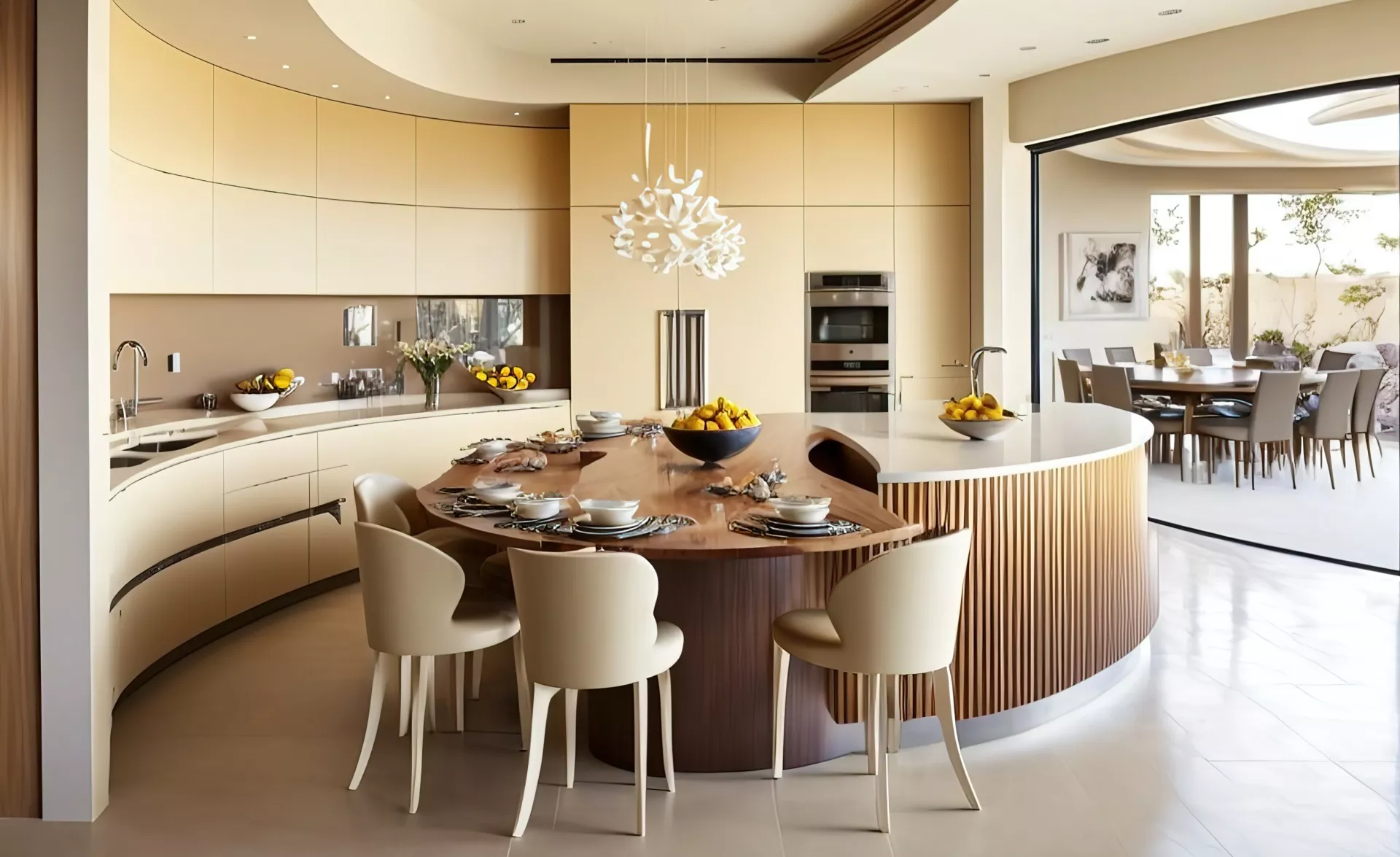 Bright Green Cabinets
Apart from the different cabinet styles, various interesting kitchen cabinet color trends for 2023 have been predicted to make a hit. Green, specifically, is one such bright color that is being welcomed and embraced in many kitchens as homeowners have started pivoting toward Biophilic design. Whether through sage, olive, mint, or forest green, combining this appealing shade with elements like Biomorphic shapes, adequate natural light, and indoor plants can help curate a calming space with a relaxing atmosphere that makes doing chores a lot more enjoyable.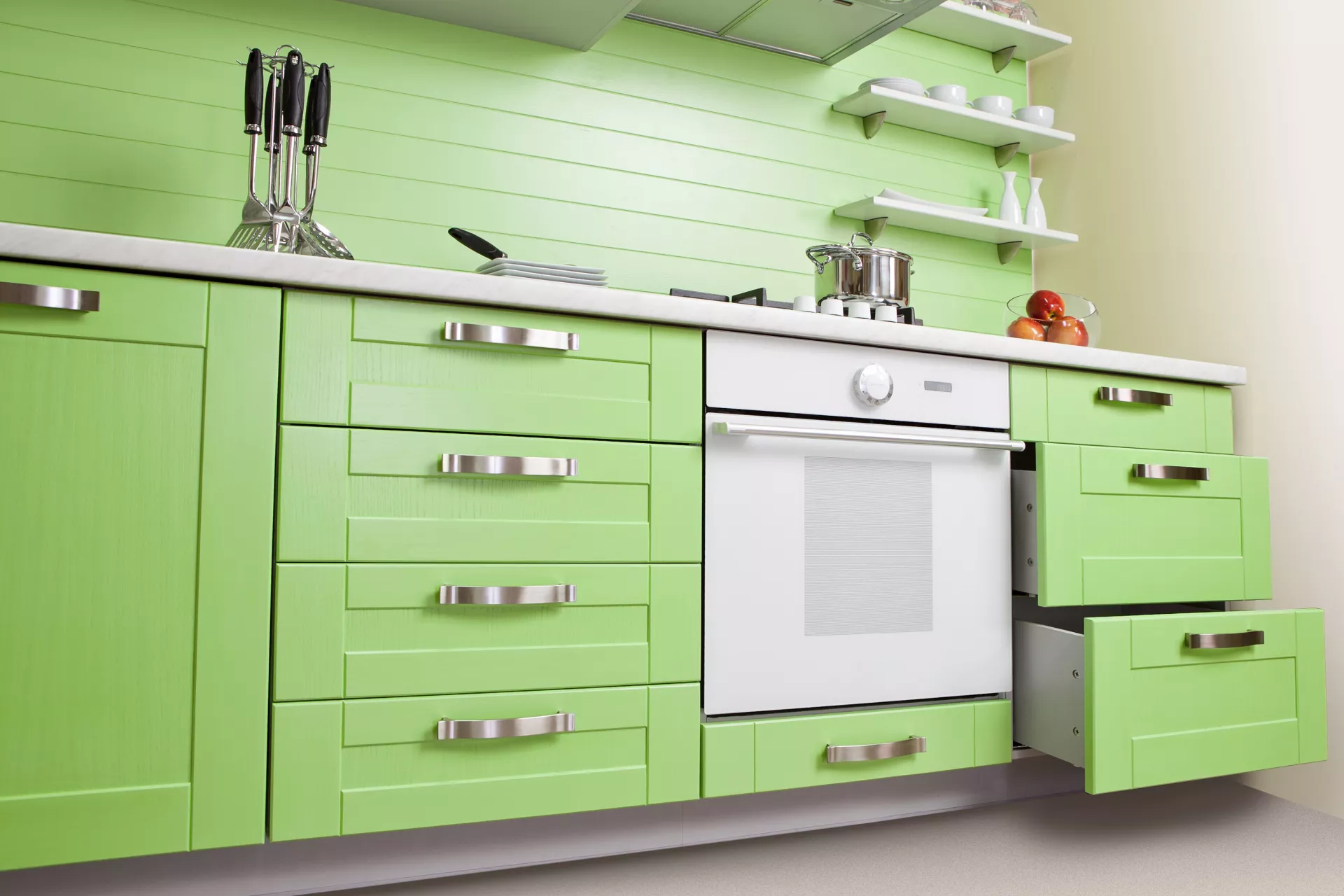 Two-Tone Cabinets
Two-tone kitchen cabinets have made their way to the hot kitchen cabinet trends for 2023 — and with all the good reasons. They introduce visual interest, make your kitchen appear more spacious, and even increase the resale value of your home!
To guide your decision, below is a list of some important tips you can keep in mind to achieve a stunning result.
Go darker on the bottom cabinets but make sure to choose a color that makes up only one-third (or lesser) of the entire space to avoid an overbearing look.
Layer neutrals on the top.
Choose complementary colors based on the overall theme of the kitchen.
Don't forget to tie the look together with contrasting hardware.
We've also rounded up some of the popular color combos from the kitchen cabinet color trends of 2023 to spark inspiration for your space.
Natural wood + forest green
White + sleek grey
White oak + white
Classic navy + white
Maroon + grey
Beige + posh pink
Vivid green + blonde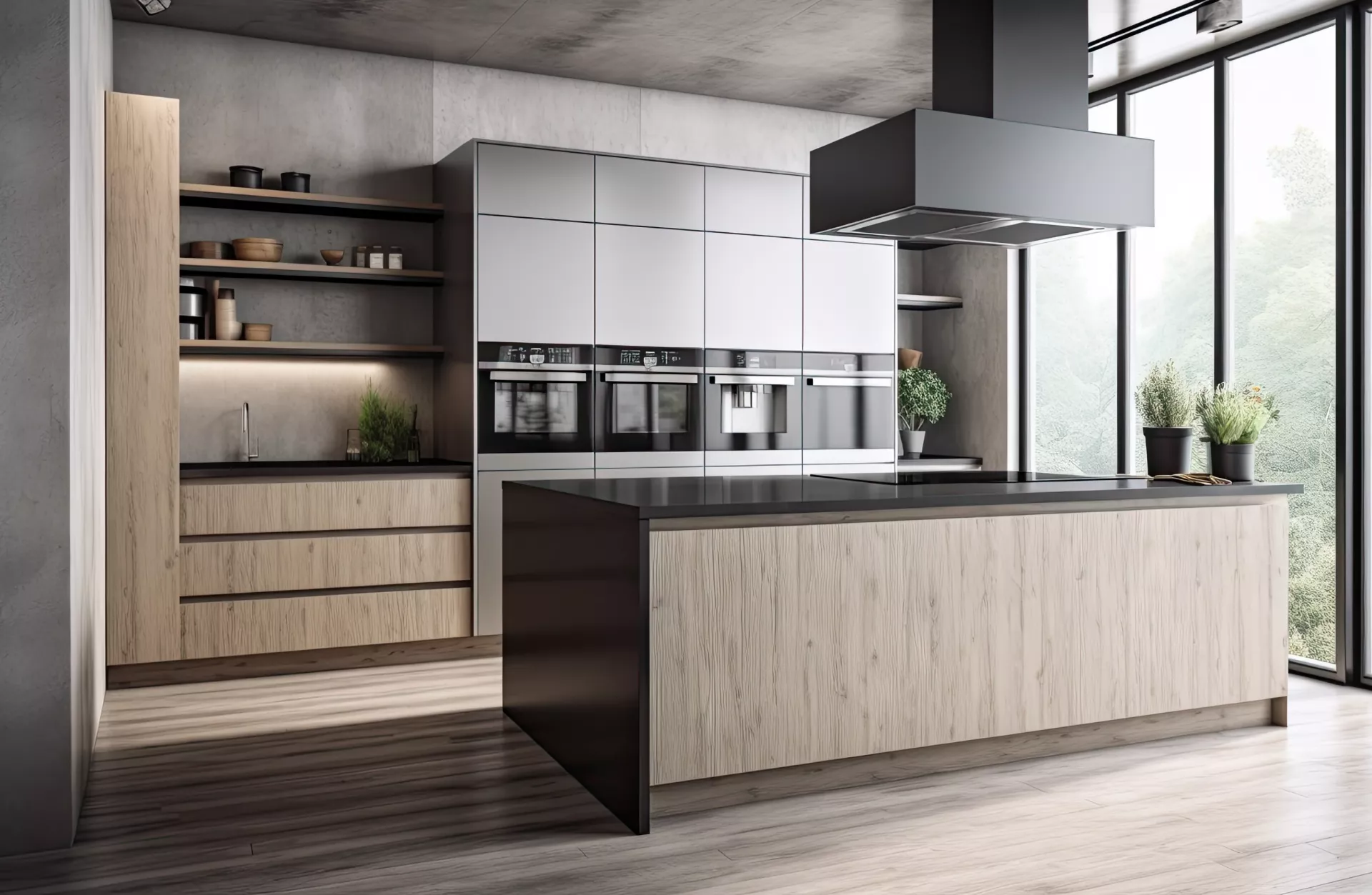 Conclusion
Having the power to make or break a kitchen, cabinetry is undoubtedly an essential design element that deserves extra attention and planning when it comes to refurbishing a space. Whether you're an amateur chef who loves to cook 3 meals per day or a takeaway person who only uses the kitchen as an entertainment spot with friends and family, choosing the right kitchen cabinetry can make a huge difference.
But remember, trends only matter if they truly resonate with who you are — your lifestyle, your taste — and help you design a space you love. The choices you'll make will last you for years, if not a lifetime, so it's best to adapt the latest fashion to your taste and preference rather than blindly hopping on to every new trend.
Read our article: "Kitchen remodeling: the most popular questions answered" to get more insight into the kitchen remodeling process.