Kitchen remodeling: the most popular questions answered.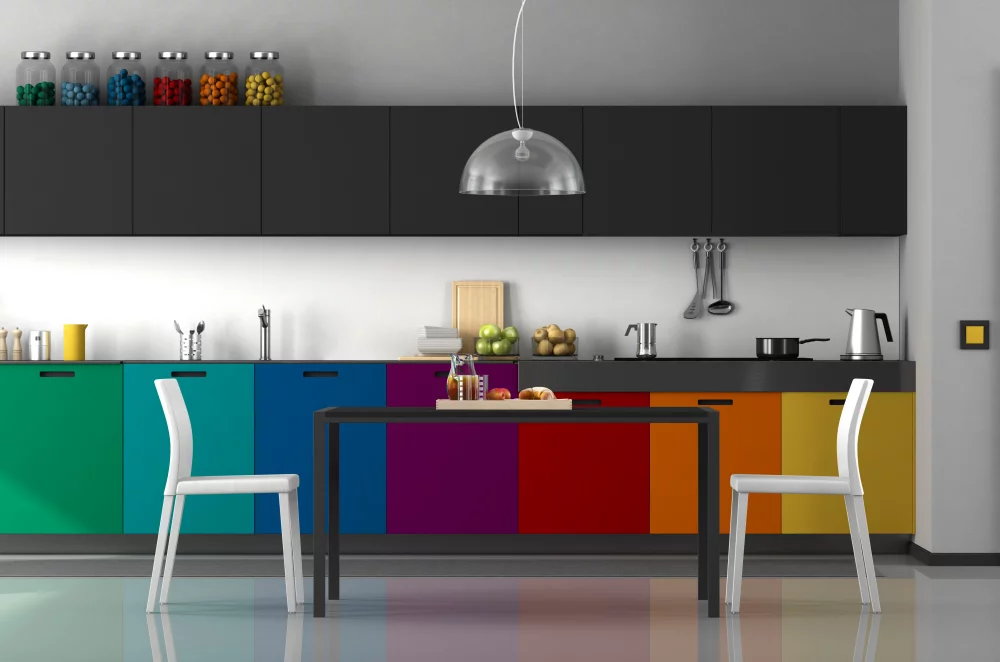 Let's talk about the kitchen today and try to find the answers to the most popular questions:

What is a kitchen for modern society? How has its meaning evolved within the last few years, especially during and after the COVID lockdown? What does it take to make a full or partial remodeling? What should be considered? How much will it cost?
Modern kitchen
In modern society, throughout the world, the kitchen is evolving from a designated place to prepare and eat food to a central feature in the home, an essential space for entertainment, dinners, and parties.
During 2020-2021 many workers moved out of their offices and started fulfilling their daily duties from their kitchens.
This was very common, especially in Europe and Asia, where living space is smaller versus US and Canada.
This phenomenon has started an enormous surge in demand for kitchen remodeling materials and services, which resulted in colossal queues to obtain related products and services. Some remodeling orders placed during that time are still being fulfilled in 2023.
Beyond its social and cultural significance, the kitchen is essential for personal expression and creativity. Many people take pride in designing and decorating their kitchens to reflect their tastes and lifestyles.
In addition, the kitchen has become a central place for technology; modern kitchen appliances and gadgets are essential for many households. No wonder the Kitchen remodeling topic is among the most researched.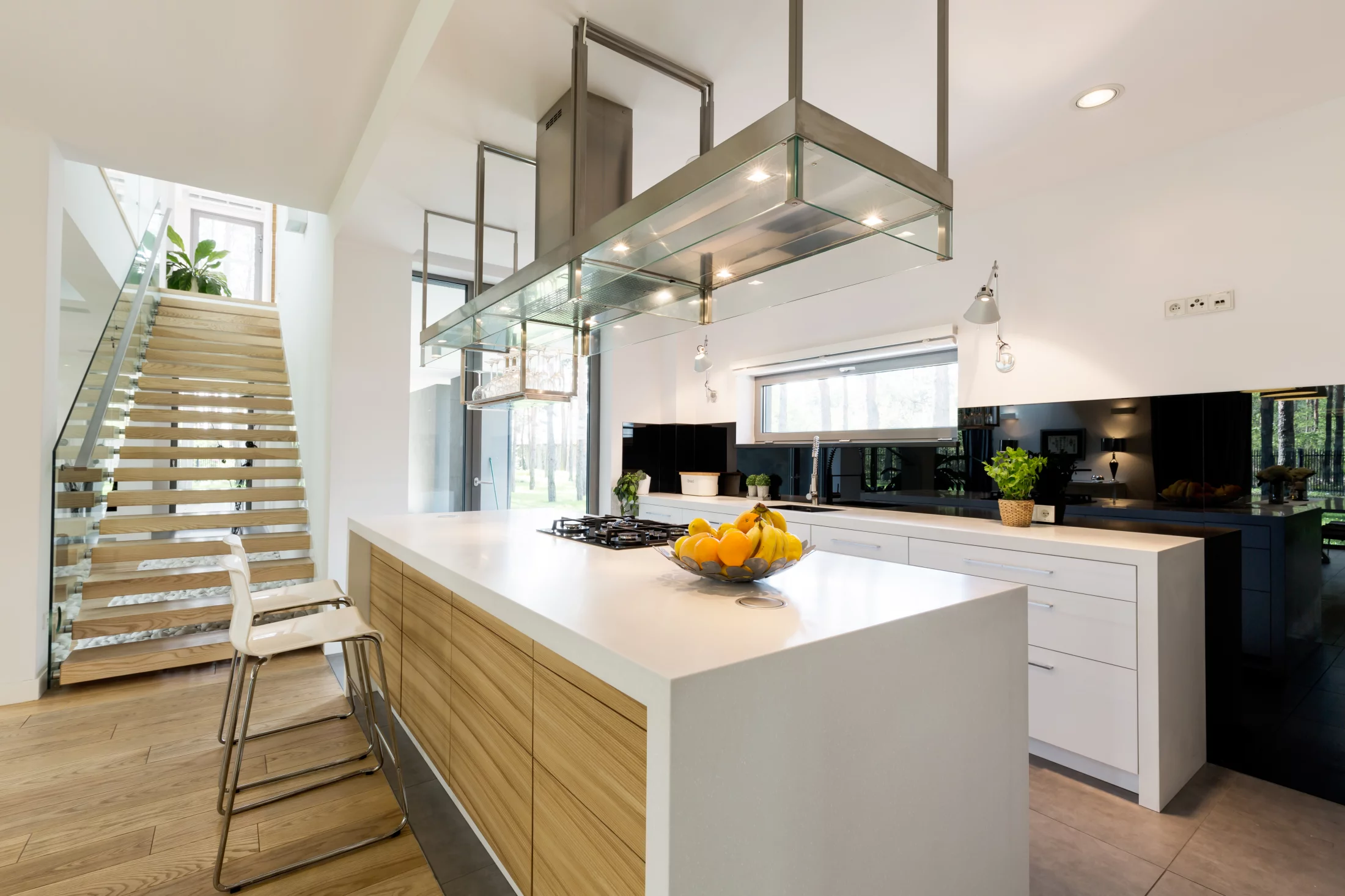 How challenging is kitchen remodeling?
Kitchen remodeling can be complex and involved, and the ease of the project will depend on various factors. The difficulty level will depend on your project's specific details, including the size and layout of your kitchen, the materials and finishes you choose, and the scope of the work.
If you are planning to make significant changes to the layout of your kitchen, such as moving walls or changing the plumbing, then the project may be more complex and require a professional contractor's help.
Similarly, consulting an electrician or professional would be best if you plan to install new appliances or electrical systems. If you plan to do some of the work yourself, it is essential to be realistic about your skills and have a clear plan.
It is also important to be aware of the potential risks involved in any home renovation project, such as electrical hazards and structural issues.
What is the estimated cost for a kitchen remodeling project in 2023?
Depending on the size of the kitchen, the materials and finishes used, and the project's scope, the cost of redesigning a kitchen can vary significantly. A small kitchen can cost as little as 10000 to 15000 USD, a moderate kitchen renovation may cost between $20,000 and $50,000, whereas a significant kitchen redesign might reach $75,000 or more.
The location and particulars of your project must be considered, as well as the fact that costs might vary significantly.
Slight demand for remodeling services is expected in 2023, so it might be a good time to negotiate a reasonable price and roll the project out.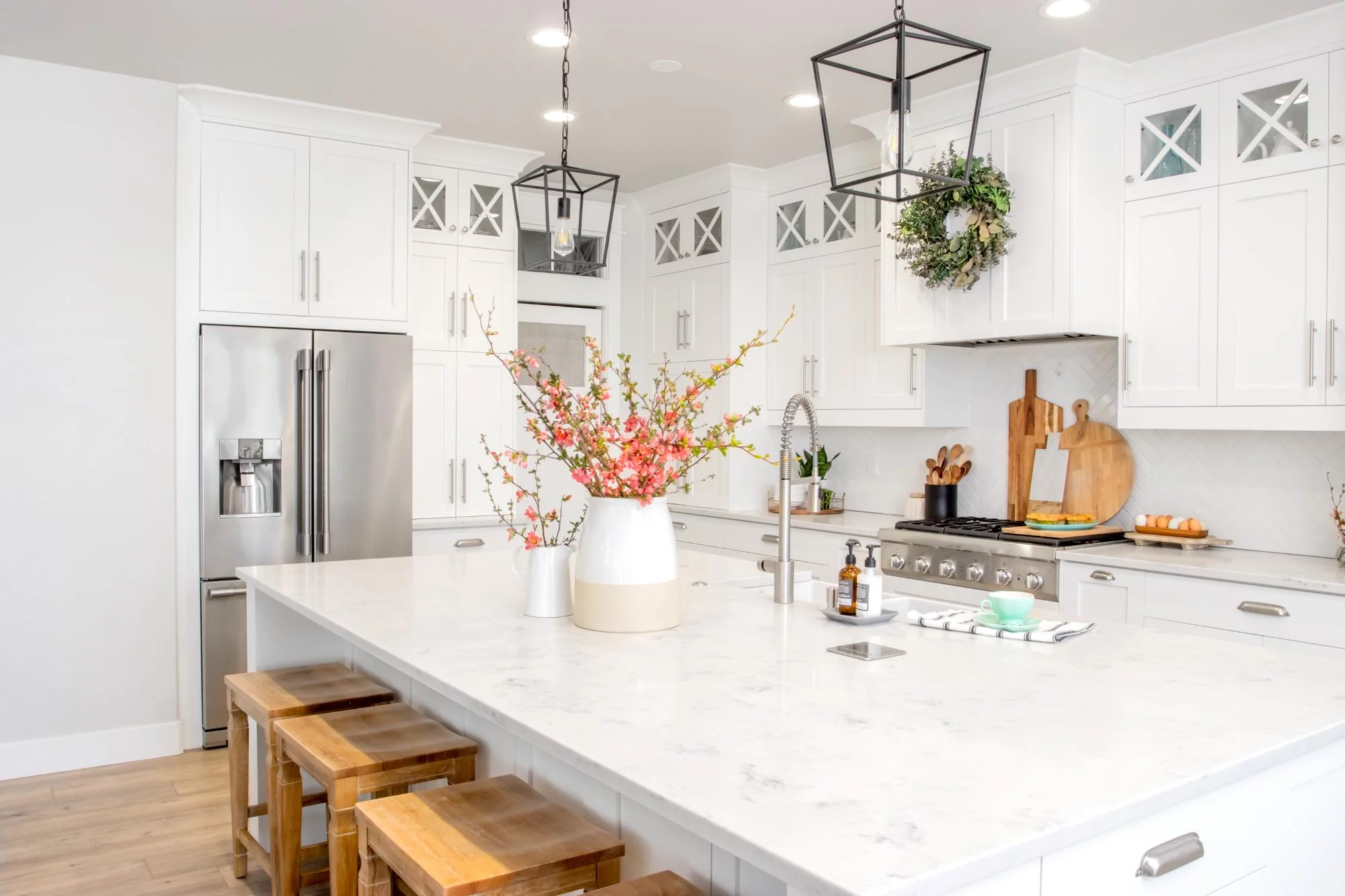 How long will the kitchen remodeling process take?
Depending on the size and complexity of the project, the accessibility of materials, and the availability of labor, the time required to complete a kitchen makeover might vary.
A minor kitchen remodel that only updates the finishes and appliances may take as little as 1-2 weeks. In contrast, a significant kitchen remodel that involves structural changes can take several months to complete.
It's necessary to remember that unexpected problems might occur throughout the renovation, which could result in delays.
It's also worth noting that the kitchen is one of the most used areas in the house, so if you plan to remodel your kitchen and live in the house during the renovation, it will impact your daily routine and schedule.
Consulting with a contractor or remodeling professional can give you a better idea of how long your specific kitchen remodel will take. They will be able to take into account the specific details of your project and provide you with a more accurate timeline.
Can the kitchen layout be changed during the remodeling process?
Yes, you can make changes to the layout of your kitchen. However, the ease and cost of doing so will depend on your project's specific details and your kitchen's current layout.
If you are planning to make significant changes to the layout, such as moving walls or changing the plumbing, you will likely need the help of a professional contractor.
If you are planning to make more minor changes, such as moving the location of the refrigerator or sink, it may be possible to do the work yourself or with the help of a handyperson.
However, it's essential to remember that even small changes to the layout can significantly impact the kitchen's overall functionality, so it's best to consult a designer or contractor to ensure the new layout will work well for your needs.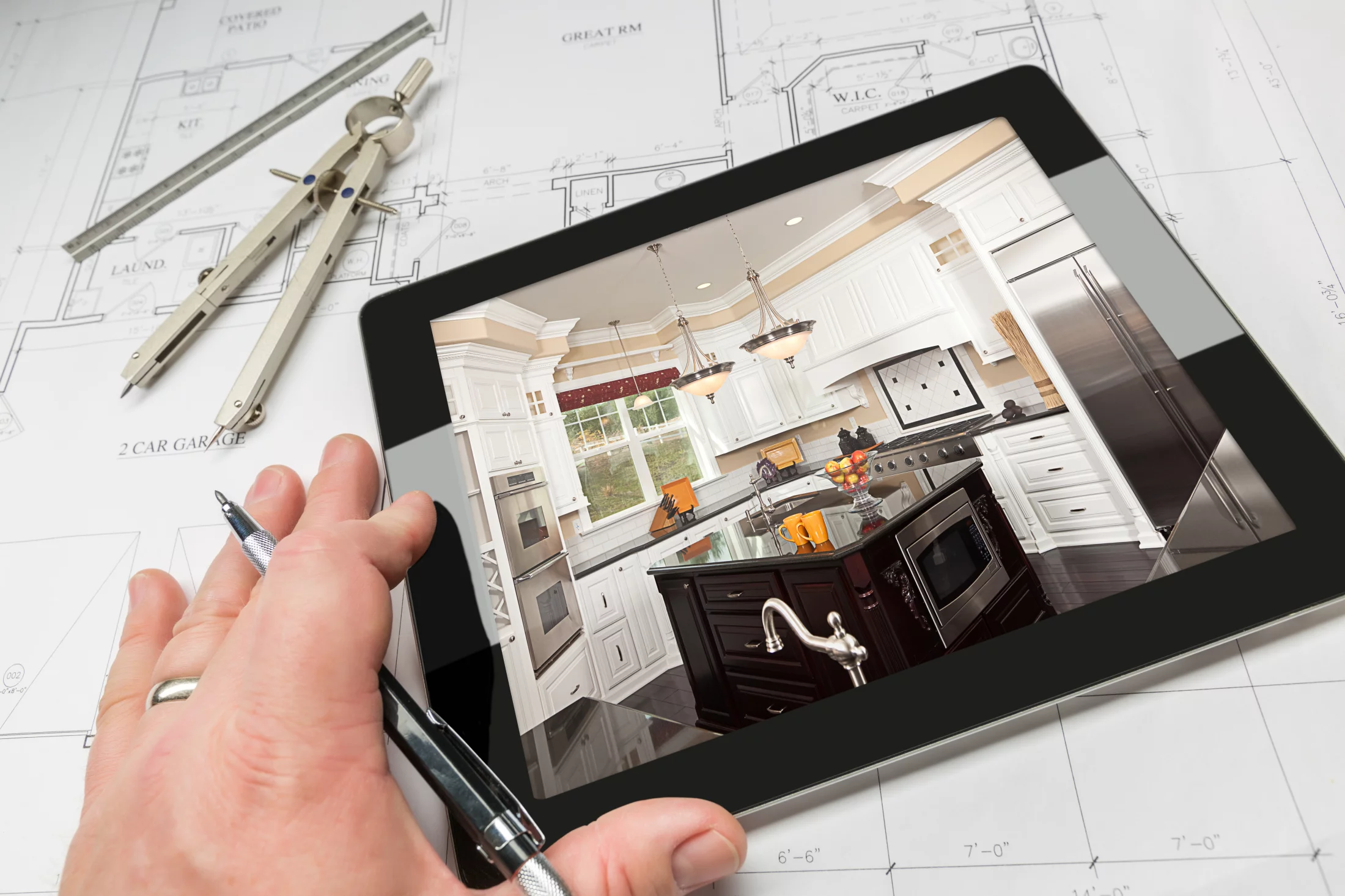 Should I hire a designer or architect?
Whether or not you should hire a designer or architect for a kitchen remodel depends on the scope of your project, your personal preferences, and your budget.
A designer can assist you in creating a beautiful and practical kitchen layout that suits your unique requirements. They can help you choose the right materials, colors, and finishes and create a layout that fits your lifestyle and preferences.
They can also help you with space planning and ensure that your new kitchen is functional, efficient, and meets all the safety standards.
An architect is typically involved in larger, more complex remodeling projects that involve structural changes or additions, such as moving walls or changing the roofline.
An architect will ensure that the design of your kitchen meets local building codes and that the structure of your home can support the changes you want to make.
If you have a smaller project or are confident in your design skills, you may not need the services of a designer or architect.
Click HERE to learn more about hiring an interior designer.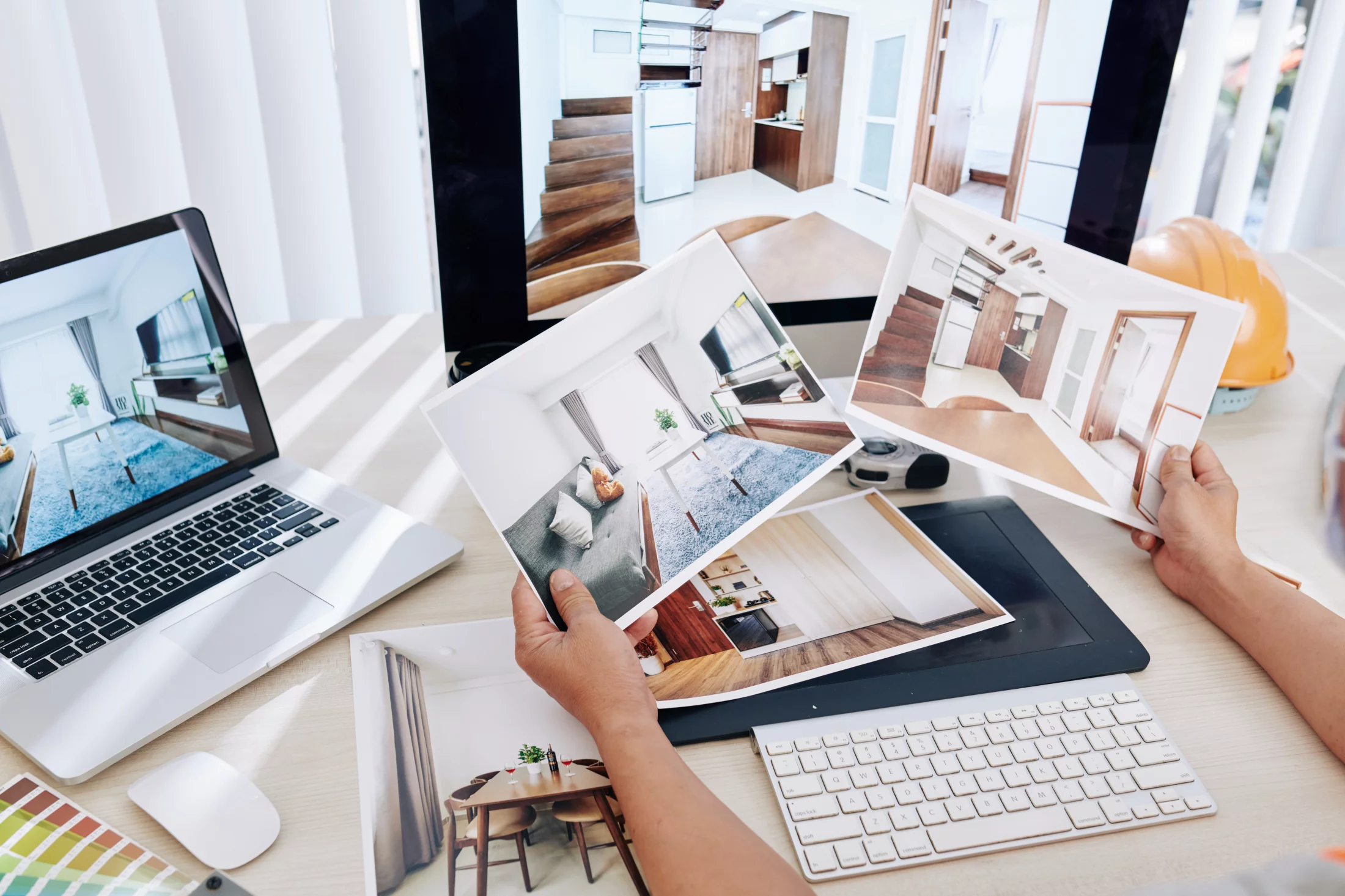 What are the latest trends in kitchen remodeling?
Kitchen remodeling trends of today prioritize modern design aesthetics, functionality, and efficiency.
Here are some of the current trends:
Open Concept: Many homeowners remove walls and open the kitchen to the rest of the house to create a larger, more spacious feel.
Smart Appliances: Smart refrigerators, ovens, and other appliances with Wi-Fi connectivity, voice control, and other advanced features are becoming increasingly popular.
Sustainable and Eco-Friendly Materials: People increasingly opt for sustainable, eco-friendly materials such as bamboo, recycled glass, and salvaged wood for kitchen countertops, cabinets, and flooring.
Mixed Materials: Combining different materials in the kitchen, such as wood and metal or stone and glass, is a popular way to add visual interest and depth to the space.
Bold Colors: White has long been the dominant color for kitchens, but bolder colors such as black, navy, and emerald green are becoming more popular for kitchen cabinets and walls.
Industrial Style: The industrial style, with its exposed brick walls, concrete floors, and metal accents, is gaining popularity in kitchen design.
Hidden Storage: Homeowners are increasingly interested in ways to maximize storage space and keep their kitchen counters clutter-free, leading to a trend for hidden storage solutions such as pull-out cabinets, appliance garages, and pantry units.
Overall, the latest trends in kitchen remodeling prioritize style and functionality, allowing homeowners to create a space that meets their practical needs while reflecting their aesthetic.
What type of flooring should I choose for my kitchen?
There are many types of flooring to choose from when it comes to kitchen remodeling. The most suitable type of flooring for a kitchen is determined by one's individual preferences, financial constraints, and the home's overall aesthetic.
Some popular types of flooring for kitchens include:
Hardwood: Hardwood flooring is considered a classic option for kitchens; it offers durability, easy maintenance, and can give warmth and charm to the space. It's important to note that hardwood is not recommended for kitchens with high moisture levels.
Tile: Ceramic tiles, porcelain, and natural stone tiles are great kitchen options. They are acclaimed for their sturdiness and immunity to water, making them effortless to clean and preserve. This type of flooring also offers a wide variety of colors, patterns, and styles, allowing for a personalized aesthetic that complements your home's overall design and style.
Vinyl flooring: Vinyl is a cost-effective solution that is simple to implement and keeps in good condition. It can withstand water and give the appearance of hardwood or tile flooring.
LVT / LVP: Luxury Vinyl Tiles or Luxury Vinyl Planks are a cost-effective and durable alternative to other materials. It is water-resistant and easy to maintain
Laminate: Laminate flooring is another financially-viable choice that can imitate the appearance of hardwood floors. It is robust and requires minimal effort to maintain; however, it does not have the water resistance level of tile or vinyl flooring.
Cork: Cork flooring is natural, eco-friendly, durable, and easy to clean. It's also a good insulator which can be beneficial in the kitchen.
Consider the level of traffic and wear, the amount of moisture in the kitchen, and your preferences to determine the best option for your kitchen.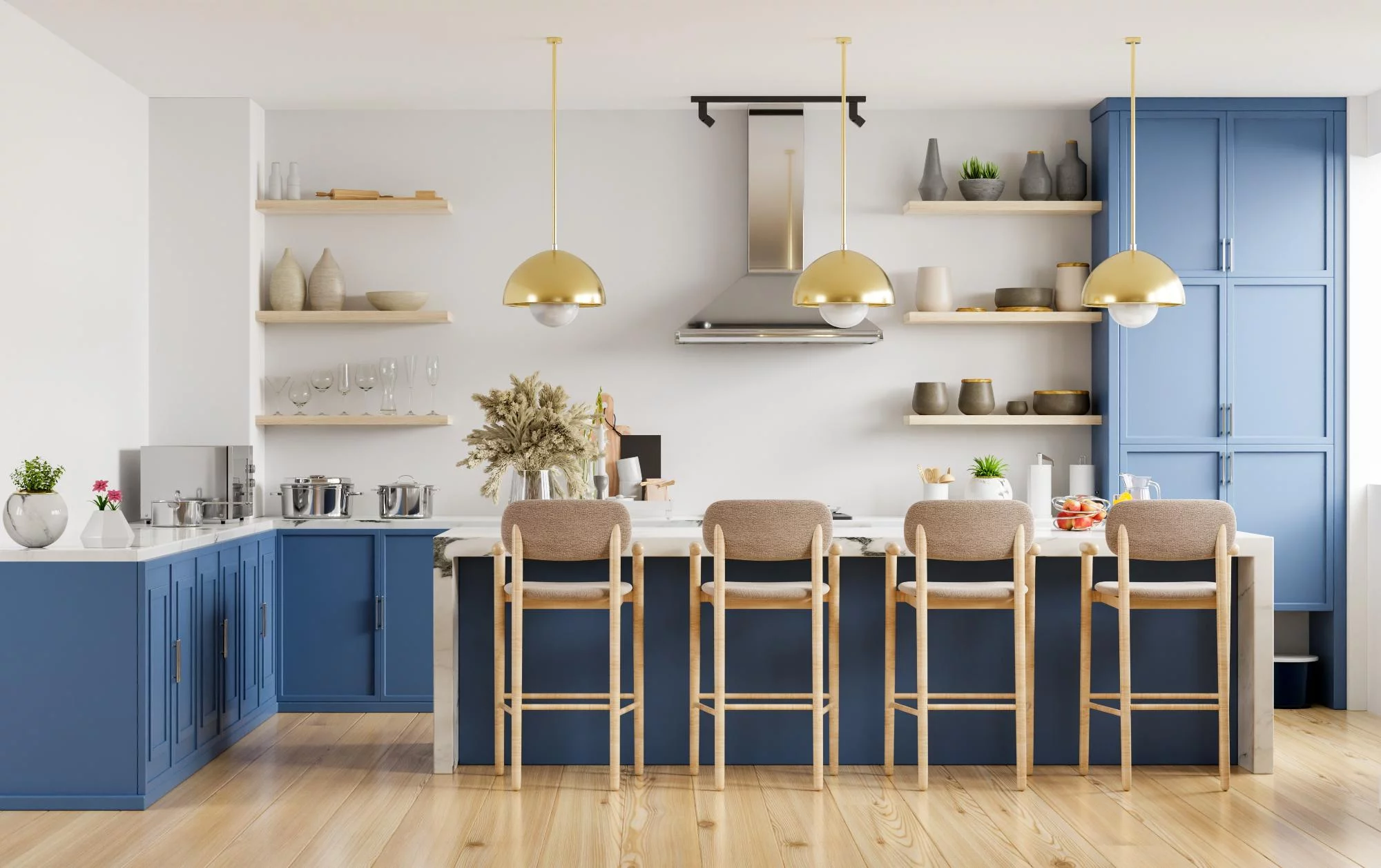 What type of countertops should I choose?
The type of countertop you choose for your kitchen will depend on your personal preferences, budget, and the overall style of your home.
Some popular options include:
Granite: Granite countertops are a classic choice for kitchens. They are known for their toughness, resistance to heat, and availability of different colors and designs. They also have a natural beauty that adds character to your kitchen.
Quartz: Quartz countertops, made from engineered stone, are a trendy alternative to granite. They are highly durable and resistant to staining due to their non-porous nature and come in a wide range of colors and designs. They also don't require sealing as natural stones do.
Marble: Marble countertops have a luxurious appearance and are a classic choice for the kitchen. They are, however, porous and can be easily damaged by acidic substances like lemon and tomato.
Laminate: Laminate countertops are affordable and come in different colors and patterns. Additionally, they are characterized by minimal maintenance requirements and ease of cleaning.
Solid Surface: Solid surface countertops are characterized by their non-porous nature and can be custom-shaped to fit unique spaces. They are also available in many colors and designs and can be seamlessly combined with sinks and backsplashes.
Stainless Steel: Stainless steel countertops are durable, easy to clean, and resistant to heat and bacteria. They are also a highly suitable option for a commercial kitchen setting.
Consider the level of maintenance, durability, and heat resistance you need.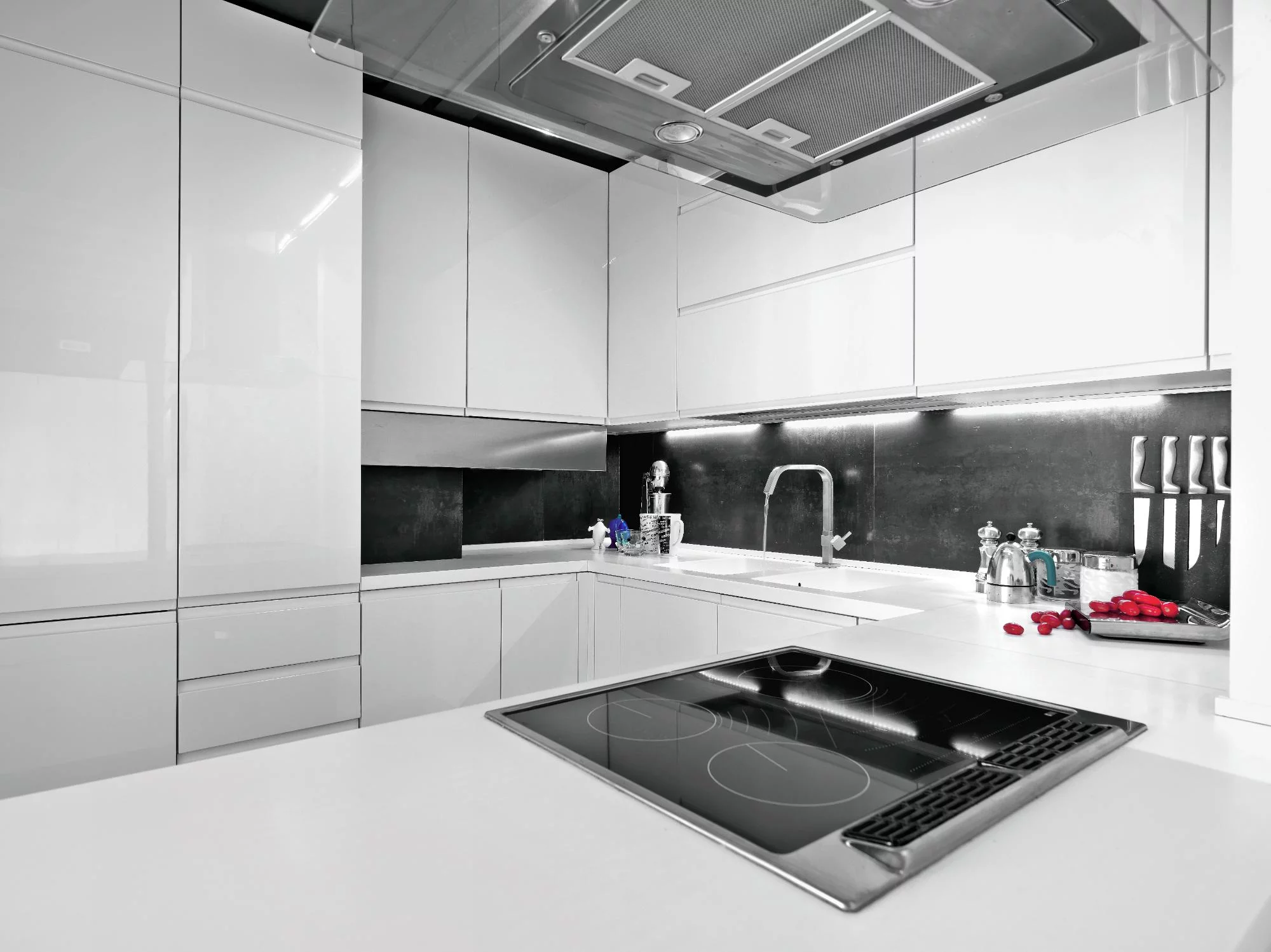 What type of cabinets should I choose?
The type of cabinets you choose for your kitchen will depend on your personal preferences, budget, and the overall style of your home.
Some popular options include:
Wood: Kitchen cabinets made of wood are a traditional choice. They offer a broad range of designs, colors, and finishes. You can paint, stain, or maintain their natural finish. They also add warmth to the kitchen space.
Laminate: Laminate cabinets are a budget-friendly option in various colors and patterns. They also feature low maintenance and accessible cleaning properties. They are made out of a printed paper layer applied to a core of particleboard or MDF.
Thermofoil: Thermofoil cabinets have a vinyl coating applied to a particleboard or MDF core. They offer a wide variety of colors and patterns and are easy to maintain in terms of cleanliness.
Metal: Cabinets made of stainless steel or metal are superior for commercial kitchen environments. They are durable, easy to clean, and resistant to heat and bacteria. They also may be blended with other materials to produce a distinctive and modern aesthetic.
Glass: Glass cabinets are an excellent option to showcase your dishes and glassware. They are easy to clean and maintain and are a good option for opening small kitchens.
Custom: Custom cabinets are a good option if you want to create a unique and specific design for your kitchen. They may be finished in any color or style and can be designed to fit any size or contour. Consider the style you're looking for, the level of maintenance, durability, and budget when choosing the type of cabinets for your kitchen.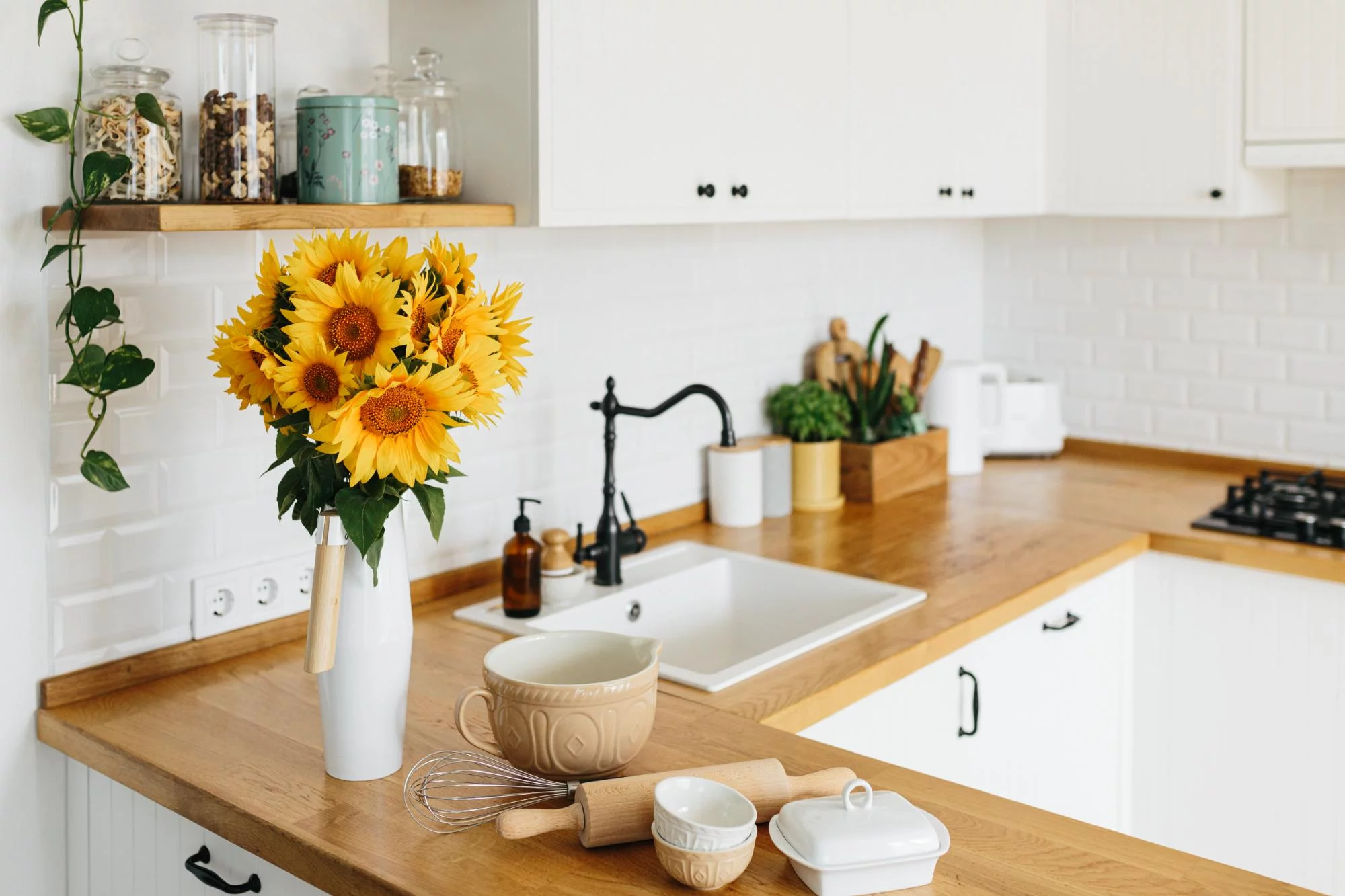 How can I make my kitchen more energy efficient?
Energy-efficient appliances: Upgrade your devices to Energy Star-rated models, which use less energy and water than traditional models. Look for appliances with the Energy Star label, which ensures that the appliance satisfies particular energy-efficiency requirements established by the United States Environmental Protection Agency (EPA).
Lighting: Consider using energy-efficient lighting options such as LED or CFL bulbs, which consume less energy and have a longer lifespan compared to incandescent bulbs.
Insulation: Ensure your kitchen is adequately insulated to keep heat in during the winter and summer. Your expenditures for heating and cooling will be decreased as a result.
Water-saving fixtures: Implementing water-saving fixtures, such as low-flow faucets, showerheads, and toilets, can help significantly reduce kitchen water consumption, thus promoting energy efficiency.
Solar power: Think about adding solar panels to produce power and heat your water.
Cooking: Use a pressure cooker or a microwave oven to cook food faster and with less energy.
Window treatments: Use energy-efficient window treatments, such as shades or blinds, to reduce the heat that enters your kitchen in the summer.
By making these adjustments, you may improve the energy efficiency of your kitchen and eventually reduce your energy costs.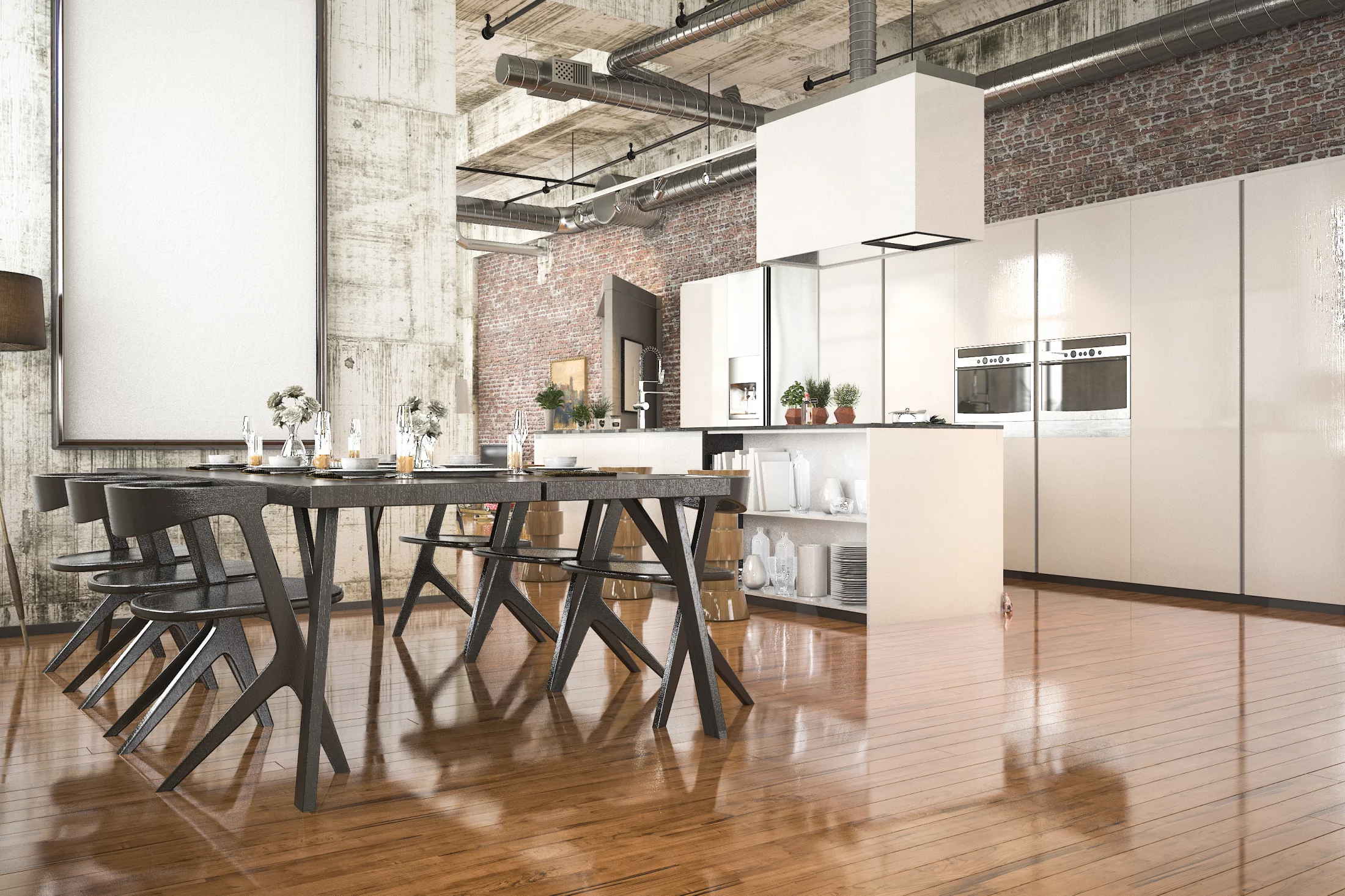 Should I hire a contractor or do some of the work myself?
Whether or not you can do any of the work yourself depends on the scope of the project and your skills and experience. Some tasks, such as painting and installing new hardware, are relatively simple and can be done by a DIY enthusiast.
However, more complex tasks, such as electrical and plumbing work, typically require the expertise of a professional contractor.
Hiring a general contractor to oversee the entire project is recommended if you plan extensive kitchen remodeling.
A general contractor will manage the project, coordinate sub-contractors work and ensure the work is done to code and on schedule. They will also be equipped to deal with unforeseen problems during remodeling.
If you are comfortable with your DIY skills, you can save money and take on specific projects yourself. Still, it's essential to remember that kitchen remodeling is a big project and can take more time and money than you anticipate.
Can I add an island or a breakfast bar to my kitchen?
You can add an island or a breakfast bar to your kitchen. Adding an island or breakfast bar can be a great way to improve the functionality and aesthetics of your kitchen.
An island can provide additional counter space, storage, and seating. It may also distinguish other kitchen spaces, such as a cooking or dining area.
An island can also create a focal point in the kitchen and add visual interest. A breakfast bar is an excellent option to add seating to your kitchen without taking up much space. It can also divide the kitchen and the living or dining areas.
You should consider the size of your kitchen and the space you have before installing an island or breakfast bar. Please also consider your kitchen layout and how the island or breakfast bar will fit into the overall design.
It's important to note that adding an island or breakfast bar may require plumbing and electrical work and should be done by a professional contractor.
They will be able to ensure that the island or breakfast bar is installed correctly and that all necessary permits are obtained.
A kitchen designer or an architect can help you plan and design the island or breakfast bar and ensure that it will fit well with your kitchen layout and overall design.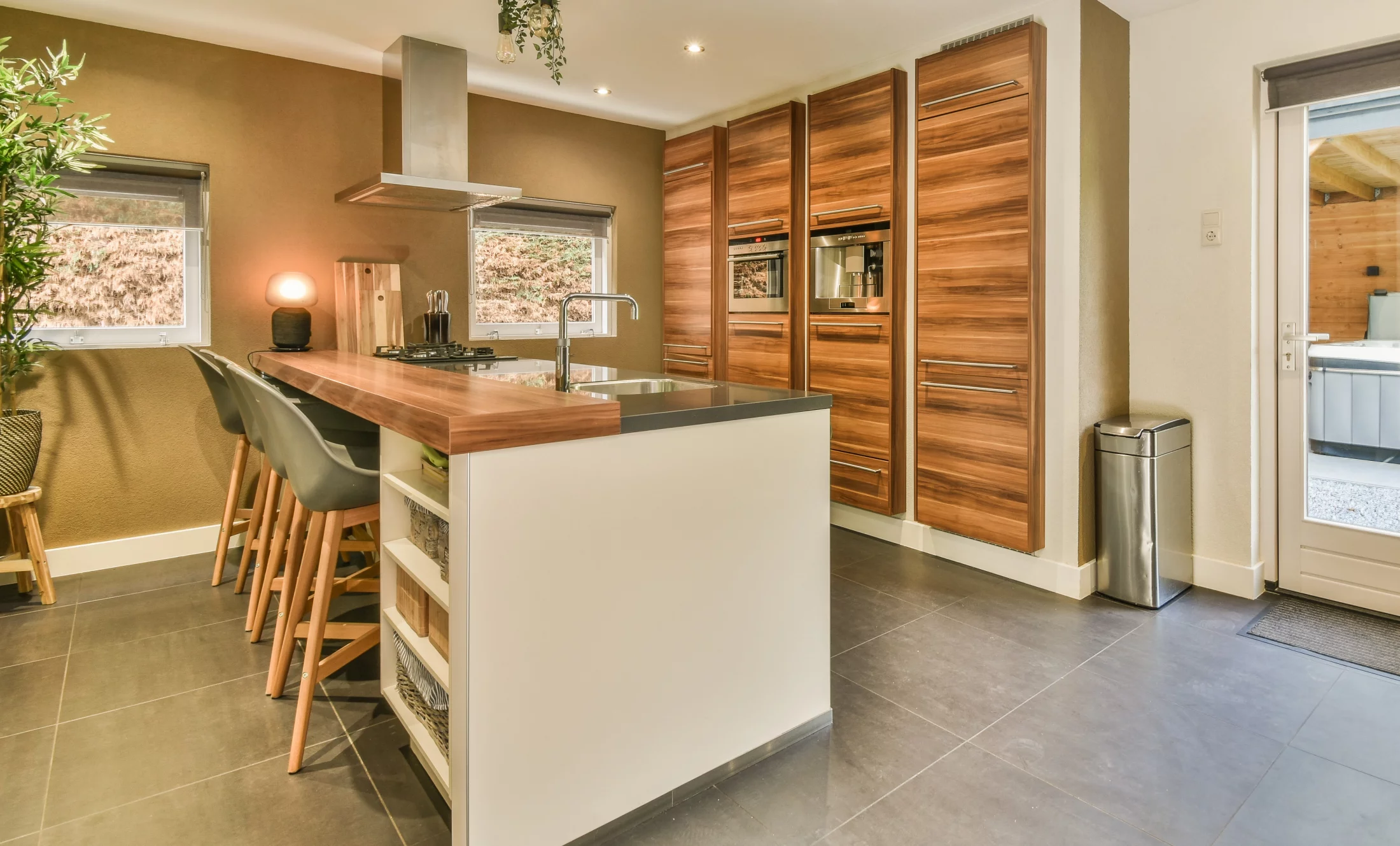 How to choose a kitchen remodeling contractor?
Choosing a contractor for your kitchen can be daunting, but choosing someone experienced, reliable, and trustworthy is essential.
Here are some steps you can take to choose the right contractor for your project:
Get referrals: Ask friends, family, and colleagues for recommendations.
Check credentials: Ensure the contractor is licensed, bonded, and insured. Check if they have accreditations or honors from respectable institutions like the NKBA or NARI, the National Association of the Remodeling Industry (National Kitchen and Bath Association).
Look at their portfolio: Ask them for examples of their previous work. This will give you an idea of their professional style and quality of work.
Ask for a detailed estimate: A good contractor will provide a detailed, itemized estimate that includes the cost of materials, labor, and other expenses.
Communicate: It is essential to communicate with your contractor so that you can understand the project's expectations and timelines.
Get everything in writing: Before starting the project, ensure you have a written contract that includes the scope of work, timelines, payment schedule, and any warranties or guarantees.
Check references: To learn more about their experiences working with the contractor, speak with some of their previous clients.
By following these steps, you can choose a contractor with the experience, skills, and reputation to help you achieve the desired results for your kitchen remodel.
Should I include new appliances in my remodel?
Whether or not to include new appliances in your kitchen remodel is a personal decision that depends on your budget and the overall goals of your project.
To help you decide whether to incorporate new appliances in your remodeling, take into account the following:
Age and condition of current appliances: If your existing appliances are old, outdated, or in poor condition, it may make more sense to invest in new appliances that are more energy-efficient and offer better performance.
Impact on overall design: New appliances can help to update the look of your kitchen and make it more cohesive with the new design.
Energy efficiency: Energy-efficient appliances can help you save money on energy costs while reducing your environmental impact.
Cost: It's crucial to consider the cost of new appliances in relation to your overall remodeling budget because they may be pretty expensive.
Warranty: New appliances typically come with a warranty that could provide peace of mind and security for your investment.
Suppose you decide to include new appliances in your remodel. In that case, you should work with a professional kitchen designer or contractor to ensure the new appliances will fit properly in the new layout. That electrical and plumbing work is done correctly.
Conclusion
Kitchen remodeling is a big challenge, especially if it is done with a limited budget, and some of the work will be done by yourself. Implementation of an inspiring idea may turn into an exhausting DIY marathon. However, proper planning, thorough preparation, and professional support may help you quickly and painlessly turn your dream into reality.