LVT Flooring PROS And CONS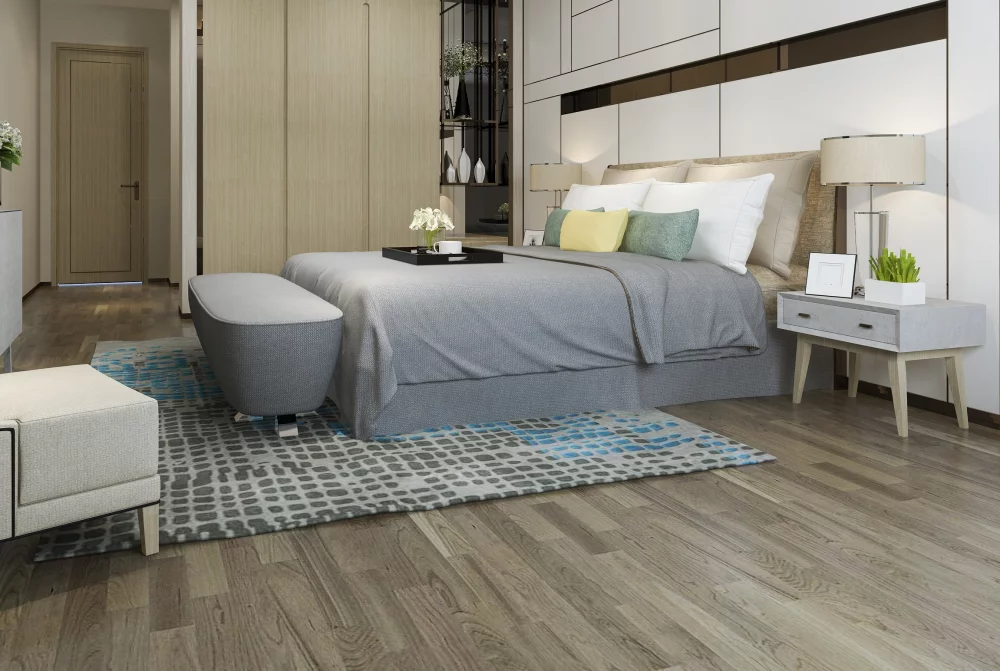 Luxury vinyl Tile's popularity is constantly growing. According to the latest flooring market forecast presented at the International Surface Event in February 2023, the only type of flooring expected to grow this year is Luxury Vinyl Flooring, and there is a good reason for that. Luxury Vinyl flooring is a relatively new material that continuously consumes the market share of other types of flooring like carpet, laminate, and good, old-fashioned, basic vinyl flooring. The reason is simple: it is more durable, replicates natural materials relatively well, and costs less than hardwood or stone flooring.

Among all the variants of Luxury vinyl flooring, two types are the most popular: LVT (Luxury Vinyl Tiles) and LVP (Luxury Vinyl planks). In this article, we will talk about LVT.
What is LVT?
Luxury vinyl tiles (LVT) are flooring materials made from PVC resin, modified with filler (typically calcium carbonite) and plasticizer, designed to mimic the look and feel of natural materials such as wood or stone. The term "Luxury" is solely a marketing trick invented to emphasize its superior difference versus basic vinyl flooring, considered one of the cheapest materials available on the market. The trick is well justified as it is more durable, better looking, and has a premium feel and price.
Appearance
LVT usually comes in planks or tiles with a realistic texture that resembles the look of the natural material. It often has a high-resolution print layer that makes it look entirely accurate; it can also have a surface texture that adds to the realism of the design.
In summary, LVT can be an excellent option for durable, low-maintenance, cost-effective flooring that resembles natural wood or stone. Still, it's essential to consider the pros and cons before deciding.
Pros of Luxury Vinyl Tile flooring
Durability: LVT has a natural capacity to withstand wear and tear, making it an optimal selection for areas frequently exposed to heavy foot traffic.
Water-resistance: LVT has moisture-resistance properties making it an appropriate option for spaces susceptible to spills or leaks. It is commonly used as bathroom material in residential and commercial facilities.
Maintenance: LVT is easy to clean and requires minimal maintenance.
Price: The LVT pricing range is vast. Starting from 1.19 USD per square meter*, it can go up to 15 USD and above. The price greatly depends on the product's origins, thickness, quality of materials, brand, and durability. Still, it is less expensive than natural materials such as natural wood or stone.
Versatility: LVT is available in various colors, styles, and patterns, making it suitable for multiple settings and design styles.
Cons of Luxury Vinyl Tile flooring:
Appearance: Despite its realistic resemblance to the original product, the difference can be noticed with the naked eye.
Heat resistance: LVT can be damaged by excessive heat, so it's not recommended for areas near fireplaces or other heat sources.
Coldness: LVT can feel cold to the touch, especially in areas with tile or concrete underneath.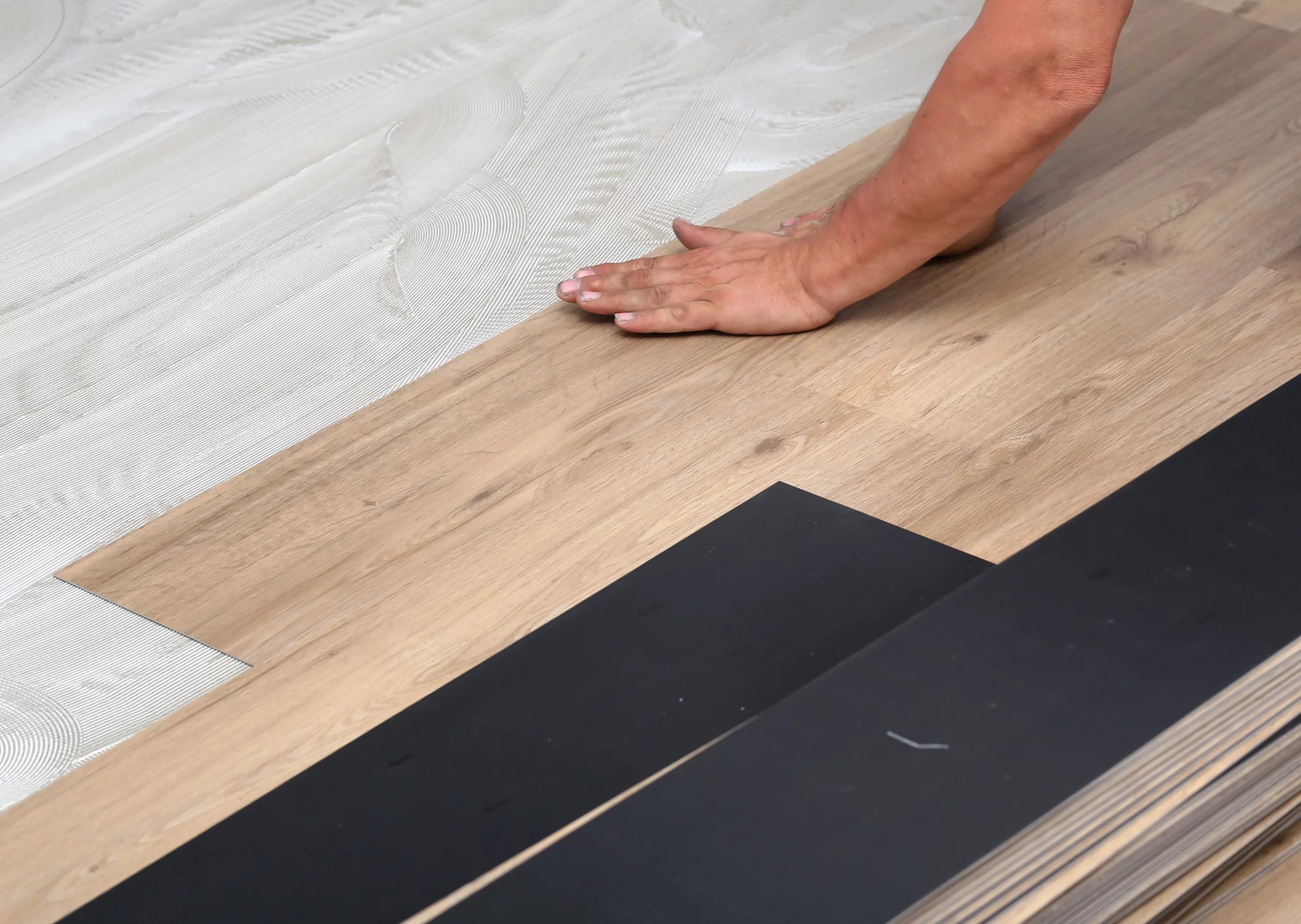 LVT installation
Installing luxury vinyl tiles (LVT) generally involves the following steps:
Subfloor preparation: It is essential that the subfloor is clean dry, and even before installing the tiles. Any imperfections should be repaired before installing the LVT.
Tile setting: Arrange the tiles in the desired pattern and make any necessary cuts to the tiles. It's a good idea to lay out a few rows simultaneously to ensure the design is symmetrical and adjust as needed.
Adhesive: Use a recommended glue to secure the tiles to the subfloor. Refer to the manufacturer's guidelines for the correct application process and drying time.
Final fixation: Start in the center of the room and work outwards, placing the tiles on the adhesive and pressing them firmly. You can use a roller to ensure the tiles are attached to the subfloor.
Install transitions and trim: Install changes and cut around the room's edges to cover gaps and create a finished look.
LVT installation is generally a DIY-friendly project but can be time-consuming and labor-intensive. Some people hire a professional to install their LVT to ensure a smooth and accurate installation.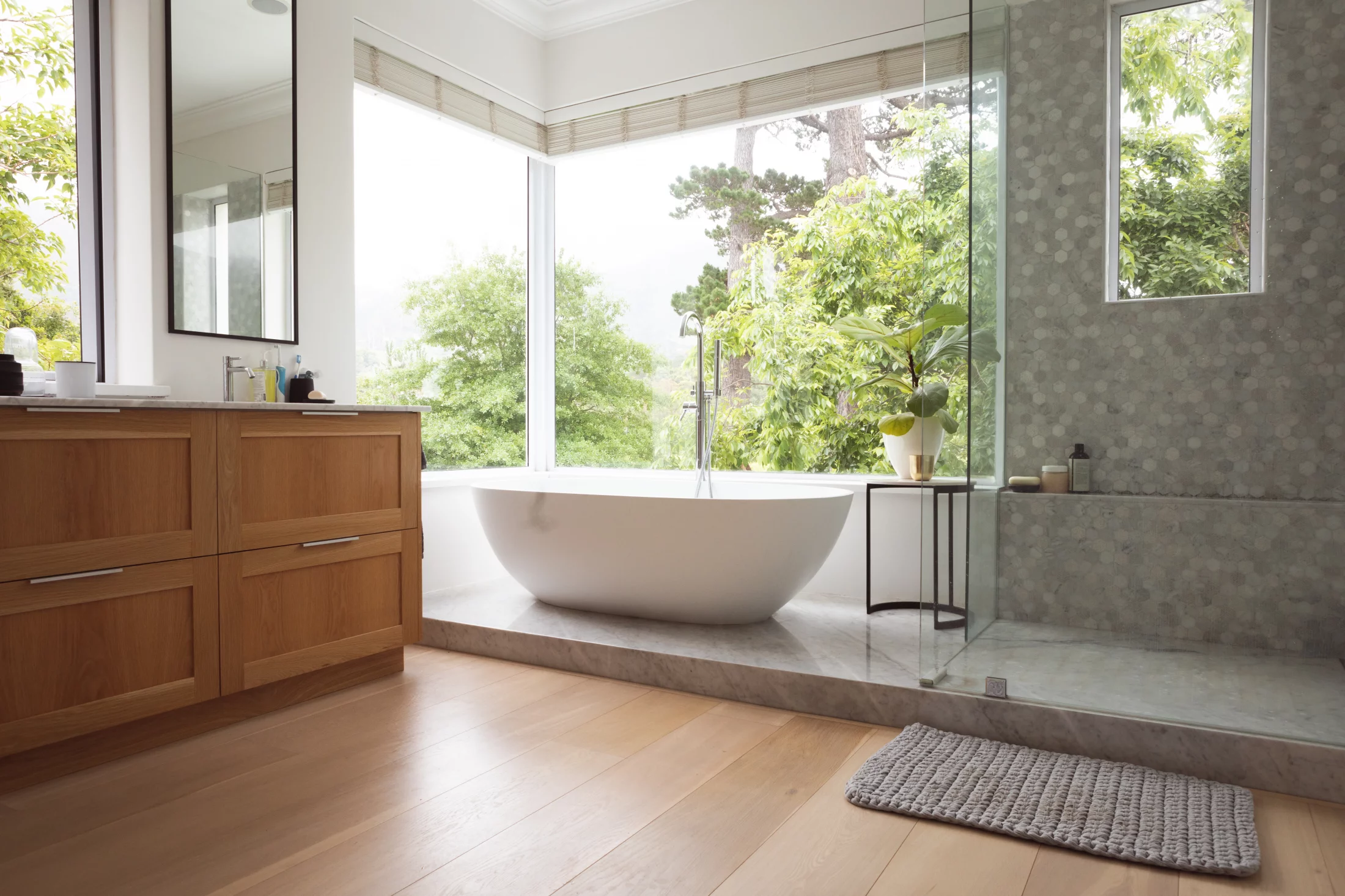 What is the difference between Luxury vinyl tiles (LVT) and luxury vinyl planks (LVP)?
Luxury vinyl tiles (LVT) and luxury vinyl planks (LVP) are both types of vinyl flooring. However, there are some distinctive points between the two options:
Shape: LVT tiles come in different shapes: square, rectangular, hexagonal, and plank shapes, while LVP typically comes in rectangular shapes that simulate the look of natural wood planks, with sizes ranging from 4 inches to 9 inches wide and up to 48 inches long.
Installation: LVT tiles are typically installed using adhesive, while LVP planks can be installed using glue or a "floating" method, where the planks are not attached to the subfloor.
Grout lines: LVT tiles can have grout lines, while LVP planks do not have grout lines.
Visual appearance: Due to its shape, thickness, and more textured surface, LVP flooring can mimic the appearance of hardwood flooring more realistically than LVT.
Durability: LVT and LVP are durable and resistant to wear and tear, but LVP is made of a thicker and more rigid material, typically vinyl, with a backing layer, making it more resistant to wear and tear.
Both materials have an appealing look, durable, and water-resistant. The final decision between the two options comes down to your aesthetic or practical preferences. If you plan to do the installation yourself, the LVP might be a better choice as it is easier to install. If you plan to outsource the job, we suggest consulting with your subcontractor or handyman and taking into account the cost of installation.
Is Luxury Vinyl Tile flooring safe for health and the environment?
Some LVF flooring products may contain volatile organic compounds (VOCs), which can be released into the air and cause respiratory or other health problems. To minimize this risk, it is essential to look for low-VOC or VOC-free LVP products.
Some of the LVF flooring products are made from petroleum-based materials and are not biodegradable, which can concern some environmentally conscious consumers.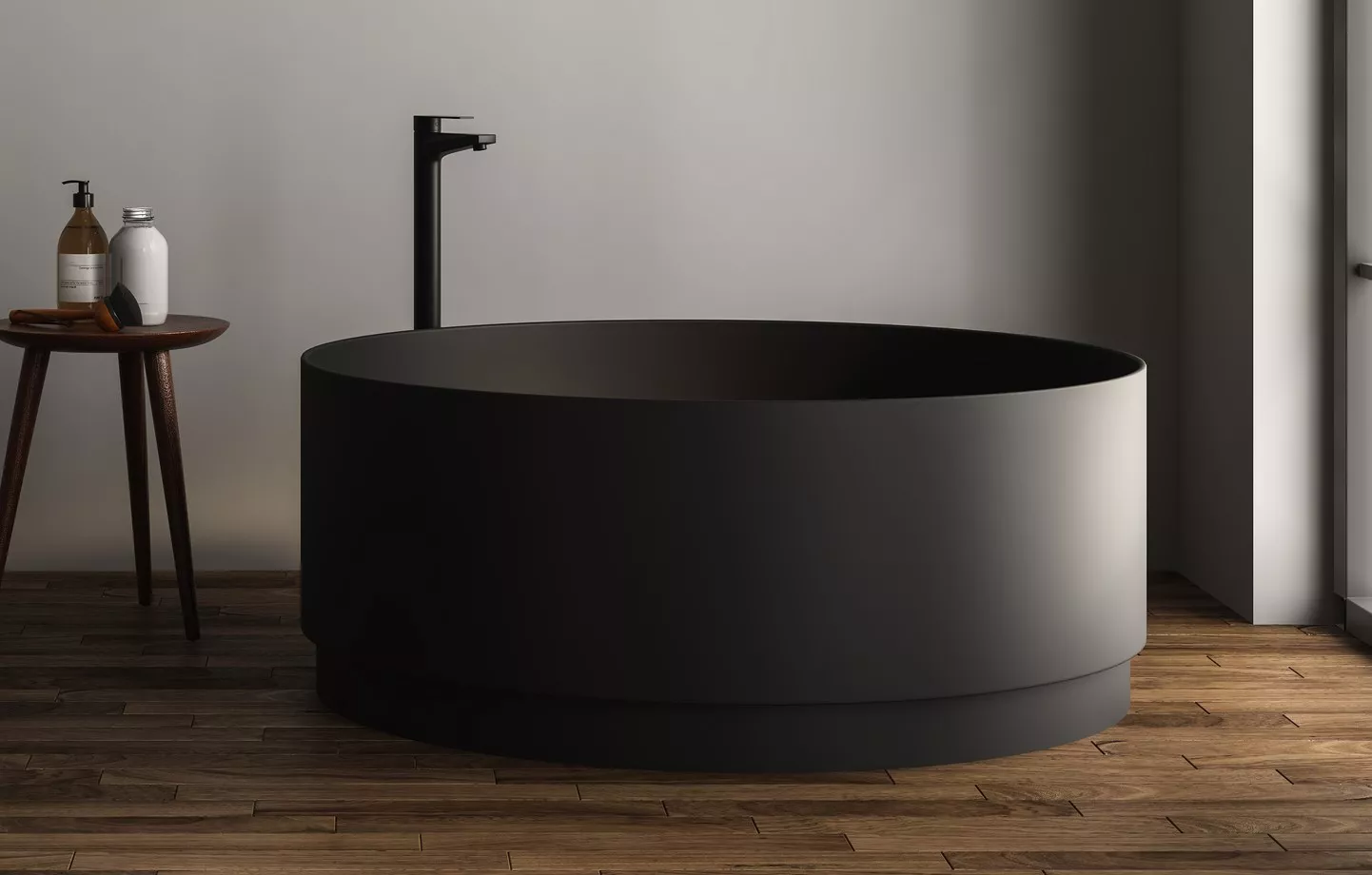 What are the best brands of LVT?
Technology is evolving, and each brand comes up with new products and features every year, so it is hard to say which brand is the best. It is best to look at the particular product, its qualities, and its features and read product reviews. Nevertheless, below, you can find reliable brands that have been on the market for a long time and are considered among the best by flooring professionals.
Shaw: Shaw Floors, established in 1967, offers carpet, hardwood, laminate, luxury vinyl, tile, and stone flooring and solutions for real-life and real homes
Armstrong: AHF Products manufactures beautiful, durable hard surface flooring for the consumer and commercial markets in a range of textures, styles, and designs to fit the needs of the American homeowner and business owner.
Mohawk: Ever since they rolled out the first carpets in 1878, Mohawk has built quality into every flooring product. Today, Mohawk continues that tradition with revolutionary product innovation, award-winning design, and a talented team dedicated to outstanding service.
Tarkett: Tarkett produces a wide range of sustainable and coordinated floors in different materials and types, such as modular carpets, broadloom, woven, vinyl, linoleum, rubber, and laminate.
Mannington: Mannington Mills, Inc., is a fifth-generation, family-owned company based in Salem, NJ, with locations worldwide. We manufacture residential and commercial flooring under the Mannington, Mannington Commerical, Amtico, Phenix, and Burke brands.
Conclusion
LVT flooring is durable, versatile, and at the same time, it is budget-friendly. Whether you prefer a natural wood look, a sleek modern style, or something in between, WPC flooring can quickly meet your aesthetic needs. You don't have to compromise the look and feel against durability and budget.
Additional information on Flooring
To learn about other types of "Luxury Vinyl Flooring", read our article "Luxury Vinyl Flooring Explained", and our article "Flooring material selection guide" to learn about other types of flooring.

*Cheapest price in HOME DEPOT on February 2023