The Ultimate Guide To The Best Kitchen Backsplash Materials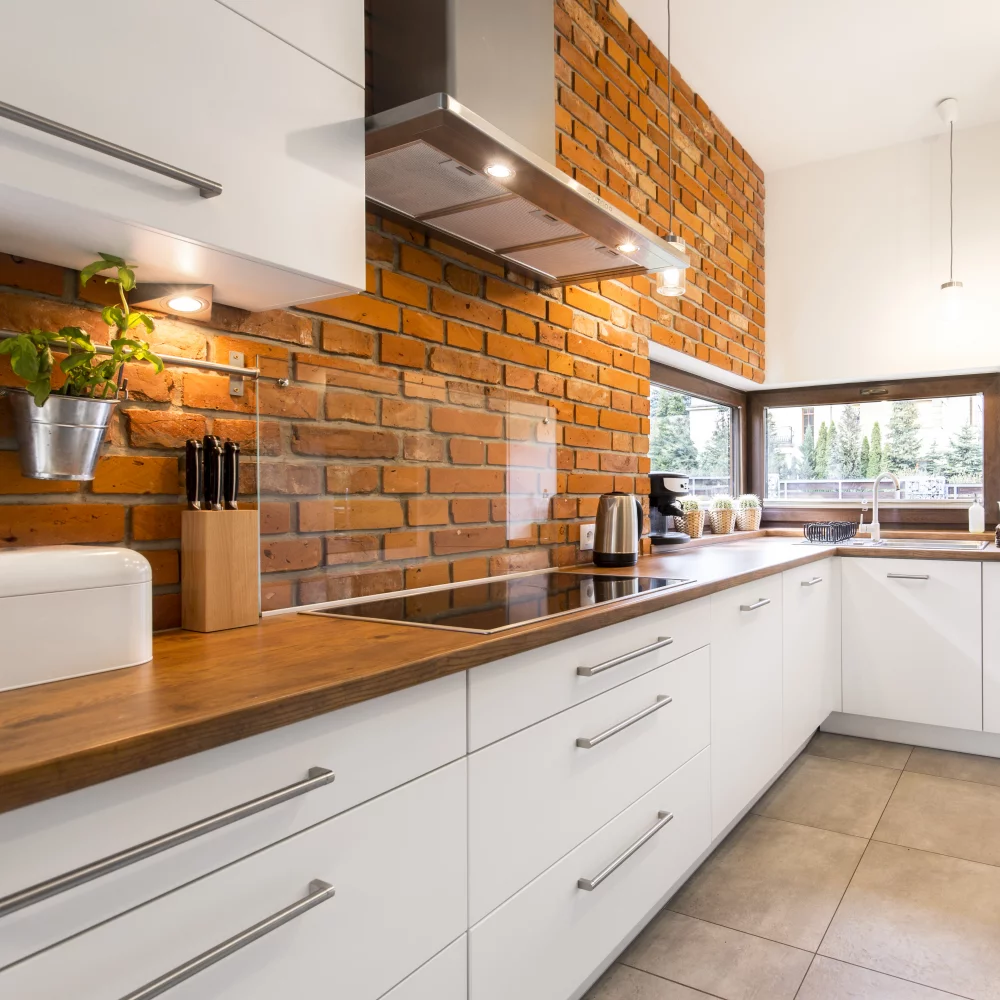 Backsplash ideas for kitchens now extend far beyond serving as purely practical features — they have become a decorative focal point that helps exude personal style and add visual flair to the space while creating the opportunity to set the right mood for the heart of your home. However, the wide variety of options might make it overwhelming to determine which material and style will suit your space best. So to guide your choices, we've rounded up the top kitchen backsplash picks that will not only offer a practical and hardwearing solution but will also introduce character and personality to the room.

Scroll on to learn more!
Ceramic Tile Backsplash
Being a popular kitchen backsplash choice, ceramic tile can introduce interesting patterns, colors, and shapes to your space. They are easy to clean, simple to replace, and come in a wide price range to suit all budgets. Glossy glazed ceramic tiles, for example, come in around $1 to $10 per square foot. On the other hand, handmade inlaid ceramic tile (ranging between $50 to $100 per square foot) tends to be a better option for people who are ready to invest more and are looking for more intricate details.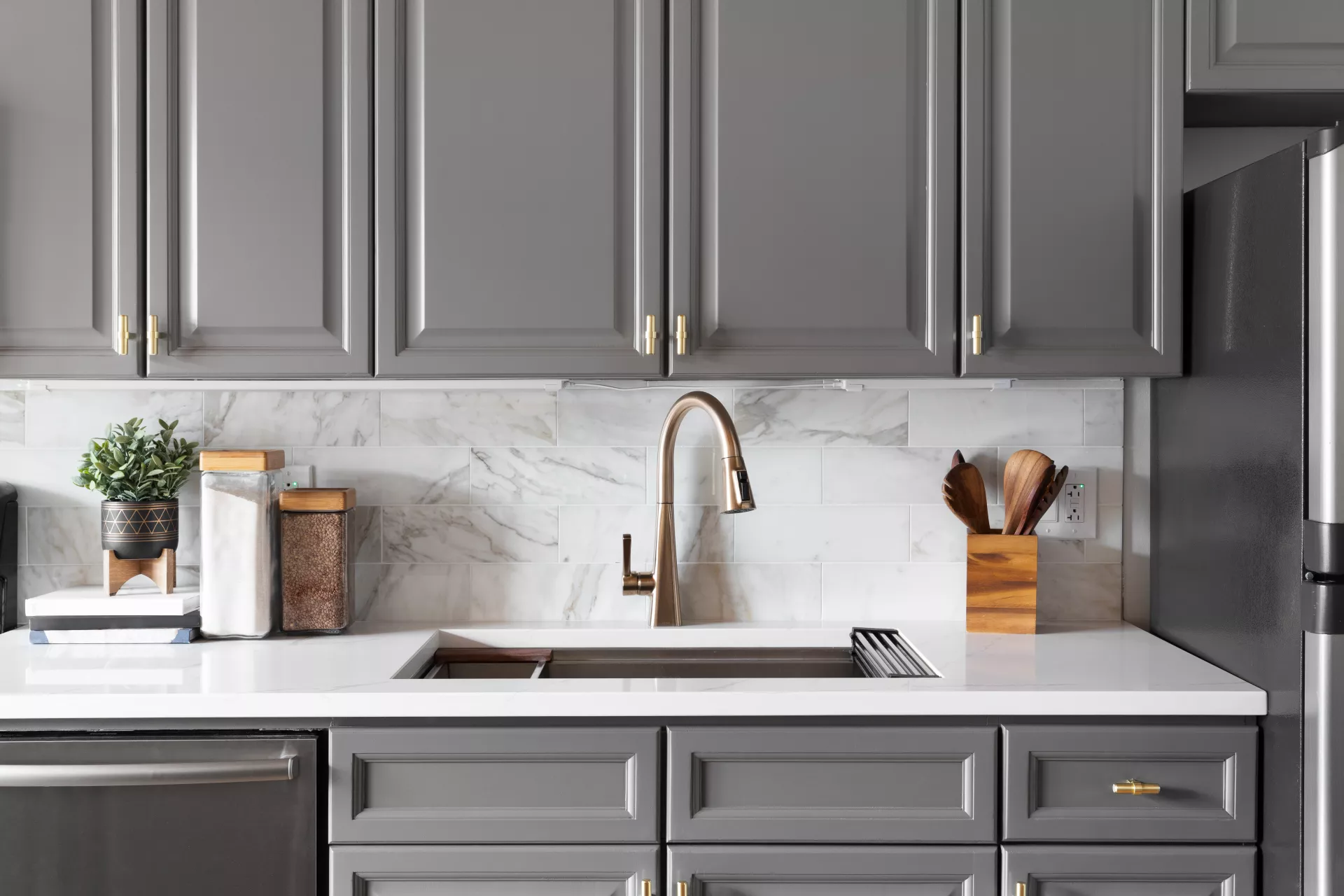 Stone Backsplash
Natural stone backsplashes offer high durability and low maintenance, making them perfect for residential kitchens. The best part is that they come in many different styles to help you choose one that suits your theme beautifully. For instance, the light and neutral hues of soapstone go well with a minimalist kitchen, the high level of natural gloss offered by travertine makes it appropriate for a modern kitchen, the sleek look of quartz complements a contemporary kitchen, and so on.
You can find more information about the Pros and Cons of each type of stone in the Countertop section of our blog.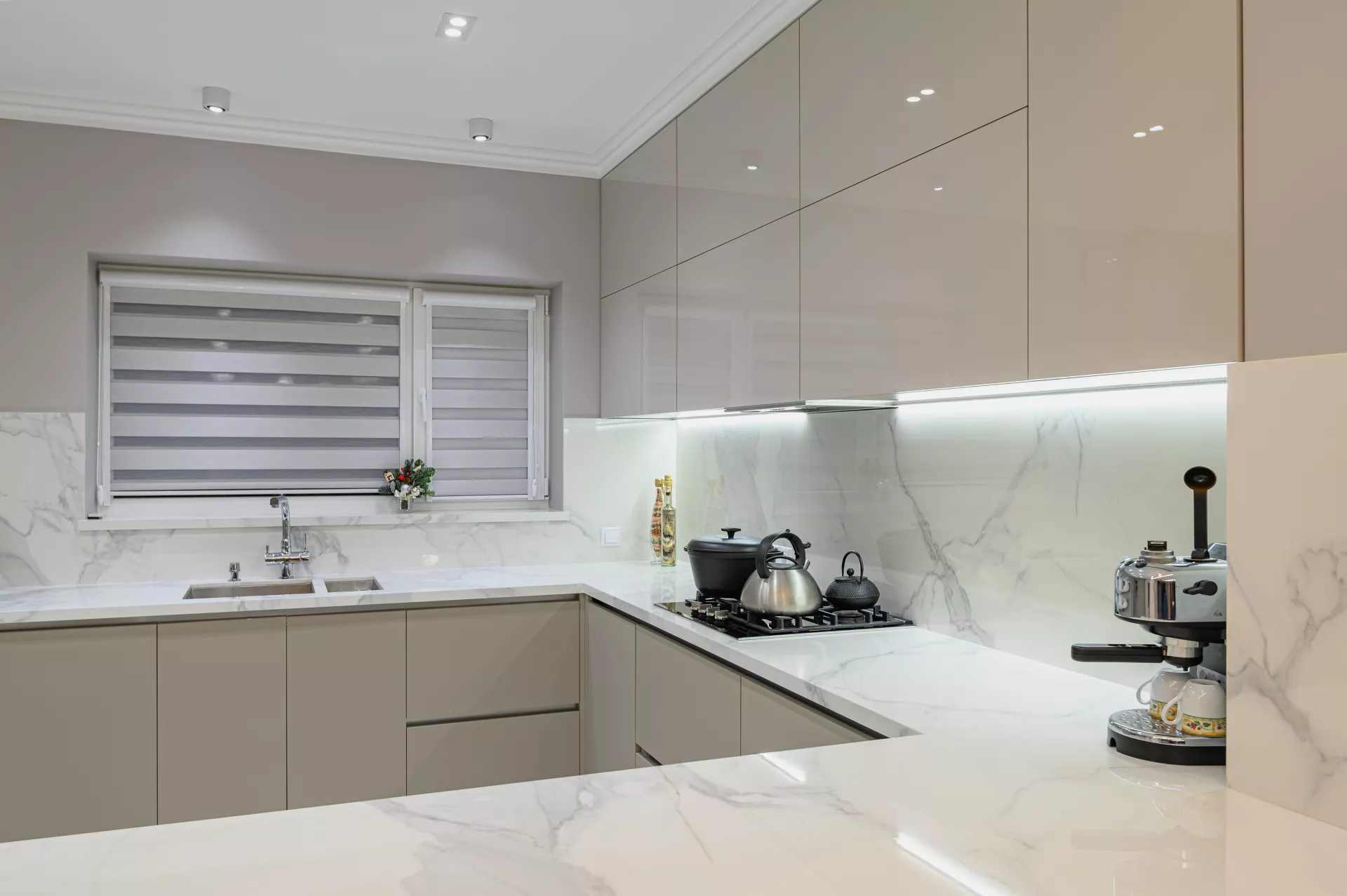 Glass Tile Backsplash
Glass tile backsplashes for kitchens are an ideal choice for their stain-resistance and non-porous properties. They are easy to install, available in a variety of colors, and repel the growth of bacteria and germs. Glass tiles also offer high durability and are an eco-friendly choice that appeals to the emerging environment-conscious population. Not to forget, the sleek and glossy display of this material tends to give your kitchen the illusion of a more airy, spacious, and bright area. The price range for a glass tile backsplash is typically between $10 to $18 per square foot.
Below are a few tips and tricks for pulling off a coherent look with a glass tile backsplash.
For matching countertops and cabinets, opt for glass tiles that strike a slight contrast between the two.
For cabinets and countertops with different shades, opt for a glass backsplash that ties the look together by complementing either the cabinets or countertops.
For countertops heavy with pattern and color, consider working with different hues of the same color for the backsplash to avoid creating competition with the countertop.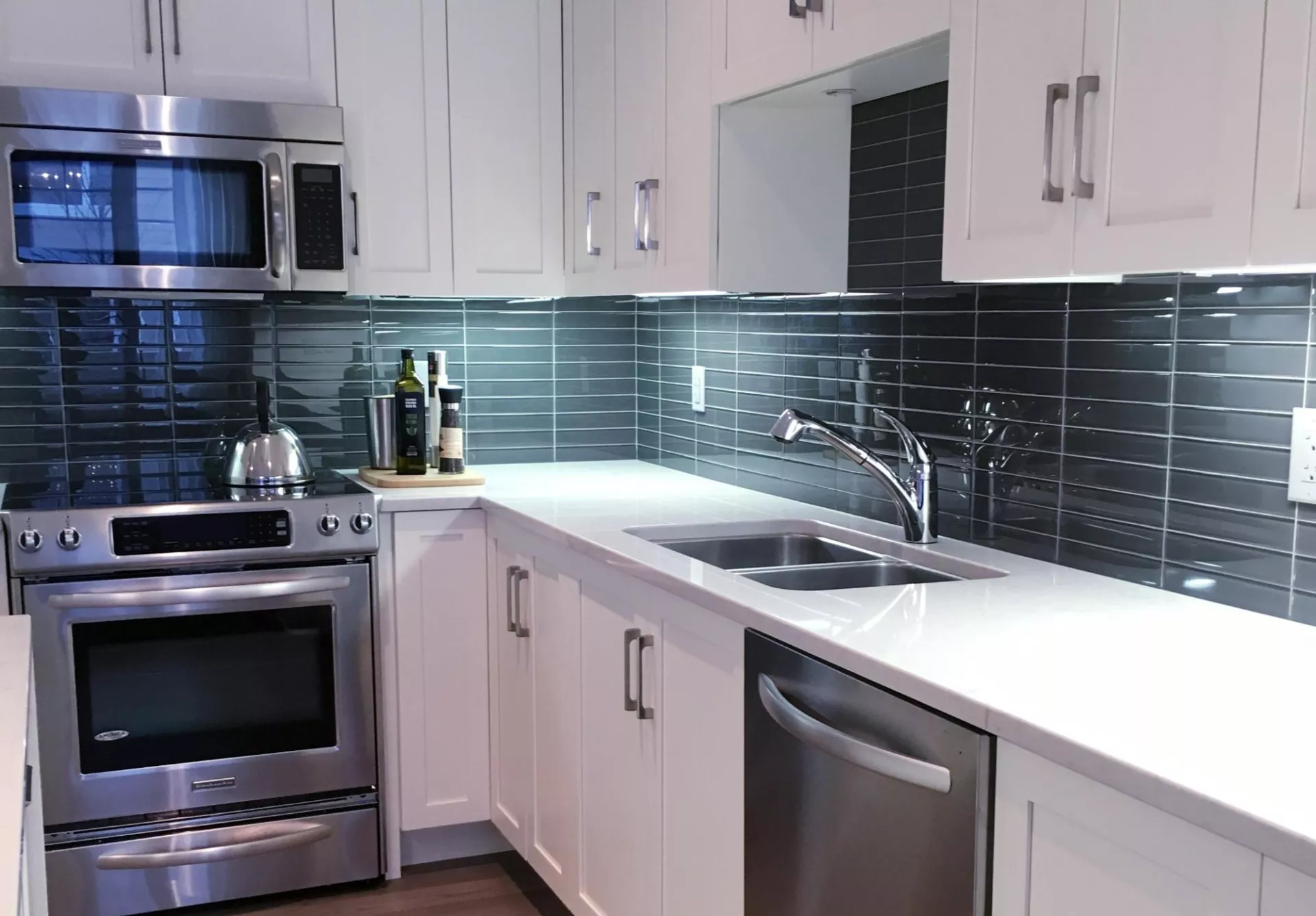 Subway Tile Backsplash
Subway tile for a kitchen backsplash is a versatile and timeless material that blends well with multiple decorating styles, including farmhouse, traditional, modern, and cottage aesthetics. Additionally, they are stain-resistant, relatively inexpensive, and easy to clean (a simple solution of water and vinegar is enough to freshen up the tired tiles).
Some of our favorite installation patterns for a classic twist in the popular subway tile backsplash include:
Classic running bond - This symmetrical layout is simple to install and presents a cohesive and serene stage for busy rooms like kitchens.
Vertical running bond - Installing subway tiles vertically creates the illusion of visually higher ceilings and taller walls. Pro Tip: Accent the tiles with black grout or dark grey to create a dramatic statement.
Double-basket weave - Comprised of pairs of vertical tiles surrounded by horizontal tiles, the double-basket weave layout offers a modern take on an old favorite of the classy subway tiles.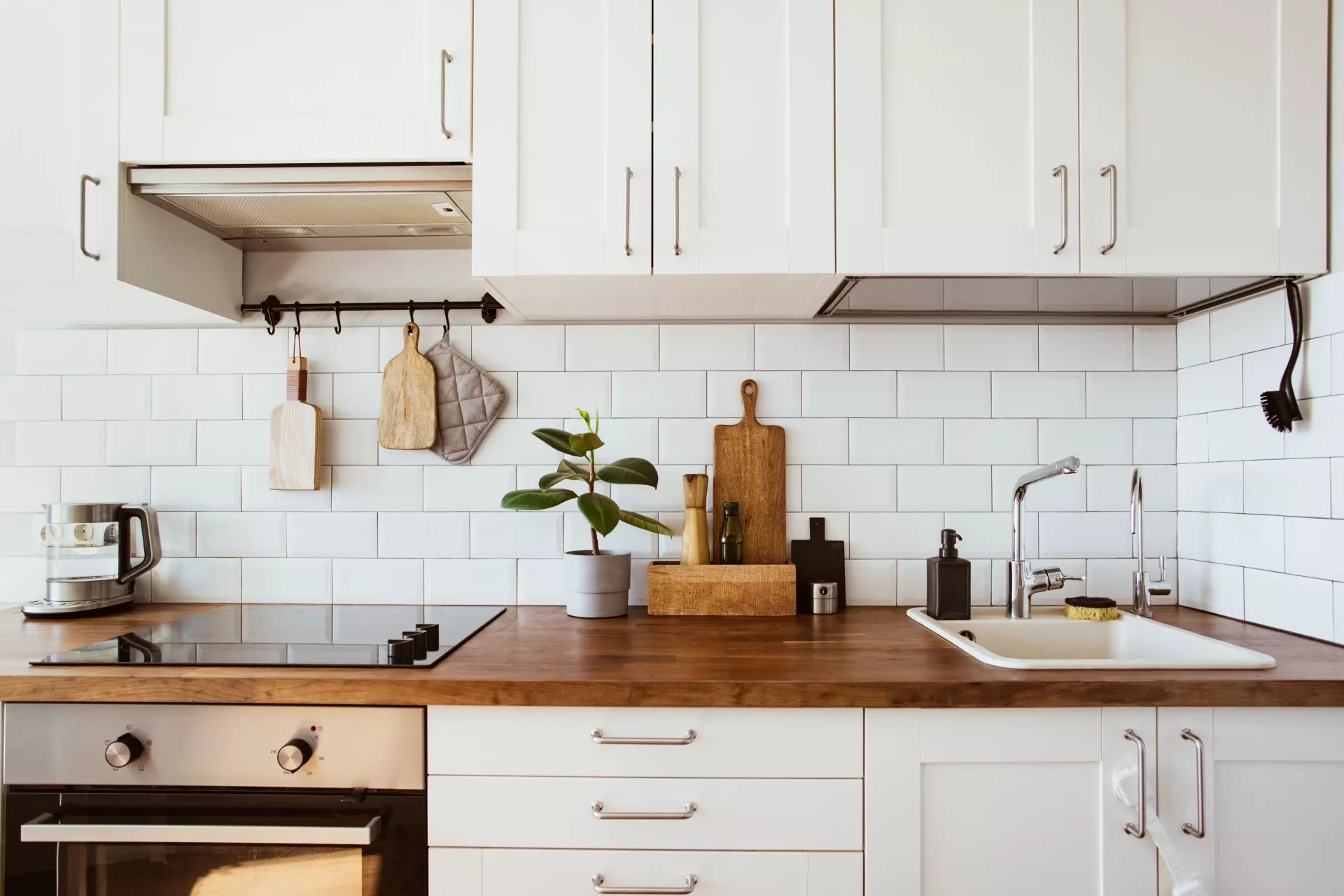 Peel And Stick Backsplash
Peel-and-stick backsplash has made its way to the popular DIY home decor trends. It is typically made of vinyl, though it also comes in materials like stone, glass, and metal. Being a non-permanent solution, it is a great option for renters who don't plan on staying in a specific property for too long. The price range for this material falls around $5 to $25 per square foot, and it also saves you a few bucks since it doesn't require external labor costs.
The drawbacks, however, that might be a pinch point are that a peel and stick backsplash doesn't add value to the home, looks less put together and sleek, and can eventually fall off in areas with high moisture or heat.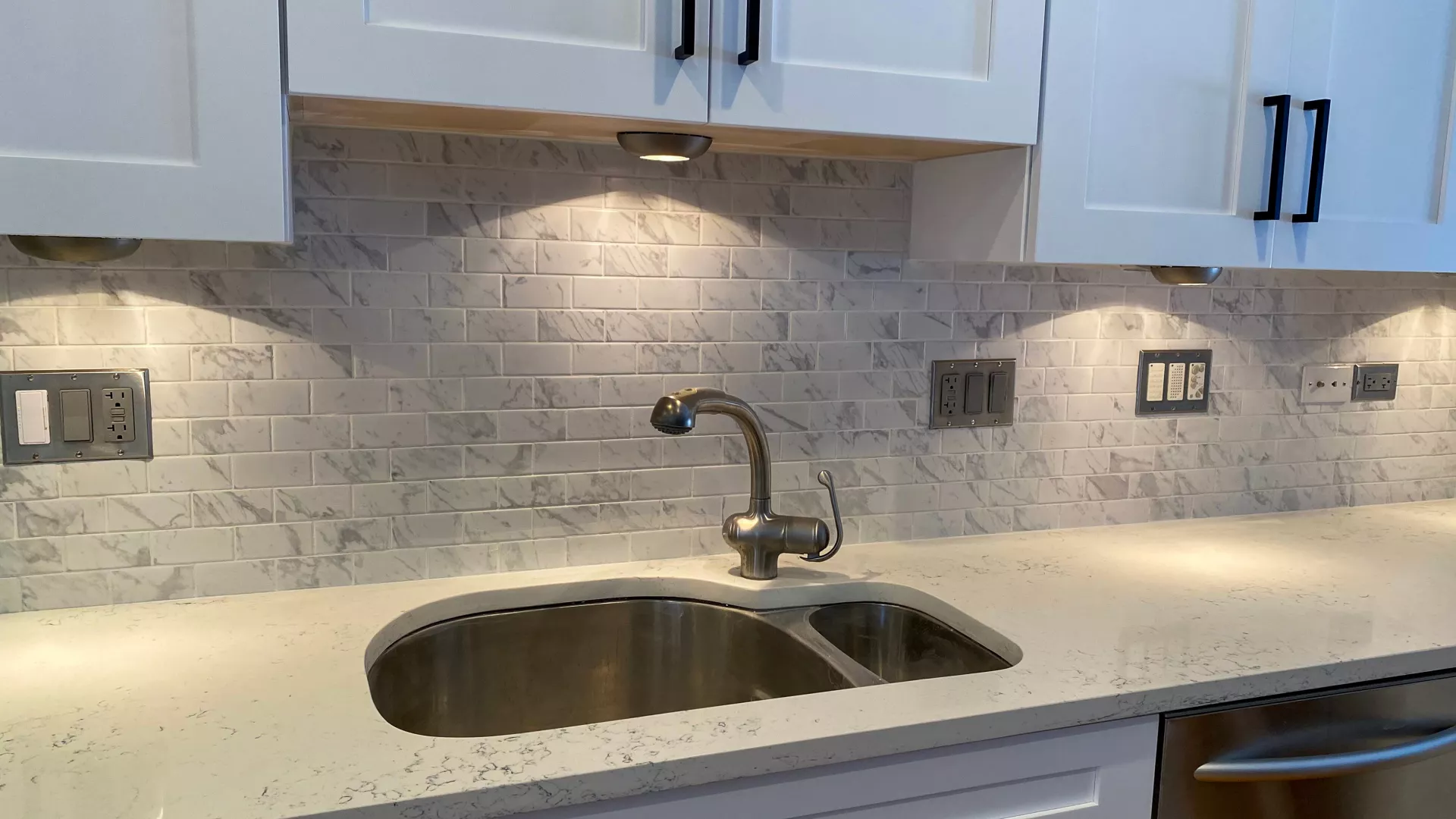 Brick Backsplash
The high durability, hardiness, and versatile appearance of brick make them a great option for kitchen backsplashes. They come in multiple designs and patterns to fit a range of design styles. What's more, adorning your kitchen with the timeless decor idea of a brick backsplash will create a warm, inviting, and homely feeling, cultivating a pleasant sense of home and hearth.
When opting for a brick backsplash, you have two choices: solid brick or thin brick veneer. The latter is a good option if you're working around a budget. It is easier to work with and will give a similar look to solid brick without the heavy bulk. So, if you only want to add brick to the area between the upper cabinets and the countertop, a thin brick veneer will do the trick.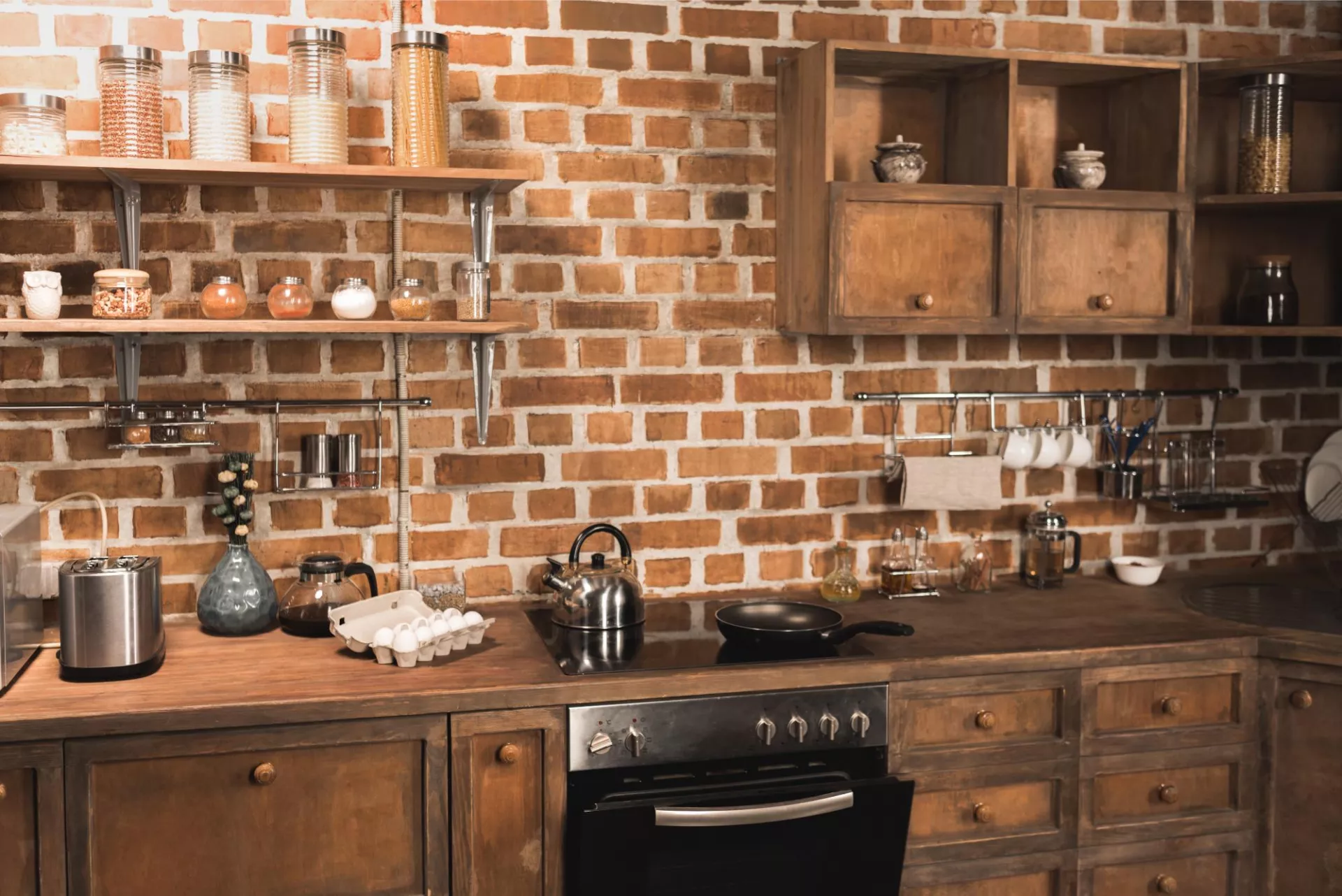 Conclusion
There are endless kitchen backsplash materials on the market, and while you might be tempted to opt for the one that goes best with the overall design scheme, it is important to remember and consider other factors, too. The maintenance and durability, functionality, and cost of each option, paired with the traffic levels in your kitchen, are, for example, some aspects you need to consider beforehand to make a choice that lasts you for years without wearing out or looking outdated.
View your needs, pick your favorite material accordingly, and start transforming your kitchen now!
Find more information about kitchen remodeling in our BLOG.