Bathroom Remodeling Costs for 2023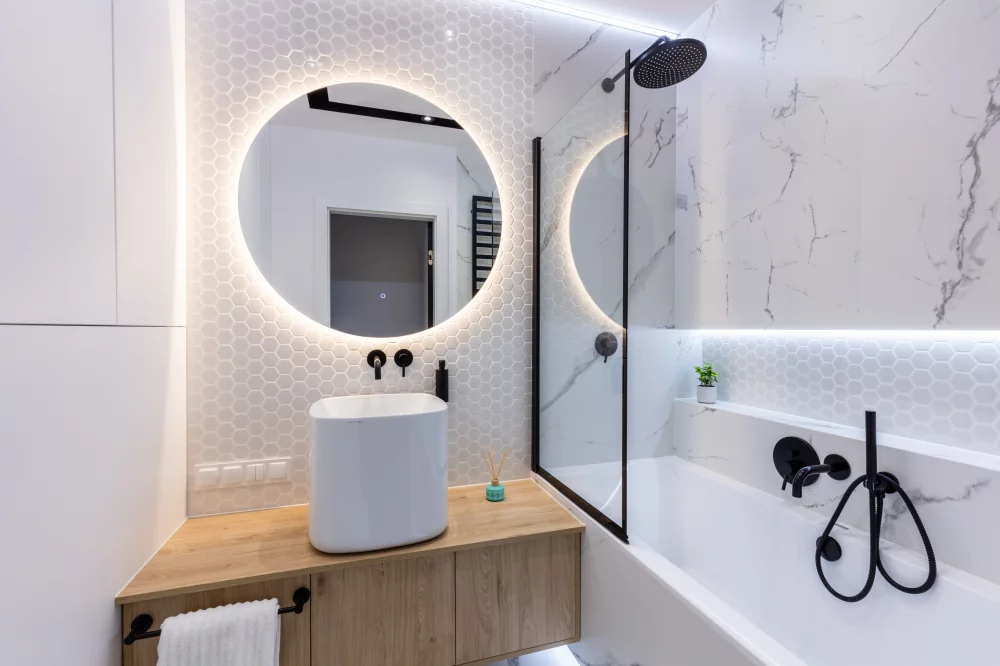 Whether your bathroom no longer fits your requirements or just needs a quick facelift, remodeling is a great way to give your home a revamped look — and when planning an upgradation, the first thought that probably comes up is the cost.
An average bathroom remodel charges from around $6,600 to $16,650, but the final cost varies with multiple factors, including the electrical and plumbing needs, types of amenities and fixtures, square footage, etc. So to help you make a somewhat accurate estimate of the budget you'll need to set aside, this article will give a detailed overview of the bathroom remodel costs for 2023 while keeping in view the various aspects that influence the total charges. Scroll on to learn more!
Shower remodeling costs
The typical price of remodeling a shower falls between $3,200 and $10,000, with an average cost of $6,500. However, the final charges depend on the level of fixtures and finishes chosen. You should also expect to pay higher for plumbing and drywall if you've planned to change the location of your shower or expand the size of the shower room.
Cost By Different Shower Types
Walk-in showers can be remodeled with materials that are affordable, high-end, and everything in between, which means they have a wide cost range from $400 to $8,000.
Prefabricated shower inserts are great for those working around a tight budget, as they allow you to build an inviting bathroom at any rate between $200 to $8,000, depending on how luxurious you want it to be.
Tub and shower can be customized within a budget of around $3,000 with your fixture and tile preferences.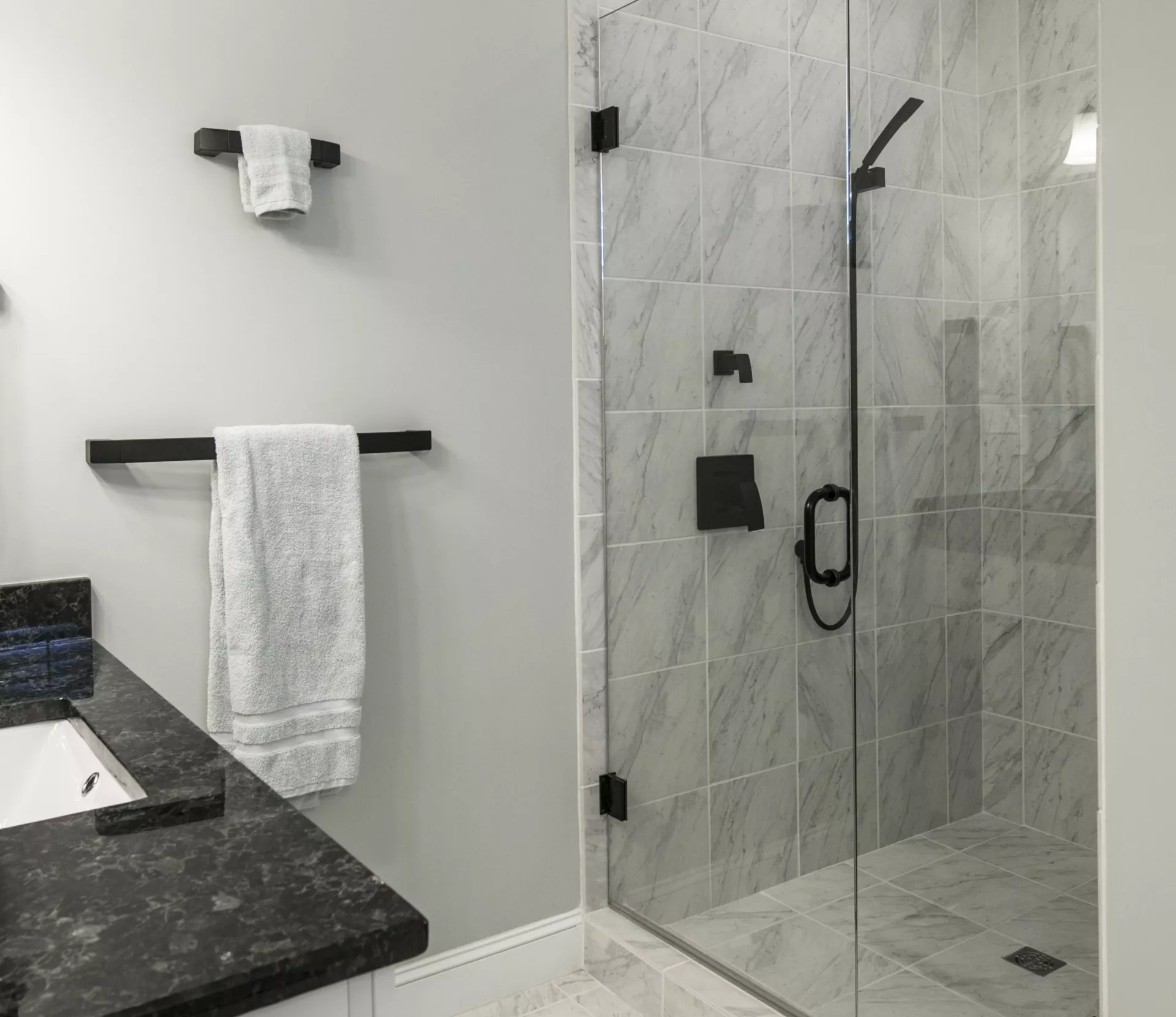 Vanity Top Costs
Bathroom vanity tops must be waterproof but not necessarily as heavy-duty as found in kitchens. Laminate and tile countertops have the lowest price per square foot, while marble and solid surface are good mid-range picks, with options like soapstone, quartz, and granite being luxurious choices that will last you for a century if properly maintained.
Depending on the chosen material, the remodeling of the countertop will cost approximately $300 to $4,000. Apart from the material, you also have to consider whether you'll opt for a custom bathroom vanity or simply install a pre-fit vanity. The latter is a cost-effective alternative available in readymade dimensions that fit most bathroom layouts. It has an easy installation and ranges between $200 to $1,000. For custom bathroom layouts, you'll get to enjoy extra tailoring and modifications. This option, which prices around $500 to $4,000, is perfect for people with a unique design style in mind or for bathrooms that don't fit standard layouts.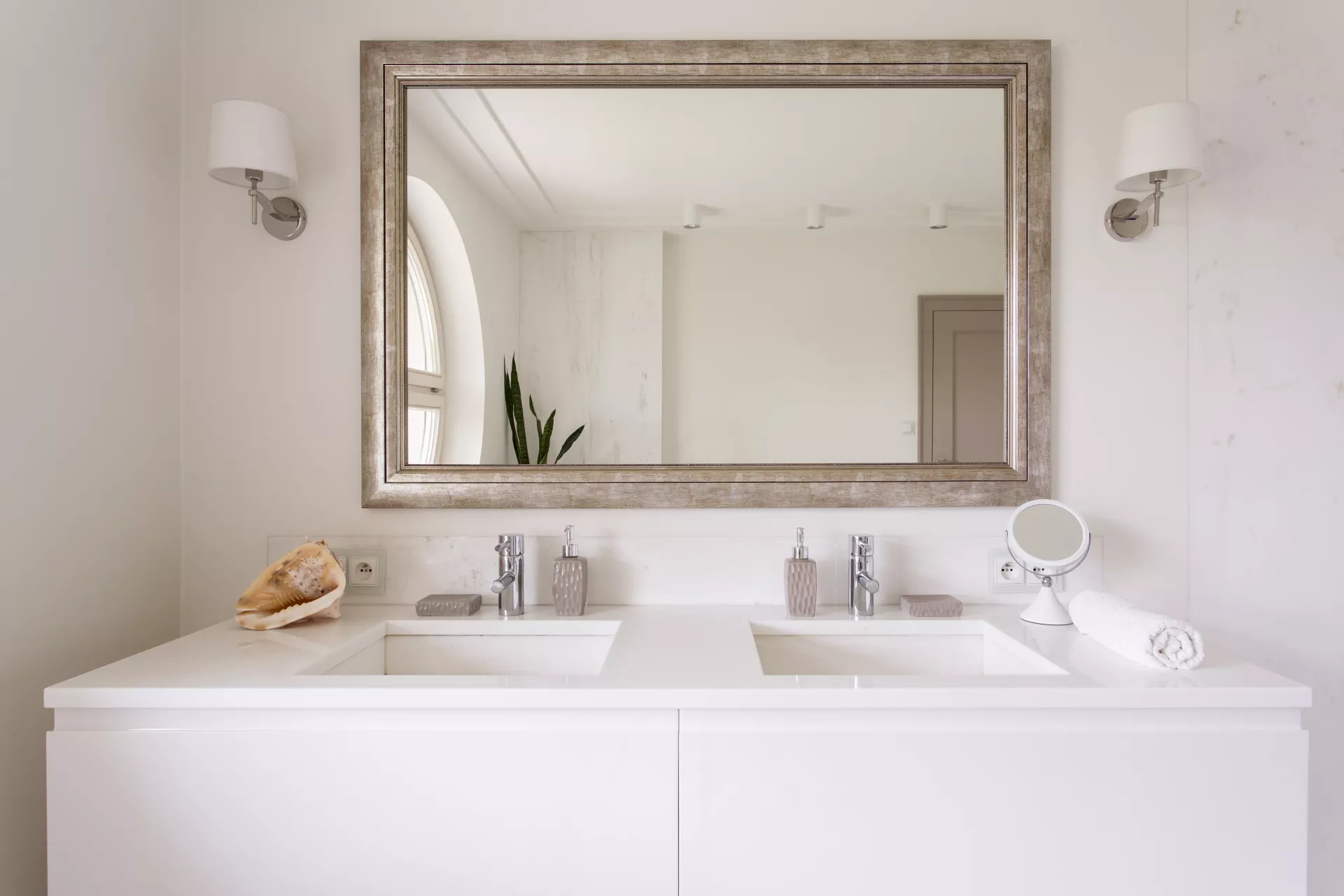 Lighting & Ventilation Costs
You can save money on lighting by replacing the fixtures while using the wiring that's already there. Industrial-style and brass lighting have recently started to make a comeback. To enhance their look, you can match the finish and color with the bathroom hardware. For a fancier aura, consider applying stick-on LED strip lighting beneath cabinetry, and the best part is that you can do this all by yourself! Alternatively, rewiring the bathroom for additional vanity lights or even a luxe chandelier can be a good idea too. On average, this process will cost you about $200 to $1,000.
For ventilation, proper air exchange is needed to protect your bathroom from mold, mildew, and moisture that can result in expensive renovations. If you're just going to replace the exhaust fan, the costs will fall around $180 to $600, with an additional price for extra fixtures like an integrated light or a heat lamp. In case you're installing the ventilation from scratch, the costs will rise to $1,000 or above due to additional work, such as ductwork and vents.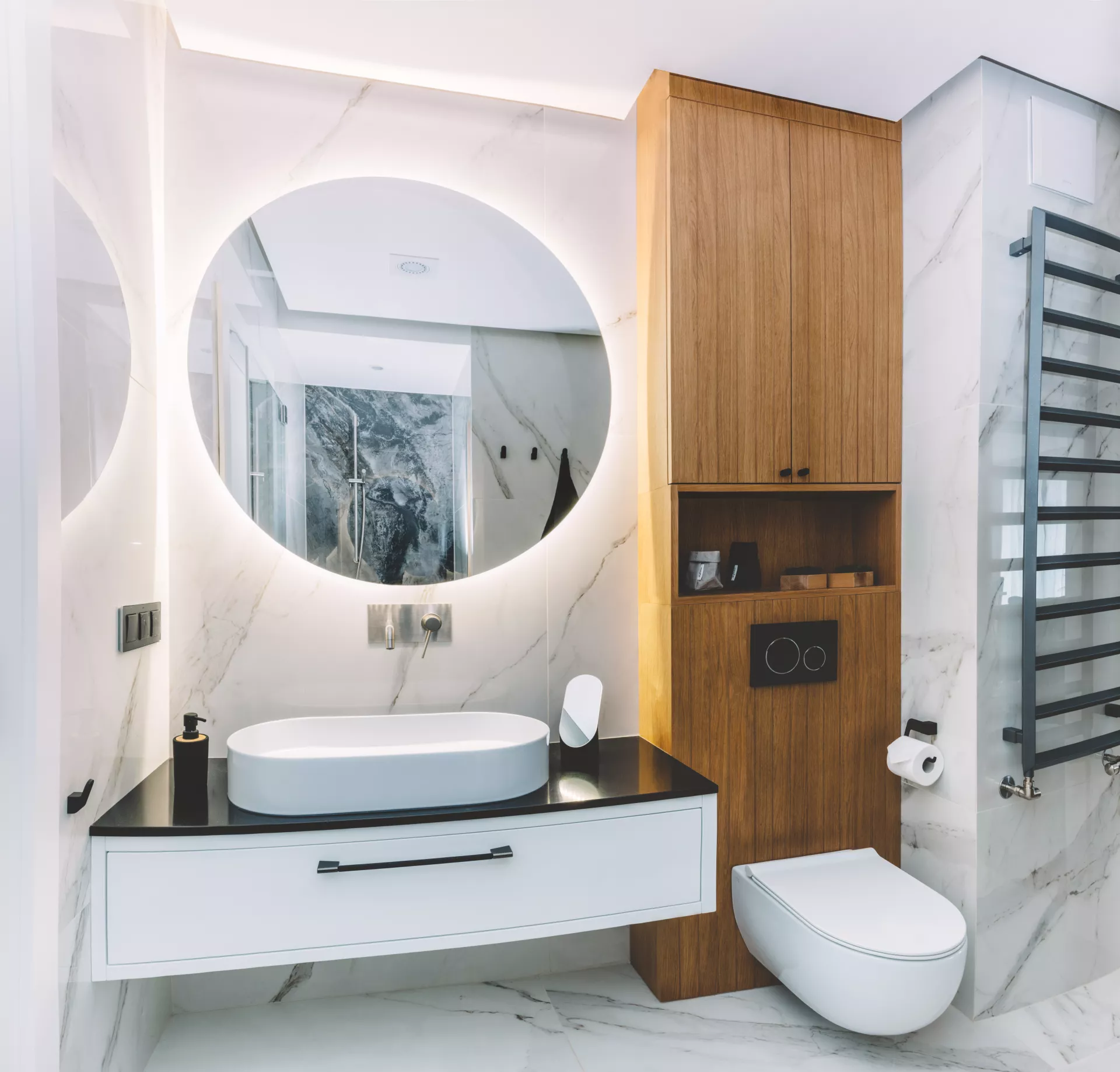 Plumbing Fixtures costs
From toilets to faucets, plumbing covers all such elements of a bathroom. A quick and cost-effective way is to replace the existing hardware with a fresh finish, style, or material. Stainless steel and brass are popular choices, though copper can add a fancier touch. Similarly, metallic and chrome finishes are common, but a matte black finish can create a statement look.
If you're willing to invest higher, you can also replace the sink, tub, showerhead, or toilet for an upgraded look. From jetted tubs to simple alcove tubs, high-end customer showers to prefabricated stall units, stone basins to wall-hung basins, dual flush toilets to pressure-assisted flushes, there are tons of bathroom fittings you can choose from.
The cost of the plumbing tasks is also influenced by any additional adjustments you might need to make to fit in new fixtures. Examples include $150 to $3,500 for plumbing repairs, $450 to $6,500 for moving fixtures, $1,000 to $5,000 for moving plumbings, and $300 to $4,000 for new pipe installation.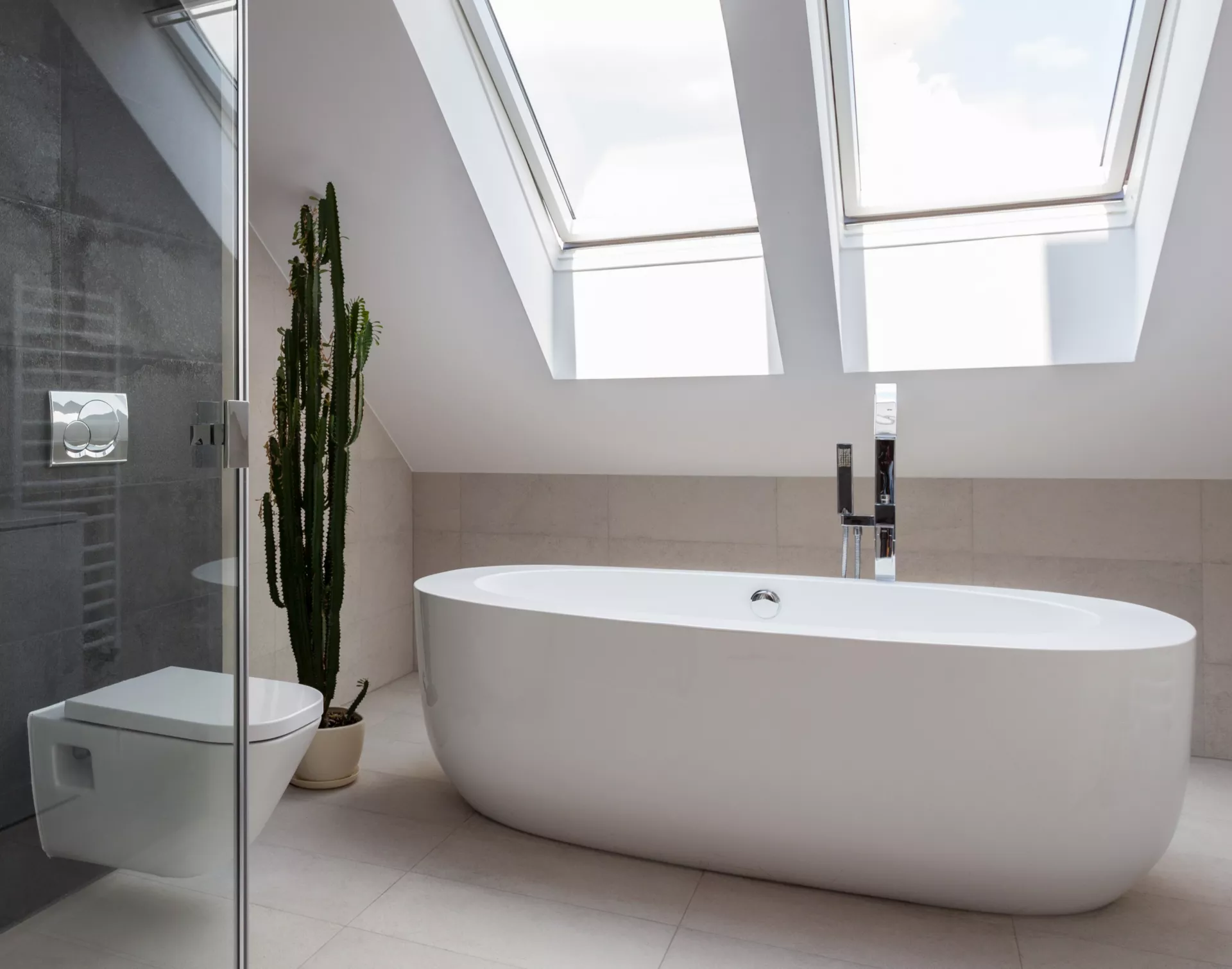 New Bathroom Flooring Costs
Bathroom flooring offers multiple options to choose from, including some that can save you a good amount of money. Marble tile ($10 to $25 per square foot), radiant flooring ($12 to $65 per square foot), and hardwood flooring ($6 to $25 per square foot) are higher-cost options, but new choices like laminate and vinyl flooring can mimic the same appearance at a much lower price of around $1 to $17 per square foot. Floor tile made of ceramic ($1 to $12 per square foot) and porcelain ($3 to $16 per square foot) is also a popular and inexpensive option, but they are difficult to install and clean.
All these choices are priced according to the square footage of your bathroom, so the bigger the area, the higher the labor and material costs. For a more luxurious bathroom, consider installing a radiant heating system beneath the tiles. The cost range will fall between $16 to $25 per square foot.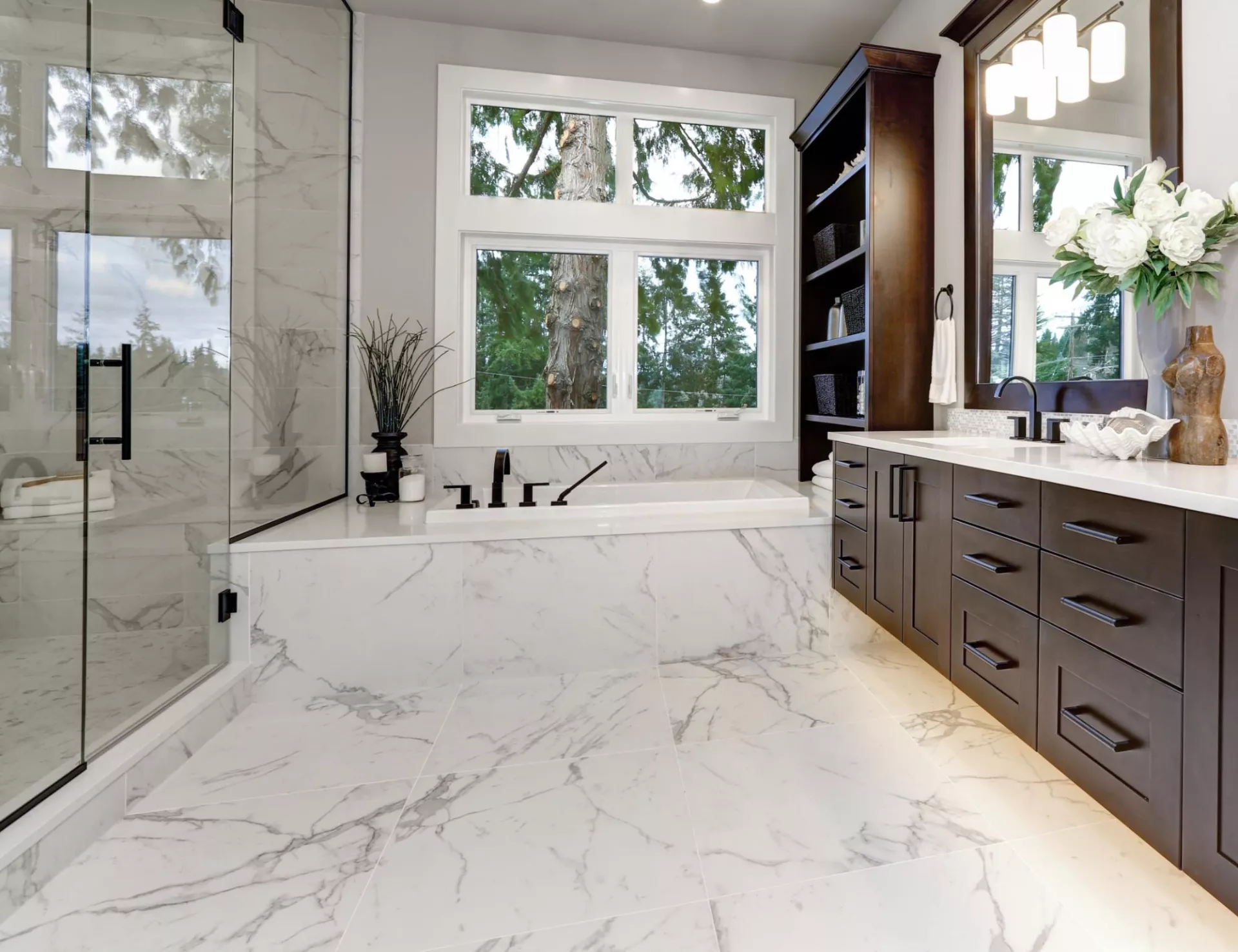 Bathroom Vanity Costs
Vanity is one of the smart solutions that help make the most out of the space available, so you'll definitely want to give this part extra attention and devotion.
While the costs for cabinetry vary according to the material and size, opting for a ready-to-assemble piece can save you money. They are available between $50 and $250 per unit and can eliminate installation costs if you DIY the ob. For more durable options like hardwood or solid wood, expect to pay up to $2000 or more.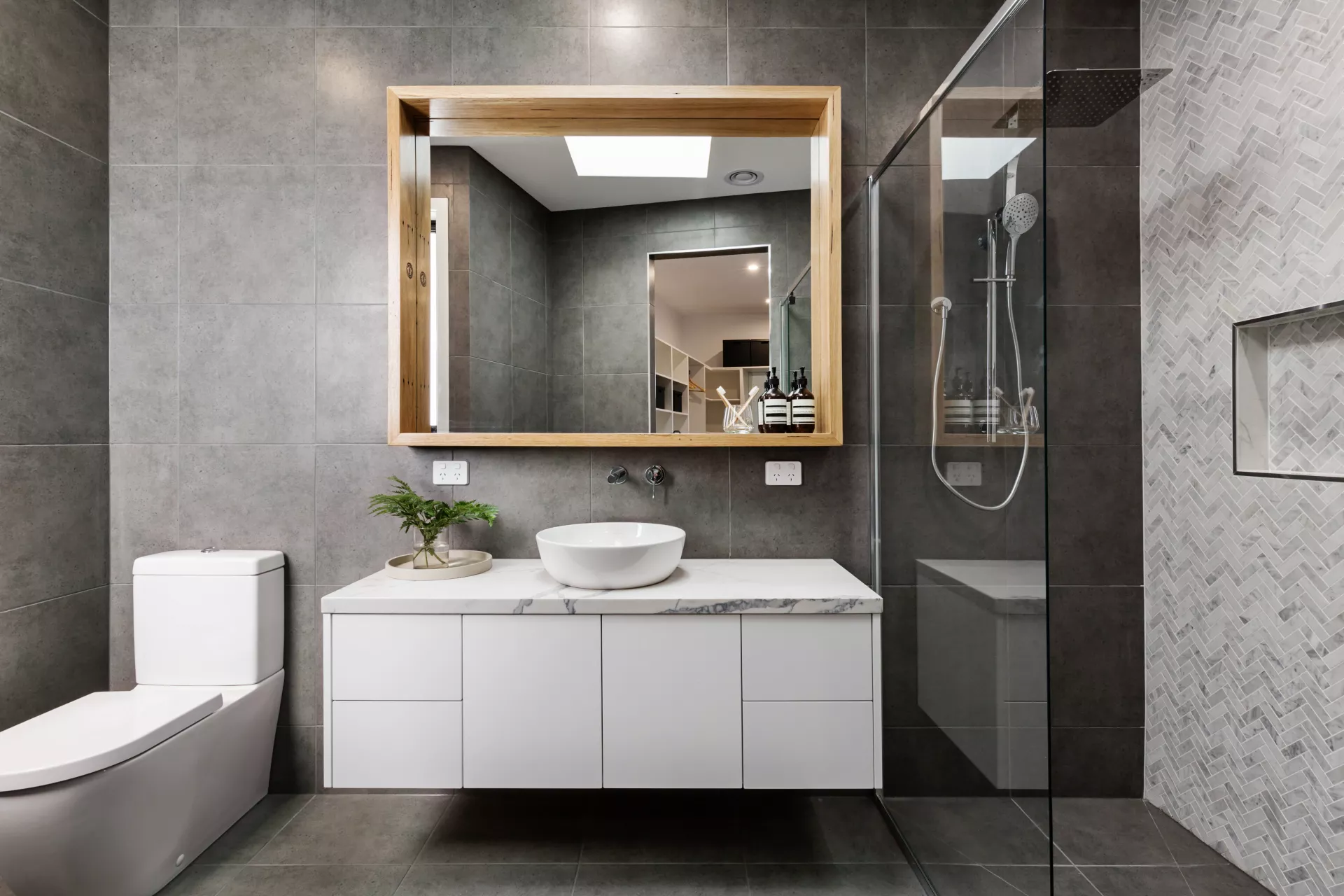 Conclusion
Bathrooms are the most highly-trafficked rooms of a home — a place where you get ready for the day, wash off the exhaustion of a hectic routine, and even treat yourself to an occasional spa. This explains why they deserve to be a priority when it comes to home remodeling projects. A good investment will bring greater returns in the form of a value boost to your property and a relaxing sanctuary that will make your bathroom trips much more enjoyable and exciting.
So, what are you waiting for? View your space, calculate the approximate budget you'll need according to the aforementioned pricing, and start transforming your bathroom now — either with professional help or your own creative hands!
Find more information about bathroom remodeling in our BLOG.