Breathe New Life into Your Kitchen: Cabinet Refinishing Tips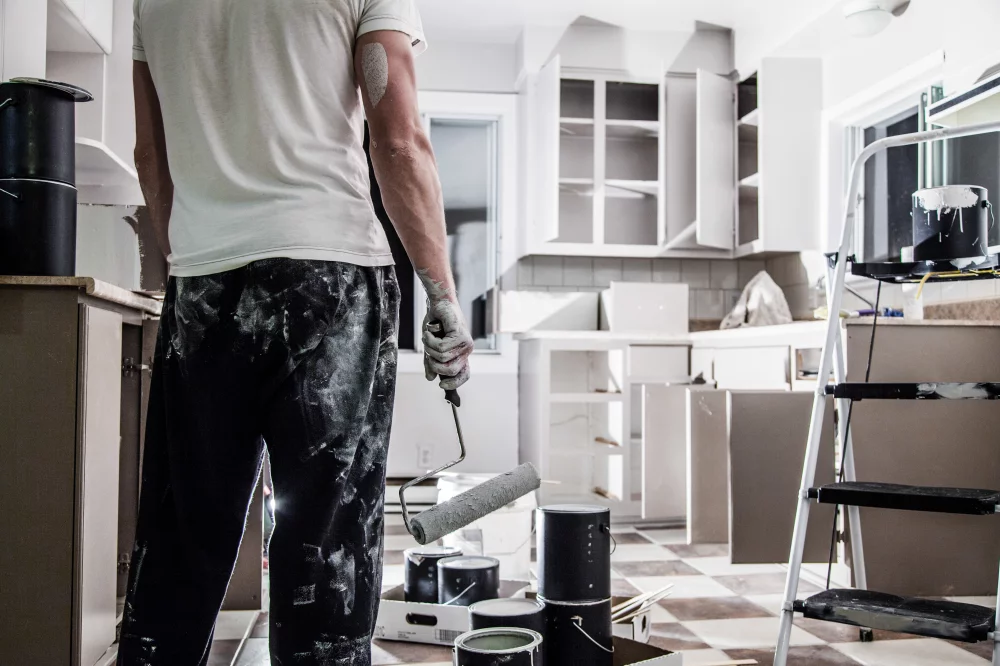 Being a functional element that enhances the practicality of a room and an aesthetic component that improves the overall look of the space, kitchen cabinets are an important interior design element. But cabinets are prone to falling into despair easily over the years, leading to malfunctioning hinges, faded colors, and broken handles — and before you realize it, the most trafficked room of your home starts appearing run-down.
If a full-fledged kitchen remodel seems too costly, consider going for a cabinet facelift. But should you repaint your cabinets, reface them, or fully replace them? This blog post will help you make the most optimal choice and educate you on all the important aspects of the process. Keep scrolling to learn more!
Top Material Types for Cabinets and the Recommended Methods to Use for Refinishing
There are plenty of material types for cabinets, with the recommended methods for refinishing depending on the type. Below, we will list the top types of materials used for cabinets — and the refinishing methods that are applicable to each type. Note that replacement can be done for each of these types, especially if your existing cabinetry is in bad condition.
Solid Wood Cabinets
Solid wood cabinets are one of the most frequently used options, partly owing to their strength and durability. However, they're one of the most expensive cabinet types, second to stainless steel.
Refinishing methods applicable:
Repainting

— Oil and acrylic paints adhere well.

Refacing

— Solid wood can accept veneers and strongly anchor new doors.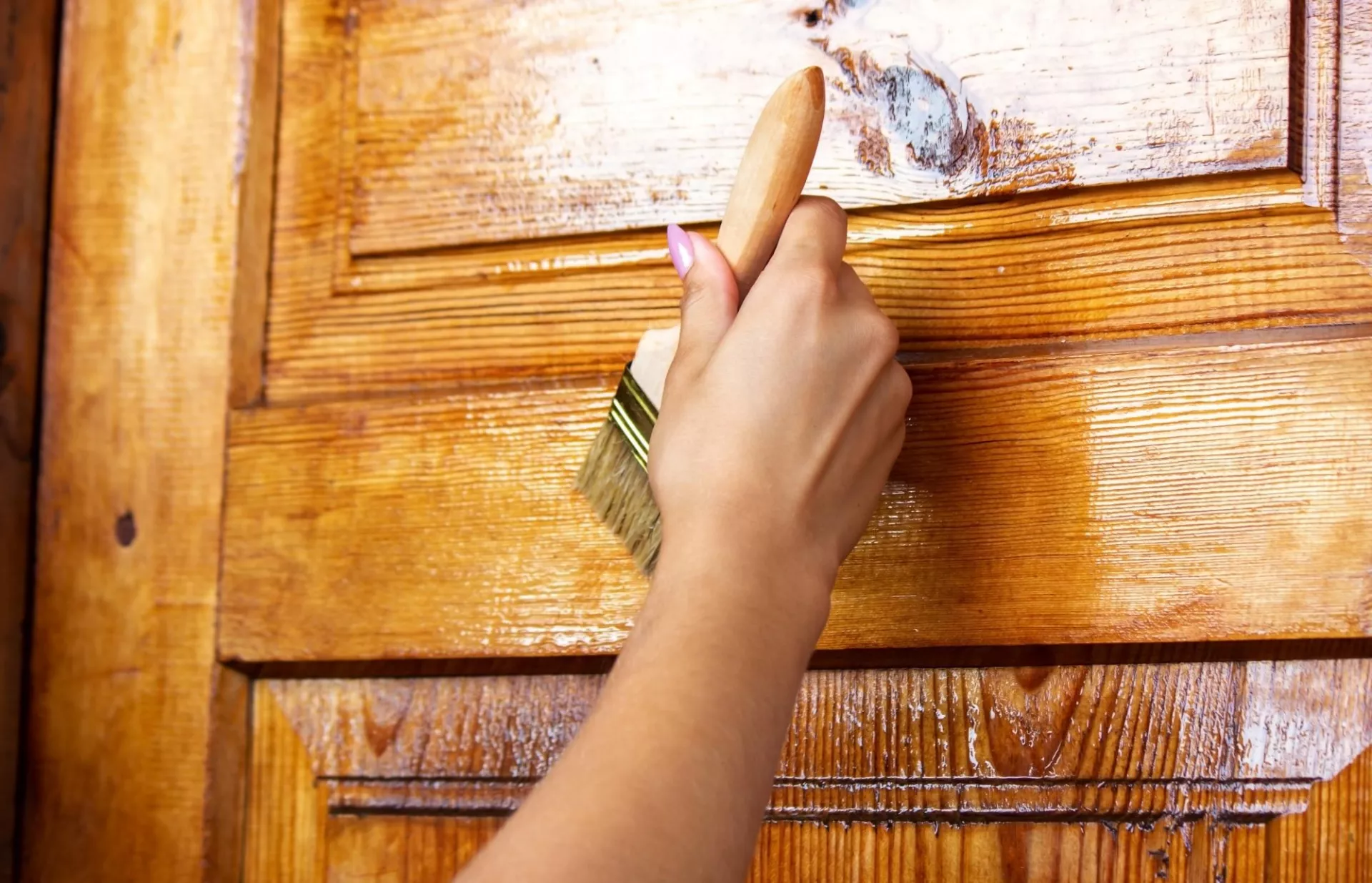 Natural Wood Cabinets
These are made from a variety of different woods, particularly used in their natural state (free from paints and stains). Examples include oakwood and cherry.
Refinishing methods applicable:
Repainting

— This will require more prep work, and the finish attained depends on the species of wood.

Repairing

— This involves filling any damaged wood with wood filler followed by a sealer, stain, and protective varnish.


Thermofoil Cabinets

Thermofoil cabinets are affordable and easy to maintain. They are made of PVC vinyl material (thermofoil) adhered to MDF boards.
Refinishing methods applicable:
Repairing — This is done by peeling away the thermofoil, applying adhesive material, and securing it back together.

Refacing

— This is suitable if the thermofoil is too damaged.

Painting the MDF

— This is done after the thermofoil is removed.
Plywood Cabinets
Plywood cabinets are made from thin layers of wood strongly glued together. They are durable and less likely to warp when compared with solid wood cabinets.
Refinishing methods applicable:
Repainting

— Water-based acrylic-latex paints work best.

Refacing

— The smooth, solid surfaces of plywood are excellent for applying new veneers.

Applying stain and varnish

— This is ideal for treating dullness.
Medium-Density Fiberboard (MDF) Cabinets
MDF kitchen cabinets compress wood fibers with resin. They are stable and stand up well to humidity, but are less durable than solid hardwood.
Refinishing methods applicable:
Refacing

— Their sturdy box construction is suitable for applying new veneer.

Repainting

— This requires smoothing out the edges beforehand with an MDF sealer or filler.


Repainting Kitchen Cabinets
Repainting kitchen cabinets is exactly what it sounds like — giving the existing cabinetry a fresh lick of paint.
When to Repaint Kitchen Cabinets
Repaint your kitchen cabinets if they function well (including all the doors, hinges, and glides) and you're just looking for a quick facelift. Repainting is also a good option if you're working around a budget.
How to Repaint Kitchen Cabinets
Prepare the space. Empty the cabinets, clear the countertops, and move away furniture to make sure the workspace is nice and clear.
Remove all the doors and hardware. Doing so takes a bit of effort, but it gives you access to all doors of the cabinet. Be sure to number the doors as you remove them.
Prep the surfaces to be painted. This typically involves sanding them or applying liquid sandpaper.
Paint, paint, paint. You can choose between latex and oil-based paint, and use a roller for easy application. However, the most professional method is air painting. This requires special tools, and we suggest hiring a professional company to do this work for best results.
Finish up. Apply primer and put all the cabinet doors back for a kitchen space that feels as good as new!
Price for Repainting Kitchen Cabinets
For an average-sized kitchen, you can expect to pay between $775 and $2500 for repainting kitchen cabinets.


Refacing Kitchen Cabinets
Cabinet refacing is a process where the cabinet doors and drawer fronts are removed to apply a new veneer over the existing surface and replace the hardware, including handles and drawer pulls.
When to Reface Kitchen Cabinets
If you have traditional cabinetry but would like a more modern style (or vice versa) — but without the hassle of complete replacement — refacing is an optimal choice. However, refacing often depends on the hinges and drawers glides of your existing cabinetry. If they're modern euro (or other types readily available on the market), switching up just the fronts can be easy.
How to Reface Kitchen Cabinets
Pick the replacement material. Some popular options to choose from include wood veneer, plastic laminate, and plywood.
Prepare the cabinets. Unscrew the hinges of all cabinet doors and drawer fronts using a cordless drill. Remove shelving and clean all end panels. Finally, use medium, grit sandpaper to scuff up all the surfaces.
Cut and apply veneer. Cover the cabinet boxes with veneer (which will typically be of the same material you use for your new cabinet doors), but make sure to apply it only on the exposed areas while leaving out the insides of the cabinets.
Paint the insides of the frames. Be sure to use the color that you picked out for the cabinet doors.
Install the crowns (if any). This is a key step in attaining a brand new look.
Install the new doors and drawer fronts. If you've picked out new decorative hardware, you'd want to install that as the finishing touch.
Price for Refacing Kitchen Cabinets
Refacing costs depend on the material you choose. For example, plastic laminate can be anywhere between $1000 and $3000. On the other hand, wood veneer ranges between $2500 and $5000. With a little know-how and precision, you can also take up the task yourself and save up to 50% compared to hiring a pro!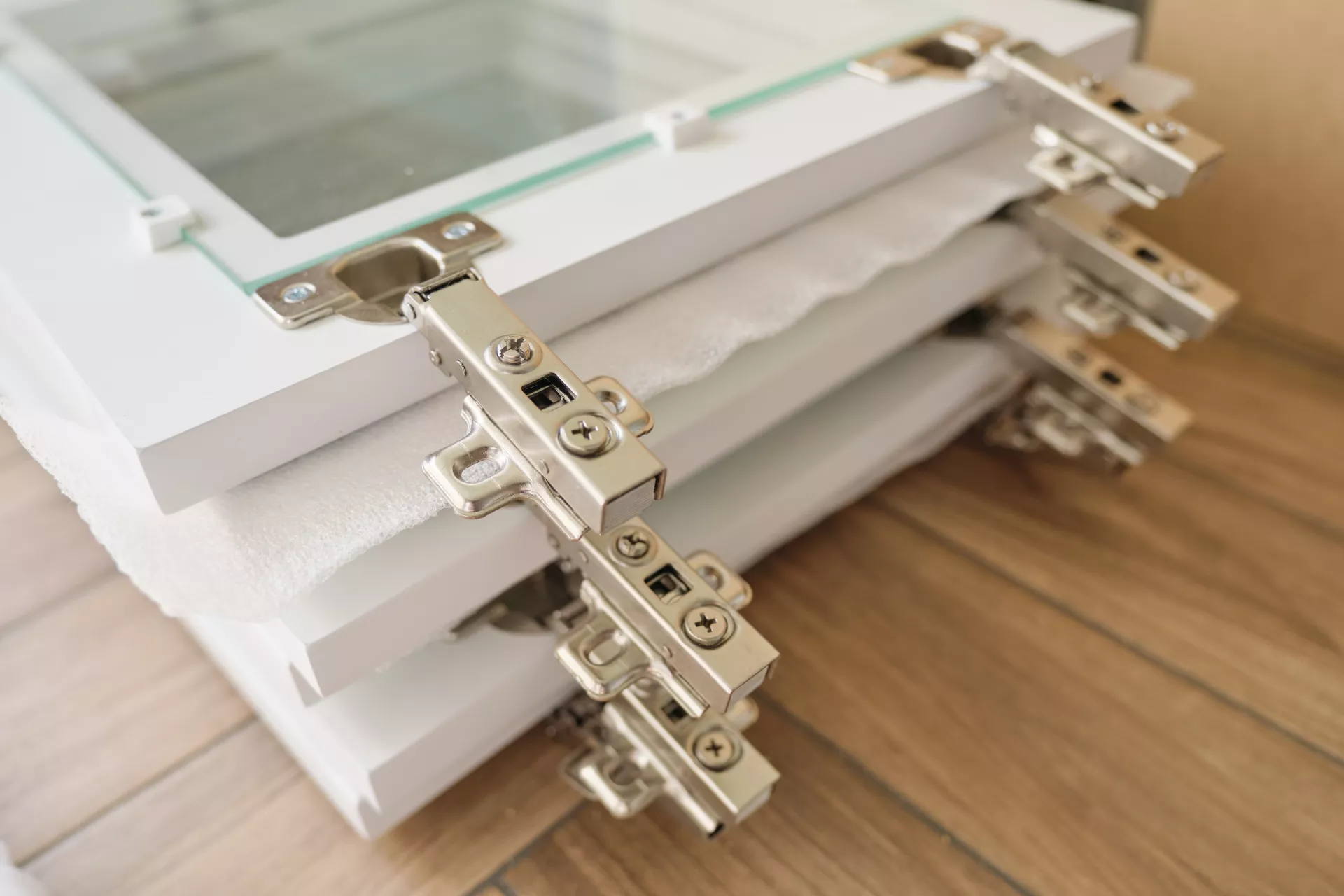 Replacing Kitchen Cabinets
Replacing kitchen cabinets means starting afresh. It involves completely removing existing cabinetry and replacing it with new cabinets.
When to Replace Kitchen Cabinets
If you're looking for improved storage solutions — or greater flexibility in the layout and design of your kitchen — replacing cabinets is the way to go. This is also the best option if your existing cabinets are in bad shape.
How to Replace Kitchen Cabinets
Replacing kitchen cabinets is a technical task, and you may want to look for professional assistance if you're not familiar with DIY. As a general idea, here's what you will have to do:
Remove existing cabinetry. Turn off the electricity, gas, and plumbing supplies beforehand for safety purposes. Be sure to patch and smooth any holes you observe in the wall afterwards.
Set the cabinet height and order. To do so, measure from the highest spot on the floor and test-fit your new cabinets.
Level and set the boxes of the kitchen base cabinets. This includes positioning, leveling, and shimming them.
Add filler strips. Also be sure to make cutouts for plumbing and electrical connections.
Set the peninsula cabinets. This involves anchoring cabinets to their adjacent ones (by tracing their position on the floor) followed by screwing them in place.
Install the upper cabinetry. Be sure to support them in the exact right position while screwing them.
Finish up with the trim and doors.
Price for Replacing Kitchen Cabinets
Replacing kitchen cabinets can be a hefty investment. Generally, you can expect to pay between $3200 and $8500.
Conclusion
Kitchens are the most used rooms of a home — and this explains why they deserve all the extra attention when it comes to renovations and upgrades. Whether you want to replace them entirely, give them a quick facelift with a fresh lick of paint, or upgrade the doors with cabinet refacing, this decision will surely give your home a lovely touch-up that will last you for years, if not more. Not to forget, your home will also enjoy an added value boost!
So now that you're familiar with how to reface kitchen cabinets, it's time to grab your tools or ring an expert and start transforming the heart of your home!
Find more articles about kitchen remodeling in the KITCHEN section of the KBF BLOG.