Kitchen Lighting Guide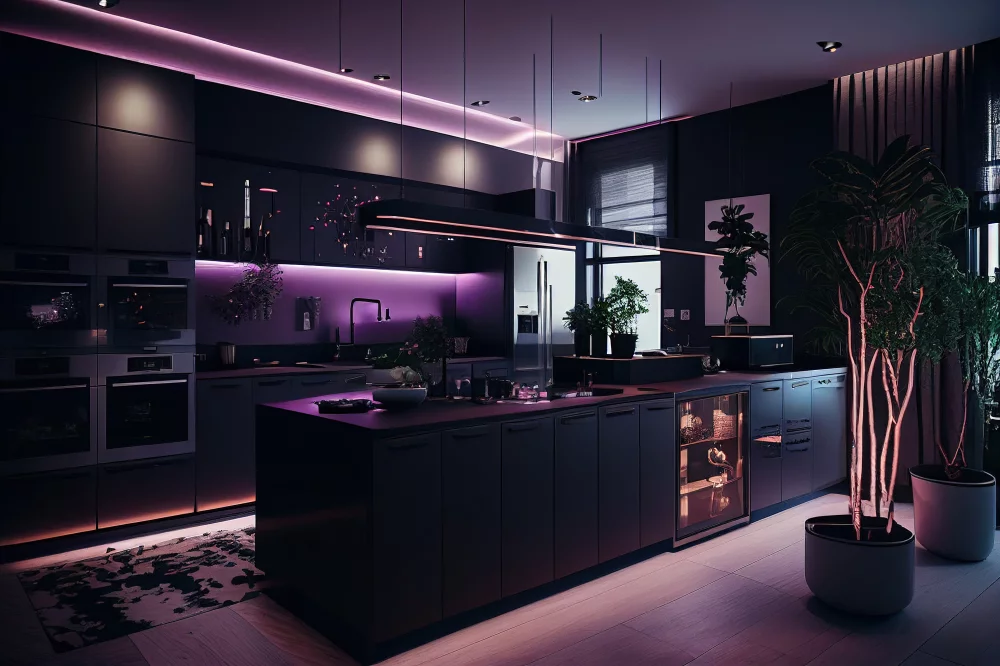 A kitchen, often considered the heart of the home, is a place where you cook daily meals, bond with family, or even bake for leisure — and this explains why it deserves all the extra attention, time, and money when it comes to deciding the lighting layout.
Expertly placed lighting not only makes doing chores more efficient, safe, and enjoyable but also lends a helping hand in setting the right mood, creating the desired ambiance, and bringing the overall interior to life.
So to help you create a well-lit and inviting kitchen, we've rounded up everything you need to know for a sure-fire remodel. Whether it's the different types of lighting, the factors to consider before purchasing the fixtures, or the ways to enhance your kitchen design with the perfect illumination, this article will provide you with all the right details required for a beautiful kitchen upgrade.
Types of Lighting In Kitchen Design
A bright and well-illuminated kitchen design revolves around the concept of layered lighting. It focuses on creating the right atmosphere by including all three types: ambient, task, and accent.
Kitchen Ambient Lighting
Ambient lighting, also called general lighting, offers overall illumination for a room and intends to create a uniform level of light throughout the space. Examples include recessed spotlights, wall-mounted fixtures, ceiling lights, etc.
Kitchen Task Lighting
Task lighting serves as additional illumination for specific tasks in a kitchen that may already have access to some ambient light. Examples include pendant lights, under-cabinet fixtures, downlights, or any other fixture that assists in tasks demanding extra focus.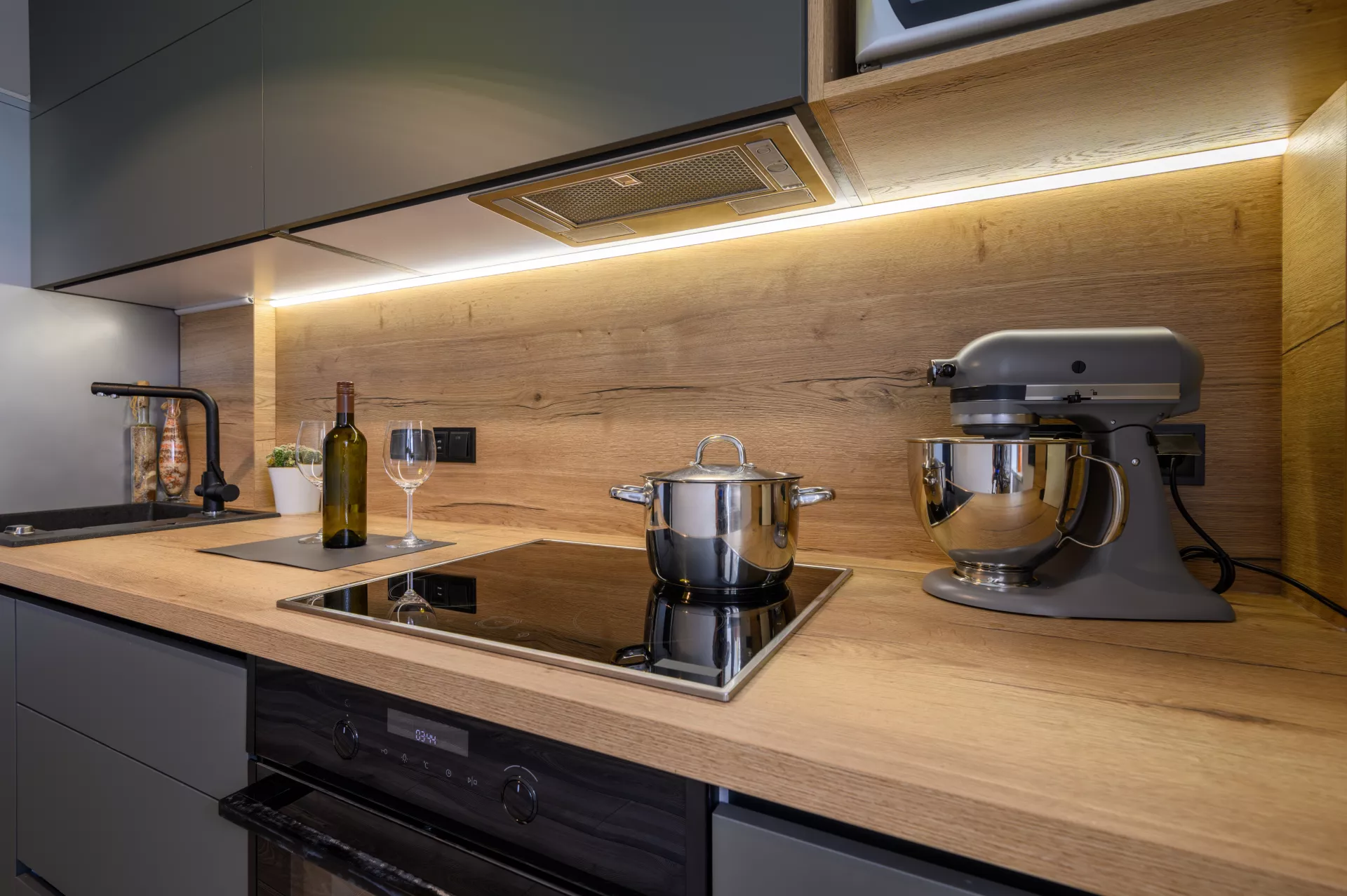 Kitchen Accent Lighting
Accent lighting includes decorative fixtures that are focused more on visual interest as opposed to illumination. Also called display lighting, these fixtures create design statements and focal points to enhance the aesthetics. Examples include chandeliers, wall-mounted picture lighting, wall sconces, etc.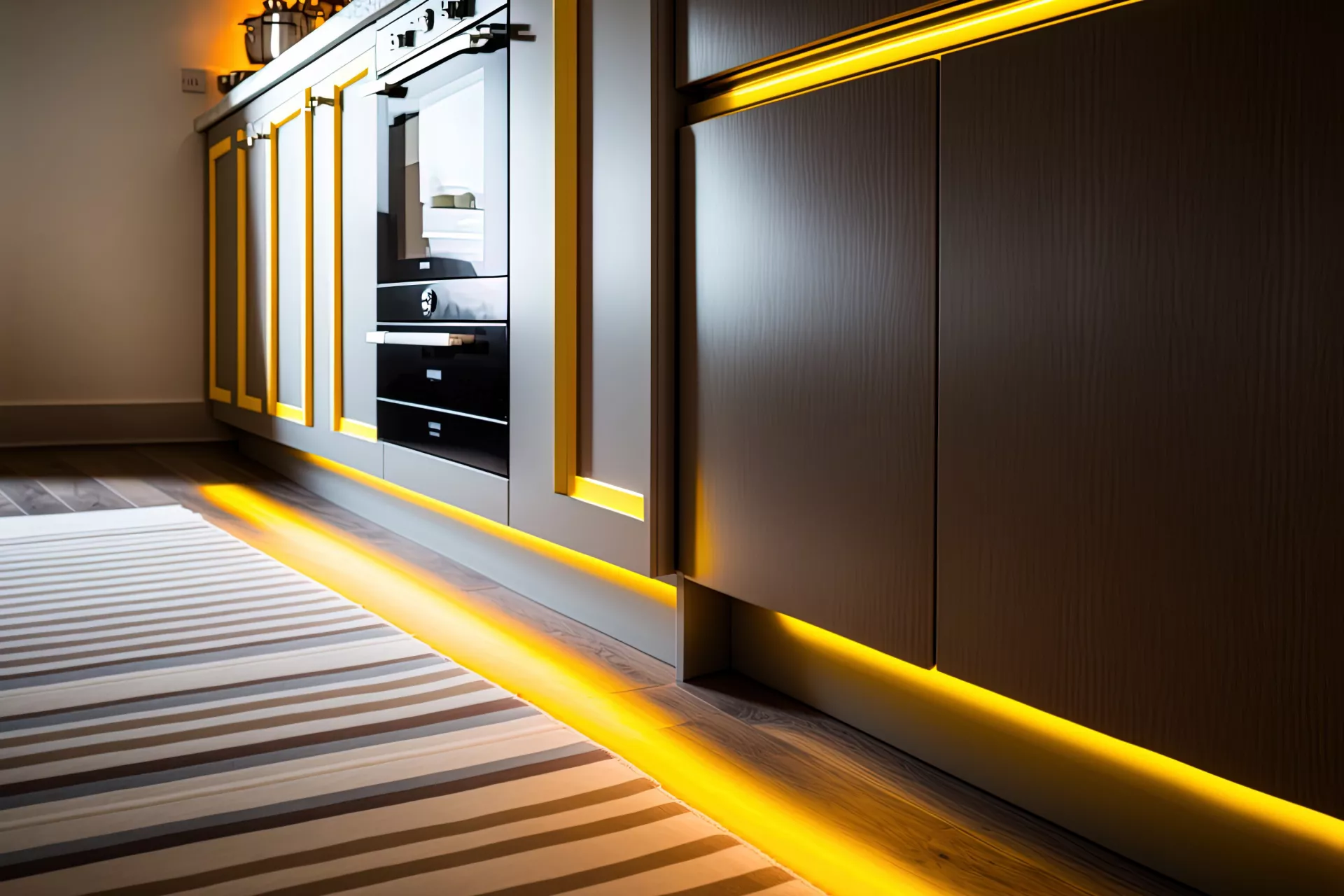 Factors To Consider When Choosing Lighting For Your Kitchen
Installing appropriate lighting is a multidimensional decision that is affected by various factors. Below we've rounded up some of the most important considerations to view for a perfect lighting scheme.
The Size of Your Kitchen
Lighting up a big kitchen requires a lot more than just one large, centralized flush-mount ceiling light. A good rule of thumb is to pair together different fixtures to avoid any dark corners and poorly lit spots. A mixture of recessed downlighting, hanging lights, wall-mounted fixtures, and under-cabinet lighting would do great. You may also add dimmers to vary the lighting according to your mood and preference.
For a smaller-sized kitchen, you'll have to think more strategically. Installing mini-pendants, for example, will create the illusion of a bigger room without overwhelming the space. Pair this with subtly recessed lights to counter the cramped feeling of a low ceiling, and add a few recessed trims for a touch of classiness.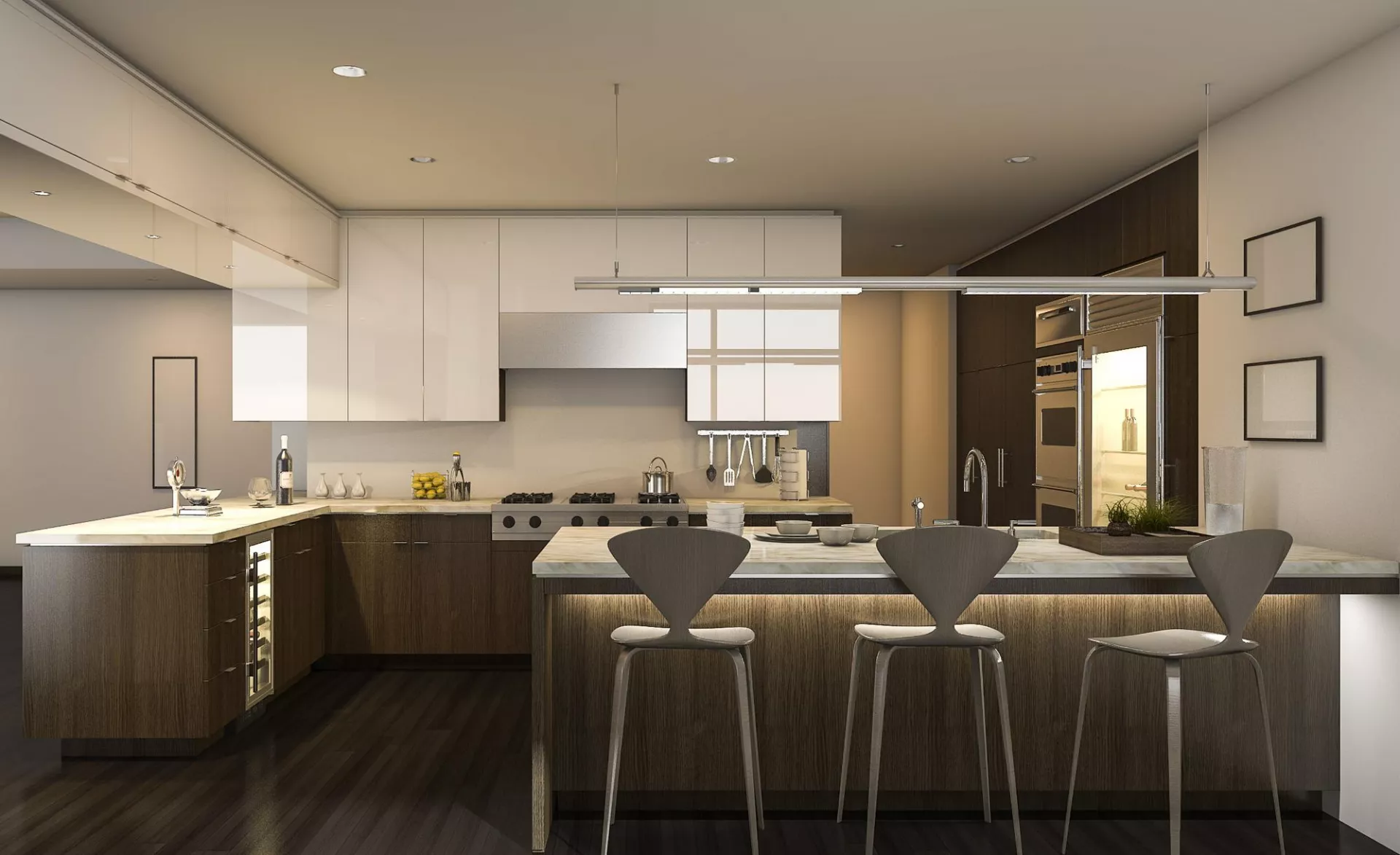 The Layout of Your Kitchen
Since lighting also varies with the layout of the kitchen, we've compiled a few attractive ideas to spark inspiration.
Galley Kitchen:

Although a galley kitchen uses space very efficiently, it is important to install the right lighting to optimize its functionality. For instance, ceiling lights across the entire length of the kitchen as ambient lighting, track lights installed as task lighting, and rope lights added across the top edge of wall cabinets as accent lighting will do a great job of creating a beautiful glow throughout the room.

Open-floor Plan:

While a kitchen in an open floor plan might already be receiving adequate light from windows, the challenge is to distinguish the kitchen as a defined space. Think of adding mini-pendants above the island, a chandelier in the center, and under-cabinet lighting around the exterior. Don't forget to tie the look together by choosing fixtures that complement the rest of the interior.

L-shaped:

The technicality of lighting in this layout is to illuminate the corner of the L appropriately. So apart from the general lighting, you've opted for, make sure to look for ideas like an art piece illuminated with accent lights or over-cabinet lighting to brighten up any perpetually dim corners.
Your Lifestyle & Usage Patterns
Choosing light fixtures according to your lifestyle and usage patterns is a smart way to maximize your kitchen's value. If you're an amateur chef who loves cooking meals thrice a day, a kitchen equipped with good task lighting will work best for you. Some fixtures you can install include:
Worktop lighting

, also called under-cabinet lighting (in the form of LED strips or ropes), for ensuring proper illumination when cooking.
Over-the-sink

lighting

by placing the sink beneath a window and installing small pendant lights for a warm artificial glow during the evening clean-ups.
Hob lighting

in the form of an illuminated cooker hood for making cooking and cleaning much safer and more efficient.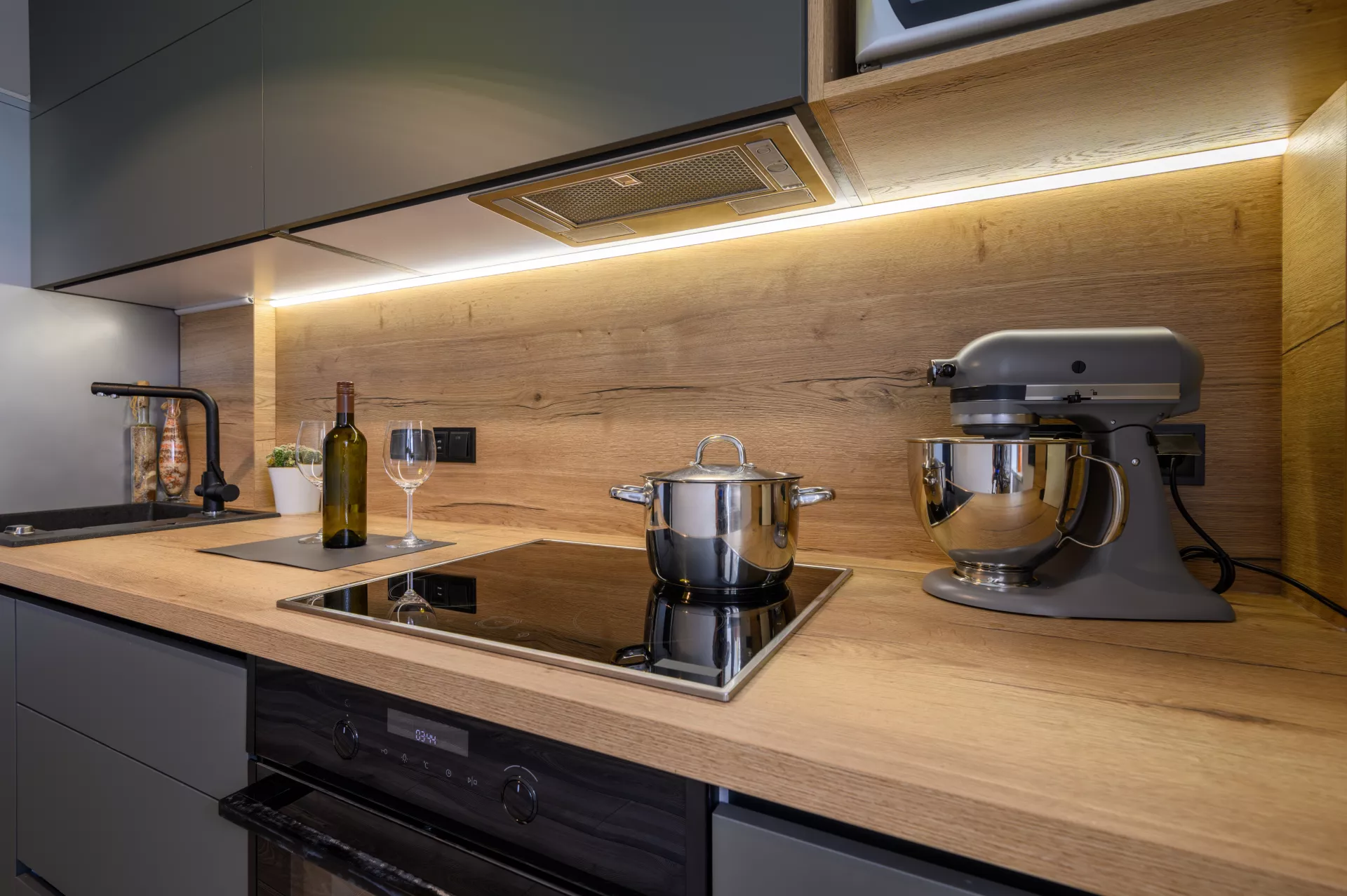 Alternatively, if you're someone who prefers takeaways and uses the kitchen only for luxurious purposes like gathering with friends over the island or showing off your wine rack, options like a sizeable chandelier, fancy pendant lights, or dedicated picture lights are the right choice. They give your kitchen an aesthetic appeal while also illuminating the areas you want to flaunt.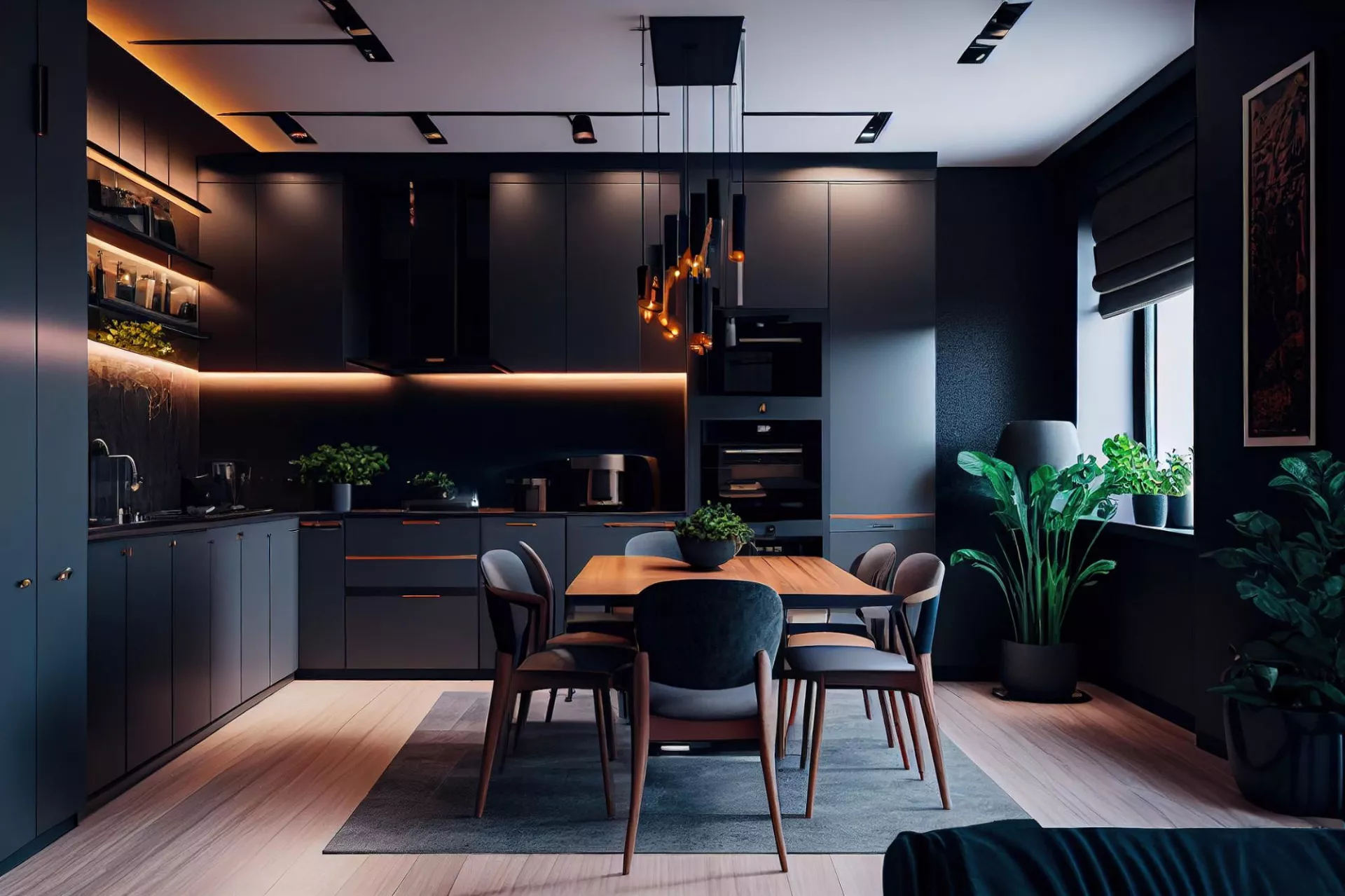 Your Personal Style & Design Preferences
Depending on the design style you've chosen, there's a vast variety of lighting you can look for, such as:
Earthy pendant lights made of natural materials like rattan, wicker, and bamboo for a Boho kitchen.
Sleek fixtures with clean lines and slim bodies for a contemporary kitchen.
Bright fixtures in bold hues to complement the colorful ambiance of an eclectic kitchen.
Conventional picks like a crystal or wrought-iron chandelier for a traditional kitchen.
Paper lanterns over the island and industrial statement lighting for a mid-century kitchen.
Energy Efficiency And Cost Considerations
With the drastic rise in environmental consciousness, minimizing your energy usage with energy-efficient lighting ideas, such as compact fluorescent lamps (CFLs) and light-emitting diodes (LEDs), is a great way to reduce energy bills and boost your home's value simultaneously. What's more, LED lights are cost-effective, easy to replace, and a suitable alternative to dimmable lights and spotlights.
For cost considerations, think of what your budget is and how you want to use your kitchen. If you're looking to create a focal point with lighting, opt for high-end designer lighting to achieve a luxurious vibe. Whereas, for a more functional and practical kitchen, cheaper fixtures with energy-efficient bulbs will do the trick.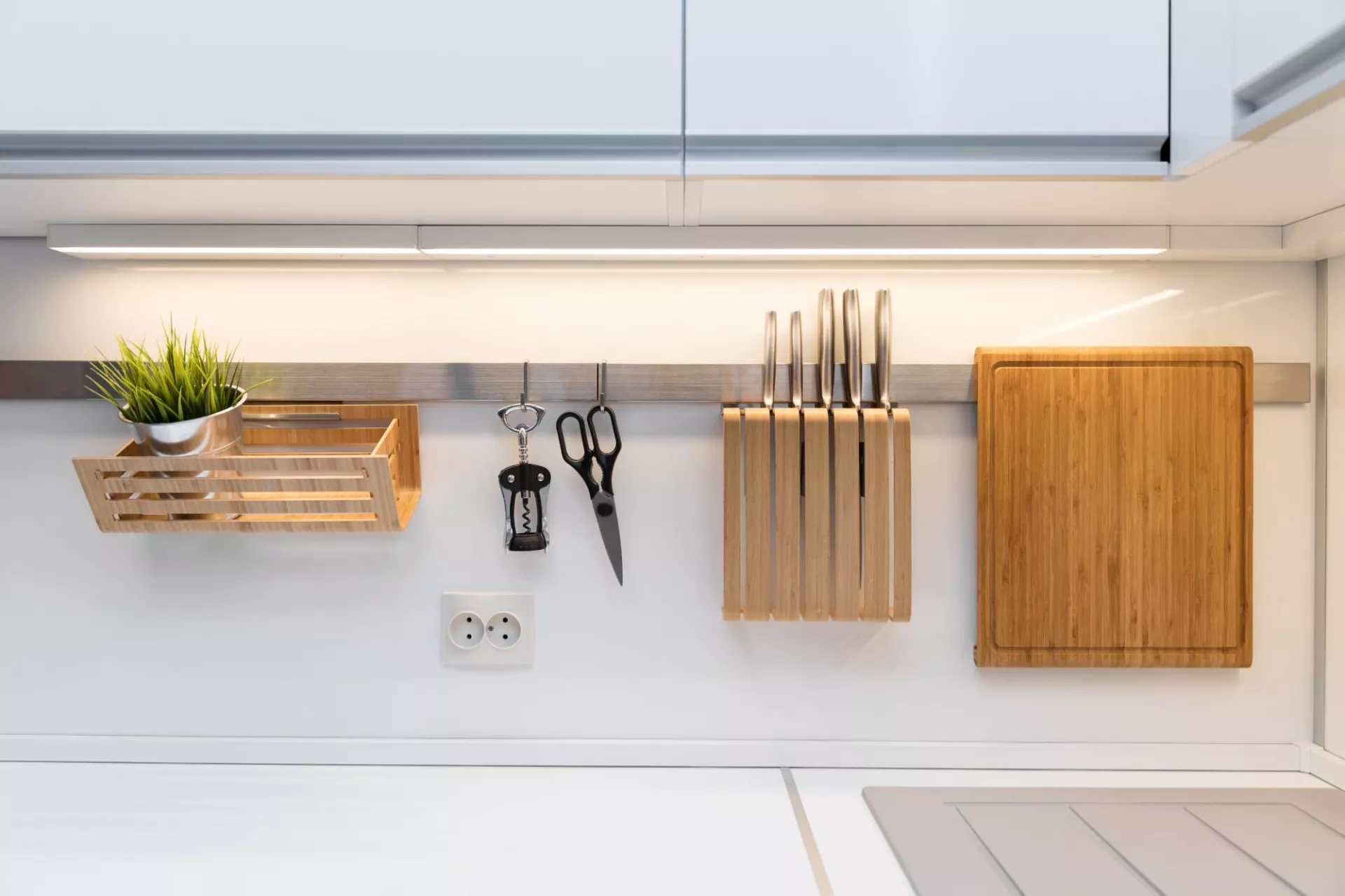 How To Use Lighting To Enhance Your Kitchen Design
No matter how perfect your kitchen design might be, it'll end up looking drab if you haven't installed the right lighting.
Try giving a shot at the following ideas to enhance your kitchen effortlessly!
Highlight Architectural Features
Features like countertops and backsplashes greatly impact the overall look of a kitchen. Therefore, creating a statement by highlighting your countertops with creative options like contrasting marble, wooden edges, tiles, butcher blocks, or modular granite is an easy way to uplift the interior.
For the backsplash, try tricks like mixing and matching subway tiles and a 3D cube pattern, triangular tiles in neutral colors for a warm look, bold hexagon tiles for an elegant look, detail-rich Moroccan tiles for a dimensional look, curated green tones for a playful look, and so on.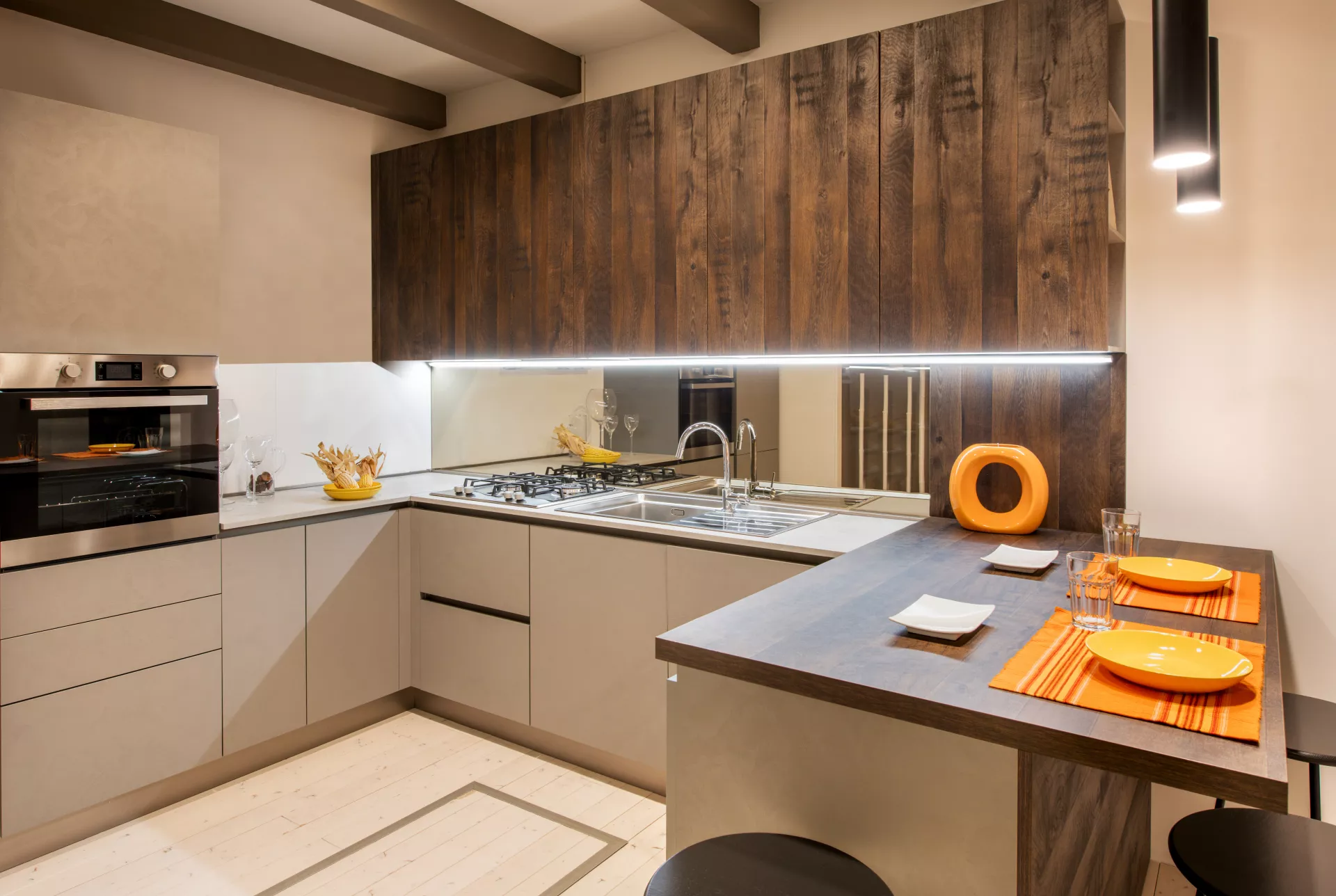 Create Mood & Ambiance With Dimmer Switches
Dimmer switches are a quick and easy addition that can vary the ambiance and improve the functionality of your kitchen without heavy investments and detailed renovations.
For example, they can help you curate a dim ambiance when you're enjoying an intimate dinner with your spouse over the kitchen island and give you a bright environment on a busy Saturday evening when preparing food for the dinner you've hosted. Isn't it absolutely amazing to enjoy the luxury of unlocking multiple lighting levels without having to purchase different lamps for the same versatility?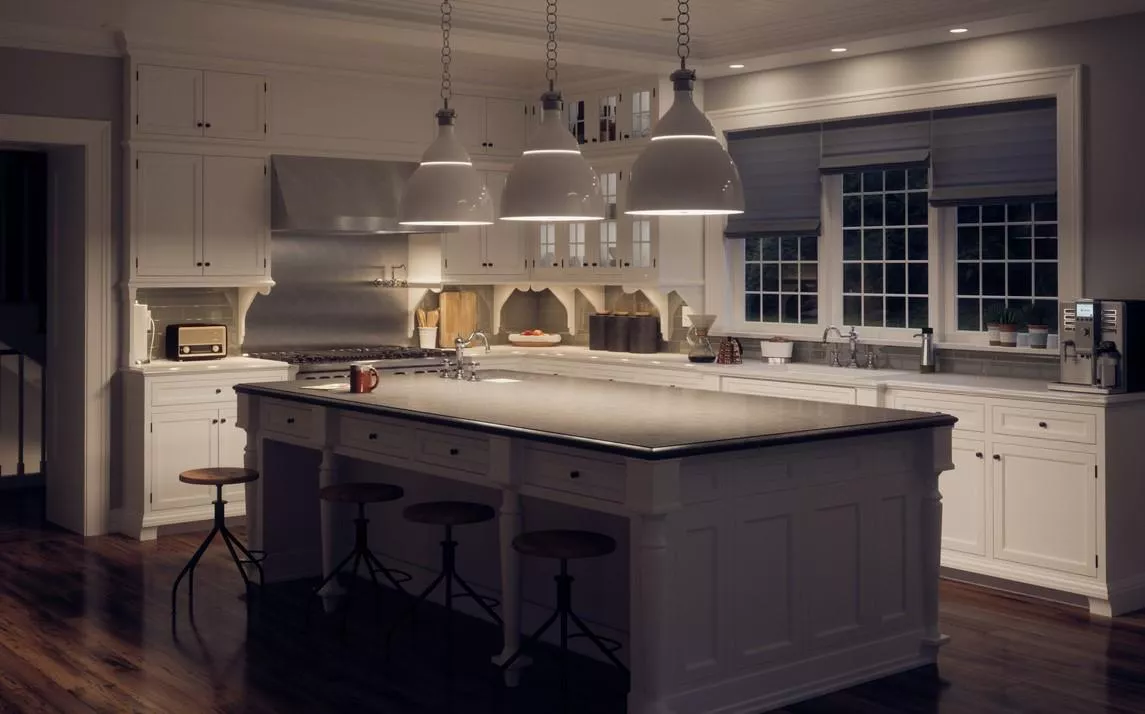 Use Color Temperature For A Cohesive Look
The color temperature describes the coolness or warmth of any color and helps you highlight the decor and build a task-driven environment in your kitchen.
To pick the most appropriate temperature for a cohesive and unique look, scrutinize the list below and decide as per your needs and preferences.
4000K - for a contemporary kitchen, bright light, and cool tones
3000K - for a traditional kitchen with wood cabinets and a slightly yellow light
5000K - for a bright to cool white light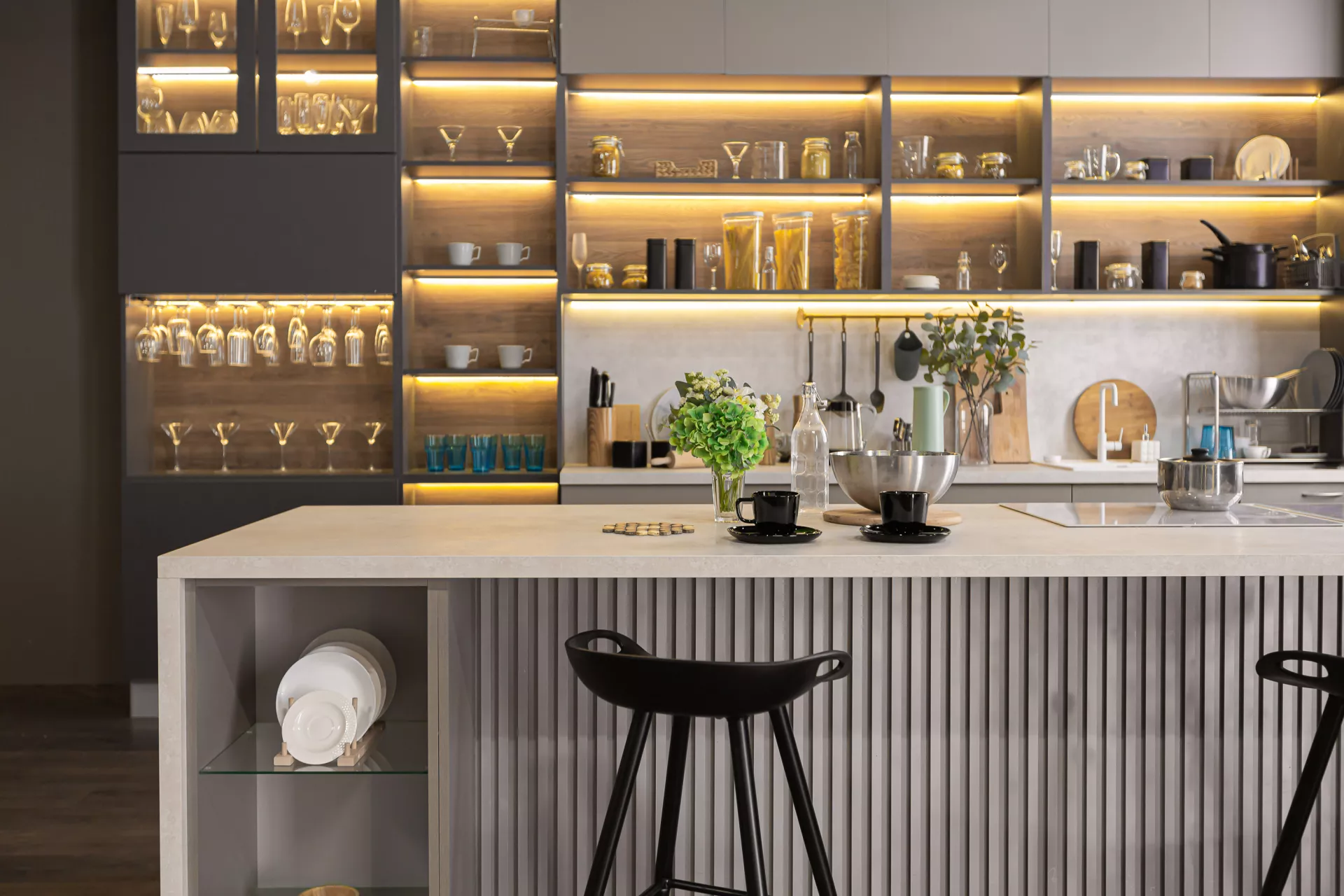 Conclusion
Though the right kitchen lighting is an important contributing factor to a beautiful interior, it is often left as an afterthought. But now that you're familiar with the wonderful upgradation a well-lit kitchen offers, it's time to use the aforementioned tips and tricks to perfect your kitchen remodel and make ticking off everyday tasks a treat instead of a chore!
Don't forget to update us in the comments below about how your bright and new kitchen has transformed your life.
Additional information on Kitchen Remodeling
Read our article: "Kitchen remodeling: the most popular questions answered" to get more insight into the kitchen remodeling process
Read our article: "How to create an Eco-Friendly kitchen" If you have an Eco-friendly kitchen in mind.
Read our article: "Smart, Sustainable, and Stylish: 2023 Trends in Kitchen Appliances" to learn the latest trends in Kitchen appliances.