5 Unique Countertop Materials To Make Your Interior Stand Out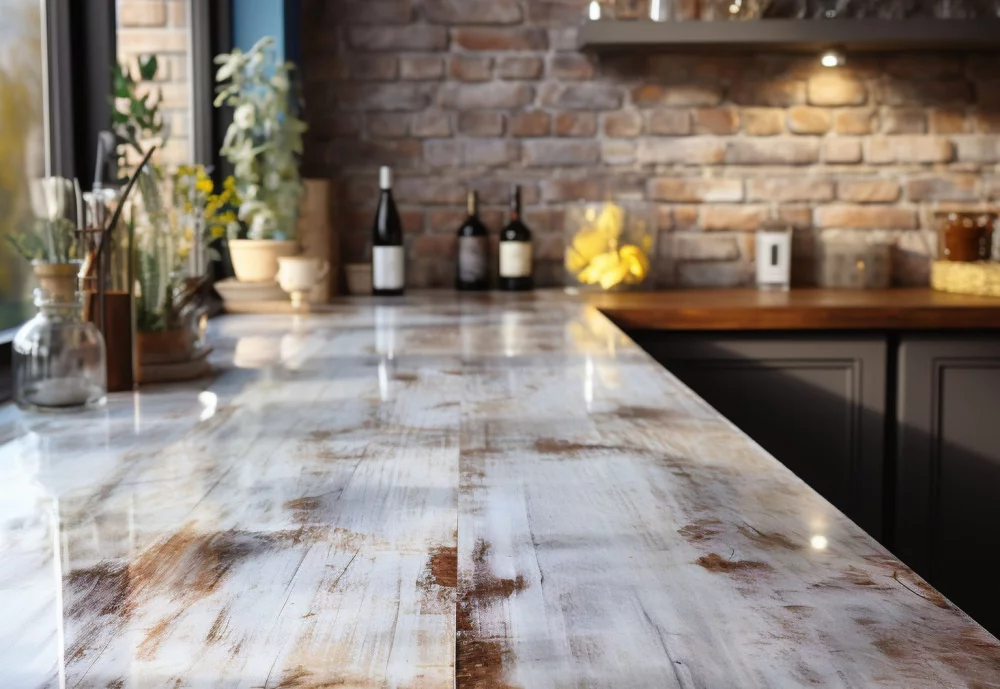 Tired of the same old marble, quartz, and granite countertop ideas? While these are the most popular kitchen countertop materials, they sometimes rob homes of showcasing a distinct and unique look. So, if you're someone looking for a more personalized and creative touch in your kitchen, it's high time to ditch the ordinary, traditional options by introducing the unique countertop materials springing up.
Continue scrolling to reveal a new world of eccentric designs you've never seen before!
What Are Unique Countertop Materials?
What does the term 'unique countertop materials' drive your thoughts to? Recycled glass? Paper countertops? Oak slabs? Whatever it might be, anything that appears different from the standard countertops found in every other home falls under the title of uniqueness. There are no hard and fast rules on what's distinct and what's ordinary. Something that makes your space stand out from the kitchen catalog pictures will be unique.
While there's a lot of room for creativity and adventure, getting a deeper insight into any option you choose is always a good rule of thumb to make decisions that live up for years — so join us as we discover and understand the price, pros & cons, and much more for different unique countertop materials.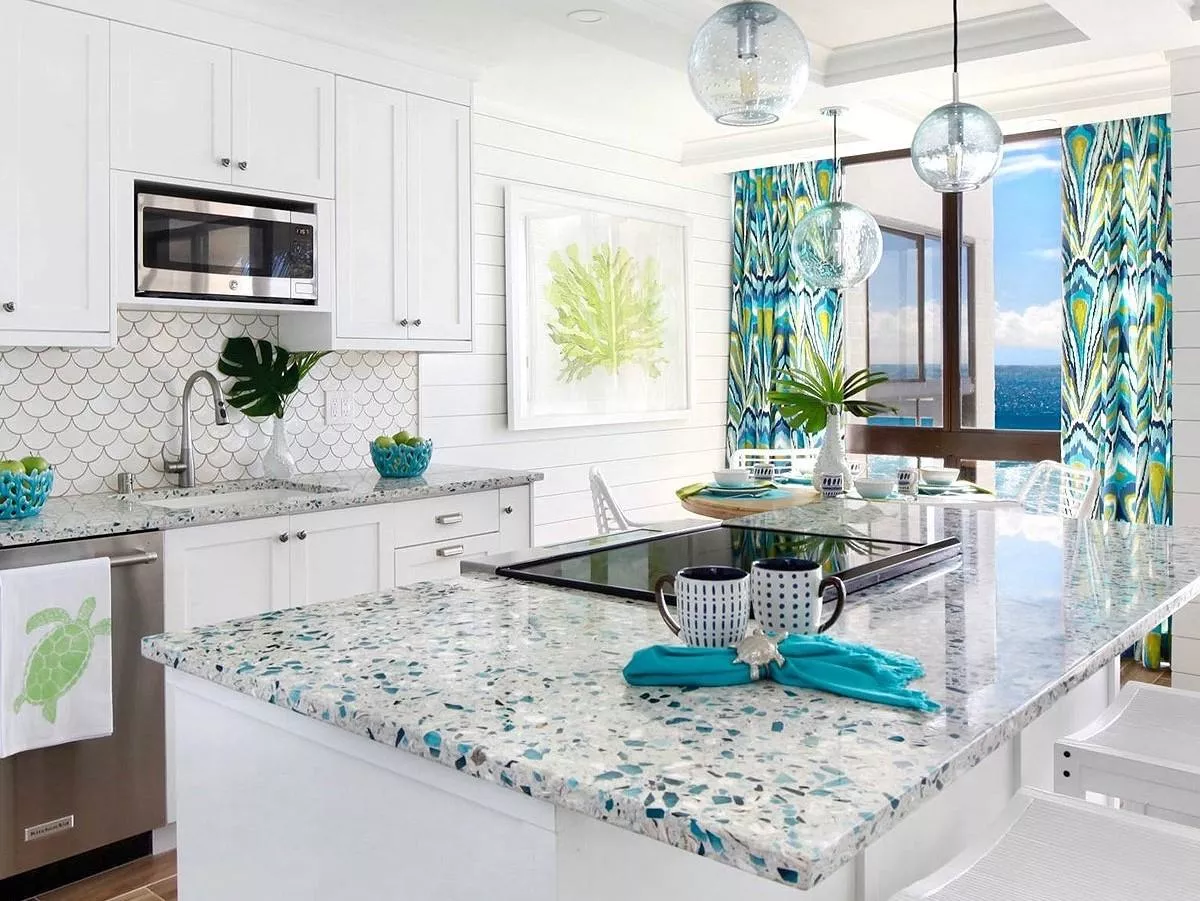 Recycled Glass Countertops
Materials from demolished buildings and curbside recycling are combined with cement binders or resin to produce strikingly beautiful and environment-friendly glass surfaces that add to the aesthetics of a kitchen. They are available in two types, namely terrazzo glass countertops and homogenous glass countertops; both create a distinctive look and offer a non-porous surface that is resistant to stains and discoloration.
However, glass countertops have a limited style variety that restricts your choices and the surface is prone to chipping and cracking, which might cost expensive repairs down the lane.
Price: $50 to $80 per square foot, with extra bucks for installation and custom colors or designs.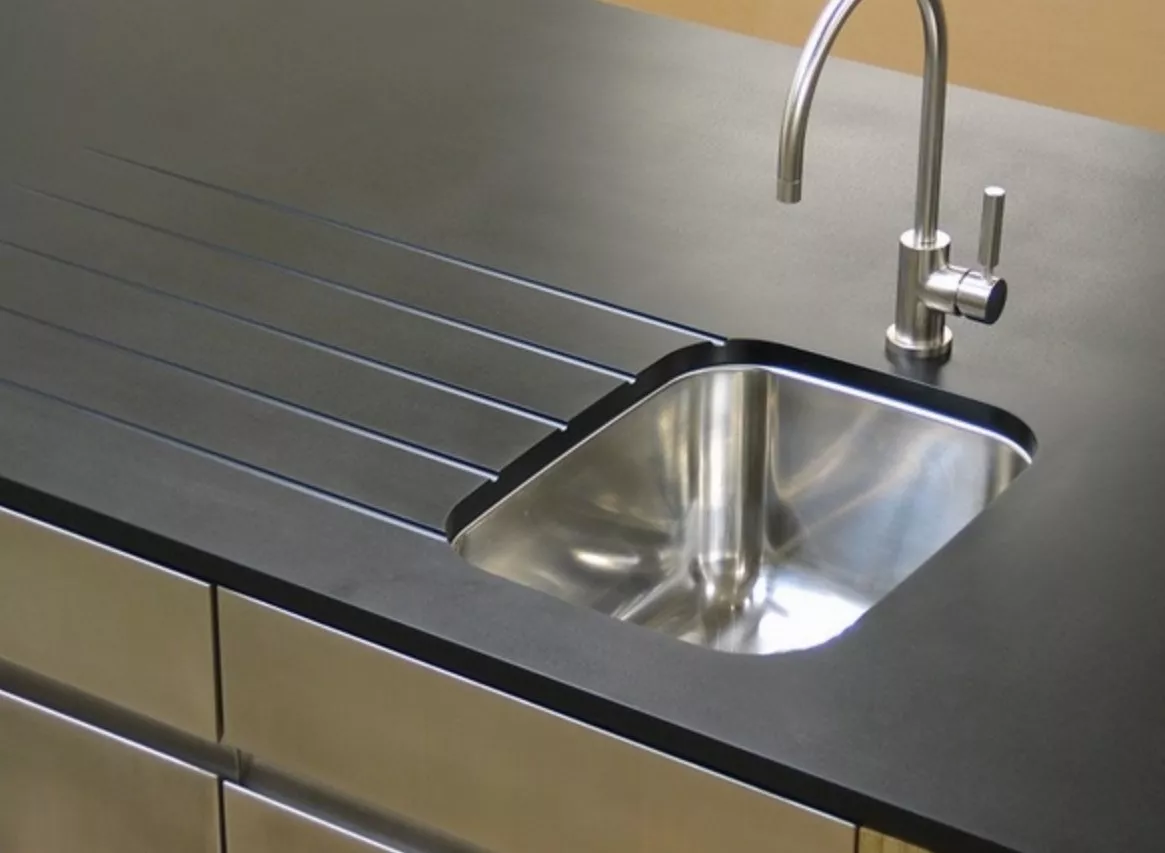 Recycled Paper Countertops
Recycled paper countertops are an innovative addition to the market. When paper is combined with non-petroleum resin and undergoes heat and compression, it creates a highly durable work surface that is safe to be used indoors and reduces your carbon footprint, all while enhancing the visual appeal of your kitchen.
However, since the material is made of post-consumer recycled paper (which is difficult to obtain), you'll need to go through a bit of hassle when you need repairs for the surface.
Price: $45 to $70 per square foot.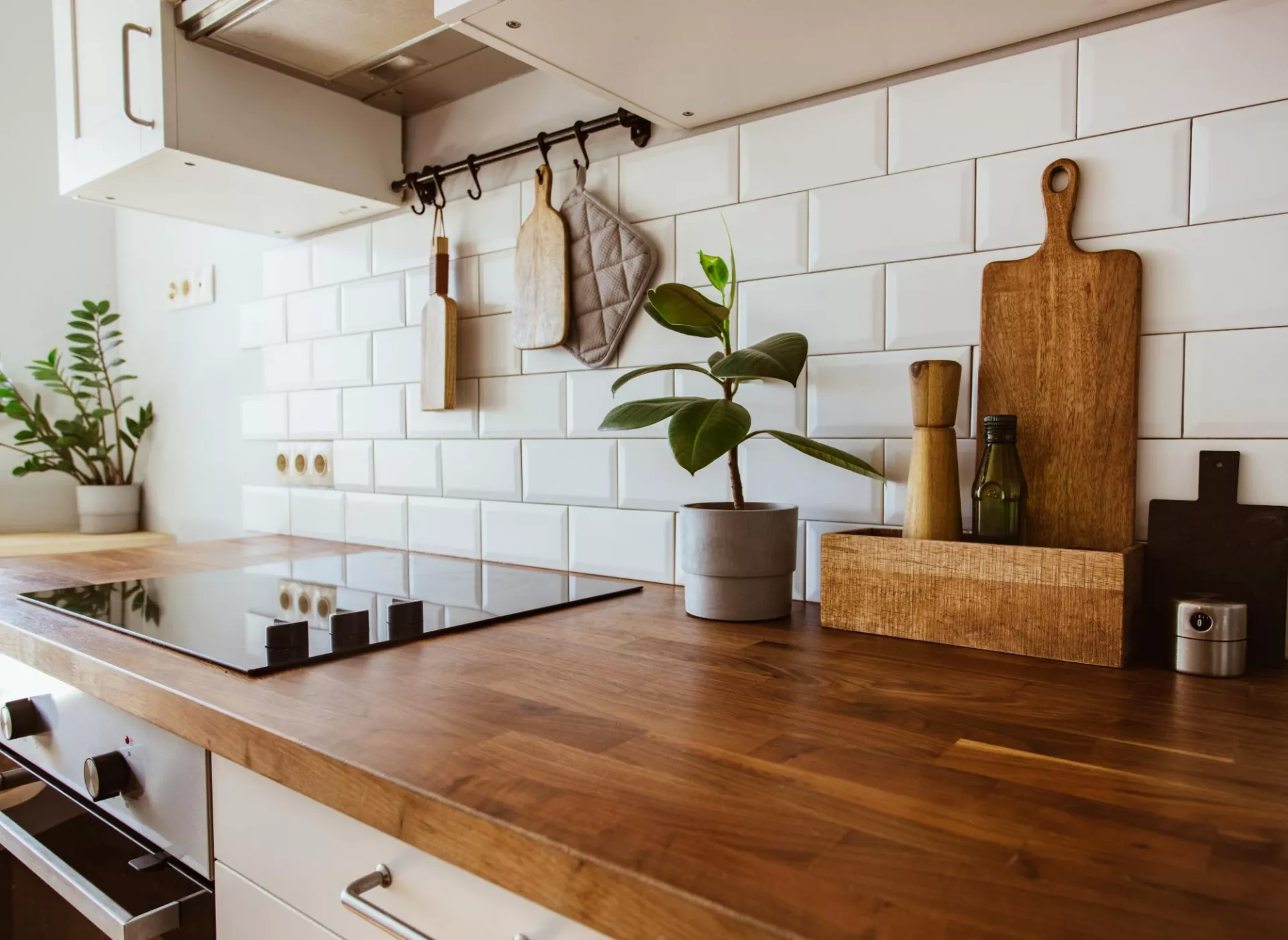 Wooden Countertops
Who knew wood could serve as an incredibly aesthetic countertop material? The warmth, texture, and versatility of wooden countertops allow them to complement various design styles, including rustic, traditional, minimalist, and modern. They are easy to install, offer great durability, and serve as an eco-friendly option, especially if you opt for reclaimed wood.
You can vary the stains and colors to enjoy different looks, with examples like cherry, oiled oak, walnut, anigre, weathered barn wood, etc., and the infinite designs, such as chevron-clad wood, Saxon wood, tile wood, and butcherblock wood, also allow you to incorporate a unique touch.
What you need to consider is that wooden countertops require regular maintenance and demand a watchful eye. The surface is not fireproof and can expand or contract upon moisture changes.
Price: $12 to $200 per square foot.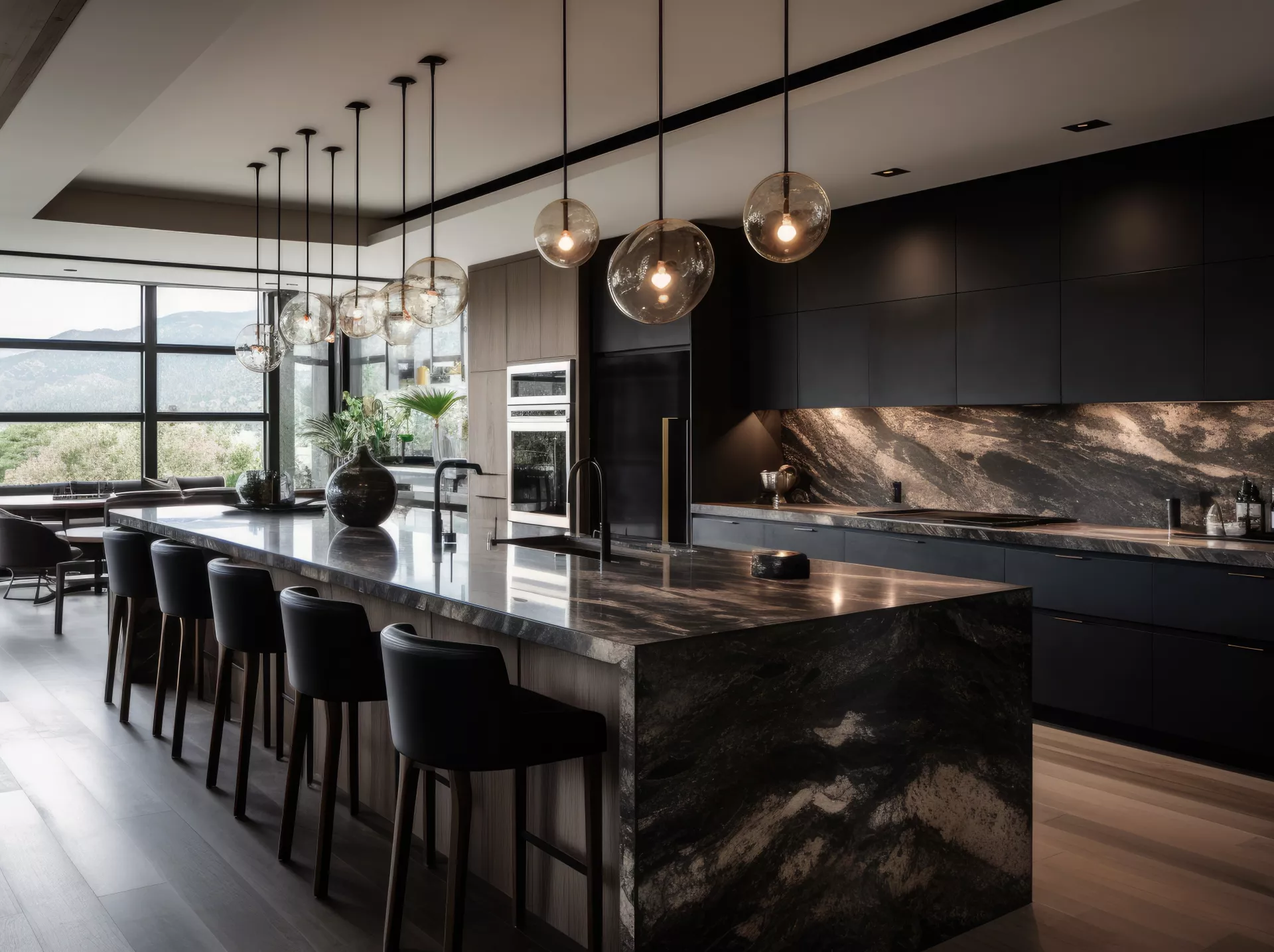 Statement Marble Countertops
Looking for a more exciting version of the ordinary white and grey marble countertops laid in minimal kitchens? Try a statement marble countertop to spice up the interior and create a stunning focal point. Exquisite marble varieties like Panazzo or Calcatta Gold come with dramatic veining patterns to add dimension to your kitchen, while a waterfall-edge marble countertop is great at highlighting the beautiful colors of the marble veins. Similarly, book-matched marble creates a symmetrical effect, and bold marble shades can introduce a pop of color.
While marble has a long lifespan and adds to the value of your home, it is prone to staining and scratching and requires high maintenance.
Price: $50 to $150 per square foot.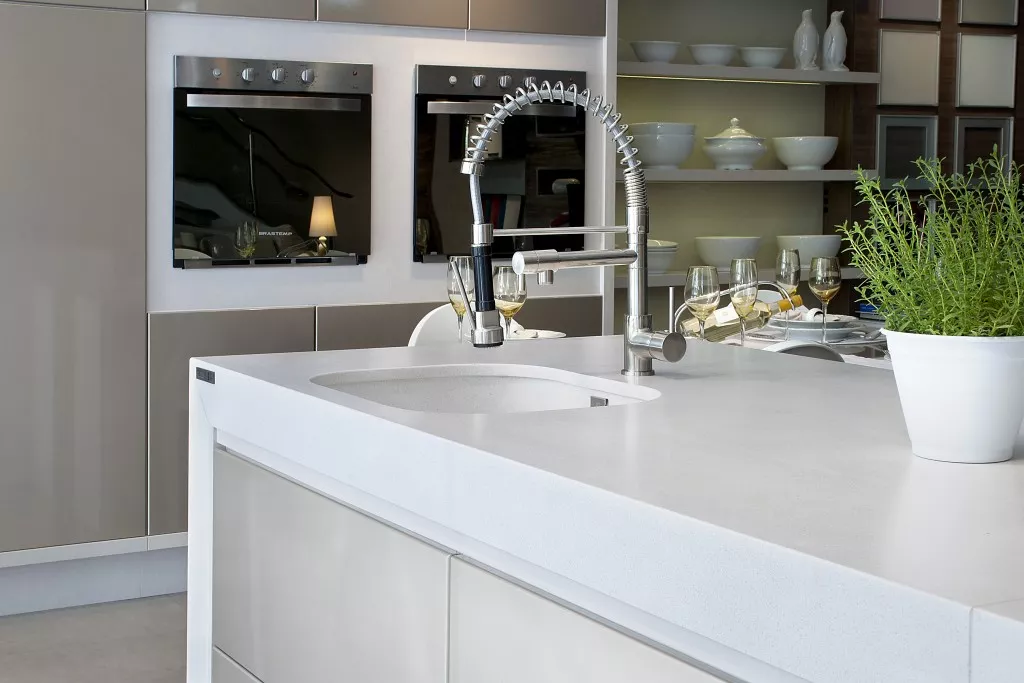 Silestone Countertops
The high durability and resistance to stains, scratches, and water damage make quartz countertops a favorite for kitchens. Why not give the amazing characteristics of quartz a better and more unique look with Silestone countertops? It is non-porous, low-maintenance, easy to clean, and available in a variety of patterns and colors, allowing you to pick an option that complements your design aesthetic.
However, Silestone is not fully impervious to heat and requires professional installation, which adds to the already high cost of the material.
Price: $50 to $100 per square foot.
Maintenance Tips
Each material comes with its own set of pros and cons, but close inspection and careful maintenance can help extend the overall lifespan and hygiene of your countertops.
For daily cleaning, de-germ the surface with a microfiber cloth dampened in a solution of warm water and vinegar (a mild cleaner will also work). Use a wooden spatula to scrape off dried food debris, and make sure to avoid cleansers with bleach or ammonia. For stain removal, sprinkle salt over the stains and scrub them with a lemon cut in half. Seal the surface every 6 months with wax or commercial wood sealants.
To clean the surface daily, use a damp sponge with mild soap to avoid breaking down the binding agent, and avoid abrasive materials like Comet or paint removers. To remove stains, use a degreasing product and spot clean with disinfecting wipes. Seal the surface with a color-enhancing, high-gloss sealer.
Recycled Paper Countertops
Paper countertops should be cleaned daily with mild bleach or water solution, and the stains should be wiped off immediately. Sprinkle baking soda and use a non-woven pad to buff stains gently. Caulking or silicone in the best matching shade will serve as a seamless option to seal the surface.
For cleaning statement marble, clean the surface with a mixture of warm water and mild soap, rinse it off with water, and wipe it dry. To remove stains, use hydrogen peroxide and water for both oil-based and water-based stains. An impregnating sealer will do good as a sealer to protect the porous surface.
To clean Silestone countertops, use a non-abrasive sponge dipped in a mild soap solution diluted with water. A glass cleaner (with a neutral pH) can be used to remove stains. No sealing is required as Silestone is highly non-porous.
How To Choose The Best Countertop
With the wide variety of unique countertop materials available, choosing the best one for your interior might get overwhelming. A good rule of thumb is to consider the purpose and traffic levels of your kitchen; for example, do you use it for cooking meals thrice a day, or is it more of an aesthetic space to bond with friends over the island? Depending on your answer, you will be able to decide what you can compromise on between the visual appearance and the lifespan of the material. With the right planning, you can even land a two-in-one option: beautiful and durable!
Lastly, view your budget to see if you can afford high-end materials, and skim out the options that complement the desired interior design style you want to create.
Final Words
Despite what you see on social media, there are tons of unique countertop materials to give your kitchen a welcoming aura that sets your space apart. The key is to dig deeper, trust your intuition, and make room for experiments. Don't forget to consider your needs and view your design aesthetic before finalizing the decision.