Maintenance Tips: How to Keep Your Countertops Looking New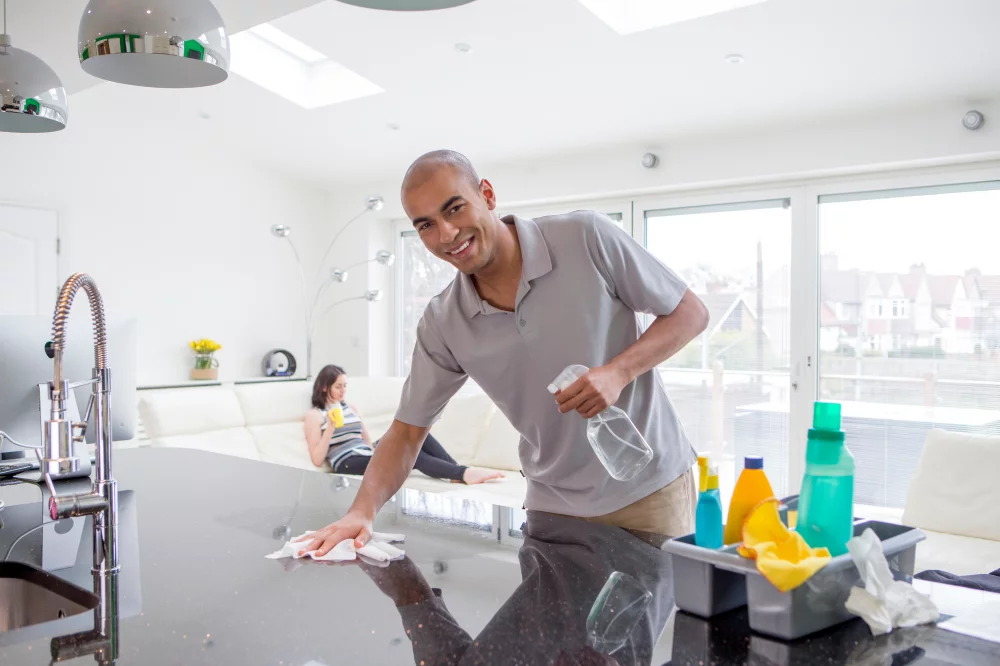 The dishes are washed, sinks cleaned, and stovetops polished. But what about the most prominent and important part of a kitchen: the countertops? Are they gleaming and sleek, or have the stains from the oil spills, the drips from your morning coffee, and the tomato sauce stains from the lunch prep still sitting and knocking down the clean, aesthetic look of your kitchen? If you've been struggling with these stubborn problems, we've got some super-effective countertop maintenance tips and tricks to keep your countertops looking new — and restore the shine in your countertop if you've already lost it.
How To Clean And Maintain Countertops?
Learning and implementing the best practices for countertop care extends way beyond maintaining a flawless kitchen. Improving and enjoying better hygiene by discouraging the growth of bacteria and eliminating the risk of consuming toxic food-borne bacteria is an essential reason to make countertop maintenance tips a part of your daily cleaning schedule.
But remember, there's no one-size-fits-all trick to clean countertops. Different materials are prone to different stains and require different cleaning solutions. So continue scrolling to get a comprehensive answer on how to clean and maintain countertops, from general tips to specified cleaning plans for popular kitchen countertop materials.
Create A Regular Cleaning Routine
In most homes, countertops are part of a kitchen that is not cleaned or even wiped down every day. The key to prolonging the life of your countertops is focusing on regular cleaning, even if it's as simple as wiping down the stains as soon as they appear on the surface.
When cleaning the kitchen after dinner, mix together hot water and dish soap to cleanse the countertops and get rid of any stains that might have been missed.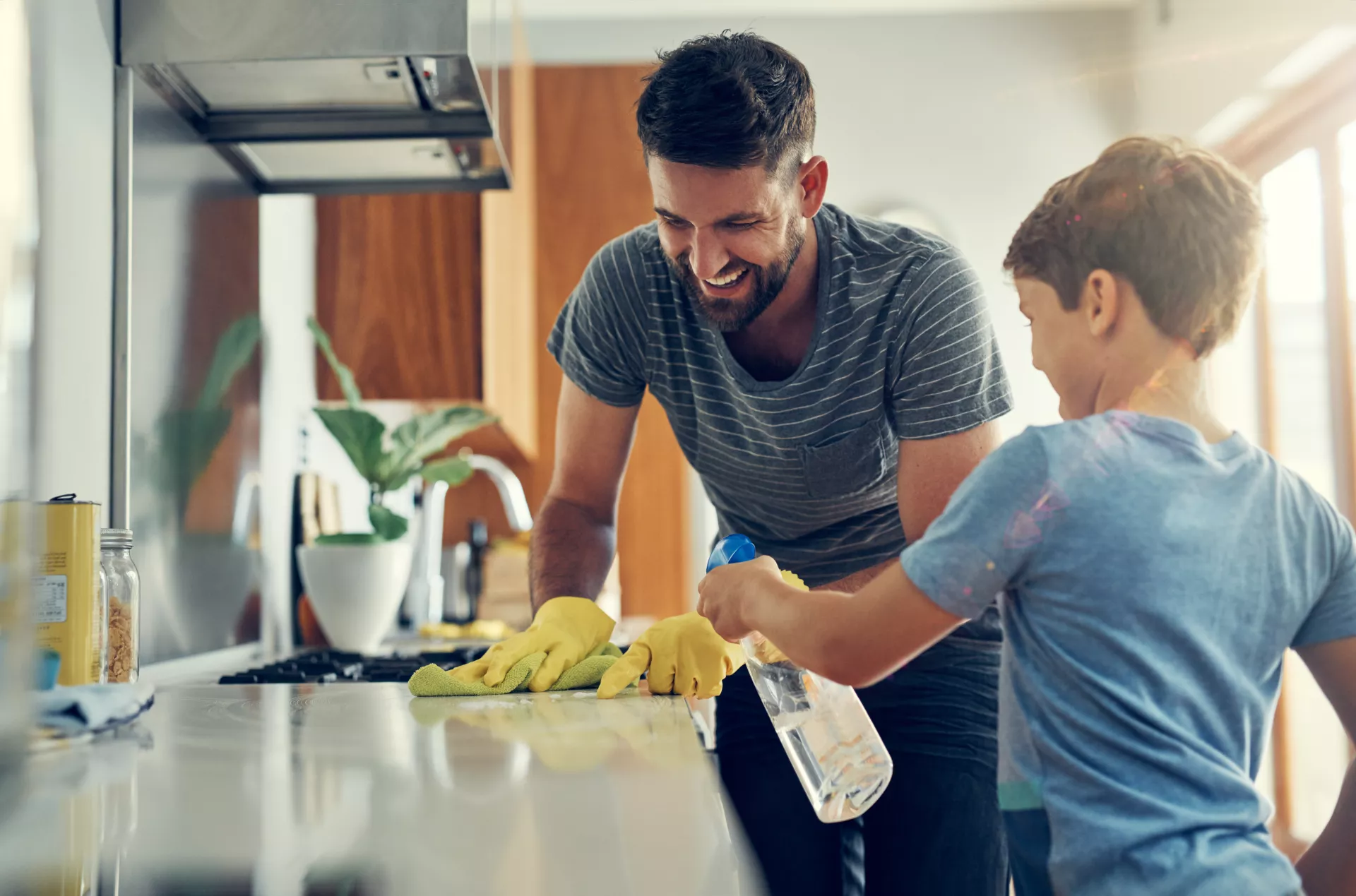 Dust The Countertops Weekly
Though a small and quick step, dusting countertops weekly can make a huge difference in restoring the shine of your countertop. The build-up of filth and muck messes up the stain and overall look of the surface. Using a soft, micro-fiber cloth to get rid of the barely visible but super annoying dust particles will definitely level up the process of keeping countertops looking new.
Use Mild Cleaners
Harsh cleaners and cloths do more than just clean the surface. They damage and remove the protectant sealing from the countertops, which causes the surface to be stained more easily and prone to bacterial growth.
Make sure the cleaners you use have been designed for the particular countertop material in your kitchen, and avoid using harsh things like steel wool or scrubbing pads. You can also try natural cleaning solutions for countertops by replacing store-bought cleaners with non-toxic, homemade options that use ingredients like baking soda, vinegar, hydrogen peroxide, etc.
Keep Heat Off
Keeping countertops looking new is more than scouring and scrubbing the surface. Practices incorporated into your day-to-day routine that contribute to avoiding countertop stains and damage are important, too. Protecting the surface from heat, for example, can go a long way in prolonging the life of your countertops. While some materials are resistant to heat, it is always better to be safe than sorry. So don't forget to use coasters, heat pads, or trivets each time you place a hot pan on the surface.
Regularly Seal The Countertops
Sealing and protecting kitchen countertops is a great way to simplify the cleaning process and maintain a gleaming look. Every material, be it stone, wood, or concrete, will require staining every now and then. You can ask your countertop manual to guide you on how often it is needed.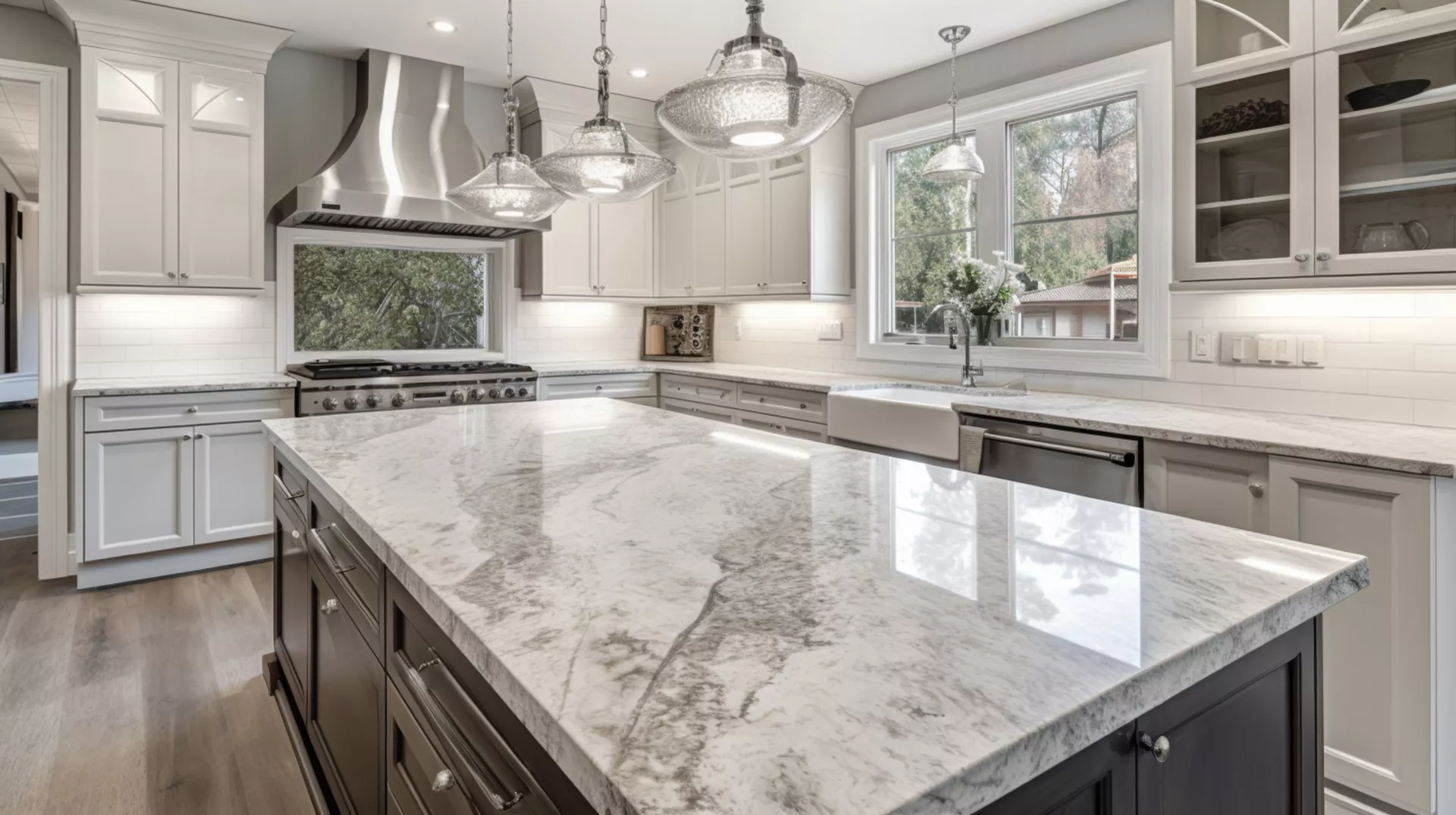 Countertop Maintenance Tips For Particular Materials
Wood
Use non-abrasive cleaners.
Rub a lemon sprinkled with salt to remove stains from the surface.
Seal the material with a food-grade wax.
Avoid acidic cleaners.
Clean stains with a mixture of baking soda and hydrogen peroxide.
Reseal once a year.
Use a non-chemical liquid detergent for everyday cleaning.
Sprinkle baking soda to remove stains.
Does not need resealing.
Use mild soap and water to wipe the surface daily.
Fight stains with a glass cleaner and non-abrasive sponge.
Does not need resealing.
Clean every day with a damp microfiber towel.
Create a mixture of baking soda and dish soap to clean stains.
Resealing is not required, but you can polish the surface with lemon oil.
Use any multipurpose cleaner for regular clean-ups.
Remove tough stains with fine sandpaper.
Use mineral oil to enhance the development of natural patina.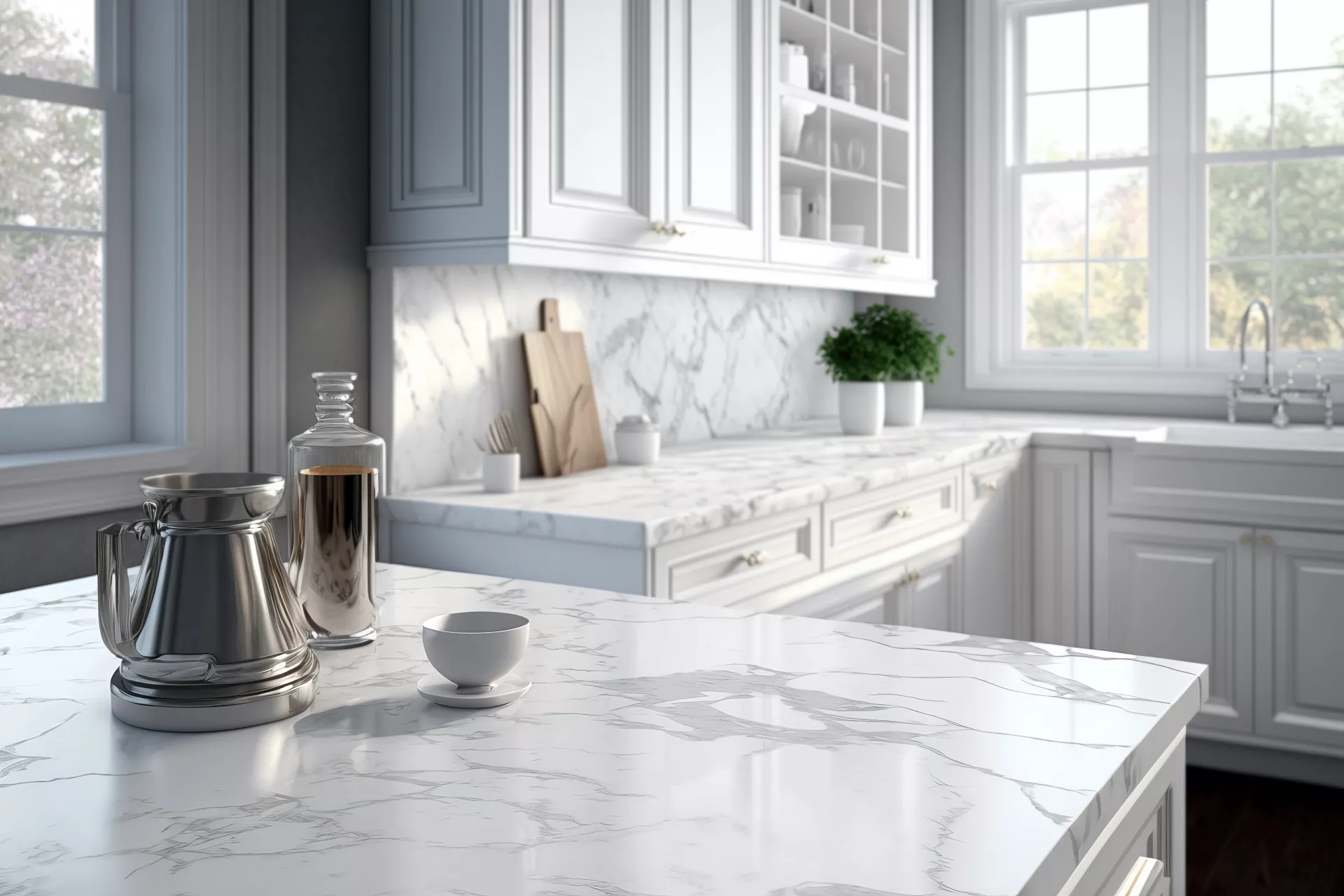 Refresh Your Kitchen!
It's high time to bid farewell to your dusty and stained countertops and welcome a fresh and gleaming look by making the best practices for countertop care a part of your lifestyle!
Find more articles about kitchen remodeling in the KITCHEN section of the KBF BLOG.