Kitchen Countertops: the most popular materials
Choosing the best kitchen countertop material, is one of the most vital decisions of any home remodel. From being a critical aspect of a functional kitchen to a statement piece in an aesthetic kitchen, countertops require detailed forethought and planning to ensure the final decision complements your space both practically and visually.
What material do you want? What color suits the theme perfectly? What is the workload in your kitchen? There are tons of things to consider. So to help you make the right choice that lasts you for years, we've rounded up all the frequently asked questions about kitchen countertops. Read on to learn more!
What Are The Best Kitchen Countertop Materials?
The best material for a kitchen countertop always comes down to your personal needs and preferences. Below is a list of all the popular kitchen countertop materials with the pros and cons and price of each to help you see and decide which option fits your requirements.
Granite countertops
Granite countertops are tough and durable, making them resistant to heat and abrasive damage. They come in various colors, so you can choose an undertone that complements the overall color scheme or opt for something unique that stands out. Being easy to clean, granite can last you for years if properly taken care of.
The downside to granite countertops is that the porous surface requires the application of a sealant every three to five years, and the heavy weight of the material calls for professional installation.
Price: $40 to $100 per square foot
How To Clean: Clean spills promptly and wipe the surface regularly with a soft, damp cotton cloth and a neutral cleaner.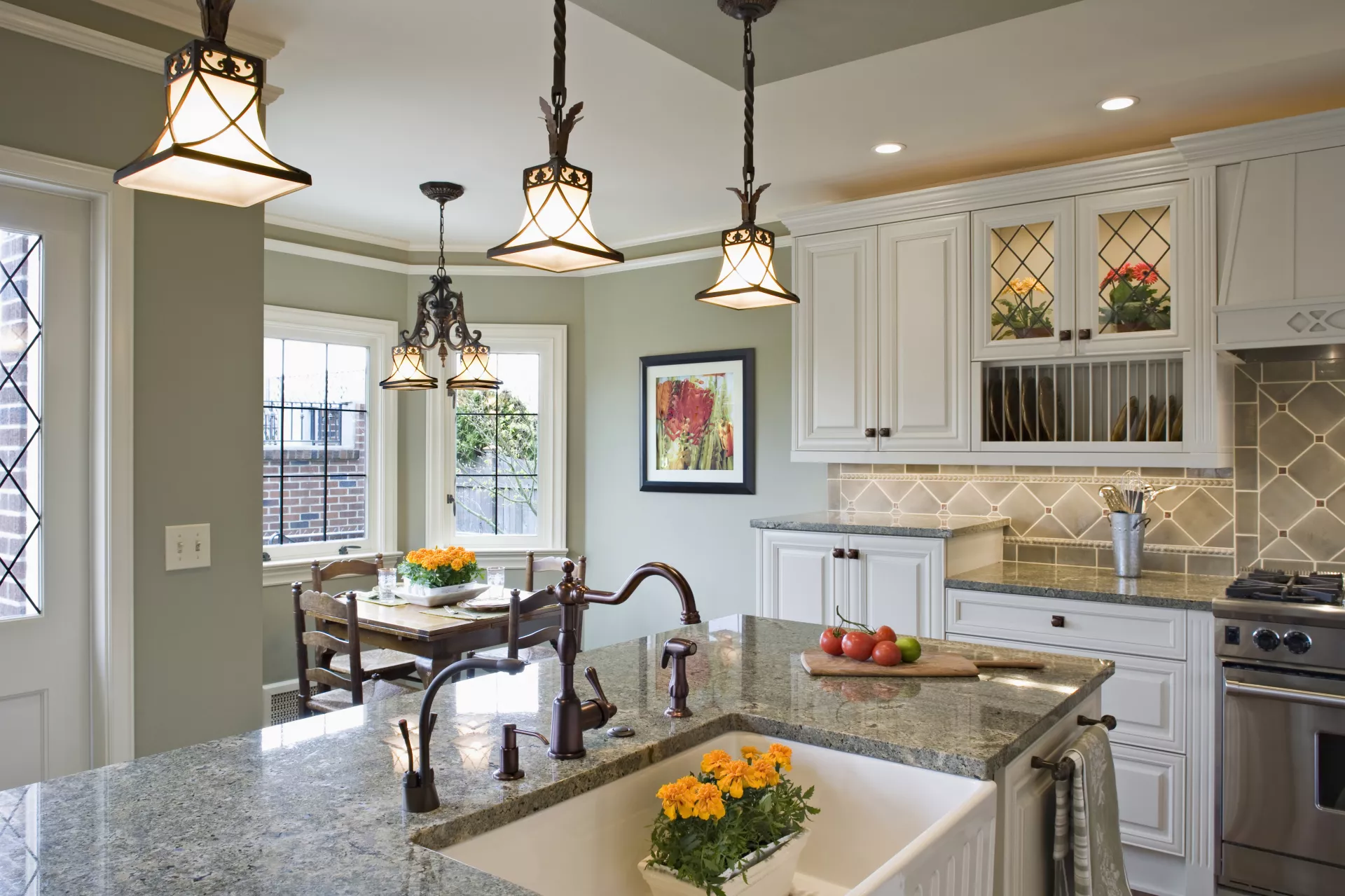 Quartz countertops
Quartz kitchen countertops (also called engineered stone) are made of a combination of 90 percent quartz particles and other minerals that create a strong product resistant to staining. What's more, it is an anti-bacterial option with low cleaning requirements and a non-porous surface that eliminates the need for sealing maintenance.
What you must remember is that quartz countertops are vulnerable to heat, so it is essential to avoid placing hot surfaces over them. The material may also fade in sunlight, which means you have to consider the layout of the kitchen before choosing the material.
Price: $50 to 100 per square foot
How To Clean: Use a microfiber cloth dipped in a mixture of dish soap and water. Wipe the surface in circular motions.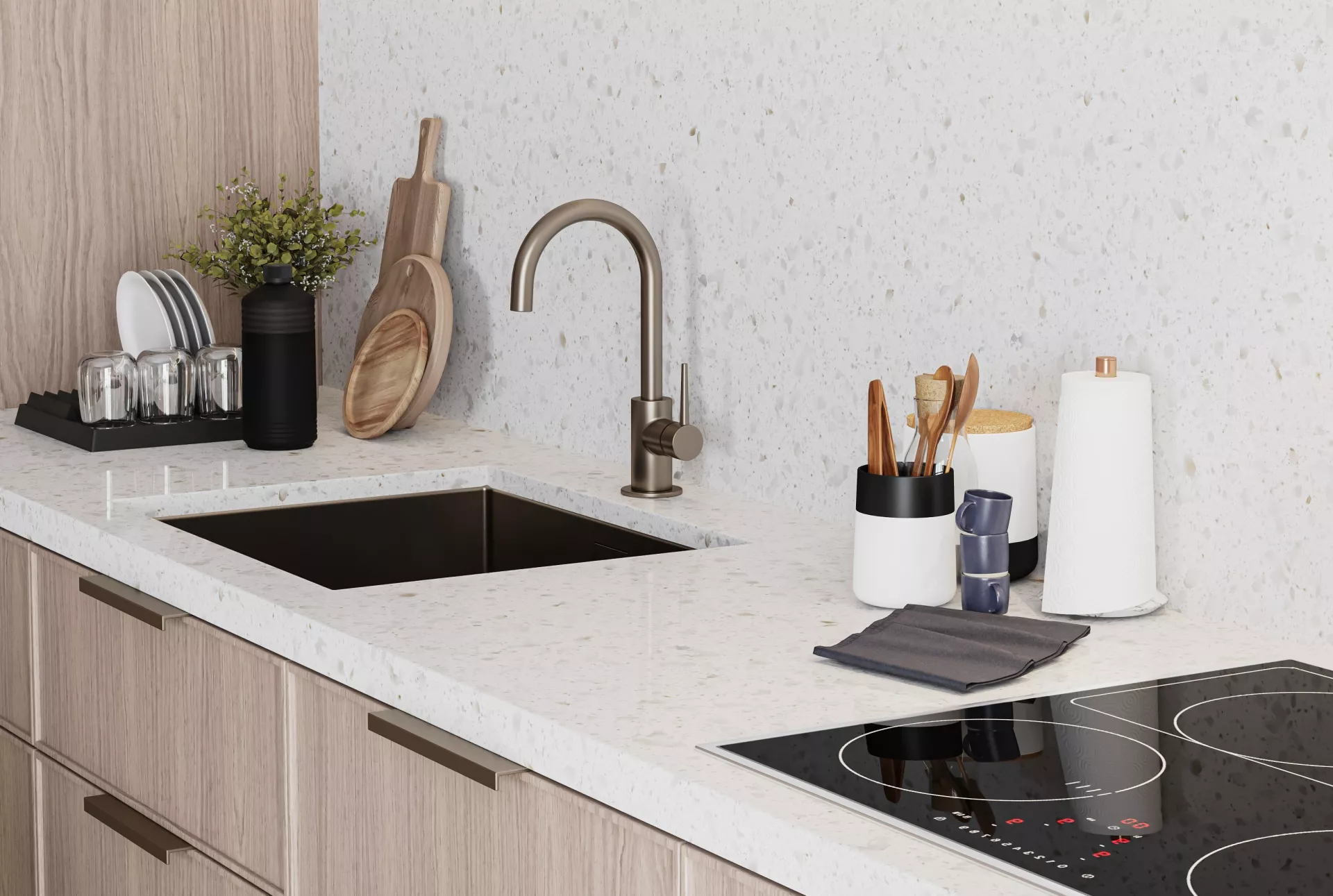 Solid-Surface countertops
Solid-surface countertops are composed by blending together resins and acrylic particles that are then pressed into sheets to create countertops. It is a highly flexible option that is available in multiple colors to help you pick an option that integrates seamlessly with your backsplash. Compared to natural stone countertops, solid-surface material is more cost-effective.
However, solid-surface kitchen countertops lack heat resistance and are vulnerable to denting and scratching.
Price: $40 to $70 per square foot
How To Clean: Use a microfiber cloth and an ammonia-based cleaner to clean stained areas.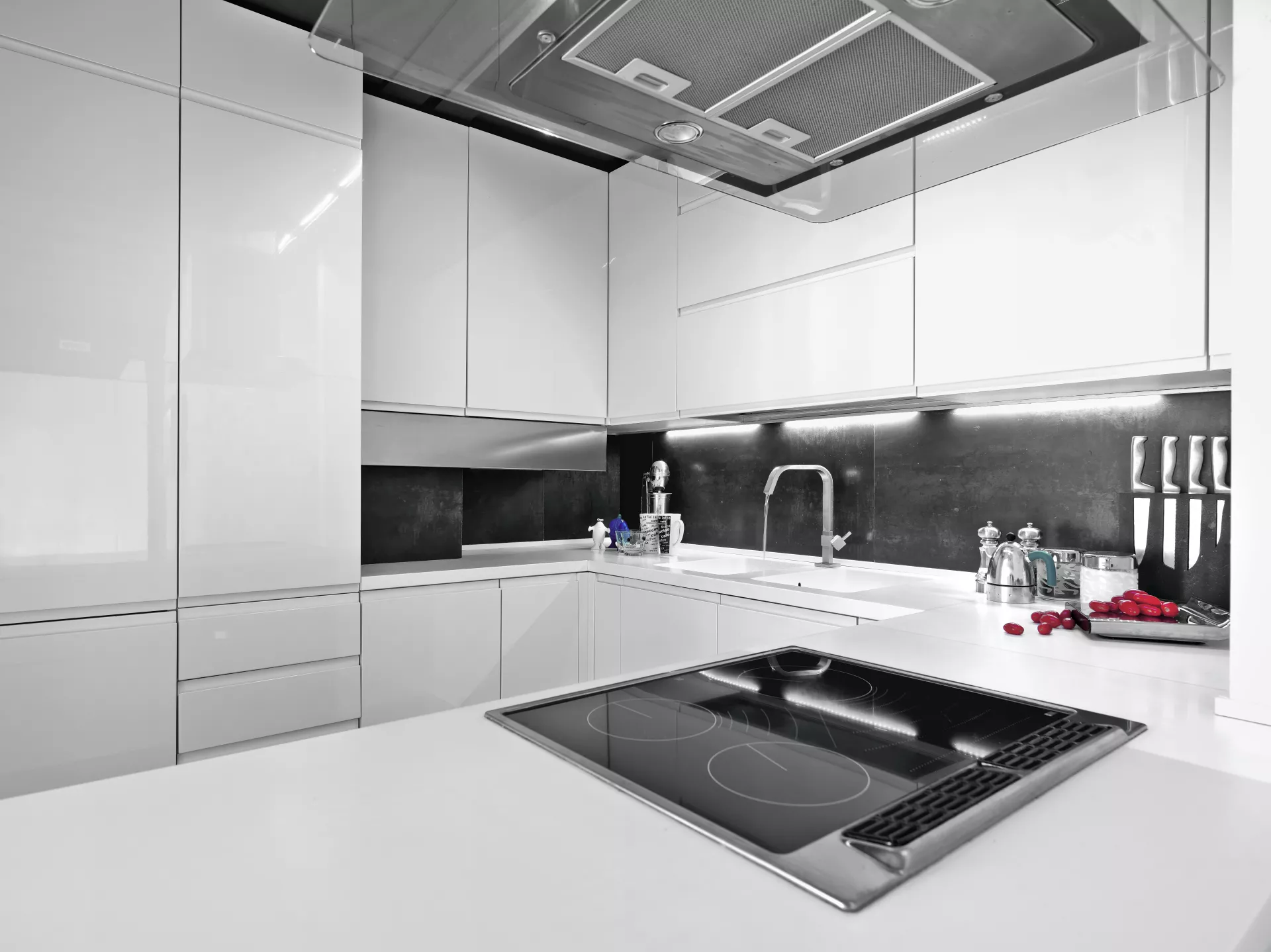 Marble countertops
Marble countertops offer a luxurious look with their shiny appearance and timeless element. Owing to the mineral deposits, marble has distinct veining and naturally occurring patterns that can add a unique touch to your kitchen. It is resistant to chipping, cracking, or breaking, making it a perfect option for high-traffic kitchens.
But remember, marble comes with a hefty price tag and is vulnerable to easy staining and scratching, which means it has to be sealed annually to maintain a good condition.
Price: $50 to $150 per square foot
How To Clean: Use a clean sponge splashed with dish soap and water. Rub the countertop vigorously with the soft side.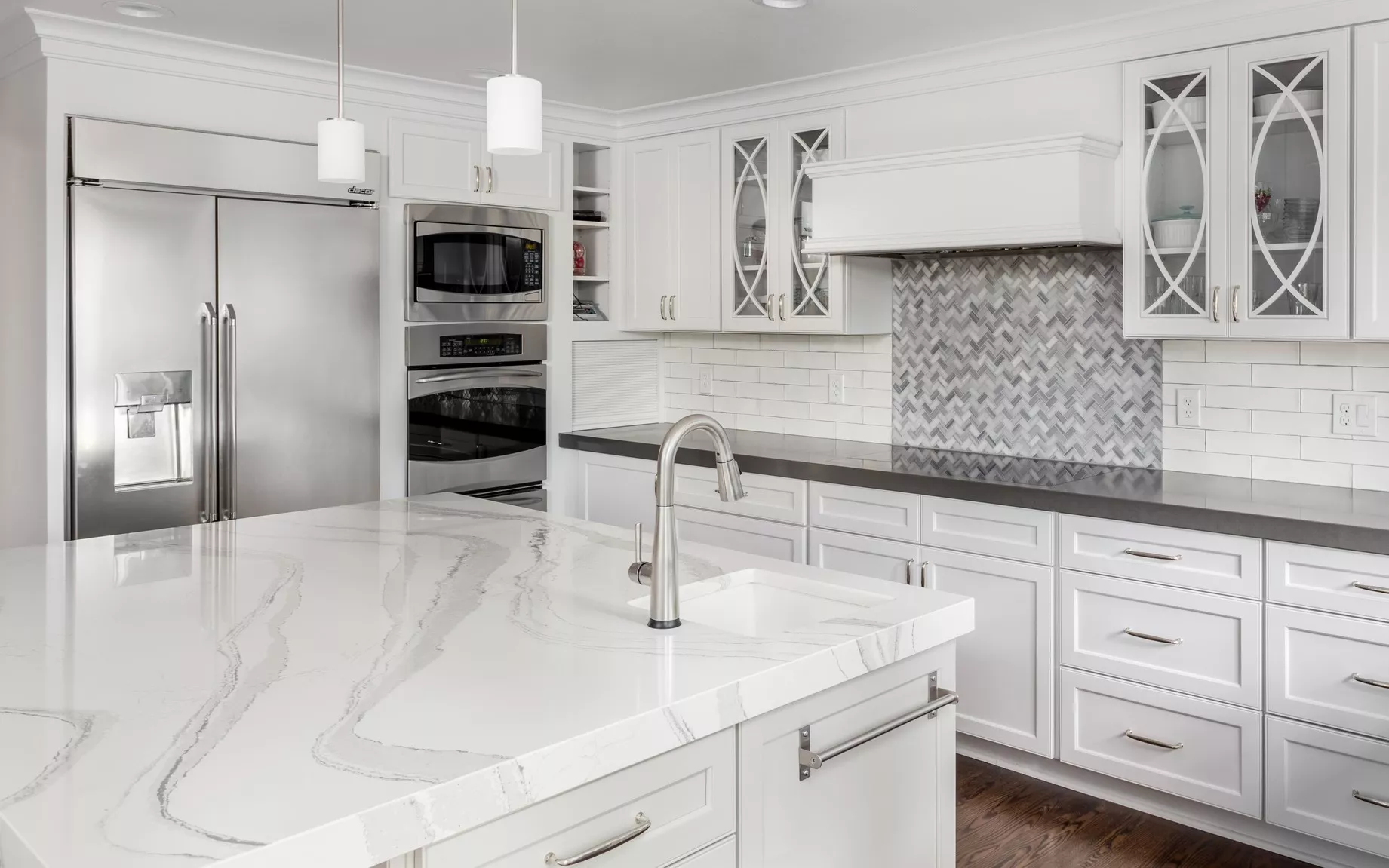 Laminate countertops
Laminate countertops are made by searing together resin, particleboard, pattern paper, and plastic. It is an inexpensive option with a lightweight and easy installation process. The non-porous surface discourages the growth of mold and bacteria and prevents staining.
Contrastingly, laminate has a relatively short lifespan and is prone to peeling. It can also be easily damaged by heat.
Price: $10 to $40 per square foot
How To Clean: Add a drop of dish soap and some warm water to a non-abrasive brush. Scrub the surface till the dirt and grime are lifted.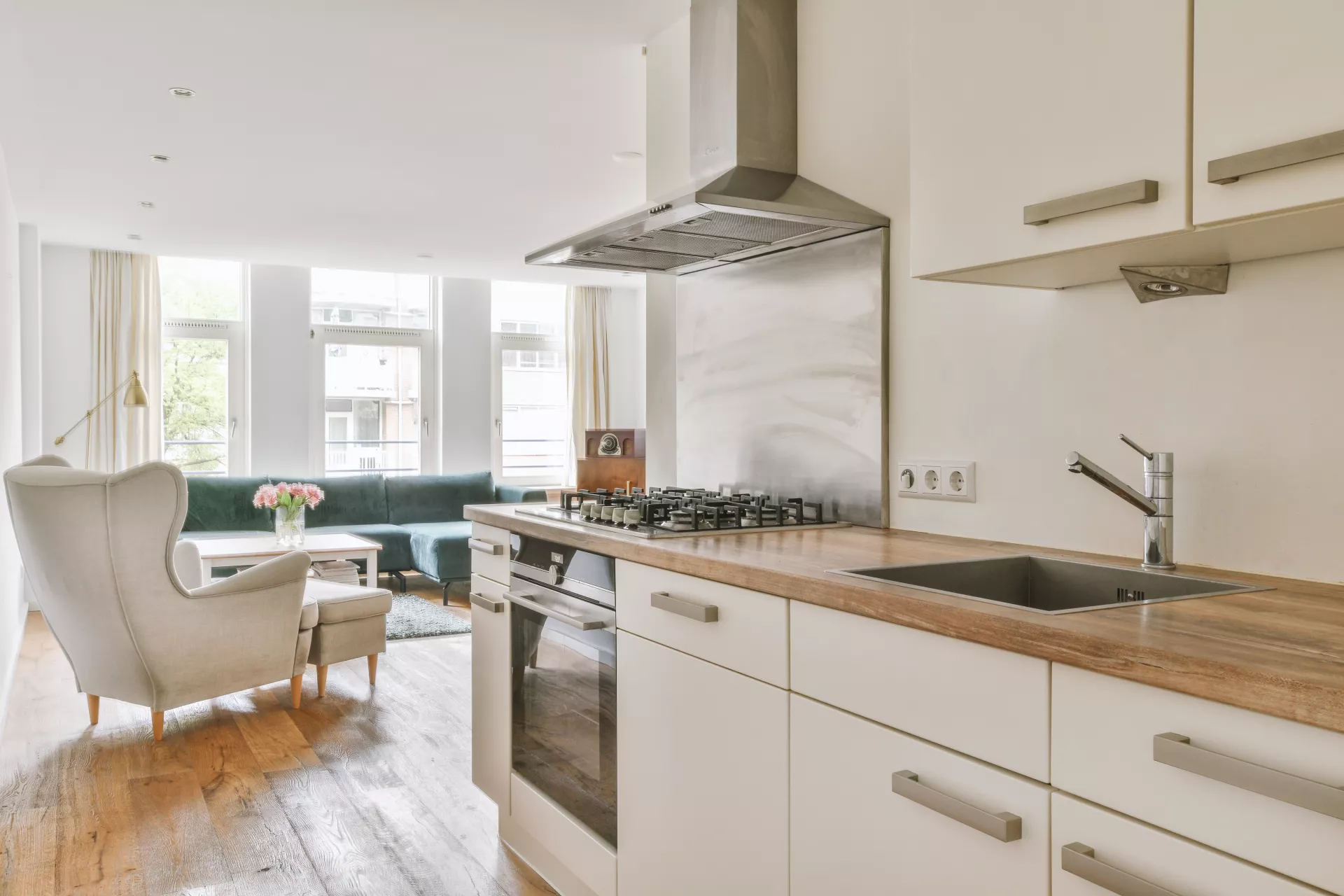 Butcher Block countertops
The wood used in butcher block countertops is durable and tough. Coming from different types of wood, including maple, cherry, oak, etc., butcher block is available in multiple colors and textures.
However, you must note that this material requires sealing every two to three years and needs to be regularly oiled and sealed to prevent the penetration of bacteria and mold into the surface.
Price: $30 to $100
How To Clean: Scrape off dirt, wipe away the crumbs, and use a sponge paired with dish soap to give the surface a good scrub.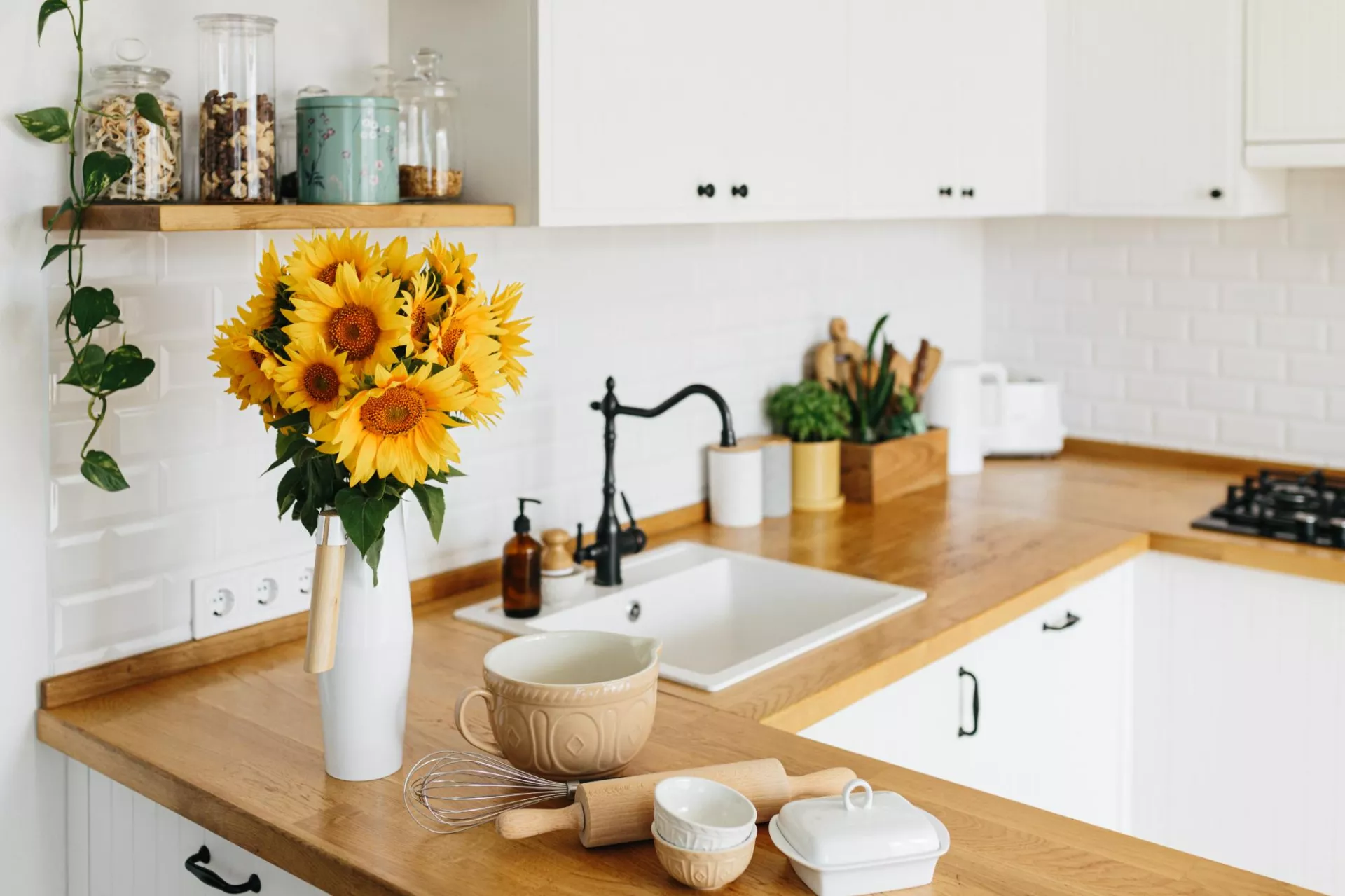 Soapstone countertops
Soapstone countertops are completely non-porous, with a soft texture and high resistance to heat. The best part is that any minimal damage to the surface will develop a unique patina that gives your kitchen an inviting look.
But you have to make sure to treat the surface with mineral oil every month in the first year of installation to allow the patina to develop beautifully.
Price: $70 to $100 per square foot
How To Clean: Apply a mixture of water and vinegar to the surface with the help of a sponge. Wipe away with a damp cloth.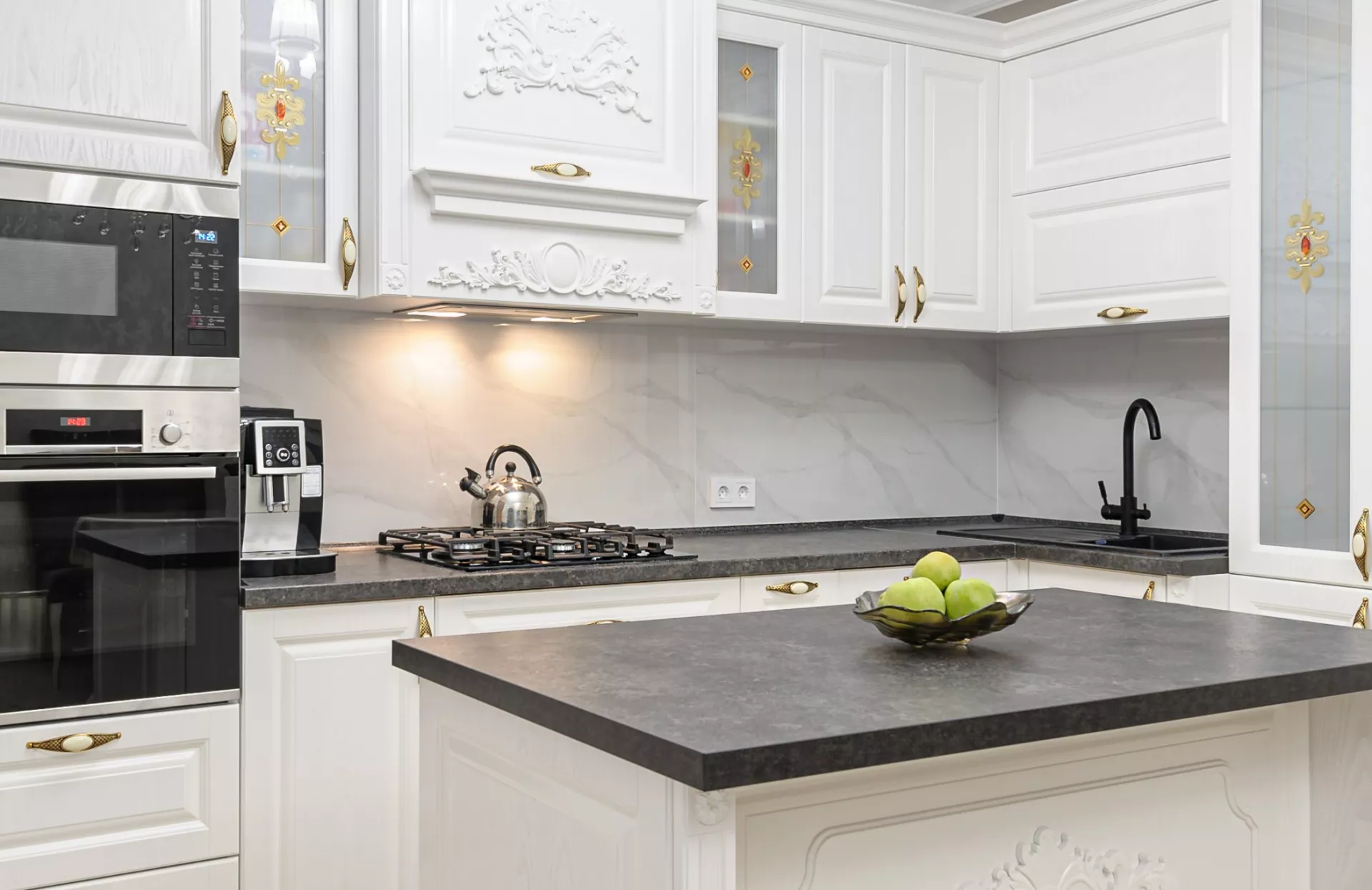 How To Choose The Right Kitchen Countertop?
The right decision is based on various factors. Start by viewing your budget, scrutinizing the costs for each option, and then skimming out the choices that fall within your financial limit. Next, look for the option that is available in the color, pattern, and style that matches your kitchen's design style and color palette.
Move on with viewing the maintenance and upkeep levels you are ready to sign up for. Don't forget to consider how often you use the kitchen for cooking and how durable the material should be accordingly. Finally, consider the sustainability of each material to pick an option that helps reduce your carbon footprint while boosting the resale value of your property — after all, sustainable homes are now a great attraction and selling point.
Remember, you can always ring a kitchen remodeler for professional guidance, suggestions, and ideas!
What Are The Latest Trends In Kitchen Countertop Design?
While all the aforementioned countertop materials are making a hit for the latest trends in kitchen countertop design, other elements, such as the color, texture, thickness, etc., of each option should be considered too.
Recently, extra thick slabs have been a popular idea. They give your countertops a substantial feel with more room for decorative edge treatments. Similarly, bold colors, like black and navy, are now becoming a new favorite for homeowners looking to make a statement in their kitchens. Colors like off-white, beige, and dark grey, however, are still a staple as they are hues that allow great customization.
Textures, like sandblasted, leathered, and honed, are also becoming more common for a visually appealing and interesting look. Lastly, if you have a kitchen island, make sure to cover it with a different stone than the perimeter countertops to keep your kitchen in line with the trends for countertop design in 2023. Either a subtle contrast with a similar stone material or a completely different material in similar colors will look amazing.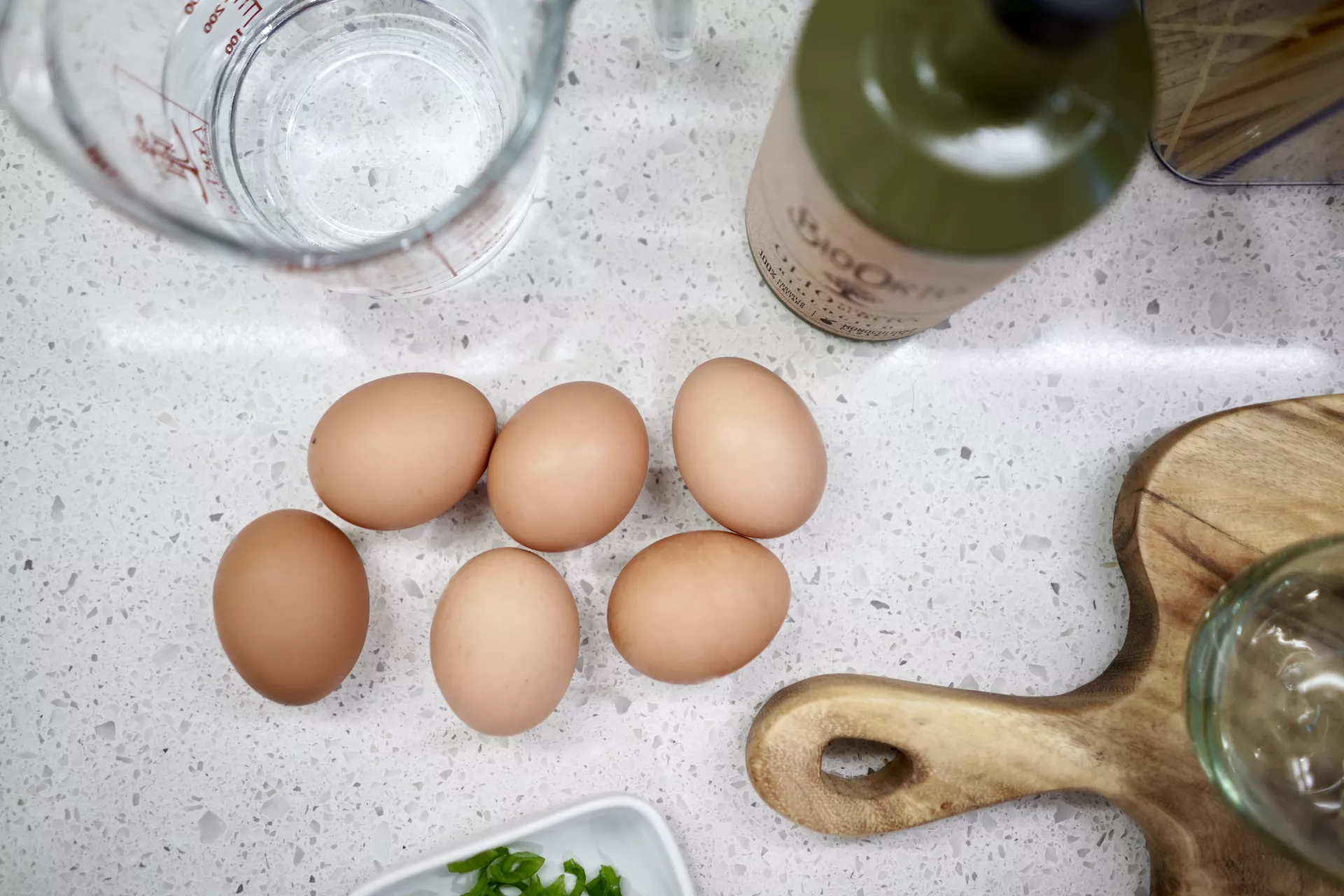 How To Find A Professional Countertop Fabricator?
Installing countertops is a complex task that requires adeptness and professionalism to get the job done right. The best way to find an experienced countertop fabricator is to search for a professional in your area through a reliable website. Once you have a handful of options, go on to check the experience, reputation, and price range of each. Don't forget to evaluate the quality of work and the range of materials they use. You can also meet with them in person to get a closer idea of their professionalism and customer service.
Tip: Companies or individuals who fabricate countertops are also called countertop makers, creators, builders, craftsmen, and artisans.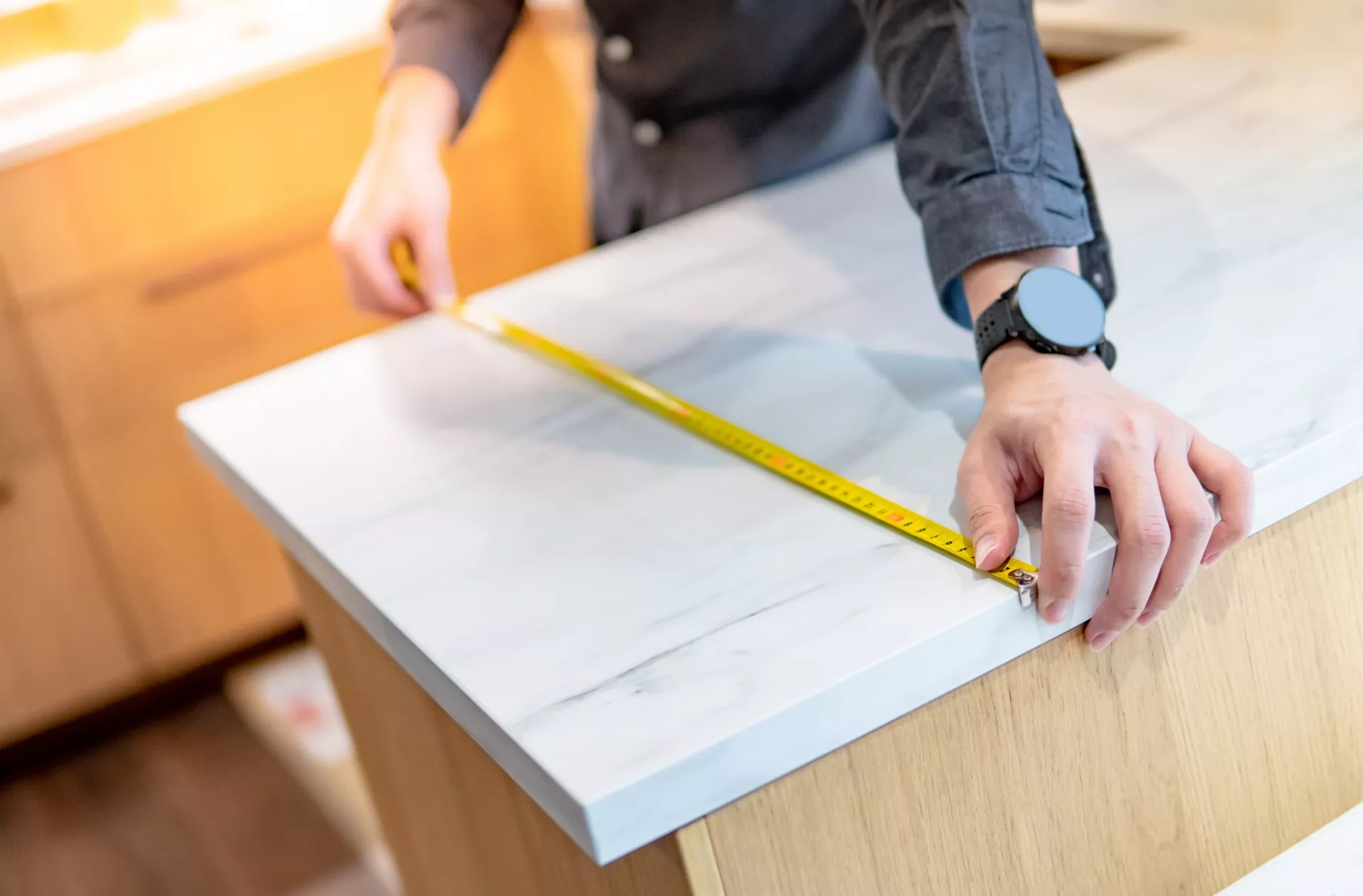 Conclusion
We hope this article guided you in detail about the best countertop kitchen materials, along with what the best choice for your kitchen is.
So get ready to spruce up your kitchen with a trendy countertop that makes cooking and spending time in the kitchen much more enjoyable and pleasing!
Find more articles about kitchen remodeling in the KITCHEN section of the KBF BLOG.