Top 7 Budget-Friendly Kitchen Countertop Materials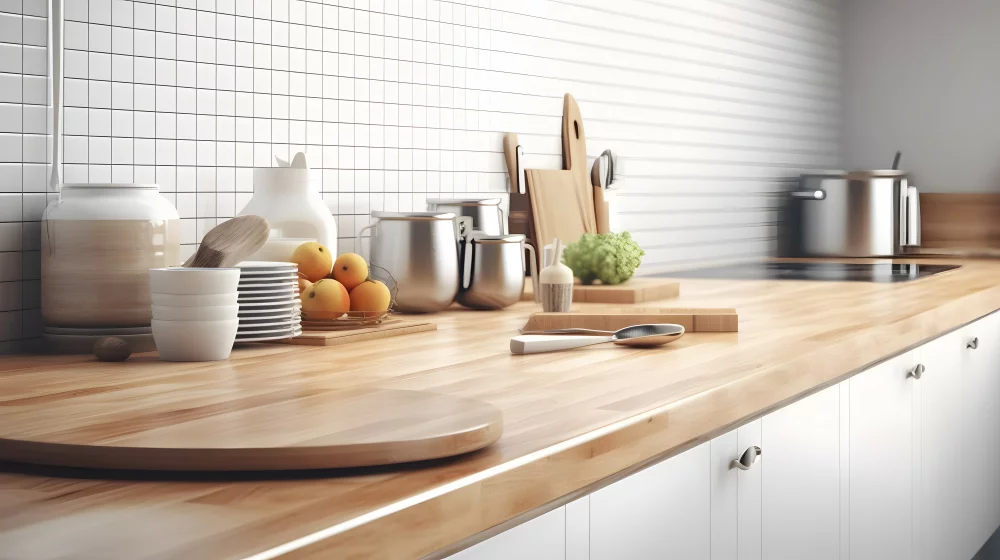 Remodeling kitchens is a rewarding job, but with the fruitful outcomes and fun process comes the arduous task of finding and picking the best products for every inch — including the countertop, which is one of the most trafficked parts of a kitchen. Landing an option that is durable, beautiful, and stain-resistant, all at the same time might sound like a far-off fantasy that comes with a hefty price tag.
But we've got some good news for you: adorning your kitchen with high-quality and luxe countertops without breaking the bank is a real possibility. In this article, we've summed up the top 7 budget-friendly countertop materials to make your research process and decision-making much easier — continue scrolling for more!
Why Opt For Budget-Friendly Countertops?
Cost-friendly kitchen countertops are a great idea when it comes to budgeted home remodels. Now you might think: doesn't a cheap product offer cheap quality? In the case of countertops, no, it won't. In fact, affordable countertops provide multiple benefits, including:
Saves For Other Kitchen Upgrades - Spending smartly on countertops saves more for other, more major upgrades, such as installing smart technology, upgrading the lighting scheme, and making additions like a breakfast nook or a kitchen island. Such ideas will enhance the interior and raise the value of your property a lot more than an expensive countertop would alone.
Perfect For Rental Properties & Flip Homes - Be it a rental property like an Airbnb or a flip home bought to enjoy profits in the future, installing budget friendly countertops in the kitchen is your best bet. This is because spending wisely on countertops but going big on the overall ambiance will tend to attract more visiting guests and clients, who prefer kitchens that have been thoroughly planned and designed rather than just luxe countertops thrown in.
More Flexibility To Upgrade - Interior design trends are constantly changing — and so are your needs. An option that seems perfect today might not work for you in the future. Your cooking needs might increase, the trendy market choices might change, or you might simply not like what your kitchen looks like. If you've purchased budget-friendly countertops, changing and upgrading in the future won't pinch as much as it would if you invested in a $5,000 marble countertop.
So why not boost the value of your property, meet your needs, and design an inviting kitchen with budget-friendly countertops that are light on the wallet but heavy on striking a beautiful interior? Here's a list of some of the most affordable options you can pick from.
Laminate Countertops
Laminate countertops are composed of particleboard bonded to layers of plastic, forming a solid surface that greatly resembles the natural look of the more expensive stone countertops. While pre-formed laminate counters offer a limited color and pattern choice, modern innovations have eliminated this restriction. New technologies now facilitate printing on the countertops, allowing resemblance with any material, such as marble, granite, and other high-end options.
Though laminate countertops may be exposed to scratches and stains, purchasing the product from a reliable store, such as Formica or Wilsonart, and taking good care of the material can definitely reduce the risk.
Price: $15 to $60 per square foot.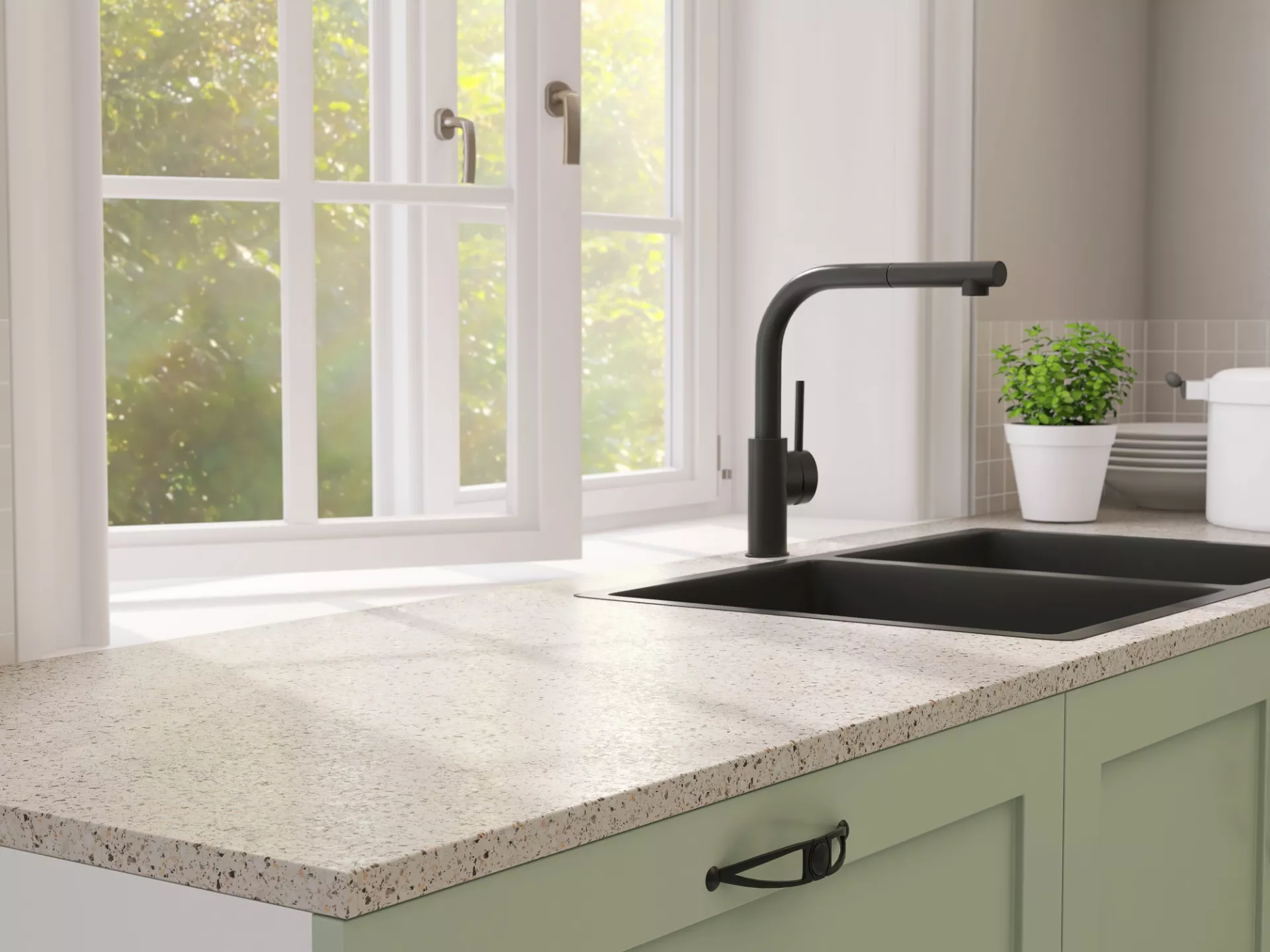 Tile Countertops
Tile countertops come in various different sub-categories. Ceramic and porcelain are the most affordable varieties, while glass tile is a bit more on the expensive side (but still affordable). Feel free to view and explore each option while considering your budget and needs to make the best choice. Pro Tip: Install expensive tile options on the borders of the more affordable styles to spice up the results.
In addition to the low initial investment, tile countertops have a DIY-friendly installation, which saves a few extra bucks from labor costs.
On the flip side, the tile grout lines are a collection point for bacteria and dirt, resulting in grout staining. However, this won't be a problem if you follow a regular cleaning routine. All you have to do is mix together a 50-50 portion of warm water and vinegar. Spray it over the grout and scrub with a medium-bristle brush. Do not use vinegar on unsealed grout.
Price: $15 to $40 per square foot.
Solid Surface Countertops
Solid surface countertops are highly stain-resistant, easy to clean, and cheap to repair. They allow homeowners to experiment with bold shades (neutral tones are available, too) and offer a lovely, seamless look. The standard designs and colors are quite affordable, but custom-made options like Corian carry a higher price. Compared to marble or granite, you still save considerably, though — as Corian prices around $40 to $60, while the latter luxurious options cost up to $150 per square foot.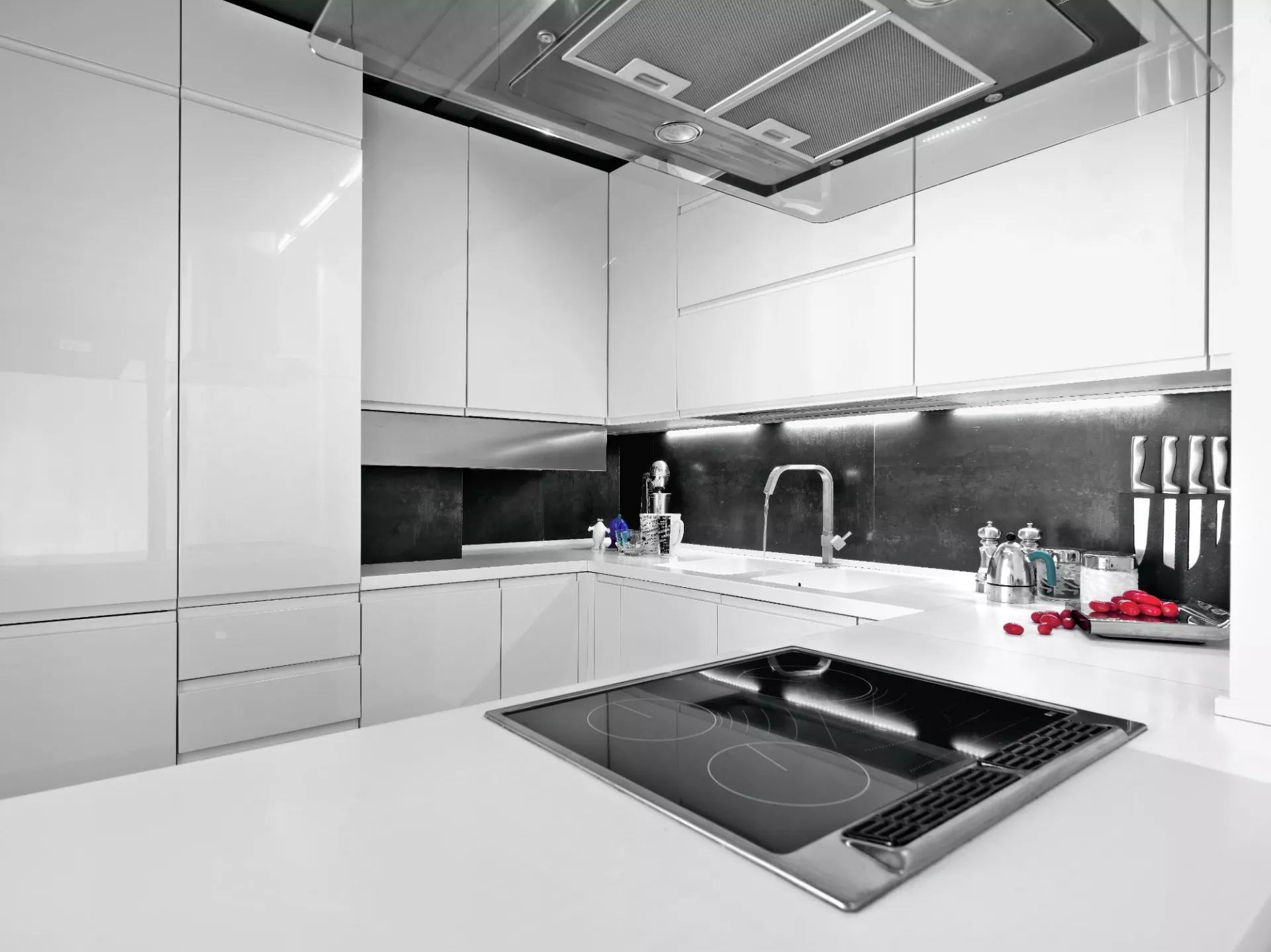 Butcher Block Countertops
Looking for the warmth and character of farmhouse-style and cottage-inspired kitchens? Butcher block countertops have got you covered! This material is available in multiple finishes and colors, including walnut, oat, teak, cherry, and maple.
What you need to keep in mind is that butcher block countertops are prone to dryness and cracking, so using trivets with hot pans is essential. The surface also requires oiling every 1 to 2 years to fill in scratches. Regardless of the required maintenance, the high affordability and great potential for easy DIY installation make butcher block countertops a favorite for many.
Price: $45 to $100 per square foot.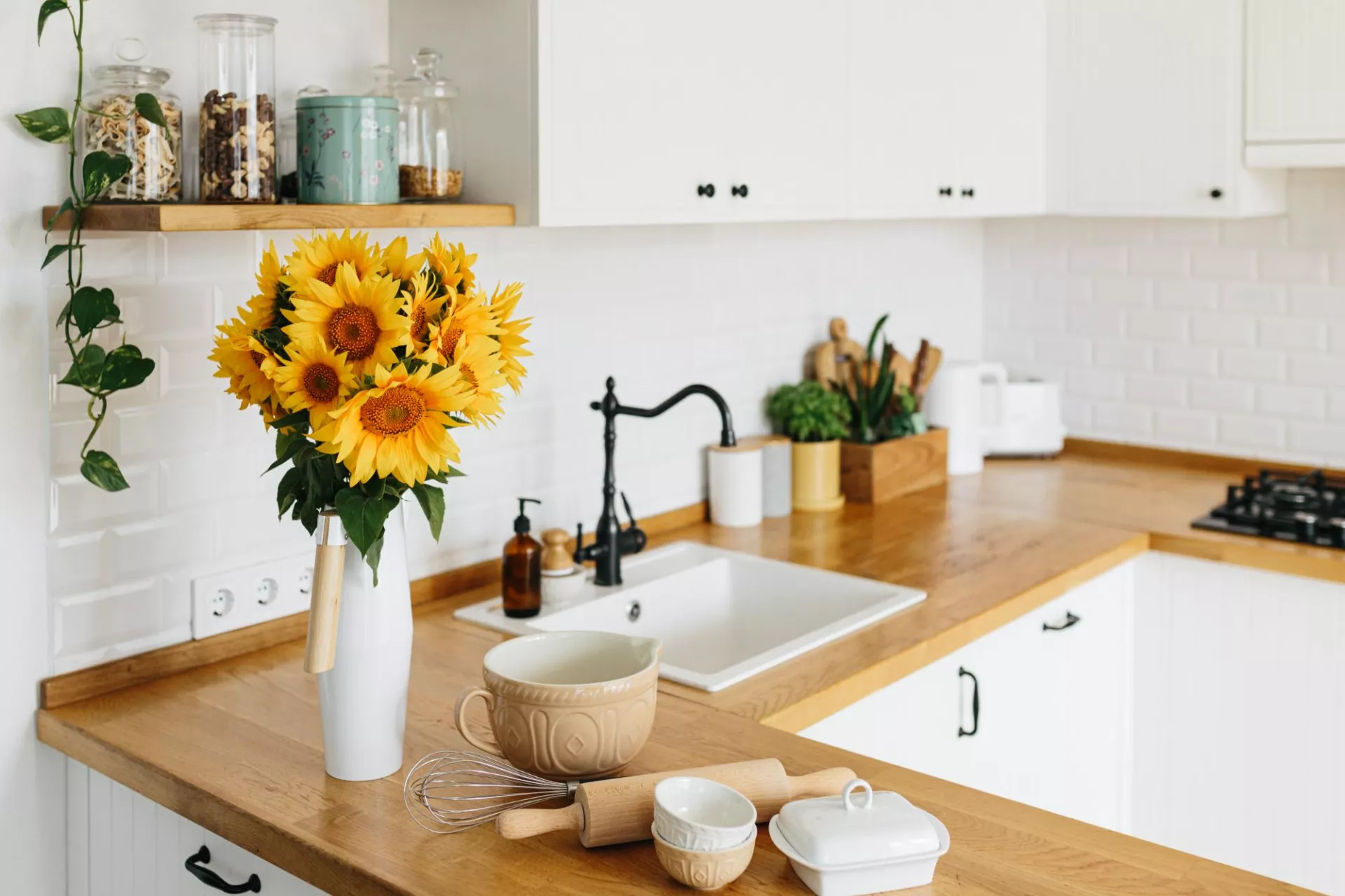 Recycled or Reclaimed Materials
As an innovative and eco-friendly addition to the market, countertops made from recycled materials are not only amazing for the environment but are also a great addition to your kitchen interior. The most common choice is recycled glass. Bits from broken glass of wine bottles, windshields, and other sources are combined together with cement-based materials or resin to create unique and distinct countertop designs. Other options include bamboo, reclaimed wood, stainless steel, etc.
Price: $50 to $80 per square foot.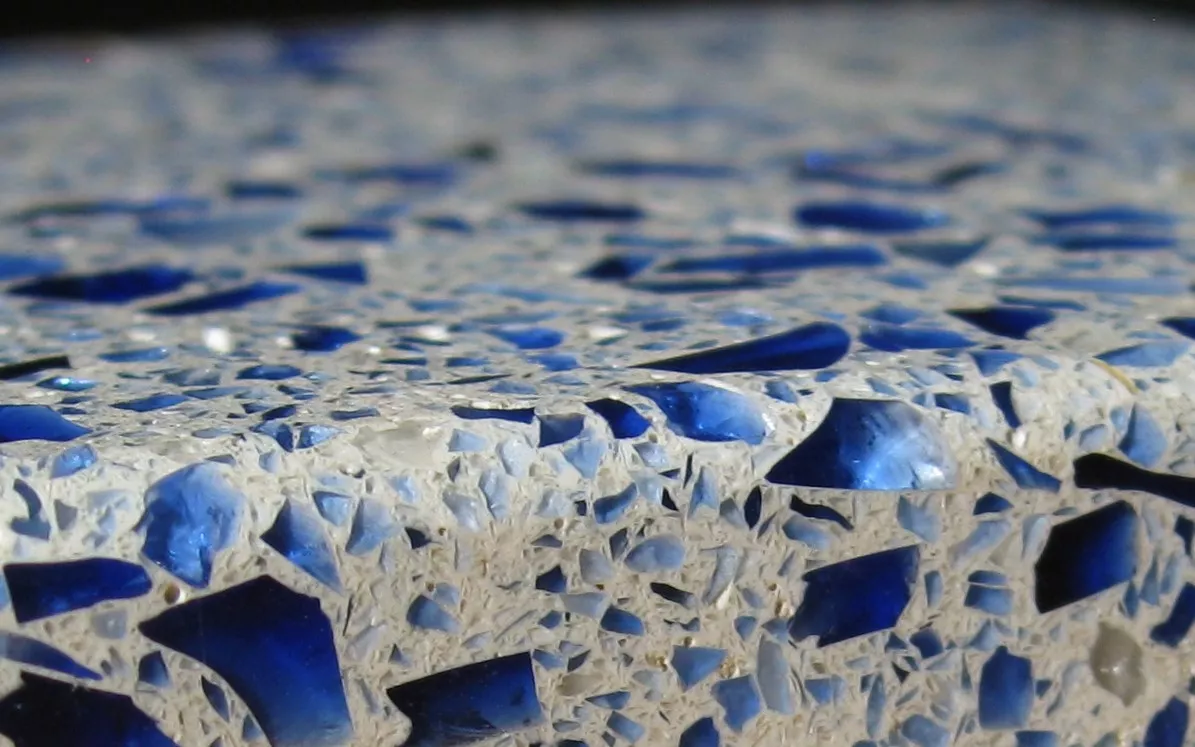 Concrete Countertops
Concrete countertops offer a versatile look perfect for various design styles, ranging from rustic to modern. Apart from strong durability, the material is highly customizable to provide the exact shape and tint you're looking for. What's more, pouring concrete countertops is a DIY task that helps save on professional installation costs while providing the same natural and earthy look as stone countertops.
But remember, the material requires regular sealing and extra care to protect against stains and scratches.
Price: $60 to $130 per square foot.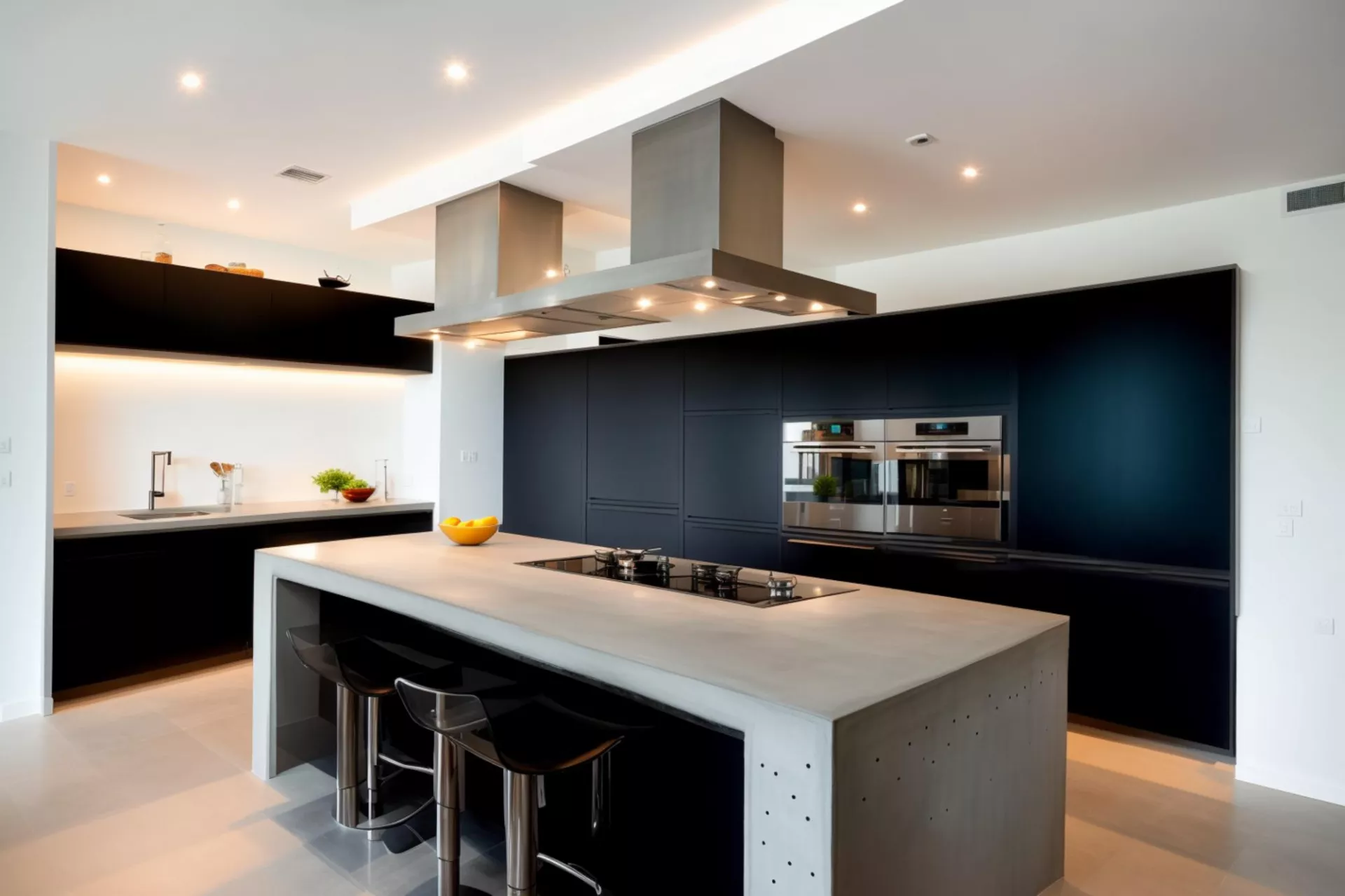 Considerations When Choosing A Budget-Friendly Countertop
Choosing an affordable countertop extends way beyond simply viewing the prices. The importance of durable materials should not be overlooked for the sake of a cost-effective product. Think of it this way: choosing a budget-friendly countertop but ignoring its durability will eventually force you to replace the material with something that suits the high-traffic needs of your kitchen better. This means you'll have to pay double the price.
The second aspect to consider is the interior of your kitchen. Is it modern? Is it traditional? Is it rustic? Is it industrial? Once you've decided on the aesthetic you're creating, use our KBF 3D Kitchen Visualizer to fit and visualize different countertops to see which one suits your space best.
Lastly, make sure to consider whether or not you've got the budget for the labor costs of a professional installation. Remember, there are tons of DIY-friendly countertop options with high durability and beautiful finishes, so you can easily cut down the extra charges of bringing in skilled installers.
Extending The Lifespan of Your Countertops
No matter how affordable the product you've chosen is, replacing a countertop is always more expensive than maintaining the material. A multipurpose (or homemade) cleaner, warm water, and a clean, damp cloth will be enough for regular cleaning. Sandpaper can be used to fight any tough stains. Maintaining the grout lines and regularly sealing or staining the surface (depending on the chosen material) will extend the lifespan further. Don't forget to incorporate small steps like cleaning up stains regularly and using coasters for hot materials in your day-to-day routine!
Find more articles about kitchen remodeling in the KITCHEN section of the KBF BLOG.