Popular Bathroom Vanity Top Materials: Pros & Cons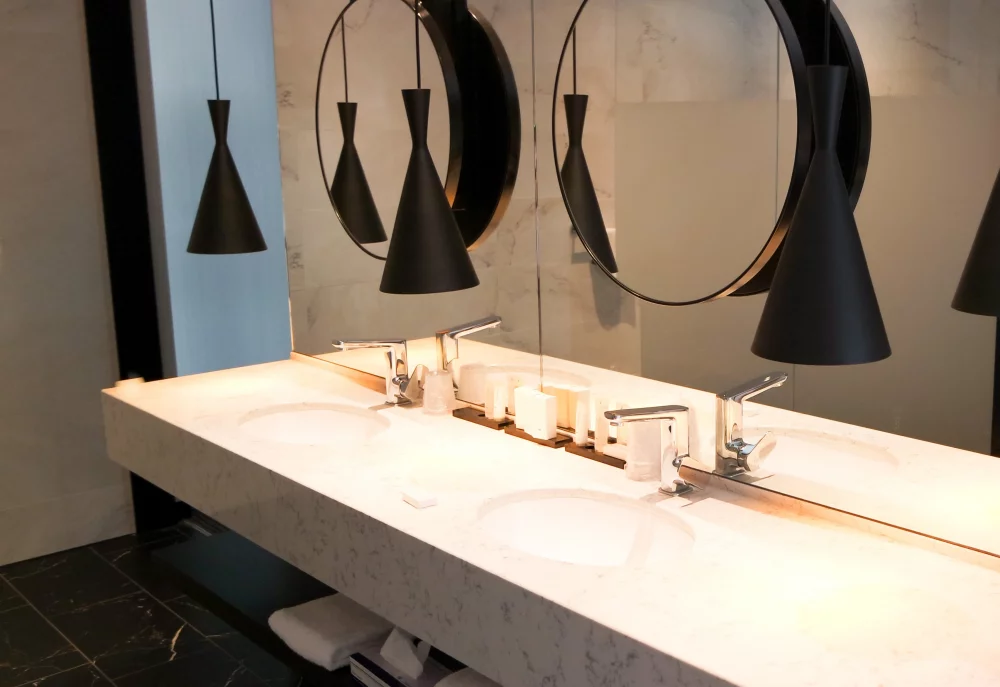 When looking for the best bathroom countertop material, many of us aim for something stunning yet durable. After all, vanity tops should be tough enough to handle everyday use while contributing to visual aesthetics.
Thankfully, there are plenty of exciting colors, patterns, and materials with different levels of durability. Each of these comes at different price points, and the one that suits your space the most can only be decided after weighing the pros and cons of the various material types.
This blog post is your comprehensive guide to popular bathroom vanity top materials and their pros and cons, so you can reach a well-informed decision when choosing yours.
So, let's get started!
Vanity Top Material #01: Natural Stone
Natural stone countertops can singlehandedly add timeless luxury to your bathroom interior. They offer optimum durability as well. And when it comes to diversity in patterns and hues, there are plenty of options, including marble, limestone, and granite. However, bear in mind that there are limited colors in prefab stone.
Typically, you will find natural stone vanity tops as solid slabs with openings for sinks. We recommend opting for natural stone when you wish to add a dash of luxury, mainly in guest and primary baths. Family baths with lots of daily use would do better with other options.
Let's dive deeper into the three major types of natural stone.
Marble vanity top pros: and cons
Pros:
Marble is one of the most stunning varieties of natural stone, offering unmatched elegance.
It is available in numerous patterns and colors.
Marble stands up to cleaning products, chemicals, and accumulated water.
It is incredibly heat resistant.
Cons:
Marble is a soft, porous variety of stone that requires sealing every one or two years.
Being a calcite-based material, it is prone to etching and staining. This especially occurs if you expose marble to acidic substances for long periods.
It may be costly, typically between $75 and $250 (per square foot).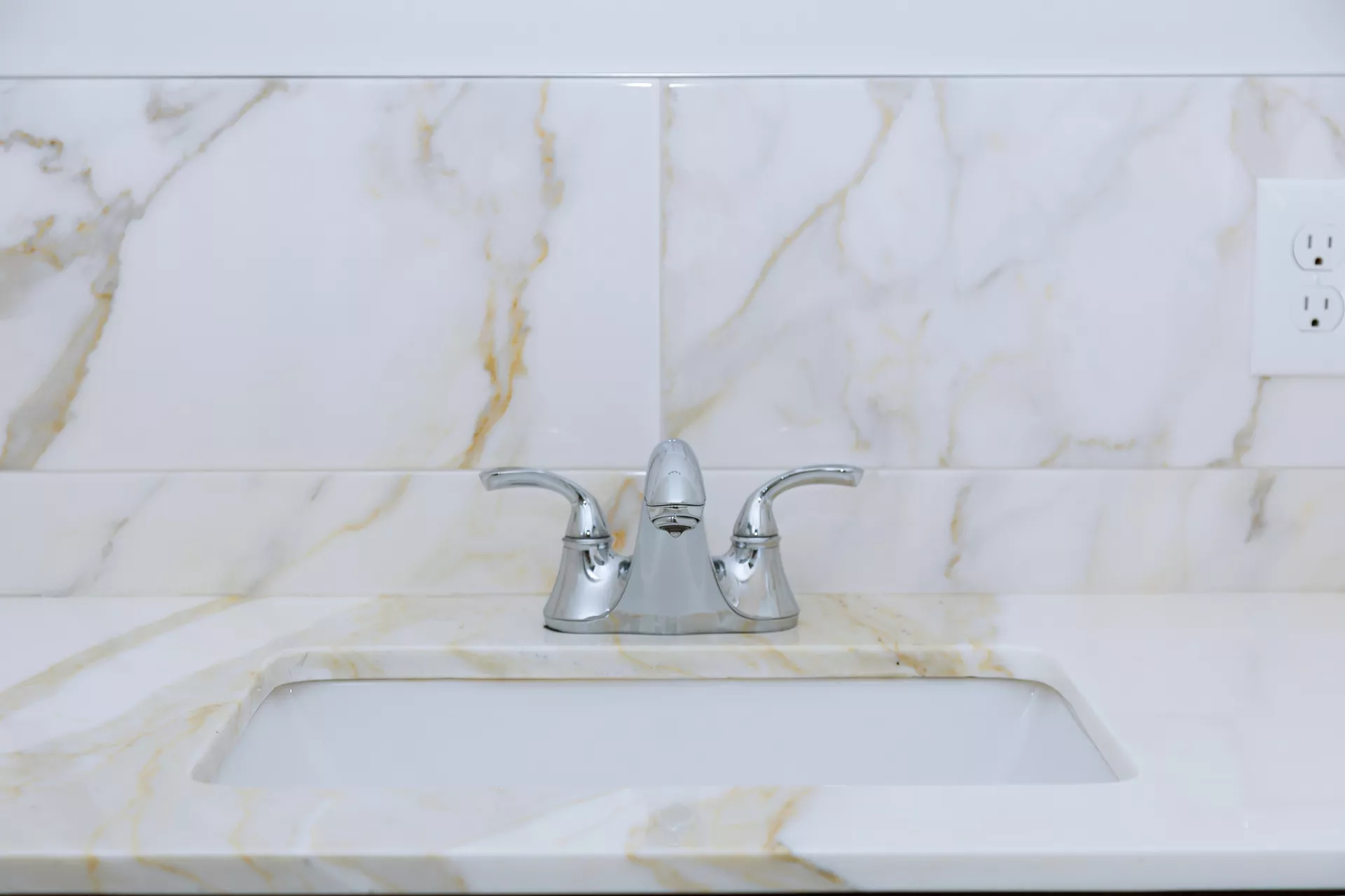 Limestone vanity top: pros and cons
Pros:
Limestone is typically cheaper than other types of natural stone. It averages between $55 and $125 (per square foot).
It is incredibly resistant to heat.
It has a long lifespan, provided you care for it properly.
Cons:
Limestone requires careful and repeated sealing.
It scratches and discolors easily.
It requires maintenance and upkeep.
Granite vanity top: pros and cons
Pros:
Granite is the most popular natural stone.
It is similar to marble, but with less veining and flecks of different colors.
It is stain, scratch, and heat resistant.
Cons:
Granite may get pricey, ranging between $45 and $200 (per square foot).
It is incredibly heavy, so it is typically more expensive to ship and install.
It requires yearly sealing.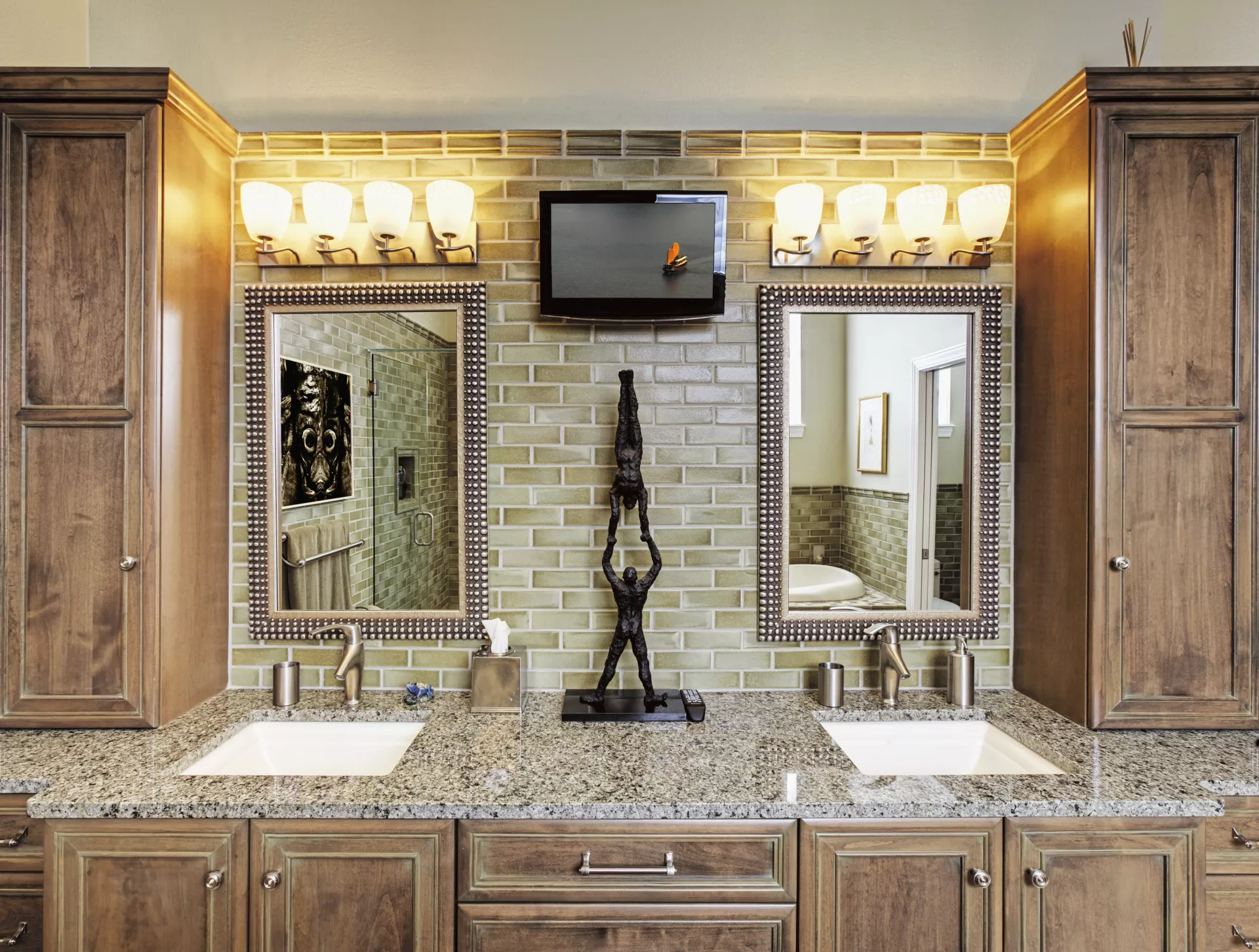 Vanity Top Material #02: Quartz (Engineered Stone)
Quartz, a type of engineered stone, is made from a 90% mix of ground-up quartz and stone minerals blended with 10% resins and pigments. All these ingredients are compressed under high pressure and transformed into thin slabs. These slabs can be found in a multitude of color and pattern options. Quartzite countertops, on the other hand, are made from natural stone. These are less versatile and durable than the former.
Quartz countertops heavily resemble natural stone in appearance, except they are more durable. This means they can easily stand up to daily wear and tear, and are ideal for family-use bathrooms. Style-wise, they are suitable for bathrooms with modern designs.
Quartz vanity top: pros and cons
Pros:
Quartz is the most high-end vanity top material.
It adds to the resale/market value of the home.
It is non-absorbant, so it doesn't require resealing.
Quartz can be found as countertops with integrated sink basins.
It is non-porous and resistant to staining, scratching, chipping, and etching.
It has an easier installation process and more uniform coloring than natural stone.
Cons:
Quartz is an expensive material, ranging between $55 and $155 (per square foot).
It is not very heat-resistant.
Quartz's seams may be invisible, especially in long counters.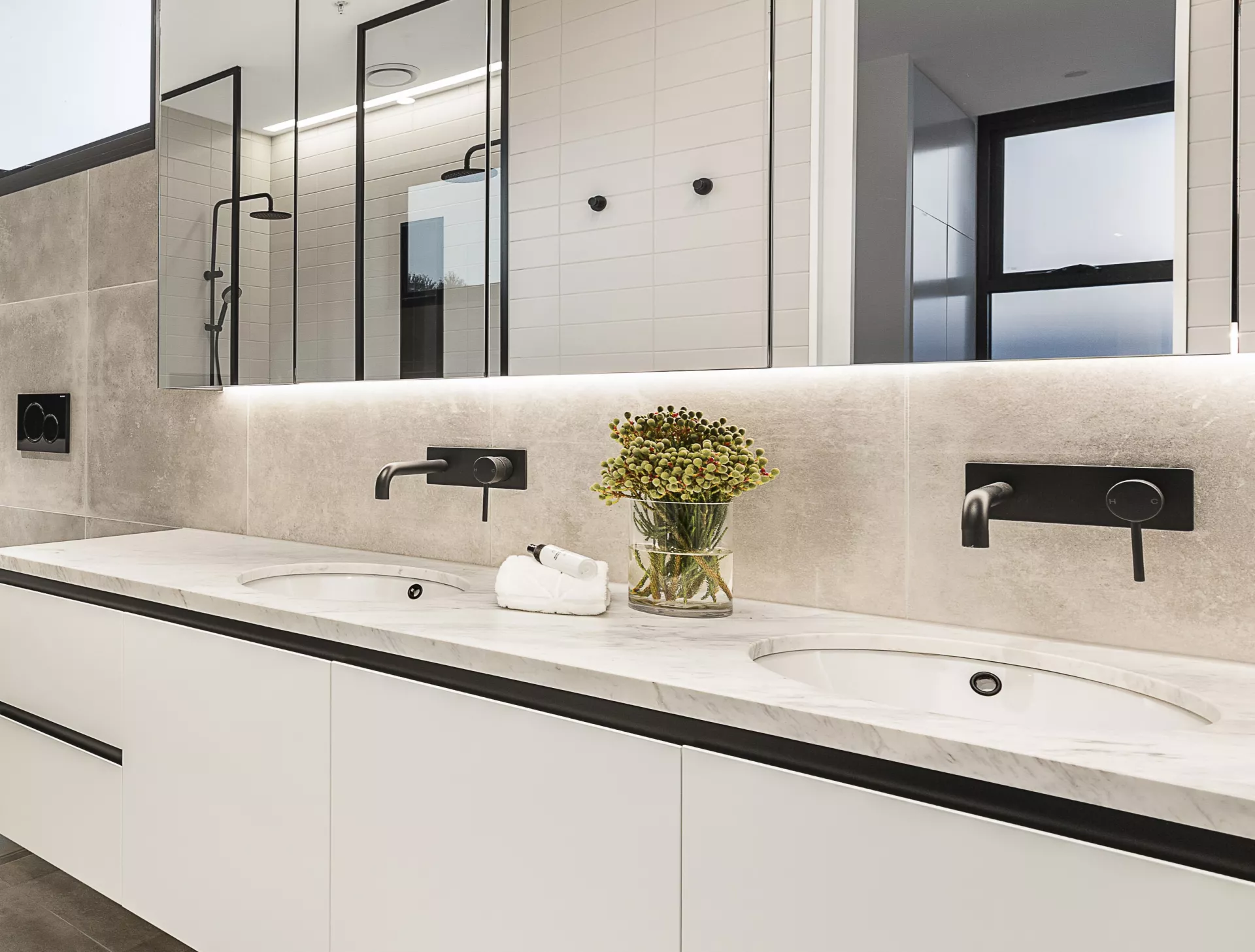 Vanity Top Material #03: Solid Surface
Solid surface countertops, sometimes called faux stone countertops, are made from polyester and acrylic particles bonded with resins. Like quartz, these can also be found as countertops with integrated basin sinks and are available in dozens of colors and patterns.
While natural stone and quartz are considered above solid surface countertops, they are still better than many other types of material, including laminate. They make for a suitable addition to heavy-use bathrooms, as well as bathrooms that need a quick spruce-up before home staging or sale. Moreover, they're a good pick for bathtub material.
Solid Surface vanity top: pros and cons
Pros:
Solid surface countertops are available in an affordable price range, somewhere between $35 and $85 (per square foot).
They are easy to refurbish (you can sand down any scratches yourself with sandpaper).
They are available in prefab countertop styles, so DIY-ing is easy.
Solid surface is resistant to mold, mildew, and stains and is low-maintenance.
The colors and patterns in different solid surfaces are incredibly consistent.
Cons:
Solid surface countertops can readily scorch under heat.
They are vulnerable to chemicals — such as nail polish varnish — so they can damage easily.
They have a less practical finish, so they are more susceptible to scratching.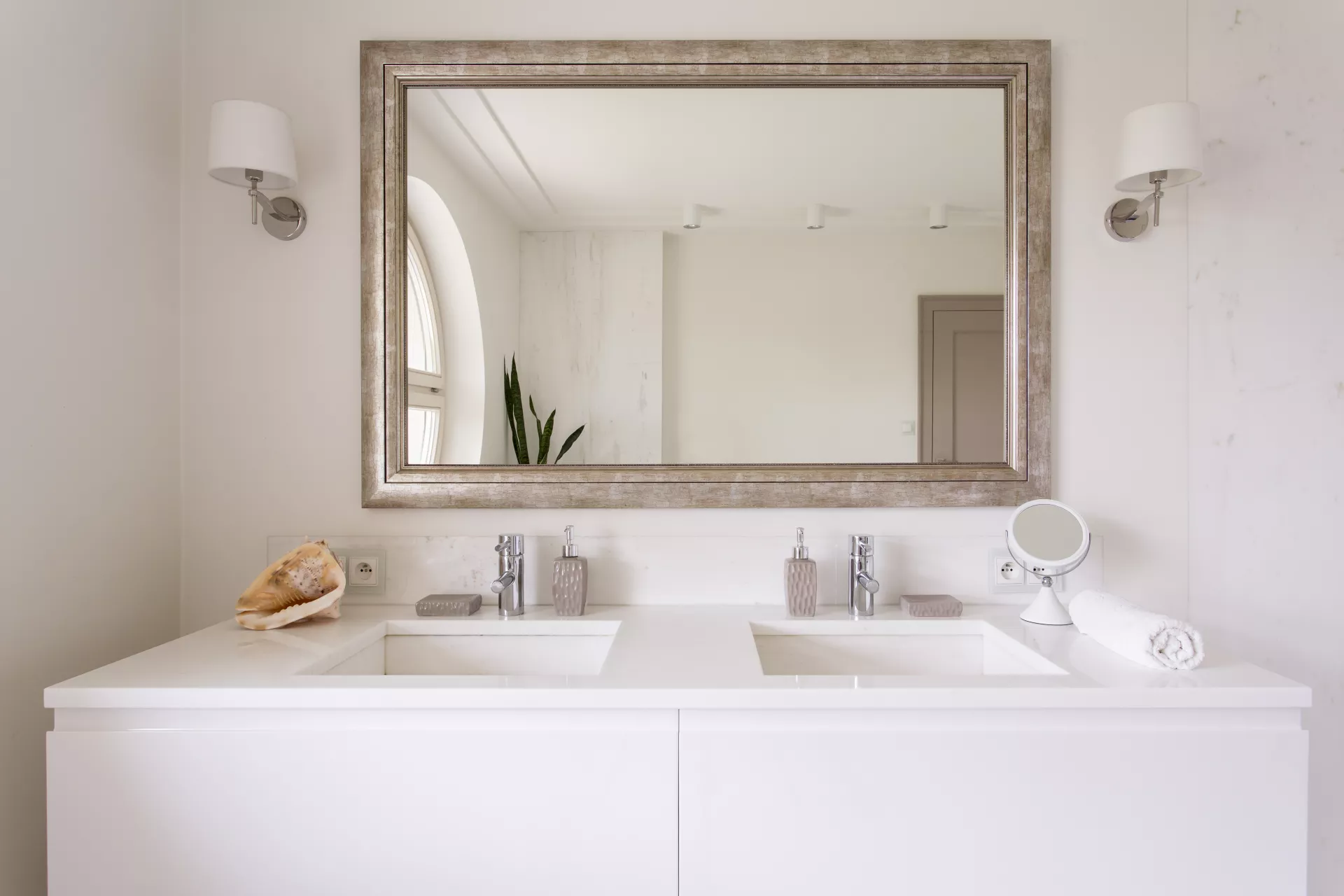 Vanity Top Material #04: Laminate
Laminate countertops are made of Medium-Density Fiberwood (particleboard) covered by plastic (PVC) material. It is non-porous in quality and comes in stock pieces or custom-made ones with designer touches. Recently, laminate has evolved to look similar to high-end options, such as granite and wood.
We recommend using laminate for bathrooms where style isn't a priority or for quick fixes before putting your home on sale.
It is also important to ensure proper sealing to avoid moisture damage from excessive water exposure.
Laminate vanity top: pros and cons
Pros:
Laminate is budget-friendly, priced at $15 to $40 (per square foot).
The project can easily be taken up as DIY, as laminate countertops can be cut and fit by anyone.
Laminate countertops are low-maintenance and easy to clean.
Laminate is available in prefab vanity and pre-made countertop options.
Cons:
Moisture resistance. Laminate is waterproof as long as it is hermetically sealed. The knife cut or any other PVC layer damage may lead to swelling or warping.
These countertops don't offer resistance to scratching and edge-chipping.
Laminate is often considered a bargain material.
It is lightweight and lacks balance when compared to other materials.
Dark-edge seams may be obvious in the laminate, in particular installation techniques.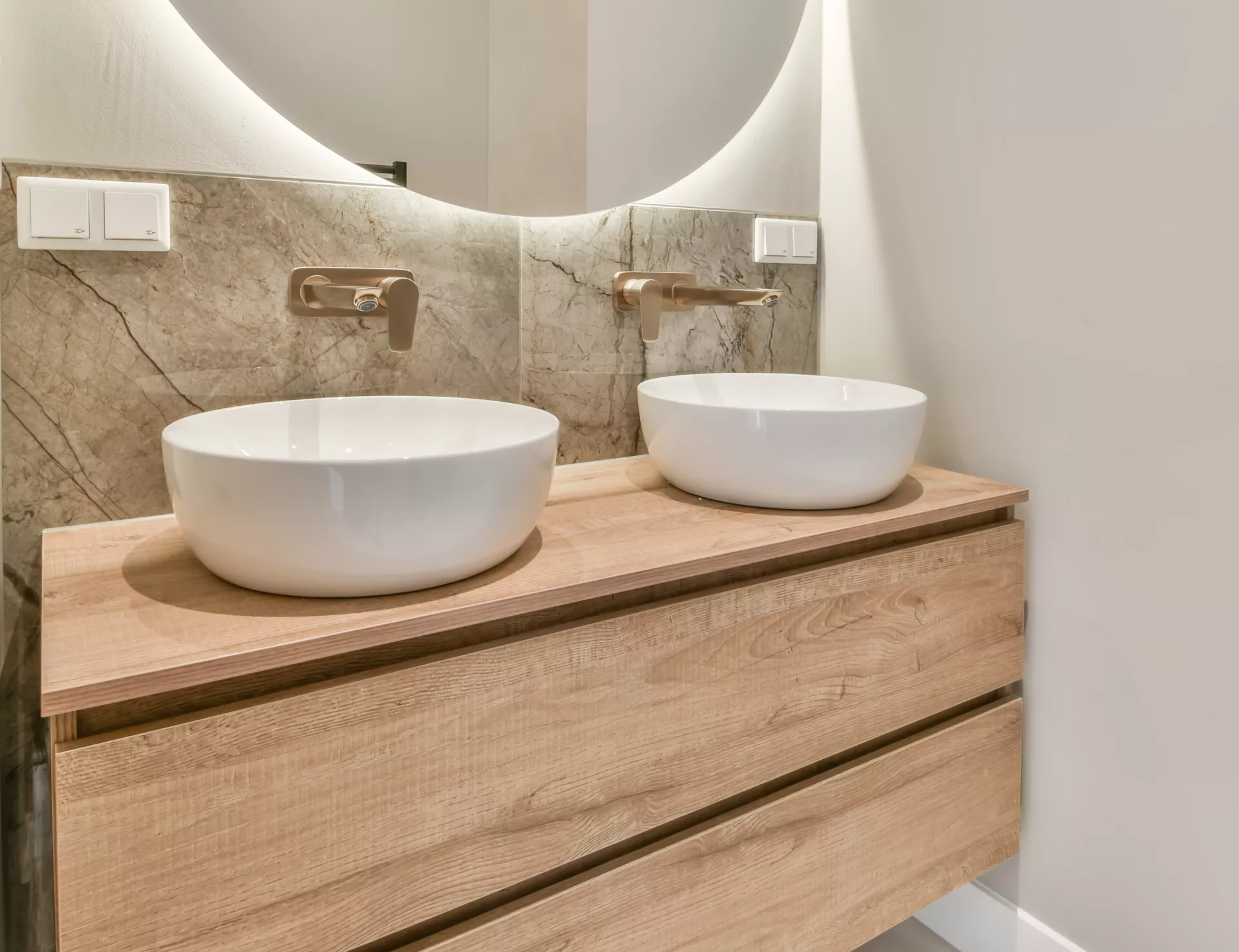 Vanity Top Material #05: Tile
From porcelain and ceramic to stone, tiles come in a vast variety. Typically, they are fused under pressure to create highly dense surfaces suitable for bathroom use.
Tile vanity top: pros and cons
Pros:
Tile countertops are available in a diverse price range. Generally, you can find these from $18 to $35 per square foot. Designer tiles can be over $200 per square foot.
They let you save bucks (especially if DIY-ed).
They are ideal for trendy and modern bathroom styles.
Cons:
Tile countertops don't add much to the resale value of the home.
They can easily crack. This is especially true if you apply pressure during installation, so you want to be careful.
Grout lines can show in the joints between tiles.
Regular cleaning may be needed.
Popular Bathroom Vanity Top Materials: Final Words
And that's a wrap, dear readers! We hope you are now well-familiar with the popular bathroom vanity top materials.
While making the selection, you have to keep in mind a number of factors. These include durability and ease of cleaning. You should also check the chosen option's compatibility with your lifestyle. For example, if you use a hair straightening iron regularly, you'd want a heat-prone bathroom countertop.
In a nutshell, we recommend considering practicality as well as material features to aid your final selection!
Find more information about Bathroom Remodeling in the Bathroom section of our BLOG.